Each time a global maker launches a powerful budget phone, a reaction from smaller, local makers is almost guaranteed. We've seen 'Nexus killers', 'Moto G killers' and here we welcome the breed of 'Moto E killers'.
Although we don't speak of Celkon as often as say, Micromax, but this wily maker from India seems to have a trick up its sleeve which promises to surprise us all. However, thanks to sharp eyes at GizBot, the surprise won't remain much of a surprise. We've learnt that Celkon is gearing up for a launch of a budget smartphone that not only (naturally) comes with a wallet friendly price tag, but also a surprising value proposition, with Android v4.4 KitKat on board!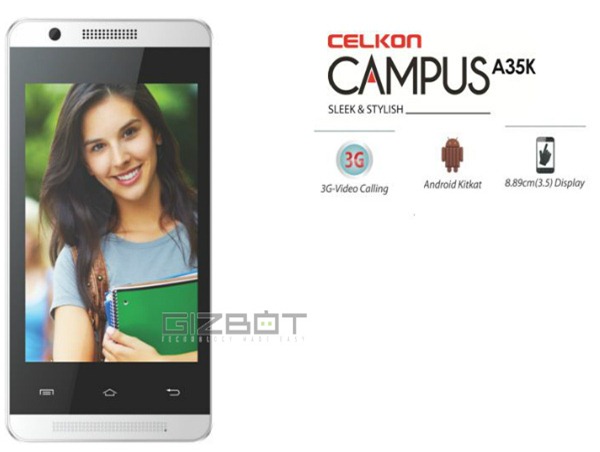 We're talking about the Celkon Campus A35K, a device which is allegedly in line for a launch later this week on June 16th. From what we could gather, the device will come with a small-ish 3.5-inch display (we expect it to have a WVGA resolution or less, nothing more), 3G with video calling (which implies the existence of a front facing camera) and of course, the headliner in Android KitKat.
Celkon are touting the device as a 'smartphone which comes at the cost of a feature phone', and if the device does pull of that feat, Motorola and the likes will certainly have to rethink their strategies. While it isn't confirmed yet, but we heard a word on the street that the Campus A35K will feature a 2,999 INR price tag, which, in informal terms, is pretty insane for a KitKat phone.
Design wise (if you care, at the price point) the phone resembles the HTC One like many other low cost phones. Do you think Celkon has it in them to churn out a Moto E killer?