We use smartphones for many chores wherein multi-tasking between different apps become a necessity. While normal smartphone users may not like app shortcuts on the home screen, those who switch between apps or access the Android settings would definitely appreciate them. Of course, multi-tasking is possible without shortcuts and for that users will have to long-press the Home button to pull a list of the recently used apps and make the most out of them. But, in this article we are going to see a few apps that will help us carry out effortless multi-tasking right from the home screen.
Quick Launch
Quick Launch is a similar to the Samsung's TouchWiz shortcuts are far as its functionality is concerned. This lock screen replacement is compatible with Android 4.2.1 Jelly Bean and higher versions of the platform and includes added functionality to the lock screen.
Quick Launch provides the ability to integrate a widget shortcut for the user's favorite apps directly to the lock screen. There are different theme options that you can customize and controls for the lock screen that can be layered on top of the themes.
Users can choose between four different shortcut categories that have to appear on the lock screen in a loop design. Also, there is a slider to turn to toggle the phone between silent and ring modes. Right now, the shortcuts cannot be changed from the default ones such as phone, apps, search and camera.
Portal
The Portal app is designed to offer the floating notifications like feature without rooting the device or flashing a custom ROM. The app adds chat-head like notifications to Android along with quick access to several functions and shortcuts. It provides quick access to text messaging, Facebook Twitter and web browser. Though it is primarily a notification app, the app orbs stay on top of the currently active app offering complete access to multi-tasking with convenient shortcuts.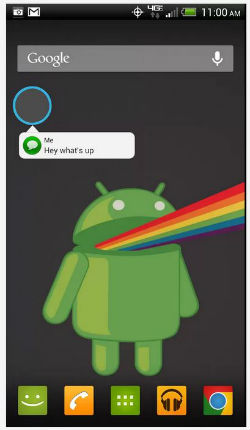 Other Applications
Besides these options that are mentioned above, there are a slew of applications such as Easy Touch, Toucher, Floating Toucher, Swapps, Smart Taskbar, HomeFlip and more on the Google Play Store to add floating buttons with app shortcuts to the Android devices in order to facilitate in effortless multi-tasking.
Adding Quick Launch Settings
For those who are using Android smartphones with a physical keyboard, there is a treat as they can assign app shortcuts to all the keys on their device. That simply means one shortcut per key for each of their most used apps and services.
To setup quick launch settings for every key, all the user has to do is go to the Menu, choose Settings and Applications. Select Quick Launch and various entries titled Assign Application will be displayed. Here, the users will have to assign a app to every key that is needed. After assigning the shortcuts, users will have to press and hold the Search key and enter the desired key to open the necessary app.
AnTek Quick Settings
The AnTek Quick Settings app provides any Android device the handy features that are present in the Android 4.2 Jelly Bean devices. This app can be downloaded on any Android device that runs on Android 2.1 or later. Besides providing standard Quick Settings, the app adds a ton of additional features as well.
The app is feature-rich and it adds more customization options to the Android devices. Further, it is pre-loaded with four themes with endless configuration options. Users can select the color, font, background, icons and more to customize the look.
Conclusion
All these basic apps will allow you to quickly access frequently used apps on your smartphone from anywhere you like. In case you are using another app better suited to your needs let us know in the comment section below. for efficient multitasking you can also use several Sidebar launchers and App launchers with gesture support.