Buying a new 'budget android smartphone' can be a complicated affair. You will definitely come across several benevolent Chinese and domestic offerings, listing towering specs adjacent to a humble price tag, but by now it is common knowledge that the maxim of "best specs = best experience" doesn't hold water. To make your job a bit simpler, let's classify some of the best under 10k smartphones based on particular characteristic traits.
Display
A vibrant display can singlehandedly add class even to the most undeserving smartphones. Our hand held gadgets are our tiny windows to the world wide web and having a high resolution flawless window only makes life better.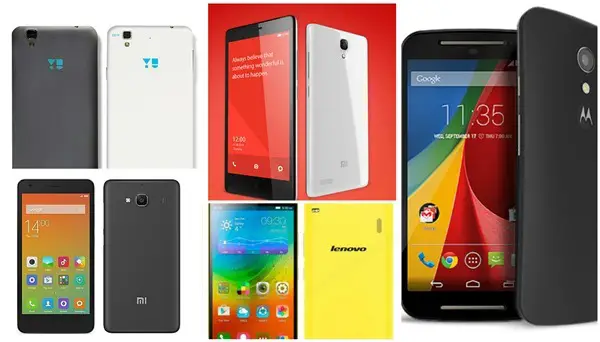 It inherits the same excellent display of Redmi 2 which is vibrant, has wide viewing angles and above average outdoor visibility. The colors are punchy and saturated, but we wouldn't classify them as being oversaturated.
It was the first smartphone to offer a full HD display panel for under 10,000 INR. The IPS LCD panel is vibrant and also allows you to tweak colour temperature to an extent. Viewing angles are great too, but sunlight visibility suffers on account of a reflective glass layered on top of the display. While Looking for Under 10K devices
The best part of this Yureka upgrade is the Full HD display. The Yureka Plus has a crisp full HD IPS LCD display panel, with vibrant colours and great viewing angles. The colours pop just right and play their part in making Yureka Plus one of the best smartphone display you can score for under 10,000 INR
Moto G 2nd Gen is now available of under 10,000 INR. It has the same 5 Inch HD display panel as the latest 3rd Generation model. It is not the sharpest IPS LCD display, but reproduces colours accurately. The colour contrast ratio and viewing angles are pretty good too.
Xiaomi Redmi Note 4G is now selling for 7,999 INR after a recent price cut, and if you are looking for a good display and are restricted by an under 8K budget, the Redmi Note 4G is a very viable option. The 5.5 Inch IPS LCD display panel with 720p HD resolution shows accurate colors, good sunlight visibility and great viewing angles.
Camera
For most consumers, this is the part (perhaps the only part) which matters the most. Fitting a great camera in a cramped smartphone space is already a difficult task, but at budget prices, it gets even more challenging. But still, here are some very decent options you could opt for.
Lenovo K3 Note is again an all rounder which won't disappoint you with its camera. Both the 13MP rear camera and the 5MP front camera are pretty decent performers, when compared to other phones selling under 10k mark. In day light, the rear camera reproduces accurate colors and bright shots. The HDR mode also works well. Focus is quick and there is no shutter lag either.
Yu Yureka plus significantly improves on the camera part compared to its predecessor. The Yureka Plus has a 13MP rear camera which uses Sony IMX214 sensor. The camera performs well in apt lighting conditions, the Macro mode and HDR Mode work well too, but the performance is considerably noise in low lighting. The camera app includes a variety of modes which you can play with. Quality of video recording is good, but not great.
Again if you are looking for an under 7K smartphone with a great camera, Xiaomi Redmi 2 Prime is the first phone which comes to mind. It is far from perfect but still outperforms Yu Yuphoria (which has improved a fair bit after the recent OTA update) and other contemporaries by a margin. It is Snappy, and captures detailed shots with accurate colors. Low light performance dwindles, but not beyond what you'd expect from all phones in this budget.
If you are looking for a good camera phone, below 6K, Micromax Canvas Xpress 2 should be on your list of options. It includes a 13MP rear camera, though we would like to reiterate that you should never judge a camera based on its Megapixel count. It isn't as impressive as, say, other 13MP shooters in this list, but we still managed to click decent shots in good lighting.
Since this a low end phones, you should balance your expectations. You will have to keep your hands very steady to capture good images and white balance also seems a bit off in auto shots. All said and done, the camera is good enough for its price.
Battery
Battery backup is another aspect which is very important, especially to first time Android buyers. We have not included phones with mammoth batteries if they involved some other major compromise or in case we haven't tested them personally. Here are some options worth considering.
If there is one area where Honor 4X really shines, it has to be the longevity. The handset includes a 3000 mAh battery which easily lasts more than a day, with fairly heavy usage. This in no way means that the Honor 4X stumbles in all other departments. It is a fairly simple and decent smartphone to buy for an under 10k budget
Xiaomi Redmi Note 4G is a bit old as of today, especially when the Redmi Note 2 has already been unleashed in China. However, it can't be denied that Redmi Note 4G still impresses with the battery backup you can extract from the 3000 mAh battery.
Lenovo K3 Note is loaded with features and a full HD display, but still the battery backup is certainly above average. With moderate to heavy usage, the 3000 mAh battery can easily carry you through your day with moderate to heavy usage. Basic users can easily last more than a day.
Zenfone 2 Laser is a Zenfone without Intel bay trail chips, and with a 3000 mAh battery, all of which adds up to a gratifying battery performance. The handset is a decent 5.5 Inch display phablet with 720p HD display, Gorilla Glass 4 and 16GB storage which you can buy for 10,999 INR.
User Interface
Since software is what you use to interact with your phone, it is utmost importance that you feel at home with the UI design and features. Though Android allows you to fix most of the cosmetic part using third party launchers, not everything can be customized. If you want to choose your next phone based on the best software interface available, here are a few recommendations.
Stock Android
If you are looking for a basic and snappy Stock Android interface, the way Google meant it to be, you can buy phones like Moto G 2nd Gen, Lava Pixel V1, Moto E 4G 2nd Gen(We won't advice you to go with the lower end 3G variant) or Micromax Canvas A1, depending on your budget.
MIUI
MIUI is Xiaomi's software. The ROM is rich in customization options and has a beautiful design, but performance isn't the forte of Xiaomi's MIUI ROM. We like the overall user experience it offers, and if that is what you are aspiring for, you can go for phones like Xiaomi Redmi Note 4G, upcoming Redmi Note 2 and Xiaomi Redmi 2 Prime. If you are anything more than a very basic user, you are advised to buy a Xiaomi phone with at least 2GB RAM.
Cyanogen
CyanogenOS, which is exclusive to Yu devices, offers a close to stock Android experience, but with many more customization options, regular updates and some features advanced users could toggle with. You can buy from phones like Yureka Plus and Yuphoria.
Gaming
Simple games like subway surfer, Temple Run, etc will run fine on almost all modern smartphones. For good high end gaming experience, you will need a perfect blend of display quality, capable loudspeaker and a strong chipset. This becomes tough to match, especially in an under 10k smartphone, but based on our usage, here are a few recommendations.
Lenovo K3 Note includes a full HD display and more storage space, but still, all those pixel come with a slight performance compromise. For basic games you will be fine with either of the two, but for aggressive high end gaming, Lenovo A7000 is certainly a better option, which you can buy via offline retail channels.
Again, if you are looking for a good gaming smartphone under 7K, Redmi 2 Prime is a very decent option. we played several high end games on Redmi 2 Prime handled all without any glitch. Temperature was also under control. The display and loudspeaker further add more value to the gaming performance.
Yu Yuphoria is another low cost smartphone which is good for gaming. High end games don't always run perfectly, but still for the budget, gaming experience was pretty good. We didn't face any issue with low end gaming. The device gets heated up a bit, but we won't go as far as saying it has heating issues. Temperature was under control.
Design and Build
Smartphone is definitely you would want to exhibit. Besides, since it is something you carry with you at all times, it should be strong enough to take a few falls. Unfortunately, manufacturers aren't overly concerned or motivated to outdo each other in this regard, as far as budget price segment is concerned. Specsheet is all that glitters. So, here are a few decent design Smartphones you can consider.
Moto G Second Gen has drawn some polarized opinion about its design, but most would unanimously agree that this curvaceous Motorola  is pretty solid and sturdy. If you are looking for a sturdy handset for basic and moderate usage and are restricted by an under 10k budget, you could go for the Moto G 2nd Gen.
Xiaomi Redmi 2 Prime is made of plastic, but the meticulous attention to details is clearly visible. Compared to Redmi 1S, Xiaomi has shaved off bezels from all sides of the display and has made the device more compact. Overall, everything Xiaomi is doing with Redmi 2 Prime works.
Xiaomi Redmi 2 Prime comes with one of the best possible entry level specifications,
Micromax calls Yuphoria a metallic wonder. Reason being, its rounded edge metal frame which makes it the only smartphone in this budget to offer real metallic feel. This makes the phone feel sturdy and resilient and adds a decent heft to it.
Conclusion
Consumers often ask us for the best possible smartphone in India in a particular price range. This is never easy to asnwer as best for one might not be best for another. This guide is meant to help you explore for yourself what matters and what doesn't for you as an individual. In case you feel we have missed an important phone, share your experience with us in the comments section below.