WhatsApp is testing a new feature for group chats which will allow one administrator to dismiss another administrator directly from the menu. This feature allow you to simply remove a person as admin and they will continue to be a participant. WhatsApp is testing this feature on both Android and iOS version of the app.
Currently, the method to remove an administrator from a group in WhatsApp involves removing the person from the group. You have to first remove the administrator from the group and then add him/her again to make him/her as a normal user.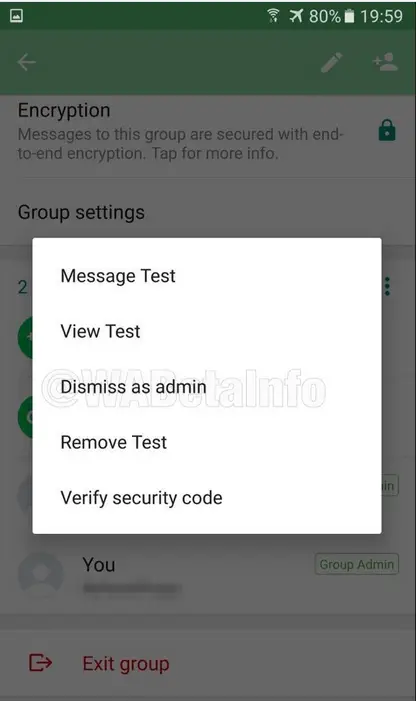 The report from WABetaInfo says that this new option is present in the Group Info section as "Dismiss as Admin". It will allow an administrator to remove another admin without actually removing them from the group itself. The report said, "At present, WhatsApp is developing this feature for iOS and it will be available soon for all users, instead for Android it is already enabled by default in the newest WhatsApp Google Play beta for Android 2.18.12,"
The Facebook-owned app is going to provide a bit more powers to the administrator where they will be able to control all other members from sending texts, pictures, videos, GIFs, documents or audio messages.
WhatsApp is bringing more features to the WhatsApp Beta Program. Recently, the company included the Restricted Group setting to the WhatsApp Beta app which can let admin restrict any user from sending messages to a group chat.
Once the user is restricted by the admin, the user will only be able to read the messages and won't be able to respond to the chat. To send anything in the group chat, the restricted user has to use the "Message Admin" button. The message will need an approval from the administrator to get to the group chat.