As you might already know, Android Go is Google's trimmed down version of Android OS that primarily aims to save up on data usage and storage space. Particularly, it is intended to provide a better user experience in budget smartphones despite running low-end hardware.
And because of the limitations that the Android Go vision brings in, Google uses highly optimized Go-branded versions of its core apps, that are made work on fewer resources.
While we already had apps like YouTube Go, Google Go and Maps Go, Google has now added Gallery Go to the slew, as a lightweight alternative to the existing Google Photos app.
That said, what are the differences between Google Photos and Gallery Go? Is the Go version better than the normal one? Well, let's check out the same, in our one-on-one Google Photos vs Google Go battle.
Google Photos vs Gallery Go: The differences
App Size
One of the main and obvious differences between both the apps is their package sizes. While the Google Photos app weighs no less than 30-40MB based on the device, Gallery Go is sized just under 10MB, akin to other Go-branded apps.
As you'd acknowledge, the size will increase after installation due to data and cache. Following the same, Google Photos eats up a total of 700MB on my phone (depends on the backups, and cached content) while Galler Go is happy with a mere 45MB of room.
User Interface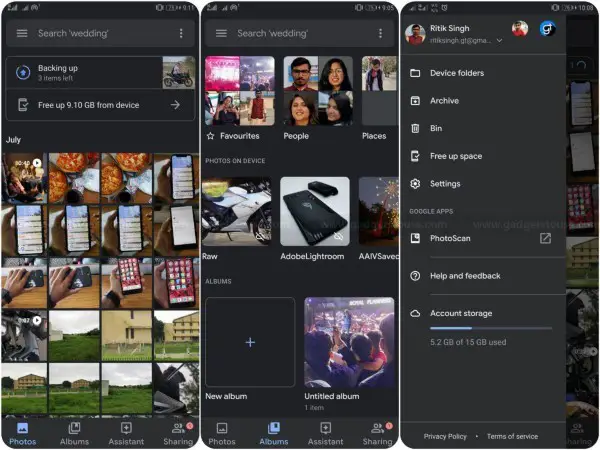 Google Photos offers four tabs at the bottom, including Photos, Albums, Assistant, and Sharing. This is further accompanied by a sidebar on the left, which with a simple swipe reveals shortcuts to Trash, Archive, and Settings.
The local folders are stacked above the cloud albums, in the Albums tab which is quite challenging to access as you need to swipe too much in order to reach desired folders.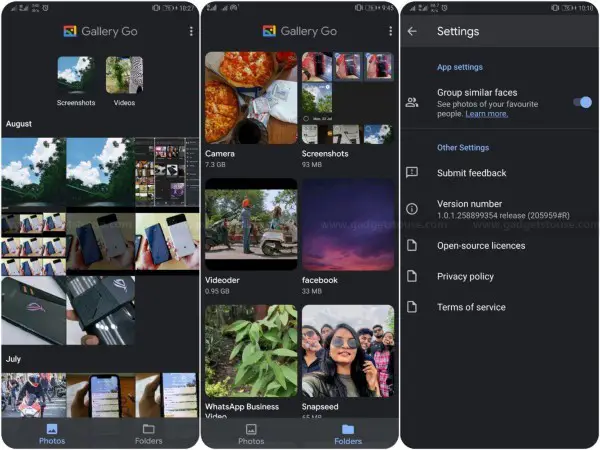 On the contrary, Gallery Go is faster, simpler, and straightforward. As soon as you launch the app, you are greeted by a mosaic of all of the photos currently on your device, stacked with respect to the date and time.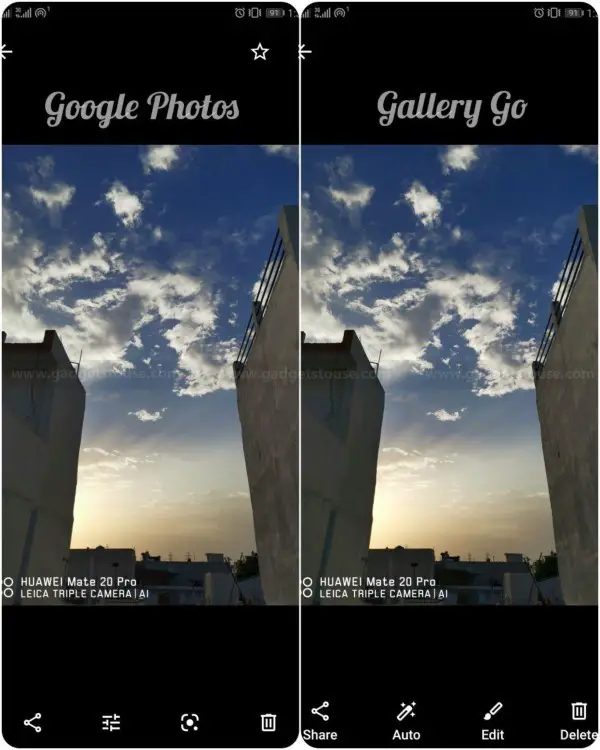 At the bottom, you have two tabs, dubbed as Photos and Folders where all the image folders are present. On the top, there's a strip of automatically generated folders, created using Google's Machine Learning algorithms. Note that you can neither search for images nor can change the default mosaic layout.
Gestures
To keep things simple, Google has skimped on gestures in the Gallery Go app. While you can pinch and zoom to change image mosaic size, and select multiple items at once using hold and hover gestures, there's no such feature present in the Go version. And as noted, you can't really play around with the native theming of the app.
Backup and Sync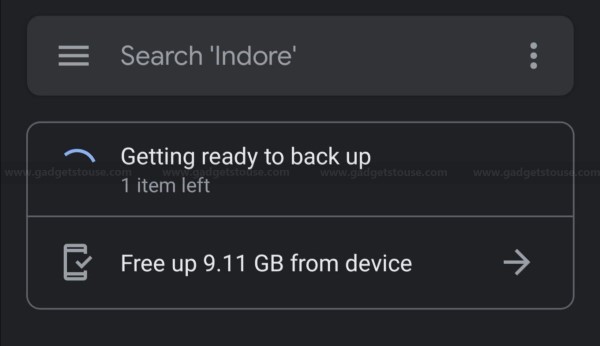 One of the best features of Google Photos is its Backup and Sync feature. You can save all your pictures in the desired quality on the Cloud and access them later on the web or any other smartphone. So if you have multiple devices, all the photos will sync and be available across all of them (including iOS) making up for ease of use.
However, Gallery Go is an offline app that doesn't bear any such feature. Nonetheless, I still love it as it has less clutter and only shows images present locally on the phone. Whereas, in the Photos app, everything gets mixed up and pictures on the cloud appear blank in poor network conditions (if not cached), which looks kind of messy.
Recycle Bin (Trash)
Another feature absent in the Go version is the recycle bin, or Trash to be more specific. In Google Photos, deleted pictures can be recovered from the Trash well within 60 days. While this gives you the ease of rescuing photos if deleted accidentally, it also doubles up the work when removing the picture willfully. Although, note that deleting images on Gallery Go requires an additional confirmation which is not the case with the latter.
Keeping track of Folder Sizes
Since Gallery Go is designed keeping the use of storage space in mind, it displays the folder size below their name in the Folders section. This is quite handy for people like me who are concerned about their storage or are curious about the space covered by a particular image folder. Unfortunately, Google Photos doesn't have this feature, and there's no way you can track folder size within the app.
Editing Features
As far as editing features are concerned, Gallery Go offers an Auto mode which enhances the image automatically. This is further accompanied by a bunch of preset filters and the ability to crop and rotate the image.
The Google Photos, on the other hand, is at a whole new level with automatic suggestions based on the image, built-in filters, options to tweak light, color and pop besides cropping (+aspect ratio), changing rotation, and straightening.
Sharing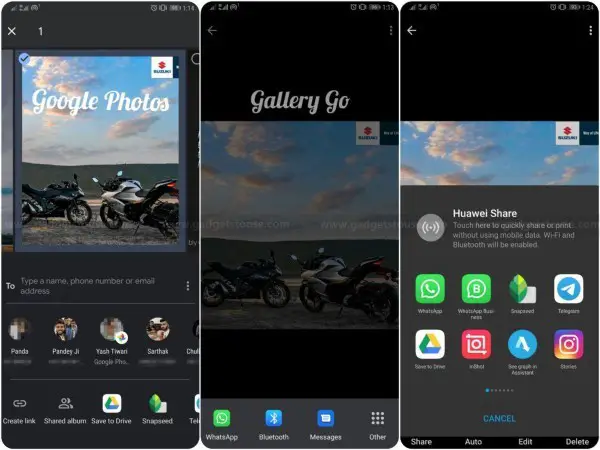 The sharing menu is slightly different on both the apps. When you tap share in Google Photos, it pops-up a full-fledged sharing menu that comprises of a search bar (where you can type a name, phone number or email address to share picture), personalized contact suggestions, ability to create links and share album directly with other Google Photos users and much more.
On the contrary, the Gallery Go app merely offers WhatsApp, Bluetooth, and Messages as its primary sharing mediums. And you need to tap on Other to share via other apps, making it a two-step process.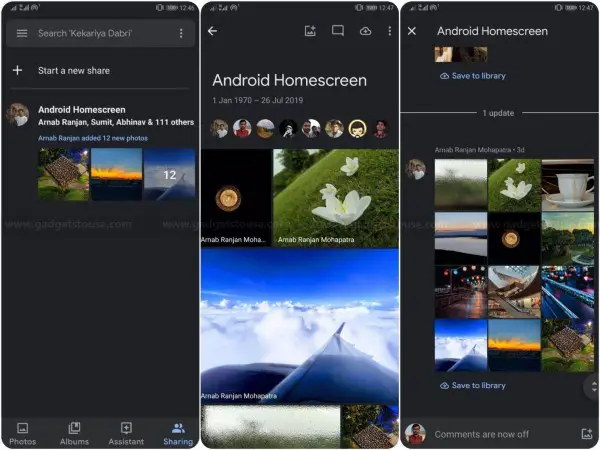 It's worth noting that the Photos app also offers a dedicated Sharing tab where you can add a partner account or host images for others, share your pictures, download the ones shared by others, or write a message using comments. And since Gallery Go is an offline app, it lacks these additional perks.
Available Platforms
Compared to Google Photos, the Gallery Go has certain platform based limitations. The app, as of now, is only available for Android devices running Android version 8.1 (Oreo) and higher. Hence, this might be a bummer for users having old devices- the ones who actually need this app.
The Photos app has no such constraints and is openly available on iOS, Windows, and Mac alongside Android. There's a web version too where you can access all your backed up pictures including the ones in Trash.
Google Photos vs Gallery Go- Verdict
So this was all about Google Photos vs Gallery Go comparison, predominated by the significant differences between both the gallery apps. Anyways? Which app do you prefer amongst the two? Let us know in the comments below. Also, do let us know your thoughts on the new Gallery Go app and feel free to reach us in case of any doubts or queries.
Also, read Hate Twitter's New Design? Here's How to Get Old Twitter Back.