WhatsApp is a great way to stay in touch with friends and family where you interact using photos, videos, and more besides just text. Now, while it's rare, there are chances that you may come across data loss due to unforeseen circumstances and end up losing your precious WhatsApp chats and other data.
Generally, it happens if you've deleted a conversation without giving a second thought, deleted the WhatsApp folder from your phone's storage, or performed a factory reset altogether. Whatever be the reason, we are here to help you with how to recover deleted messages on WhatsApp. Read on.
Recovering Deleted WhatsApp Messages on Android
Before we start, it is important to note that WhatsApp data recovery is only possible if you either have the WhatsApp folder intact on your phone's storage or a backup available on Google Drive. The other way would be trying your luck with different third-party tools.
1. Using Local Backup
By default, WhatsApp creates a local backup every day at 2:00 am, which is encrypted and saved to the WhatsApp folder inside your phone's storage.
So, if you've deleted a WhatsApp conversation unknowingly, the best way to recover it would be to remove and reinstall the app. While doing the same, you can select the backup on your phone's storage and restore the chats to the last backup point.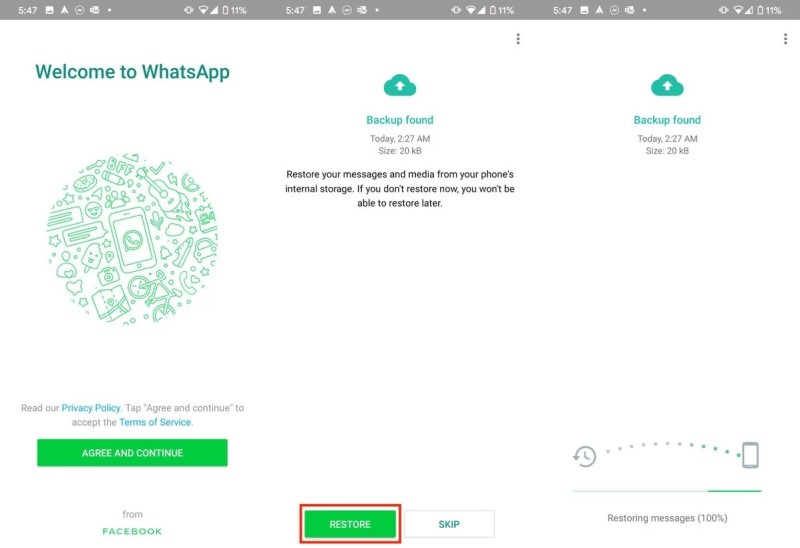 1] Firstly, make sure that the WhatsApp folder is present on your phone's internal storage.
2] The next step is to remove and reinstall WhatsApp from Google Play Store. Or you can rather save some time by clearing its data in the App Info settings.
3] Now that you've done that, open WhatsApp and verify your mobile number. Once done with the verification, it'll automatically search and prompt for available backups on your local storage.
4] After a backup is found, click on Restore, and all your chats and media will be restored to the last backup point.
For starters, the WhatsApp directory includes a 'Databases' folder which contains all the text messages in an encrypted form. The images and videos, on the other hand, can be found in the 'Media' directory.
There's also a 'Backups' folder, which stores backup settings and other encrypted files. Anyways, you don't have anything to do with these files except for checking that they are not deleted.
2. Using Google Drive Backup
Have you lost the WhatsApp folder entirely and don't have any local backups to rescue? Well, in that case, you can use the Google Drive backup to recover all your WhatsApp messages, photos, videos, and documents on your Android, as follows.
1] Just like the method above, uninstall and reinstall WhatsApp on your phone. Alternatively, you can clear the app data for a quick fresh start.
2] Now, open WhatsApp and verify your mobile number. Wait for it to search for the available cloud backups on your Google Drive account. Grant the account access if required.
3] Once a backup is found, click on Restore, and all your messages will be retrieved instantly. The media, however, will continue to download in the background and may take time to show up.
Note that this option will only work if you've previously turned on Google Drive backup in WhatsApp settings. Also, the chats would be restored to the last backup day and time, which depends on your backup frequency.
For instance, if the last backup was five days ago and you're trying to retrieve a chat you deleted an hour ago, it won't work. The previous backup point details can be checked at WhatsApp Settings > Chats > Chat Backup.
3. Using Third-party Tools
In a worst-case scenario, you may end up deleting the WhatsApp folder from your phone while having zero cloud backups. In that case, there's no other way to recover WhatsApp data except for using third-party recovery tools like UnDeleter and Disk Digger.
UnDeleter helps you with the potential recovery of deleted files on your phone. Though, it requires root permissions. The same can be done on Disk Digger that helps in data recovery, especially media files from where you can pull your WhatsApp images.
Similarly, you can try PC software like Recoverit, Dr.Fone Android Recovery, Recuva, and more to try recovering the WhatsApp folder. However, the success rate is highly dubious with these apps, and nothing can be guaranteed.
Recover Deleted WhatsApp Messages on iOS
Just like the Google Drive backup on Android, you can use the iCloud feature to restore WhatsApp messages on your iPhone or iPad, using the steps given below.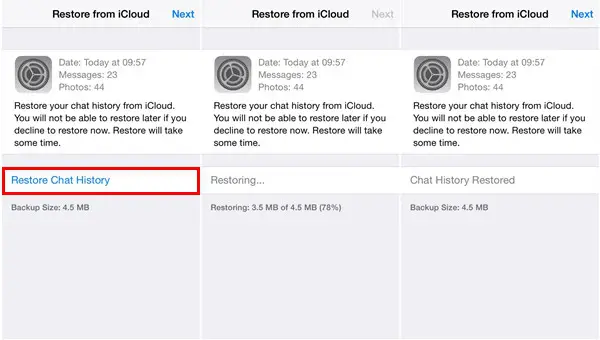 1] To start with, make sure that you've turned on iCloud backup for WhatsApp. Sign in with the Apple ID you use to access iCloud, and enable iCloud Drive on your device if not already.
2] Now, open WhatsApp and navigate to Settings > Chats > Chat Backup to check if you have an iCloud backup. If you see one, uninstall the app and reinstall it from the App Store. Open it and sign in with the same number you used for backing up your data.
3] Once you've logged into your account, it'll ask if you want to restore the chat history from iCloud. Click Restore Chat History to proceed with the download.
That's it; all your deleted WhatsApp messages will now be restored back to your iPhone. Unfortunately, unlike Android, iOS users don't have the option to backup or restore chat messages on local storage.
Wrapping Up
So this was a simple guide on how you can recover deleted WhatsApp messages on Android as well as iOS. Anyway, what method did you use to restore your WhatsApp conversations? Let us know in the comments below. Moreover, feel free to reach out in case of any doubts or queries.
Also read: