If you don't get enough sleep a night and feel tired even after a long sleep? This is maybe because you are on your laptop or smartphone at night for long. But guess what, your smartphone can help you get a good night sleep at a time and wake up with refreshed mind and body.
There are certain apps to help sleep. So if you have a problem getting asleep at the right time at night, these apps can help you. These will also help you to wake up in the morning. These apps are free and you can use them for free to get a good night's sleep.
Apps to Help Sleep
Sleep Deeply
If you are feeling hard to sleep then download this app which has one of the best effective ways for getting you a good sleep. This app help prevent anxiety and relax your mind to give a better chance at a good sleep. This app comes with videos that give you a soothing experience for your brain.
The Sleep Deeply app comes with features like a state of the art hypnosis and relaxation sessions. It comes with lifetime support to help and manage your app experience. You get video FAQs so you get a better understanding of the process and get comfortable. There are a lot of support materials to help you sleep faster.
Relax & Sleep Well: Hypnosis and Meditation
This app comes with the videos be Glenn Harrold, he is a very experienced therapist. You get the recordings in high quality from professional studios to initiate deep sleep and healing transformations. There is no need for signups, you get instant access to the meditation recordings.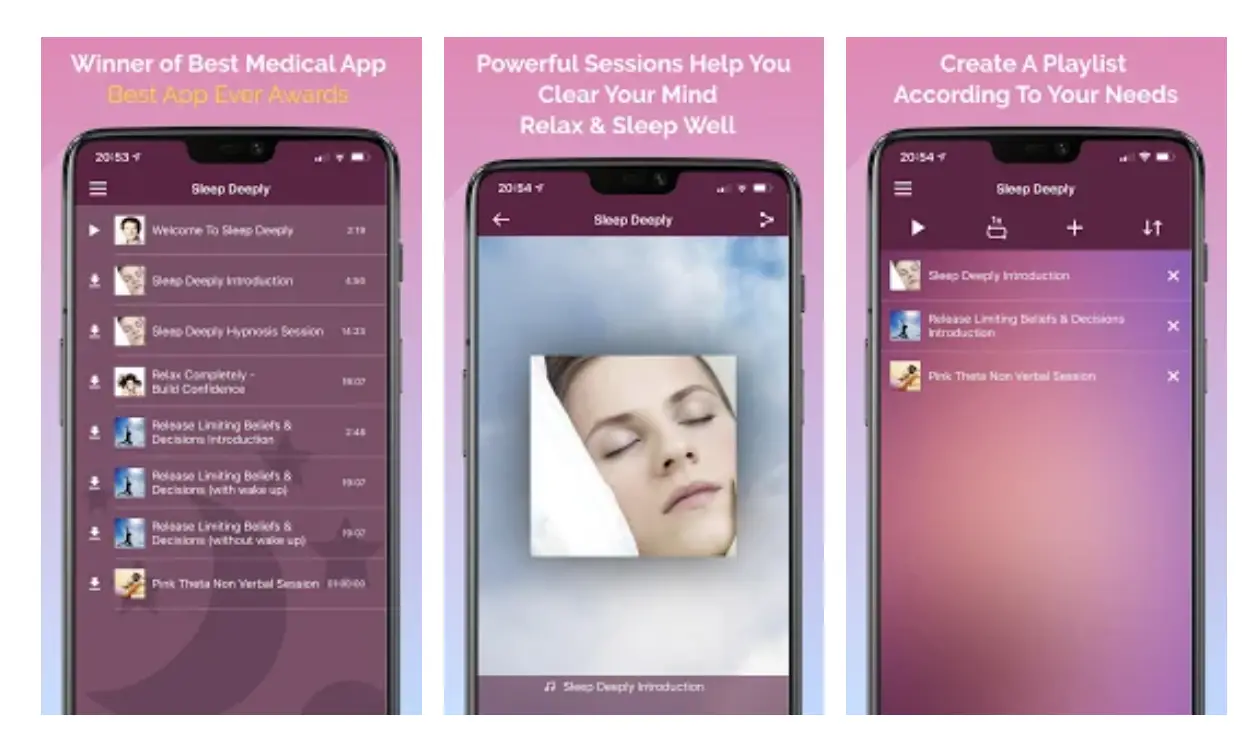 You get to choose from over 110 recording which includes insomnia, stress, anxiety, mindfulness, sleep addictions, and much more. Most of them are free but to unlock all of them, you need to purchase them using the in-app purchases. Glenn is one of the most successful and popular hypnotherapists.
Sleep Cycle: Sleep analysis & Smart alarm clock
The Sleep Cycle is not a sleeping app, it basically an app to quickly analyze your sleeping pattern so you can work on it better. You can track sleep using your phone with this app and you get a smart slam feature in this app to get you to wake up refreshingly. You get detailed sleep reports as it monitors your sleep patterns.
You get some amazing features like you get a gentle wakeup call so you wake up in a light sleep. You can relax at bedtime and track your sleep easily with detailed analysis. Your sleep data help you analyze your light sleep, deep sleep, and overall health. There are some paid features in the app which you can unlock if you really need them.
Wrapping up
These were the apps to help sleep and if you use them, you get a good night's sleep that will lead you to better health. You can get complete use of these apps to get sleep faster and better at night without spending money on pills and professionals.
Also, read | 5 Fitness Apps That Can Help You Workout At Home