Want to know if your social media accounts are safe or someone has hacked them? Most of the time you can know that your account has been hacked without even checking. Because there are unknown posts and messages.
Otherwise, there are very simple ways to know this. So, if you get a suspicion that someone has gained access to your social media accounts, it's not difficult to check this. In fact, it's even worth checking it regularly to be sure that your online accounts are safe.
Here we have compiled ways to check if your Facebook, Twitter, Instagram, and other social media accounts are hacked and what you can do afterward.
Facebook
There is a very simple way to check if your Facebook account has been hacked. Go to the top right corner of your Facebook page profile and click on it. In the menu, select Settings->Security and Login->Where You're Logged In.

A list of all of the devices that you've logged in to and their locations will appear. If here you find a login or device you don't recognize, chances are your account may have been hacked. If you see anything like that, click on the three dots in front of the suspicious device and click Not You?

After clicking on that a new pop-up will appear again asking if it wasn't you. Now, click the Secure Account. Facebook will then show you the steps of securing your account after running a diagnostic on your account. Click Get Started.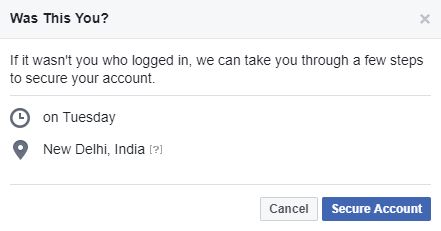 How to secure it?
After securing your account, you can even make it safer. Facebook has a lot of security features, and you just need to activate them. Open Facebook in your browser and go to Settings > Security and Login > Setting Up Extra Security.

Here, you can turn on login alerts so that you receive notifications when your account is logged into anywhere on any device. This helps you know if it is hacked early.
You can also enable two-factor authentication, and then choose an extra layer of security from the list.

You can also choose your trusted contacts and add a few close friends or family members to the list that will help you unlock your account if it is ever hacked.
Instagram
You see all of a sudden, a lot of posts from people you don't even follow know also your likes on their images. There are images on your account which you didn't upload or you don't have access to your account anymore after using the right password and it's not a technical glitch, these are signs that your Instagram is hacked.
How to secure it?
First of all, if you still have access to your account, make sure to change the password immediately. Change the password of all other accounts you use this same password and pick a strong password. Use a combination of numbers, letters, and punctuation marks.
And also revoke access to suspicious third-party apps. You shouldn't grant third-party access to such websites or apps that don't follow Instagram's Community Guidelines or Terms of Use especially websites that offer free followers or likes.
Here, you can again, turn on two-factor authentication for additional security.
Two-factor authentication or two-step verification is a security method that uses two ways to verify your identity. Instead of entering only a password to log in, you'll  also be asked to enter an OTP which is sent via text message to your phone.
Twitter
The process for checking if Twitter is hacked is very similar to Facebook. Log in to the Twitter website or app, click your avatar on the toolbar and choose –
Settings and Privacy -> Privacy and Safety -> See your Twitter Data, and head to the Your Twitter data page.
Here, you will history of your account. Under the Account history and Apps & Devices, you can see the phones, browsers, and apps you've used to connect to your Twitter account. Unfortunately, there's no way to instantly end any of this activity like Facebook, but at least you can know the status.
If you see some suspicious logins from a device or particular third-party app, then you can go to the Apps tab and revoke access from the app or device in question. It's a good idea to delete older, unused apps from this list anyway.
How to secure it?
Next, if you are sure that your account is hacked, there's the option to set up two-step verification for your Twitter account. It stops someone else from logging into your account on a new device with your password and username alone.
Go to Account -> Security -> Login Verification. It is the same as 2-factor authentications on Facebook. Enable this and Twitter will ask for your password. After that, login verification will enable, and every time your account login on a new device it will ask an OTP alongside your password.
Other Accounts
Google has the most comprehensive dashboard for your account to know all the activities. You can find it at myaccount.google.com. Follow the Device activity link to see recently used devices and recent events. You can remove any entries in the list with just a click if you notice anything suspicious.
Next, you should select the option to Secure Your Account. To manage the apps which have access to your Google account, go to Sign-in & security -> Apps with access to your account -> Manage apps. Here you can review your apps and revoke permissions if you find something suspicious.
So if someone has hacked your social media accounts, there are chances that you'll know soon enough. Otherwise, by following the above-mentioned steps, you will be able to secure your account.
Find Out Where Your Email Password Got Leaked, Change Your Password