You may need to power off your phone, maybe for a meeting or perhaps to save battery and then you obviously want it to be back powered on. But you cannot do this religiously every time you go to a meeting or you go sleeping, also sometimes you may even forget to switch it on after turning it off. In order to address the issue, some companies these days provide auto power on/off features in their phones. But what about other phones? Well, don't worry, today I'm gonna talk about ways to schedule auto power on/off on Android.
Ways to Schedule Auto Power On/Off on Android
If your phone doesn't have this feature in-built, you can go for a third-party app. Here, I'm discussing both the ways- the in-built feature and the third-party apps. Read on!
Use Schedule Power Off/On Feature in Xiaomi Smartphones
Auto power on/off can be done on most devices by heading to the settings and looking for the feature. The feature is available on many phones with custom skin including OPPO, Vivo, and Xiaomi. Follow the steps which are similar for all:
1. Unlock your phone and open the Settings app.
2. Scroll to locate the Battery option and tap on it.
3. Here, switch to the battery tab by tapping the "Battery" option.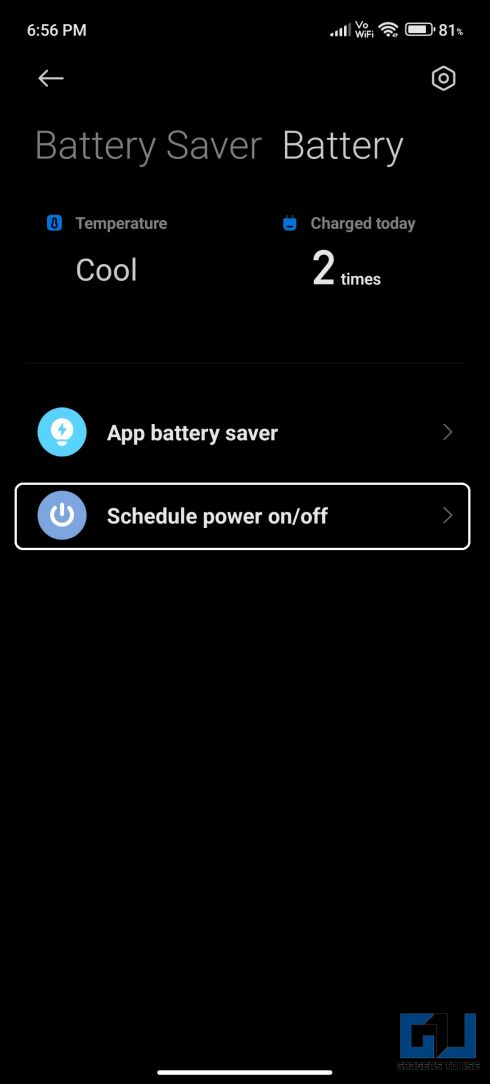 4. Tap the "Schedule power on/off" option.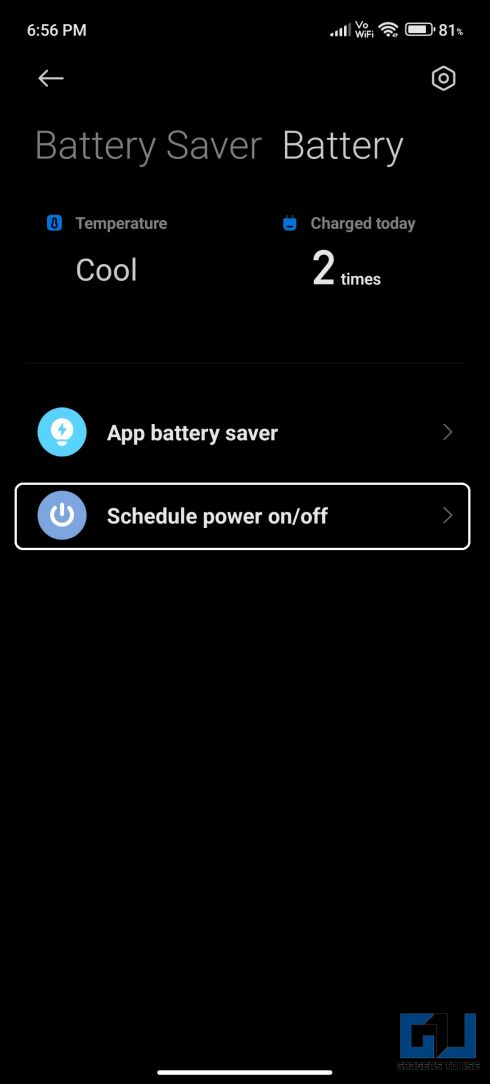 5. Here you will see two toggles; Power on time and Power off time. Tap the respective toggle to enable it and then select the desired time.
6. Do the same for the "Power off time" option and enter the desired time.
7. Tap the tick mark icon in the top right corner to save the settings.
If you own any other smartphone than Xiaomi then you can easily search for this option in the Settings menu. That's it. Your phone will now be switched off at a particular time and it will be back on automatically. The exact steps you can follow on other phones which have this feature.
Use Schedule Power Off/On Feature in OnePlus Smartphones
Oxygen OS comes with a feature that lets you schedule power on/off your smartphone at specific times. Follow these steps to enable it n your OnePlus smartphone.
1. launch the Settings app and go to Utilities.
2. Locate the Schedule power on/off feature and open it.
3. Use the toggle to enable the desired option.
Your settings have been saved and the smartphone will automatically turn off and on at the given time. If you own an Oppo smartphone then the next method will help you enable this feature on your phone.
Use Schedule Power Off/On Feature in Oppo Smartphones
Colour OS also got this scheduled power on and off feature that you can easily enable from the settings. Follow these steps to use this feature.
1. Open Settings and go to Additional settings.
2. Here you will find the Schedule Power on/off option, open it.
3. There are two toggles available here, turn on the desired one and set the time.
Once you set the time for both on and off, the settings will be saved automatically and your phone will turn off at the given time and turn on automatically too.
Set Auto Power On/Off Using a Third-party App
There are several apps on Play Store that will let you do that for free, but these apps require a rooted phone. We don't recommend you root your phone but still if you want to do that. There are many apps on the Google Play store like AutoOFF that can automate power on and off your smartphone at a particular time.
FAQ
Q. Can I schedule my phone to turn off automatically?
A. Yes you can use the above methods to schedule your smartphone to power off at a particular time.
Q. Will it affect my phone's health or battery?
A. No, it will not affect your phone's health or battery. Although it is good to reboot your phone once a week to keep the battery healthy for a longer time.
Wrapping up
These were some ways to schedule auto power on/off on your Android. Now, you can even schedule SMS text messages on your Android. Does your phone have any such features or do you have any apps to use such features? Tell us in the comments!
Read more
You can also follow us for instant tech news at Google News or for tips and tricks, smartphones & gadgets reviews, join GadgetsToUse Telegram Group or for the latest review videos subscribe GadgetsToUse Youtube Channel.