YouTube is one of the best platforms that introduced video content sharing platforms, we have all seen the platform's growth over 17 years. All along these years, the content consumption increased multi-folds, as millions of creators joined the platform, followed by billions of audiences, and numerous comments. Scammers have also updated themselves and now use YouTube comments to exploit innocent audiences. Today I'll be sharing a few ways to stay safe from such YouTube spam comments.
Also, Read | 3 Ways to Stop Abusive Comments on YouTube Video or Block Words
Ways to Save Yourself from YouTube Spam Comments
As Youtube Creators get recognition, and grow big, because of the community, they like to give back to their community, in the form of free gifts or giveaways. Scammers take advantage of this opportunity to scam the audience in the comments section.
Take these images as an example, from a recent video from MrWhoseTheBoss. Where one such scammer tried to scam someone, by impersonating MrWhoseTheBoss and offering some gifts.
Disclaimer: We appreciate each and every creator, including Arun from MrWhoseTheBoss. This article is only to help people spot and stay safe from scammers, who use names of well-known creators, like MrWhoseTheBoss, for fraudulent activities. These few ways will help you identify such scammers and stay away from them.
Also, Read | 4 Ways To Get Rid of Spam Comments on Your YouTube Channel
Check the Verification Mark
One of the easiest ways to identify scammers is the check the verified mark next to the name of the account, of the comment. Every Youtube creator with at least 1 lakh subscribers, will have this little verified icon. Definitely a scammer won't be having such a verified mark, so if you don't see a verified mark, even with more than 1 lakh subs, then that's a scammer.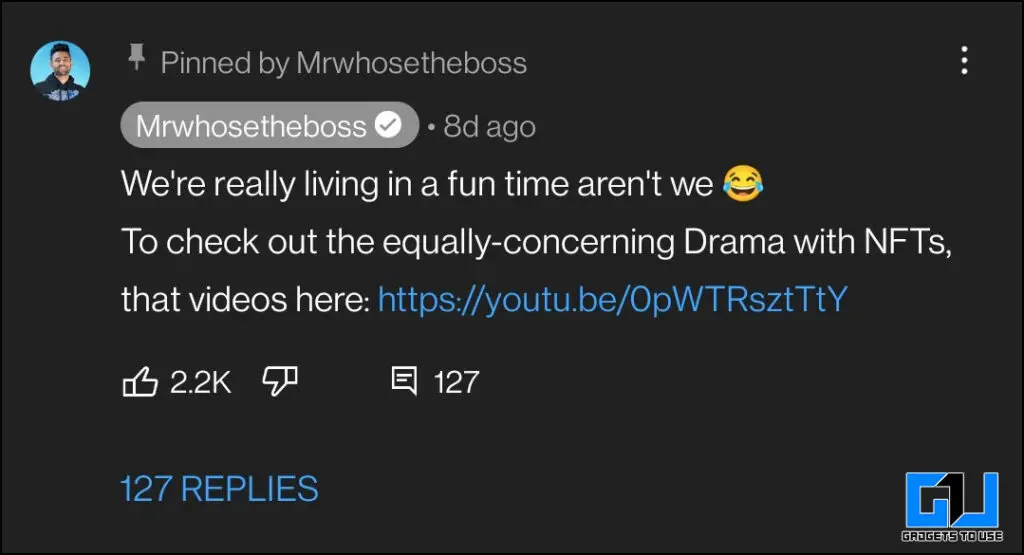 Check the About Section
Since there are millions of authentic creators who are under the 1 lakh subscriber mark, who don't have verified marks. There's another way to check if the comment is from a scammer or not, which is to check the details on the about page of the channel. There you can see the number of views and joined date of the channel. No two channels can have the exact same number of views and joining date. This way you can match and spot the scammer easily.
Also, Read | 3 Ways to Bring Back Dislike Count on YouTube Videos
Always Check the Official Terms
One thing scammers take advantage of is the ignorance of the audience, regarding the terms. Every creator sets a few rules and terms of the giveaway he/she is organizing. These terms do consist of the mode of winner announcement and mode of contact. If someone is contacting via you other than the official method declared earlier in the terms, then that's a scammer. In case the scammer is contacting via Youtube Comments then you can spot the scammer via the above two methods.
Also, Read | How to Stop Someone From Commenting on Your Instagram Posts
Pay Attention to the Spellings
No matter how big or small the giveaway or the creator is, he/she will contact the only via his/her official Email ID, or Social Account, like Twitter, Instagram, Facebook, etc. Every account on these social platforms has a unique username, some scammers play with the letters of the creator's username, to impersonate and deceive, so pay attention to the spellings. They will not contact via personal messages, like WhatsApp, Telegram in any situation.
Most Important: Creators Don't Ask For Money
The most important thing to note is that no creator will ask you for money, in exchange for your prize. The maximum he/she can ask is, the shipping cost, that too only if that is mentioned in the terms of the giveaway. Other than this, no monetary payment in any form is not asked to be paid.
Also, Read | How to Stop Someone from Replying to Your Comments on Facebook
Wrapping Up
So this is how you can stay away from fraudsters, and save yourself from getting scammed for giveaways. We advise you to stay vigilant and read each and every term and condition of giveaways, organized by any creator or brand. If you spot any scamster, using the above-mentioned ways, then you should report the scamster right away.
You can also follow us for instant tech news at Google News or for tips and tricks, smartphones & gadgets reviews, join GadgetsToUse Telegram Group or for the latest review videos subscribe GadgetsToUse Youtube Channel.