Apple ecosystem's seamless device connectivity has always been the need of the hour for Windows users. To fulfill the same, Microsoft has consistently improved its Phone Link app. However, the recent release of Intel's Unison app offers seamless connectivity of mobile devices with Windows, which is a solid competition, making it difficult for users to choose the better among the two. In this Windows Phone Link vs Intel Unison explainer, we'll cover every detail of each of these apps so you can select the one best suited to your needs.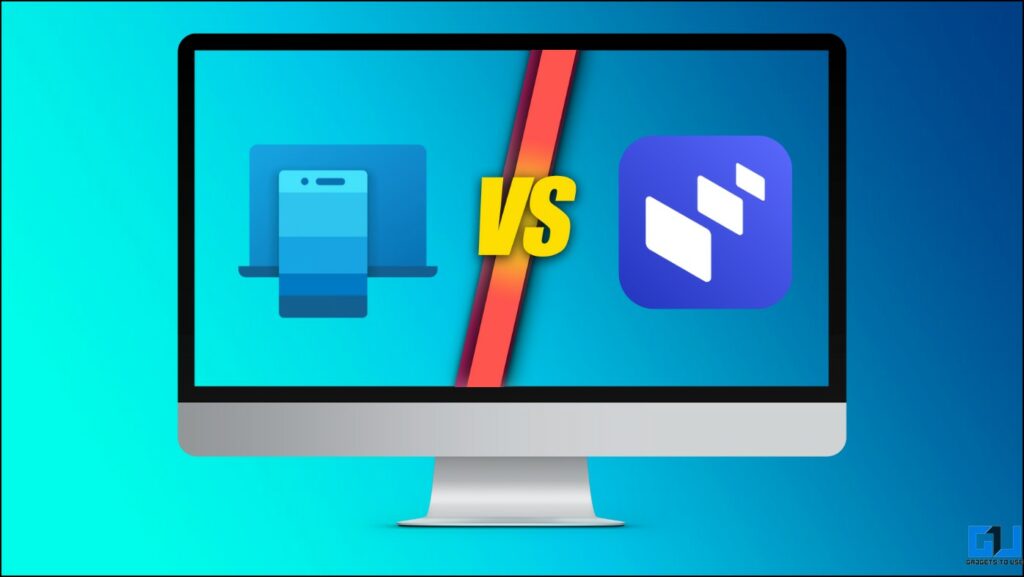 Windows Phone Link vs Intel Unison: Requirements
Before we dive deeper into comparing features of the Phone Link and Unison apps, let's compare the app's minimum system requirements to run on Windows.
Windows Phone Link App
Using the Phone Link app, you can connect selective Android devices to your Windows PC, allowing you to access the device contents from the comfort of your desktop. This app enables you to read and reply to text messages, view recent photos, use your favorite apps, make and receive calls, and manage the device's notifications right from your Windows PC. The minimum system requirements to the Windows Link app are as follows:
A PC running Windows 11/Windows 10 (with May 2019 update or later).
An Android phone running Android 7.0 (Nougat) or later.
An iPhone running iOS 14.0 or later.
Your Android Phone and PC must be connected to the same Wi-Fi network.
Intel Unison App
The Unison app from Intel is a fairly new application that allows you to connect your Android or iOS device seamlessly, enabling access to features such as File Transfer, Calling, Messaging, and Notifications on your Windows desktop. The minimum requirements to run the Intel Unison app are as follows:
Microsoft Windows 11 SV2/22H2 Stable Build (doesn't support Windows 10).
iOS 15.x or Later.
Android 9 or Above.
Intel claims to design it specifically for Evo CPUs with 13th-generation and selective 12th-generation processors; however, the app works fine on lower generations (such as the 8th-generation) and AMD processors in our testing.
Installation
If your system meets the necessary requirements, then you can install Windows Phone Link or Intel Unison using these easy steps.
Windows Phone Link
Installing and configuring the Phone link app is pretty straightforward on a Windows system. Here's what you need to follow:
1. Install the Phone Link app from Microsoft Store if it isn't pre-installed on your machine.
2. Next, press the Windows key and search for the Phone Link app to open it.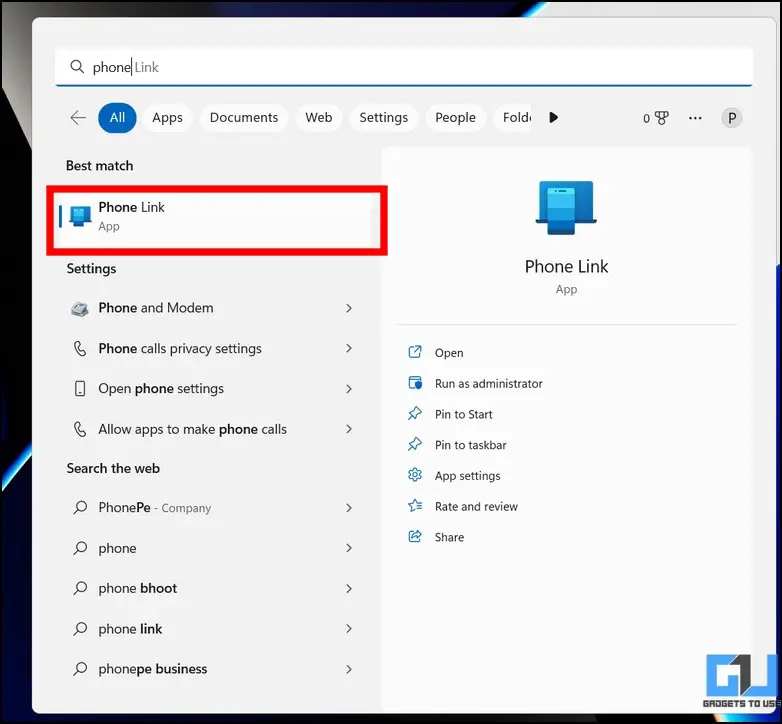 3. Click the Get Started button to start configuring the app.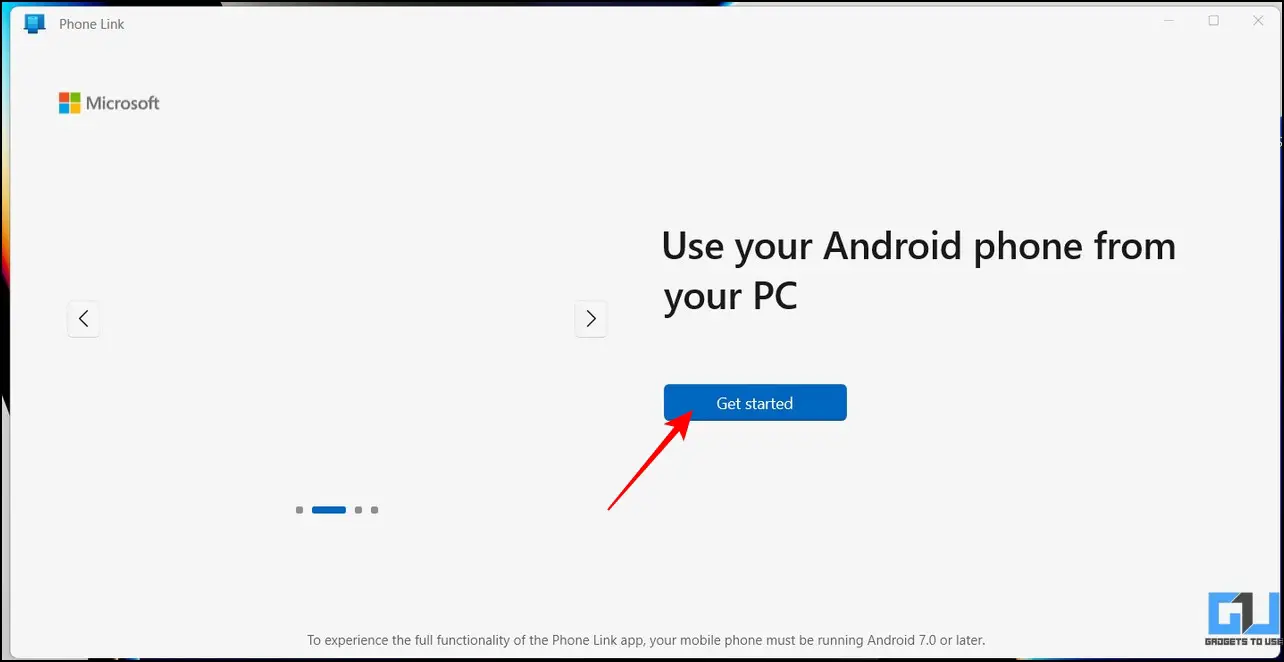 4. Further, visit the on-screen link on your Android device to install the Link to Windows app on your smartphone for establishing the connection.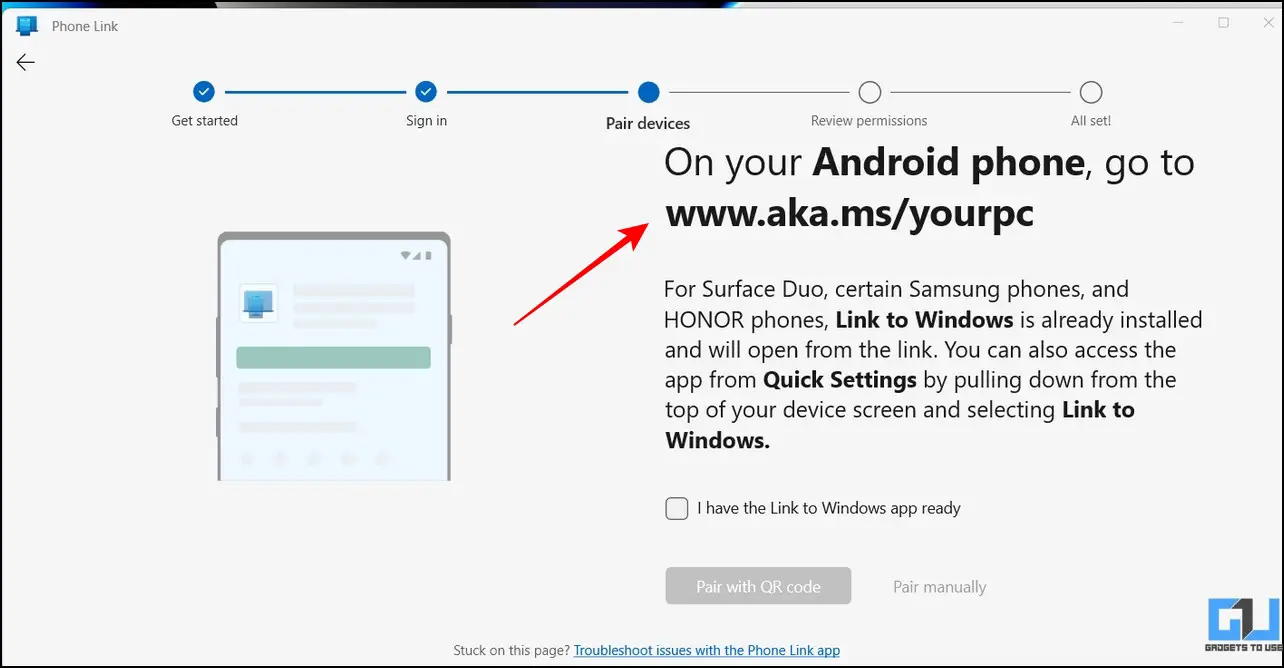 5. Once done, click the Pair with QR Code button to generate a new QR for syncing both devices.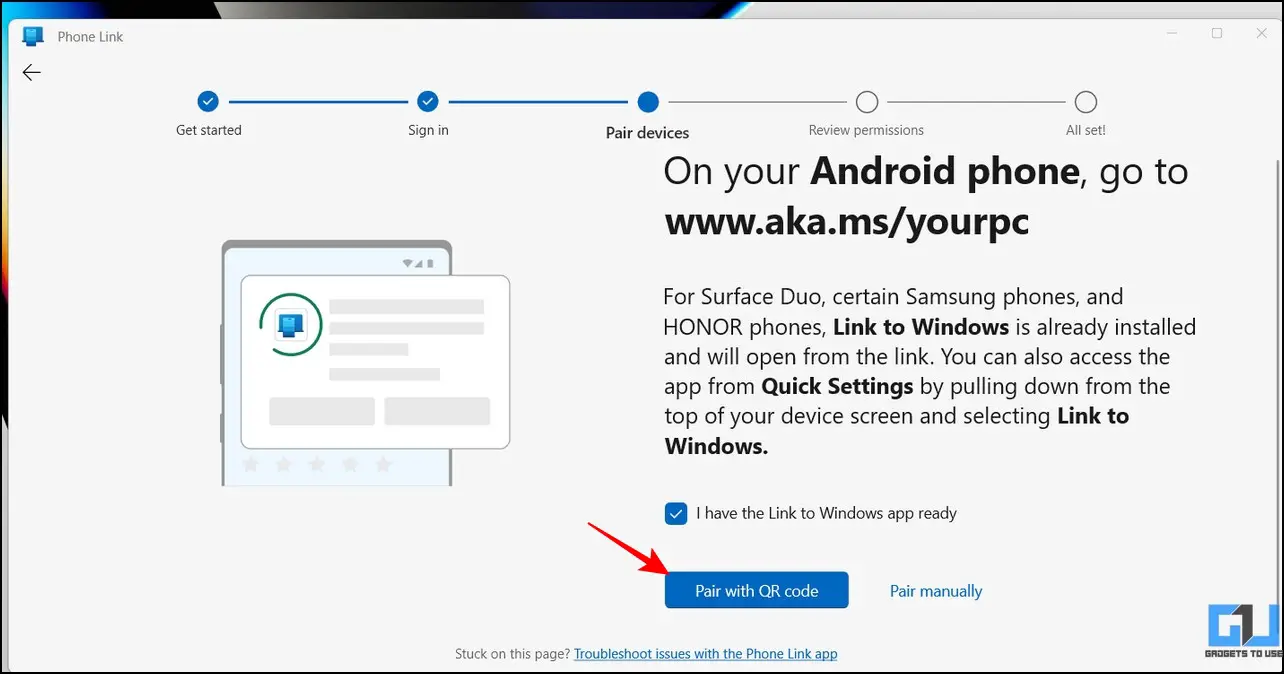 6. On the next page, scan the created QR code using the scanner in the 'Link to Windows' Android app installed earlier.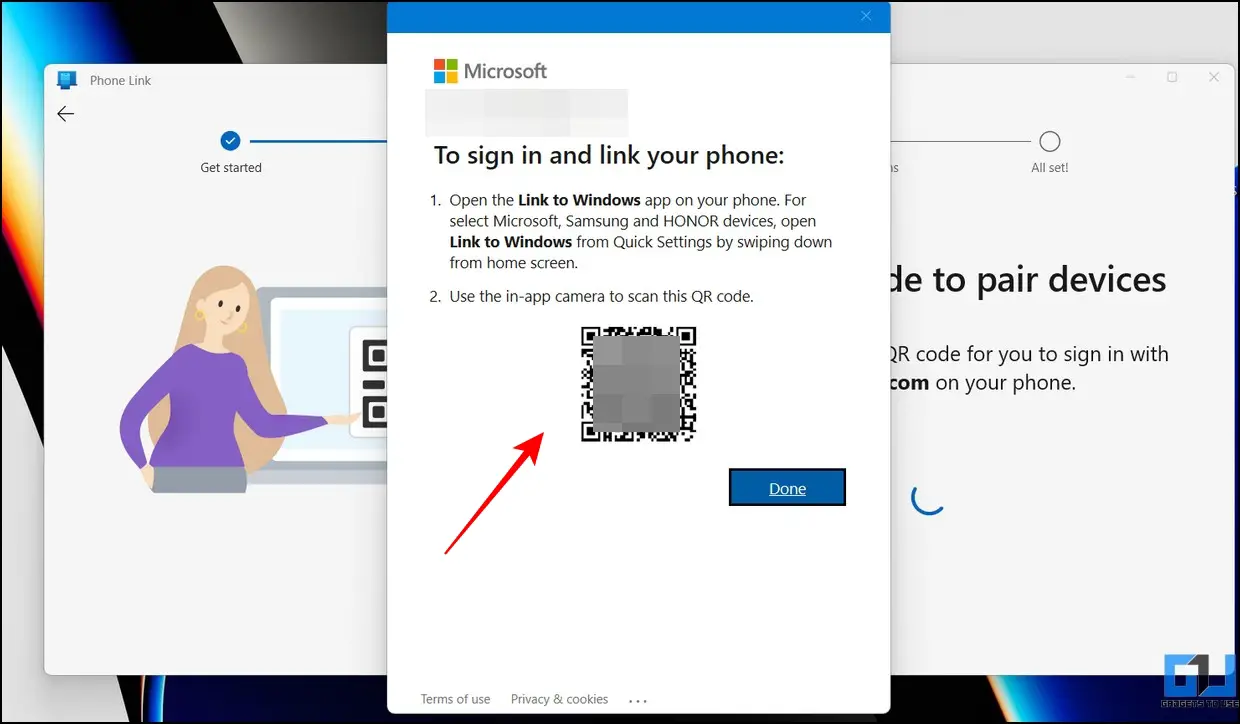 7. Finally, provide all necessary permissions to sync both devices, and you're all set to use the Phone Link app.
8. You can now view your device status and contents through different tabs available in the app.
If you are an iPhone user, the process to connect your iPhone to Windows Phone Link app is slightly different, check out our guide to Connect Your iPhone to Windows Phone Link.
Intel Unison
Similar to the Phone Link app, Intel Unison can be installed from the Microsoft Store, where you can sync it with your smartphone using the in-app QR code. Follow our quick guide to installing Intel Unison on your Windows machine.
Windows Phone Link vs Intel Unison: Interface
The interfaces of the Phone Link and Intel Unison apps are quite easy to navigate despite the differences in the app design. Windows Phone Link offers a compact, feature-rich interface with all the necessary options embedded in a single window. On the other hand, Intel Unison offers a 'Tab' sidebar where you need to click each menu item to access various features. Additionally, the Phone Link app offers more personalization features, such as themes and dark mode, as compared to the Unison app. The key differences are as follows.
Windows Phone Link
Compact Design Interface.
Offers Quick Toggles to Control the Phone, such as Changing Ringing Profiles and DND.
The app also displays active services and device information such as Bluetooth, Wi-Fi, and Network Reception.
More Personalization Options, such as themes, wallpapers, and light/dark modes.
Intel Unison
A Minimal 'Tabbed' interface.
The Photos/Gallery tab allows direct media upload to your smartphone's Gallery app.
The Calls tab shows a complete contacts list alongside the dialer app, making it easier to identify a person and place calls.
Feature Comparison
To help you decide the best app, let's compare the features of Windows Phone Link and Intel Unison for their effectiveness and productivity.
Calls
Both Windows Phone Link and Intel Unison offer a Calls tab with a dedicated dialer to help users make or receive calls directly from their desktops. You can search the existing device contact using the search bar or dial a number directly using the dial pad to make a new call. Upon initiation, you will see a separate window in both apps to handle different call controls such as Mute, Forward, and Hold.
Contrary to Phone Link, the Unison app doesn't show a recent call tab to help you track recent calls. However, the app displays a separate Contacts list section which you can browse to place your calls conveniently.
Notifications
When it comes to displaying and managing device notifications, the Windows Phone Link app owns the competition. Phone Link not only provides a detailed description of the app notification but allows you to post a reply using your desktop.
On the other hand, the Intel Unison app offers a simple Notification panel that only shows device notifications when clicked. However, the Phone Link app allows you to see entire notifications in the left sidebar while working with other tabs.
Messaging
Sending a text message or managing existing device messages from the desktop is extremely easy on Phone Link and the Intel Unison app. All you have to do is expand an existing text and type a reply to post it directly from your PC. Alternatively, you can click the New Message button to compose and send a new text message. However, the Phone Link app allows users to attach an image or media to texts which remain unavailable in the Unison app.
Additionally, the Phone Link app uses the native messaging app (Google Messages or a native Android messaging app) to send messages, while Intel Unison is capable of interacting with iMessage when synced with an iPhone for sending messages.
Photos/Gallery
Viewing the device photos on a desktop with the Phone Link and Intel Unison app is quite convenient. Windows Phone Link offers a Photos tab where you can view up to 2,000 recent photos stored on your device. However, it is only limited to displaying photos, and you won't be able to locate or play any videos stored on your Android device.
On the other hand, the Intel Unison app makes all device photos and videos accessible on the desktop with its Gallery tab. It also offers individual tabs to differentiate and separately watch photos, videos, and albums. In addition, you can adjust the content viewability by switching the thumbnail size or changing the gallery view. Overall, the Unison app offers more refined features to browse and view media content from your phone on your desktop.
File Transfer
The Unison app beats the Phone Link in terms of file transfer capabilities. While Phone Link has no option for transferring files, Intel's Unison app provides a dedicated file transfer tab to exchange files between the connected desktop and smartphone. What's even more impressive is its fast file transfer speeds, where it uses a peer-to-peer connection (Wi-Fi) to exchange files in an instant. Simply click the Add Files button in the File Transfer tab in Unison and pick your desired file to send to your device.
You can also repeat the same process on the Unison smartphone app (Google Play Store/Apple App Store) to exchange files without delay.
Windows Phone Link vs Intel Unison: Pros and Cons
Now that you're well acquainted with the feature comparison of these apps, here are the pros and cons to help you pick the suitable one for your needs.
Pros
Windows Phone Link
Works with both Android Phones and iPhones
Provides more features to manage device activities and view phone status details.
Allows sending replies to popup notifications without opening them.
The compact interface makes everything accessible in a single window without the need to close other tabs.
Personalizing the app makes its interface more appealing and attractive.
Intel Unison
Allows connecting to both Android and iOS devices.
Unlike Phone Link, the Unison app can show device videos on a desktop, making it easier for users to browse content.
You can transfer and exchange files between your desktop and connected smartphone at blazing-fast speeds.
It doesn't require any Microsoft Account to sync between devices making it more flexible.
You can turn off/mute notifications for selective apps such as Phone apps, Messages, etc.
Cons
Windows Phone Link
Requires a Microsoft Account to sync.
Connectivity issues on the Battery Saver Mode on the laptop.
You can't Transfer Files.
Random disconnection issues.
You can't turn off Notifications for selective apps.
It Consumes slightly more system resources than Unison.
Intel Unison
You can't reply to a Notification.
It requires the latest Hardware and Software specifications to work.
It doesn't offer Audio Player controls for the connected smartphone.
Lastly, personalizing the Unison app is limited, as there are no theming options.
FAQs
Q: What are the system requirements to install the Intel Unison app?
A: As per official sources, the Intel Unison app requires the latest stable build of Windows 11 alongside the 13th-generation Intel processors. However, we were successfully run the app on previous-generation Intel and AMD processors without any issues.
Q: Which is better, Windows Phone Link or Intel Unison?
A: For the time being, we prefer Intel Unison for its ability to transfer files and compatibility for both Android and iOS devices.
Q: Can you connect Intel Unison to an iOS device?
A: Yes, follow our Intel Unison installation guide to connect an iOS device with it.
Wrapping Up: What Should You Pick?
After spending days working with Windows Phone Link and the Intel Unison app, we believe the latter to be more fruitful and productive in the long run. While the Phone Link might look appealing initially with its design, Intel Unison makes more sense with more practical features like File Transfer and connectivity to various smartphones. Let us know which one you prefer, and subscribe to GadgetsToUse for more awesome comparison guides.
You might be looking for the following:
You can also follow us for instant tech news at Google News or for tips and tricks, smartphones & gadgets reviews, join GadgetsToUse Telegram Group, or for the latest review videos subscribe GadgetsToUse Youtube Channel.