Regular data breaches have scared a lot of privacy-conscious people about their data being floating somewhere on the web. If you, too, are worried about online data breaches and want to know if your name, date of birth, email address, passwords, payment, or other information has been compromised, do not worry. Here's how to find out if your phone number and email data have been leaked online in a data breach or not.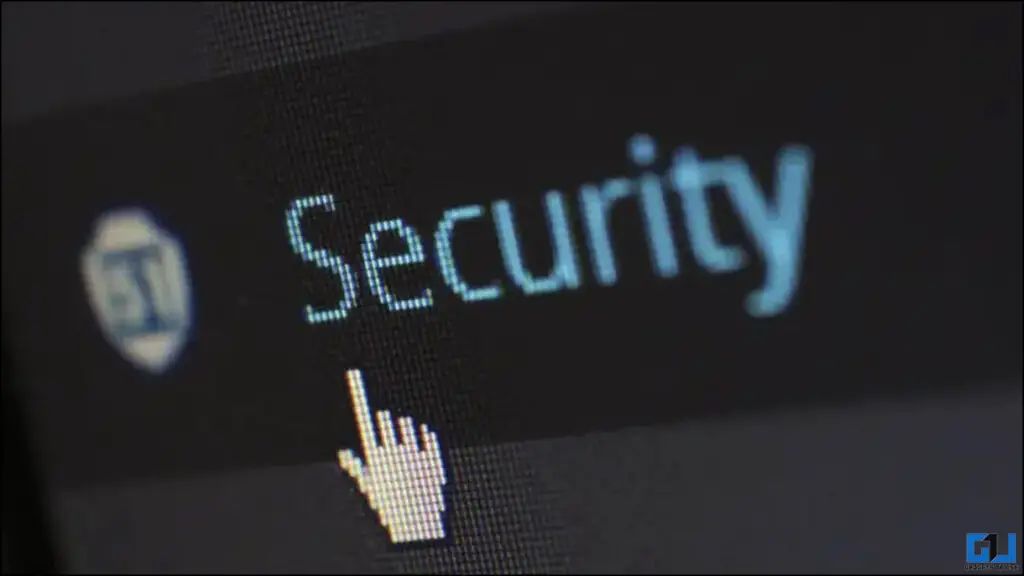 How to Check If Your Phone Number and Email Have Leaked Online?
There is no way to get complete details of a data breach or your details that were hacked. However, you can check if your email or phone number was leaked in a data breach recently or previously using the following methods.
Method 1-  Using 'Have I Been Pwned' Website
"Have I been Pwned" is a website where you can find if your email ID and phone number were part of any data breach. Here's how to use the free tool:
1. Go to the Have I Been Pwned Website on your phone or computer.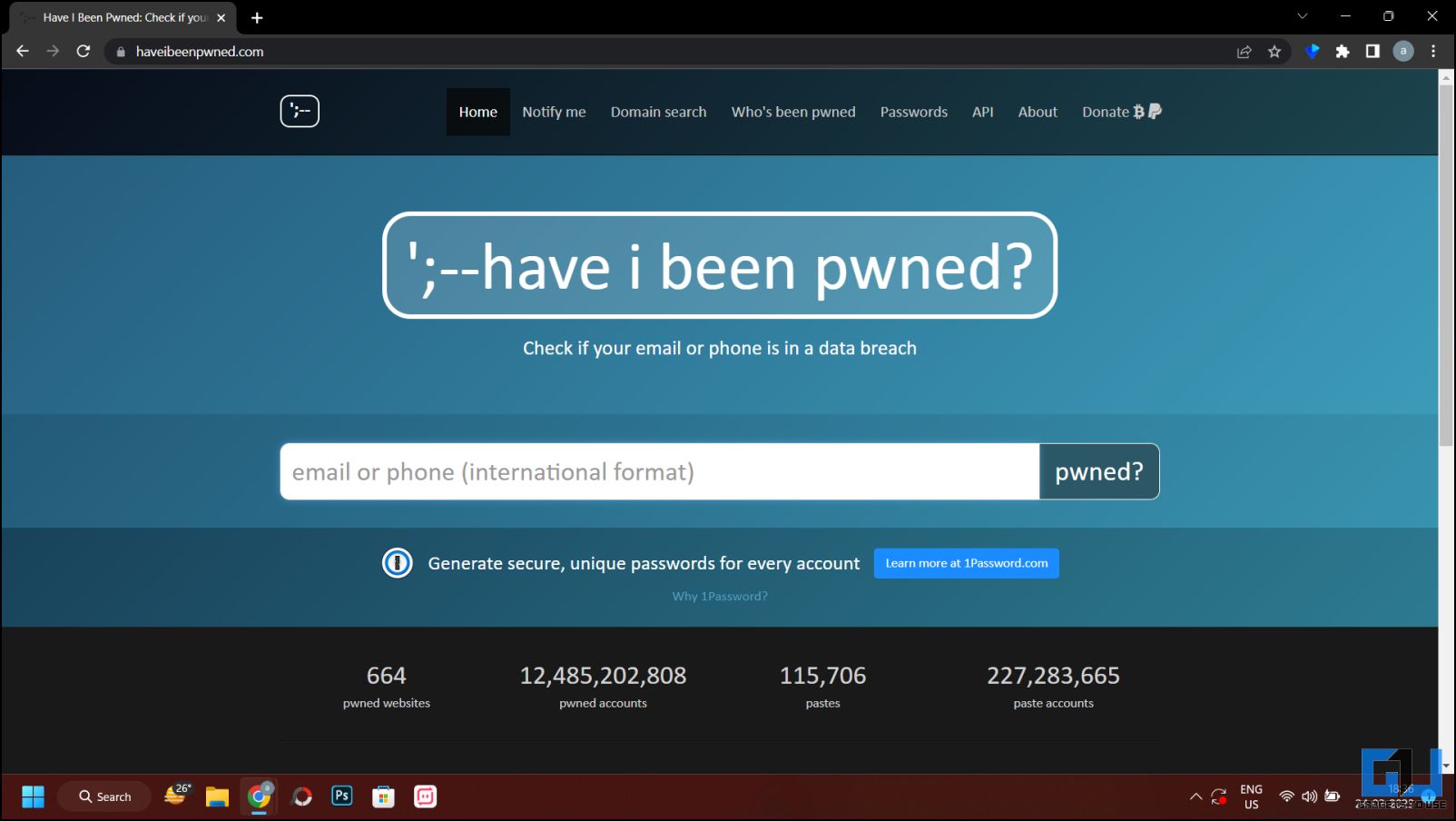 2. On the webpage, enter your email or phone number in the international format and click on the 'pwned?' tab.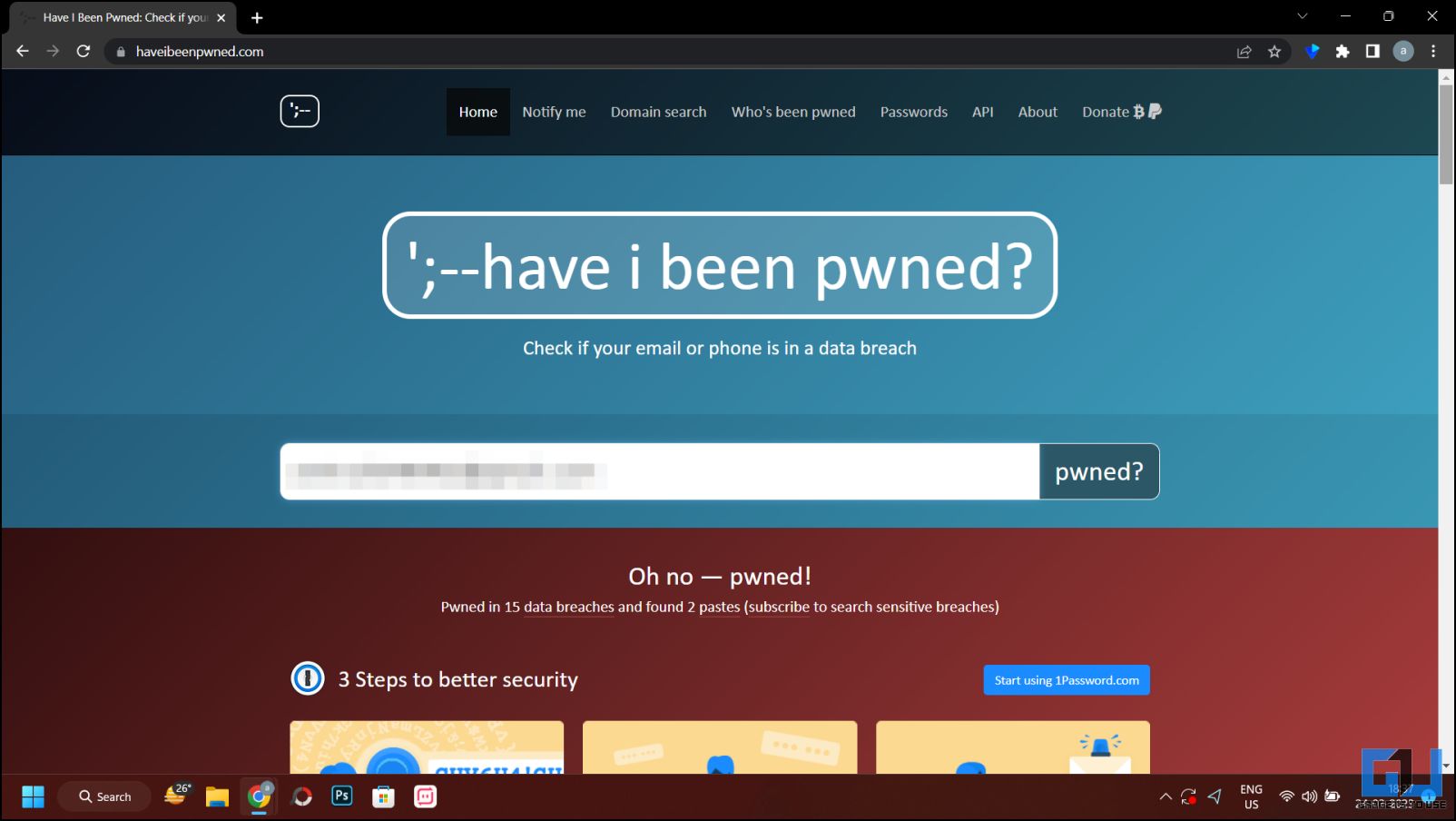 3. It will show you the list of all the services from where your data has been leaked.
When you scroll down, you will also find all the web pages through which your data was leaked.
Method 2- Using the Avast Hack Check Tool
You can also use Avast's Hack Check tool to check if your email address has been leaked in a data breach. One thing to be noted is that this tool doesn't let you check if your phone number is leaked. To check for email address leaks, follow these steps:
1. Visit Avast's Hack Check tool page and enter your email address in the box.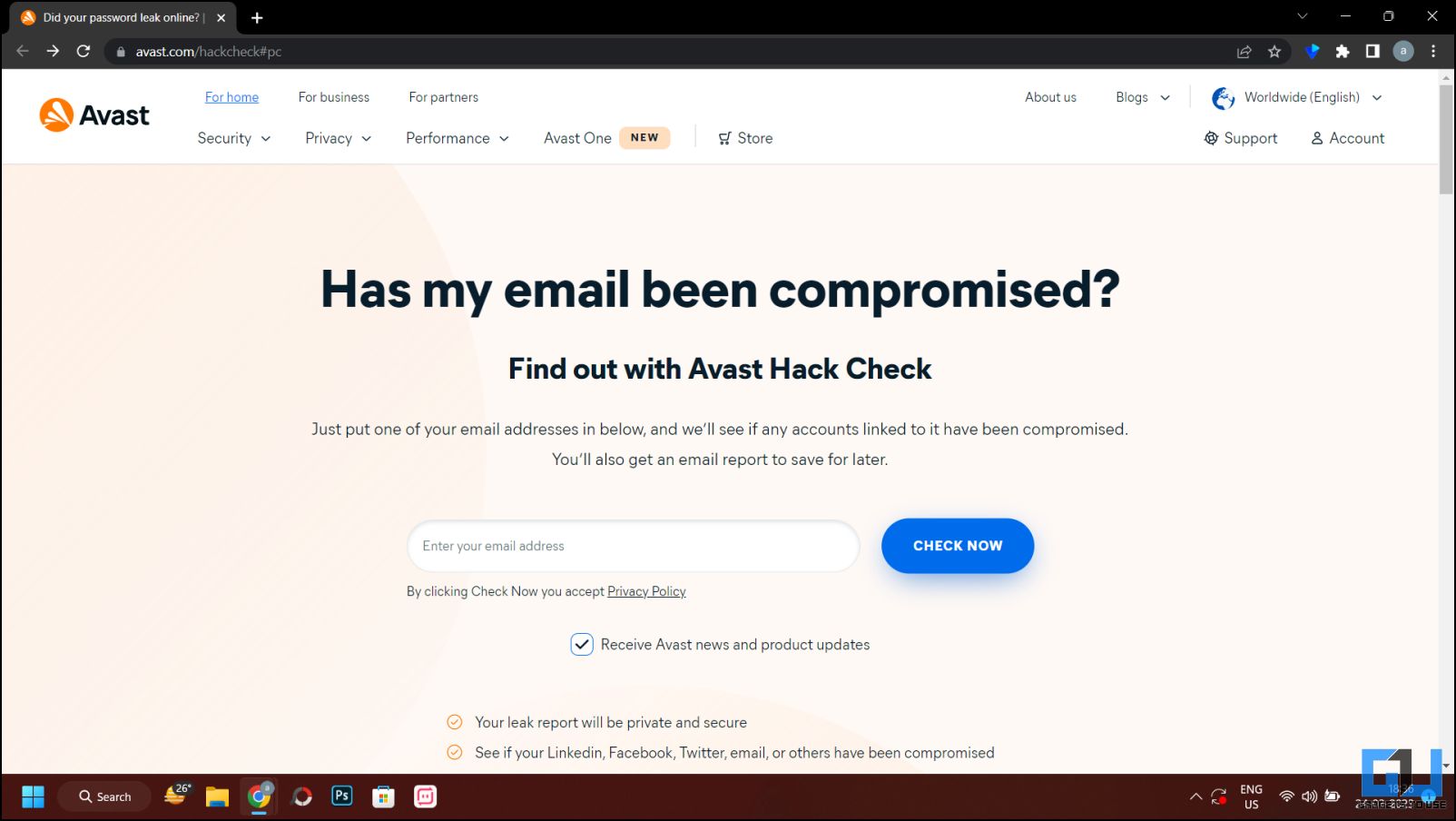 2. Click on 'Check Now' and you will receive a mail with the results.
3. The e-mail will list all the services from where your data has been compromised.
Avast will also send you an email with details of the data breach, and you can check the same in your inbox and fix the issue.
Method 3- Check for Data Leaks on CyberNews
Lastly, you can use the Personal data leak checker on the CyberNews portal to find out if your email address or phone number has been part of a data breach in the past or not. Here's how it works:
1. Visit the CyberNews Data Leaker checker page on a web browser.
2. Enter your email address or phone number, and click the Check Now button.
3. In a few seconds, the tool will find out and notify you if your data was part of a data breach.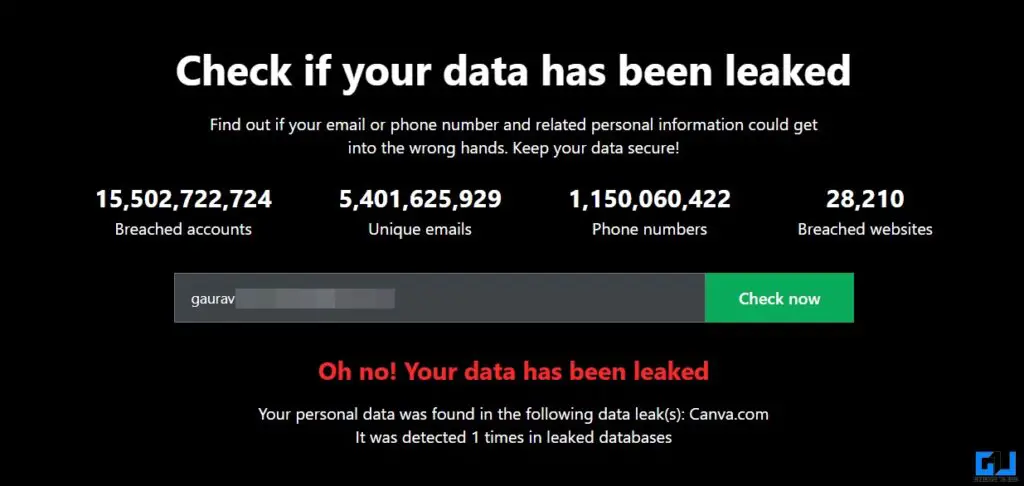 Method 4- Using The News Each Day Tool (US Only)
Another tool for checking if your phone number was leaked in the Facebook data breach is a website called The News Each Day. Here, you can input your phone number to determine if it was part of the breach. However, this website is for US users only.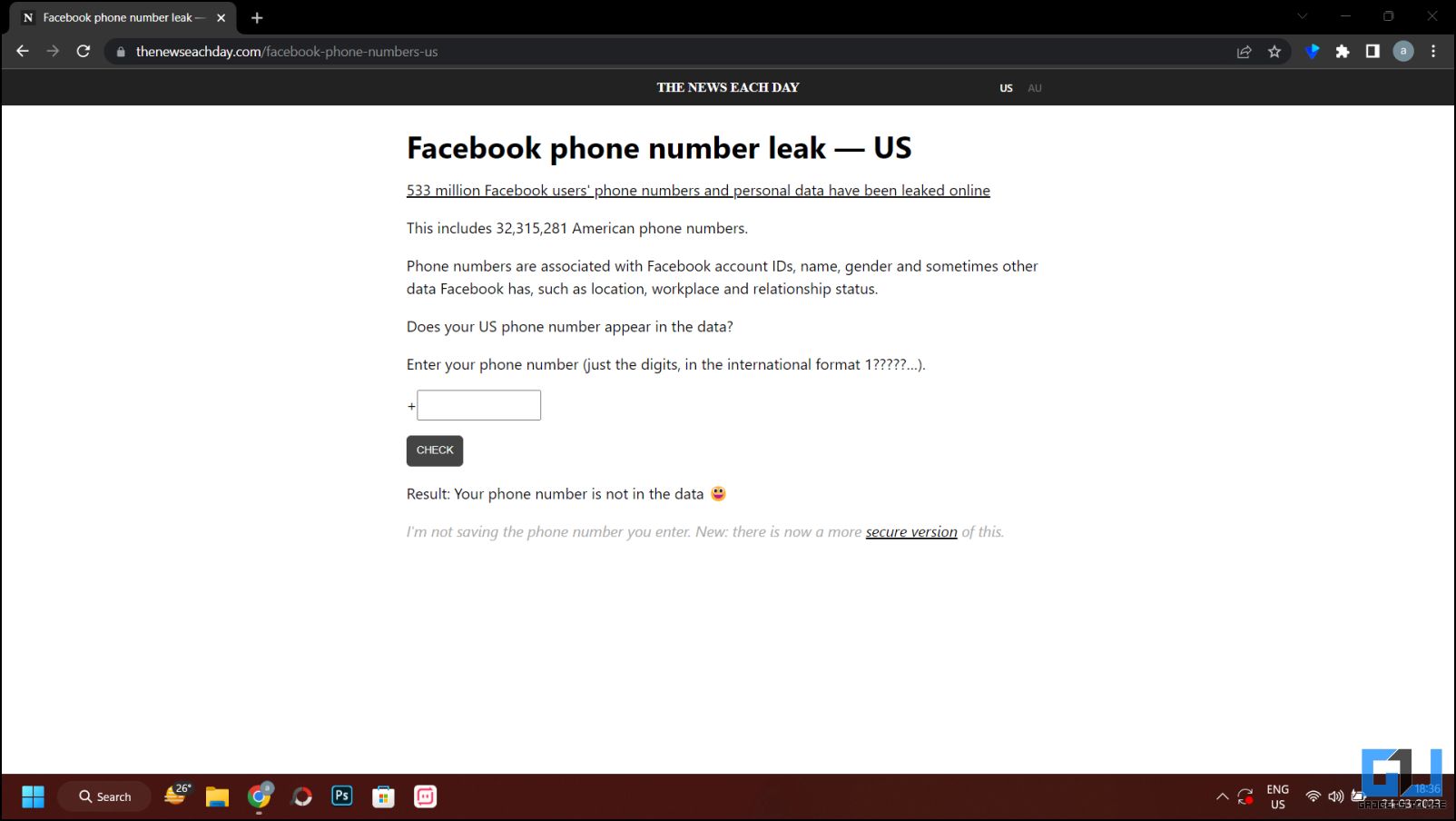 According to the website, to protect user privacy, it generates random phone numbers starting with the same five digits as your number and 99 such fake numbers and one real number to the server. So it can never be known which is your actual number.
How to Stay Safe Online?
It's always a good idea to change your passwords whether your details have been compromised or not. Also, set a strong and unique password you haven't used anywhere else. Apart from that, here are some other tips to further secure your several online accounts like email, Facebook, Instagram, etc.
Always use 2FA (two-factor authentication) for your Facebook, Instagram, and all other services offering 2FA. This will reduce the risk of hacking your account.
Also, remove phone-based 2FA and try to set up the 2FA app if the account allows it.
If you think your phone number has leaked several times earlier, consider changing your phone number as well.
Also, keep yourself updated with the latest and most common online scams.
You can also safeguard your data by using a more secure messaging app.
FAQs
Q. What To Do If My Data Has Been Leaked?
First of all, use one of the abovementioned services to check if your data has been leaked or not. If it did, then change your passwords immediately on those particular services.
Q. Should I Delete My Account If It Has Been Leaked?
Do not delete your account. Instead, change the password immediately. Also, make sure you use the "Log out from all devices" feature of the service if available. This will log out your account from all the devices, and a password will be required to log back in.
Q. How To Protect My Account Against Hackers?
Use all the security measures provided by online services you use and only sign up for the website you trust. More tips about saving your account from hackers are mentioned above in the article.
Wrapping Up
These were some ways to check if your personal data, like your phone number and email ID, have been leaked or compromised in a data breach. Also, now you know some tips to keep your data safe online. Please share this article with your friends and family to help them check and secure accounts. Stay tuned to GadgetsToUse for more such reads.
Also, Read:
You can also follow us for instant tech news at Google News or for tips and tricks, smartphones & gadgets reviews, join GadgetsToUse Telegram Group or for the latest review videos, subscribe GadgetsToUse Youtube Channel.