WhatsApp is the most popular messenger across the globe. Apart from text messages, people also use this platform to share media files like photos, audio, or videos with their family and friends. However, people often face an issue with sending large files on WhatsApp. To be noted, there was a file size limit of 100MB, which was later increased. In this read, we will talk about working tricks to send big files and large videos on WhatsApp.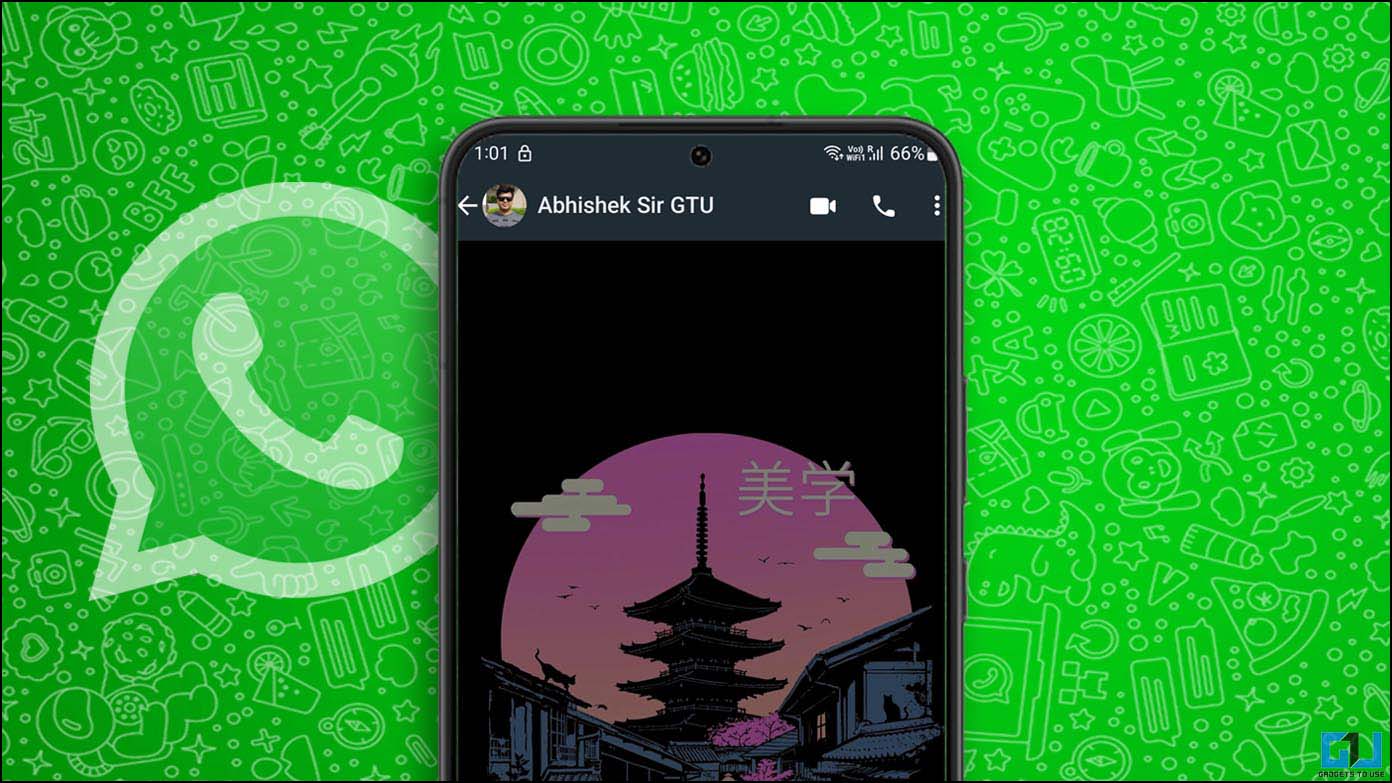 Send Big Files, Large Videos On WhatsApp
As mentioned earlier there was a limit of 100MB file size on WhatsApp, which was later increased to 2GB back in 2022. Though the updated limit is still not rolled out to all users, so below we have provided multiple ways to send videos of more than 100MB on WhatsApp.
Send Files Up to 2GB on WhatsApp
Back in July 2022, WhatsApp updated the file size limit, to up to 2GB without using any third-party applications. You can simply select the file under 2GB and send it like you send any other files to your contacts. Here's how it can be done.
1. Go to the WhatsApp chat you want to share the file on, and tap the attachment (pin) icon.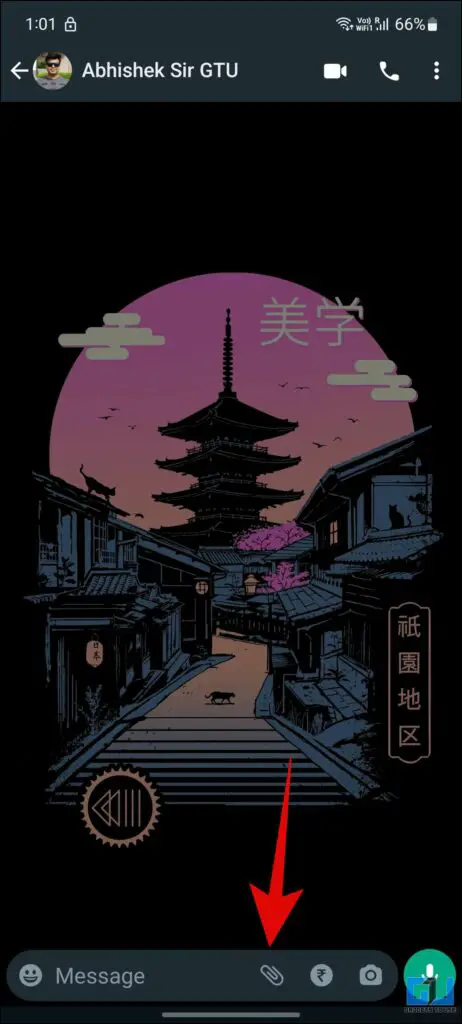 2.  Next, from the pop-up menu tap the Document icon.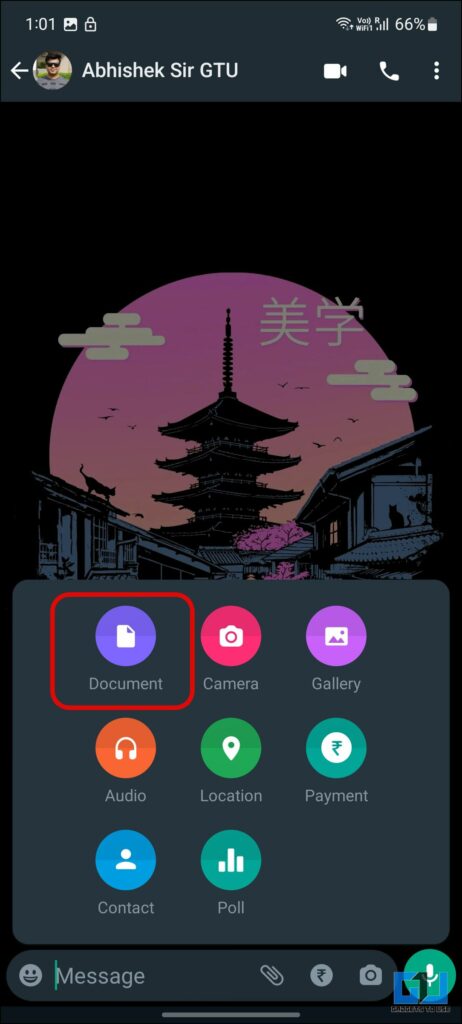 3. Now, simply browse and select the file you want to share.
Use Google Drive to Send Large Files over WhatsApp
The first and perhaps best method that you can use to send big files on WhatsApp is Google Drive. Yes, you can upload and share large videos on WhatsApp using the Google Drive link. Here's how:
1. Open Google Drive App on your phone, tap the Plus (+) Icon on the home screen and choose a file or folder type to upload.
2. Once the file is uploaded, tap on the three-dot menu beside that file and go to the Share option.
3. On the next screen, tap on Manage Access and tap the Change option.
4. Now, tap on Restricted and change the access to Anyone with the link.
5. Finally, click the Pin icon to copy the link of the file, and share it on WhatsApp.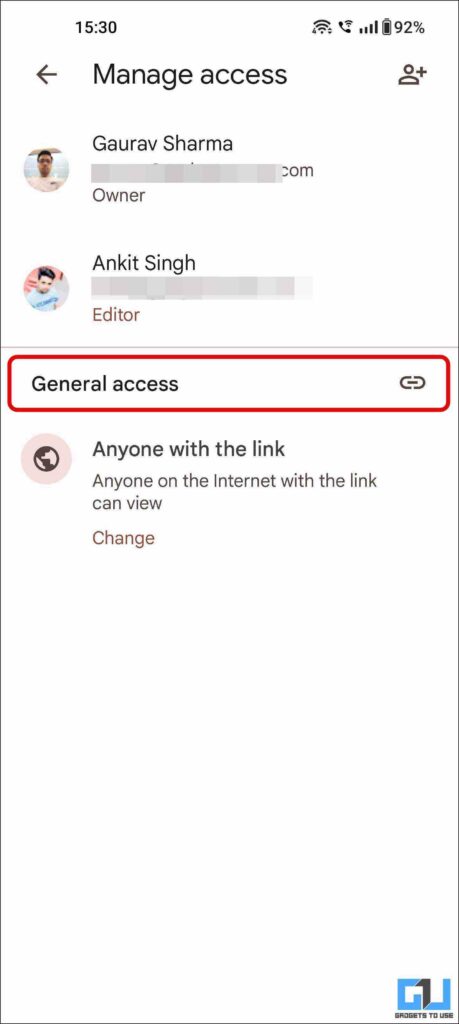 The Google Drive link will allow your contacts to see the file and even download it.
Use WeTransfer to Share Large Files on WhatsApp
WeTransfer is another handy tool to share large files via a shareable link with anyone. The tool is easy to use and supports most file formats. The free version allows you to upload up to 2GB of files, and with the pro version, you can share up to 20 GB.
Follow the steps below to transfer files via WeTransfer:
1. Go to the WeTransfer website on a web browser.
2. Click on Upload files and select the files you want to share.
3. Now, scroll down and then select the Get Transfer link to get the shareable link.
4. Next, click on the Get a Link button to start the upload process.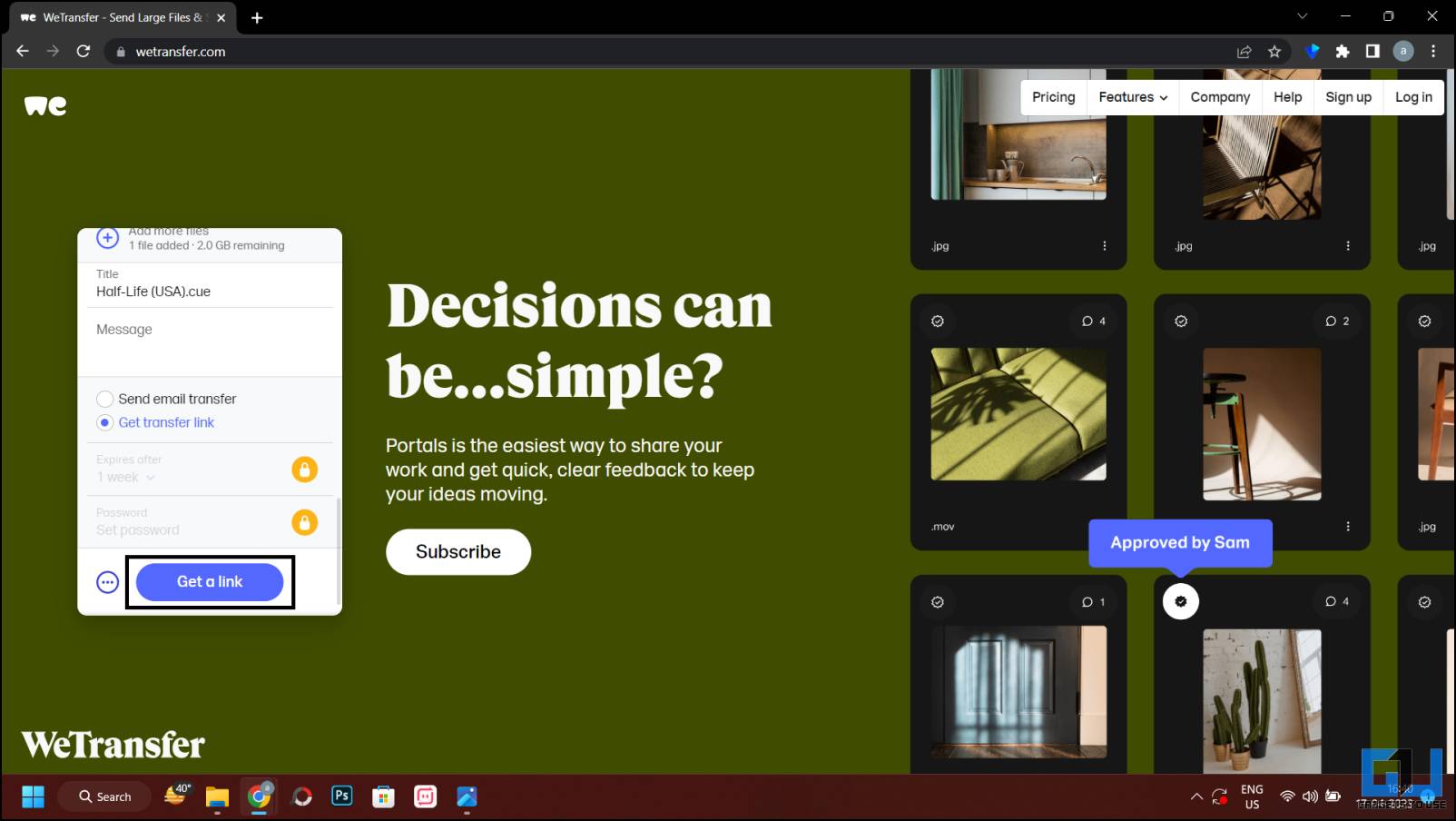 5. Once the files are uploaded, click on "Copy link" and then paste it into your WhatsApp chat to share it with your contacts.
Your contact can open the link and download the file using the WeTransfer website.
Video Compressor Panda
This is useful another tool to compress your large video files in order to share via WhatsApp. Video Compressor Panda is a free-to-use app and is available on Google Play Store. Here's how to use this app to compress your large files:
1. Download and install the Video Compressor Panda app on your smartphone, and launch it.
2. Now, select the video file that you want to compress, and tap on Next.
3. On the next page, select a file compression type from Small File, Medium File, Large File, or Fit to Messenger, Email, etc.
4. Now, tap Compress at the bottom.
5. That's it. You will see the compressed video on the next page, which you can download using the Save option at the bottom or you can directory share it to WhatsApp from the app itself.
You should note that the free version of this app contains ads. If you want to avoid ads with unlimited group compression, and cut videos, you can go for the premium plan which starts at only Rs. 50 for 3 months.
FAQs
Q. Can You Send Any File Types on WhatsApp?
Yes, you can send any type of file on WhatsApp. You need to select documents from the options to select a different file type other than media.
Q. How to Send Large Files on WhatsApp?
WhatsApp now allows you to send files of up to 2GB, simply follow the first method to know the process. Make sure you have the latest app installed on your phone.
Q. How to Send Large Videos on Whatsapp Without Losing Quality?
In order to send large photos or videos without losing quality on WhatsApp, you can send them as a document. With this method, you can send videos of up to 2 GB.
Q. Why I cannot send large files up to 2GB via WhatsApp?
If you are not able to send large files of up to 2GB on WhatsApp, make sure you have the latest app installed on your phone. Simply go to the Google Play store or Apple App Store and update the WhatsApp app.
Wrapping Up
This is how you can send big files or large videos, on WhatsApp without losing quality. WhatsApp is also working on a feature to let you choose the quality of media when you share it with someone. I hope you found these methods useful, if you did, make sure to share it. Check out other useful reads linked below, and stay tuned to GadgetsToUse for more such reads.
You might be interested in:
You can also follow us for instant tech news at Google News or for tips and tricks, smartphones & gadgets reviews, join GadgetsToUse Telegram Group or for the latest review videos subscribe GadgetsToUse Youtube Channel.