WhatsApp Web is a great solution for managing WhatsApp messages on your PC without touching your phone. However, if you're unable to receive new notifications on WhatsApp web, you might miss out on important messages. But fret not; this explainer discusses several methods to fix WhatsApp web notifications not working on Windows 10 or 11. Additionally, you can learn to set up custom notification sounds on WhatsApp.
Reasons Behind the Issue
While there could be several unexpected reasons causing issues with WhatsApp Web notifications, some of the notable ones are as follows:
You're on an unstable internet connection
You're using an outdated or incompatible web browser
You haven't enabled desktop notifications for WhatsApp Web
The browser doesn't have sufficient privileges to display notifications
Outdated browser cache files
A recent browser extension installation is suppressing WhatsApp notifications
You're connected to a slow Virtual Private Network (VPN)
Methods to Fix WhatsApp Web Notifications Not Working
Now that you're aware of the reasons let's quickly look at various methods to solve the WhatsApp web notification issue on Windows 11/10. Meanwhile, we have a separate guide to fix WhatsApp web Notifications on Mac.
Method 1 – Ensure Stable Internet Connectivity
A common reason behind the WhatsApp Web notifications not working issue is an unstable internet connection. If the connection on your computer keeps fluctuating, you might miss new notifications arriving on WhatsApp. To resolve it, you can check the internet speed on your device or contact the ISP if the issue persists.
Method 2 – Check if Whatsapp Is Down
A service downtime can be another reason why you're missing new notifications on WhatsApp web. You can check the same using these easy steps:
1. Visit the WhatsApp Downdetector website to check the current status.
2. If the down detector reports an issue with WhatsApp, you might have to wait some time to get it fixed.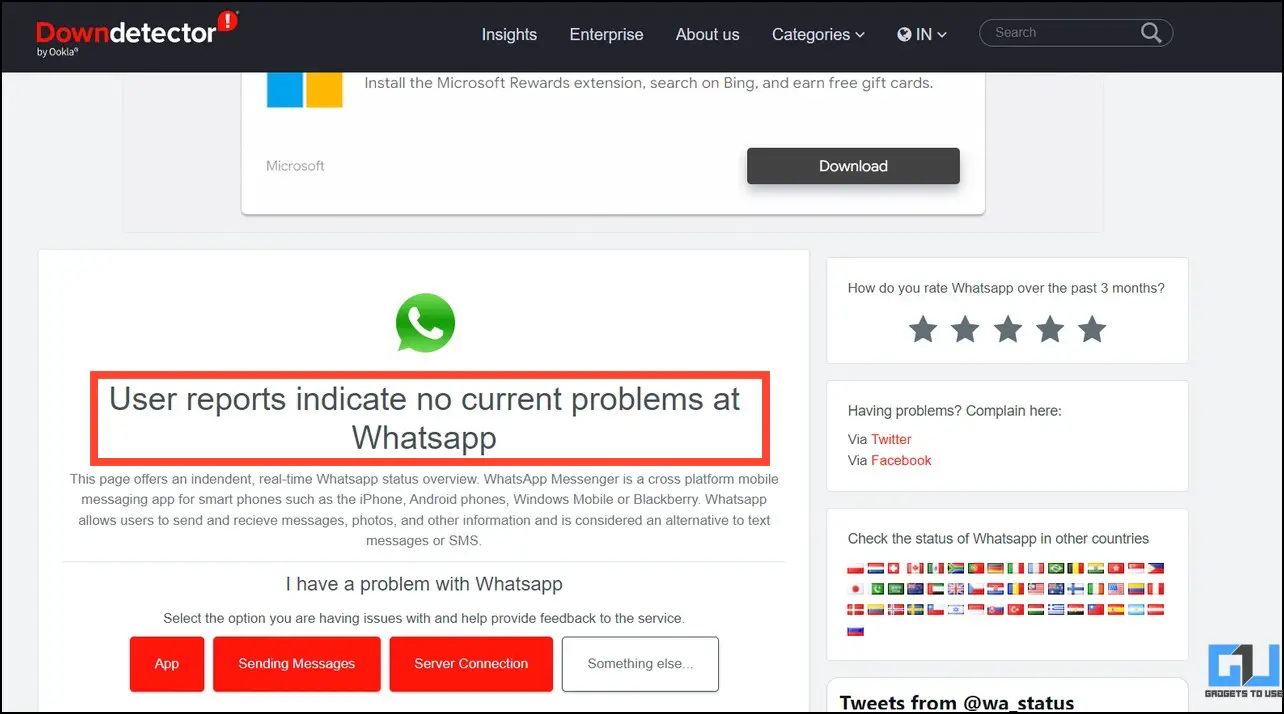 Method 3 – Ensure the Web Browser Is Compatible
WhatsApp web is not supported on 'retired' browsers like Internet Explorer. Hence, to ensure you get proper notifications while using WhatsApp web on your desktop, you must use the latest version of Google Chrome, Brave, Firefox, Microsoft Edge, Opera, or Safari.
Method 4 – Check the Status of WhatsApp Message Notifications
Another probable reason behind the WhatsApp web notifications not working issue is, disabled notifications for new messages. To fix the same, you can access its settings and enable it. Here's how it can be done:
1. Go to WhatsApp Web and click the three-dot menu to access Settings.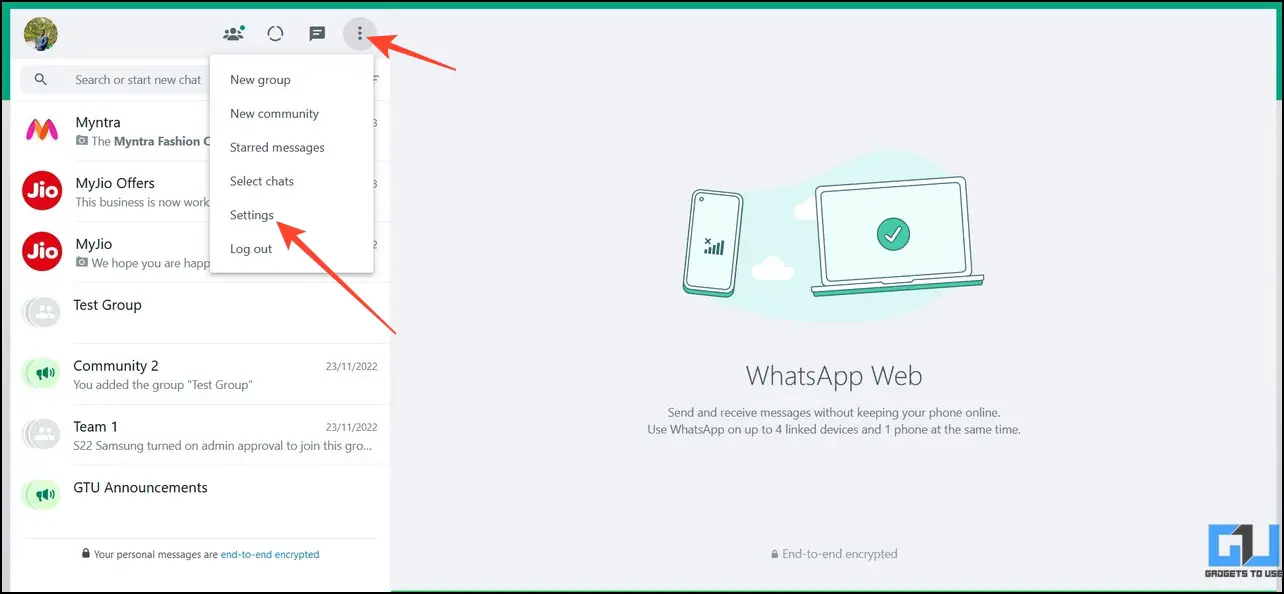 2. Next, click Notifications.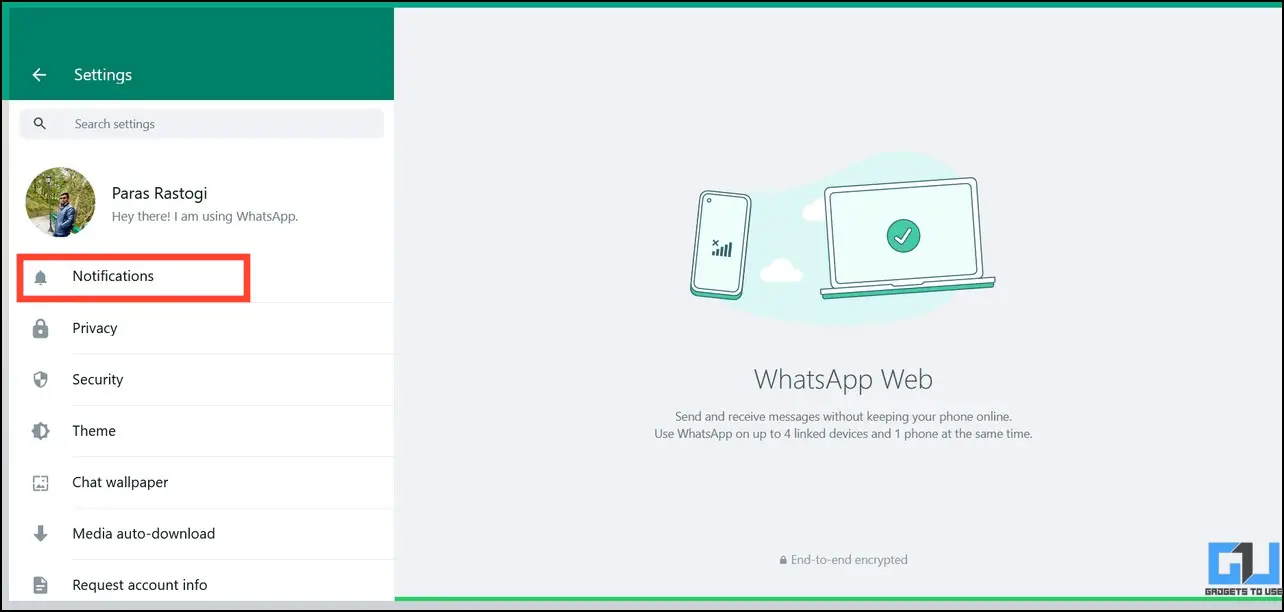 3. Finally, check the box in front of Message Notifications to enable it on WhatsApp web.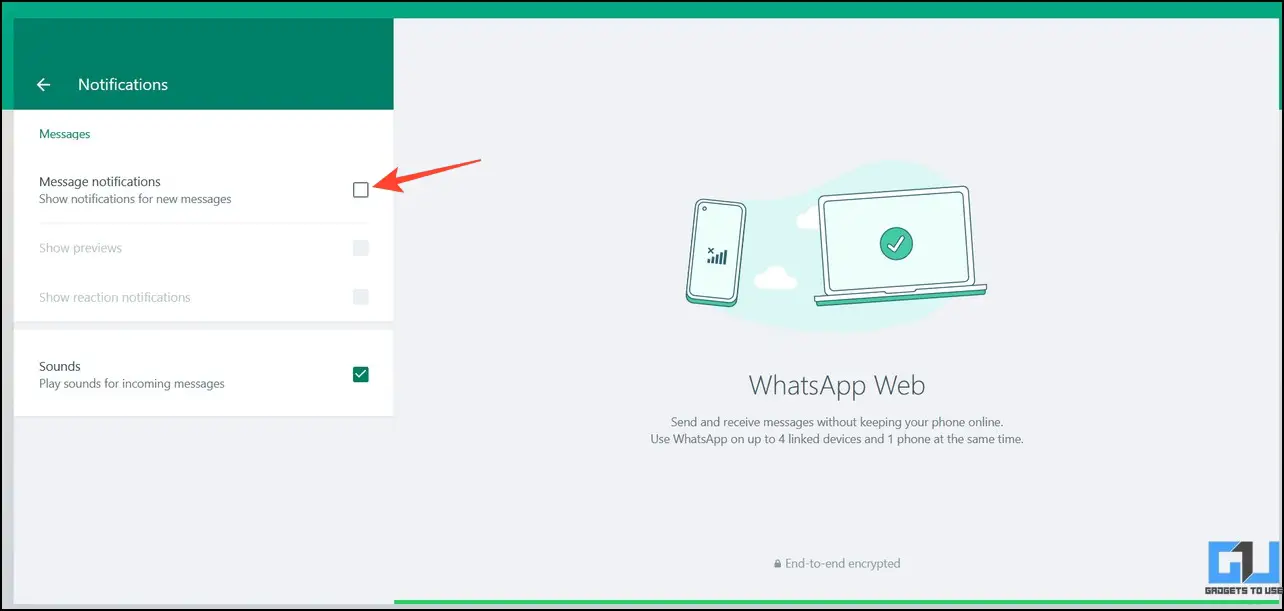 Method 5 – Configure Site Settings to Fix WhatsApp Web Notifications
Some browsers automatically restrict popups and notifications from websites, which might suppress new incoming messages from WhatsApp web. To fix it, you can configure site settings to enable notifications manually. Here's how it can be done:
1. Access WhatsApp web on your PC's web browser and click the padlock icon to open Site Settings.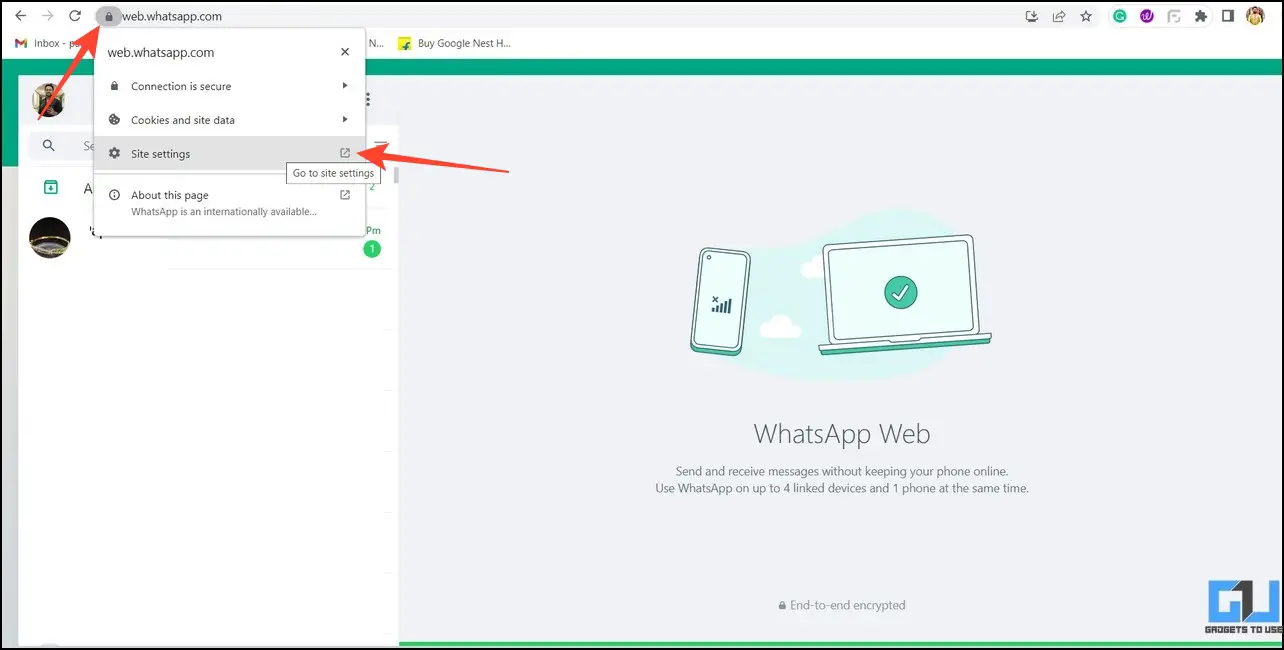 2. Locate Notifications in the list of permissions and set it to Allow.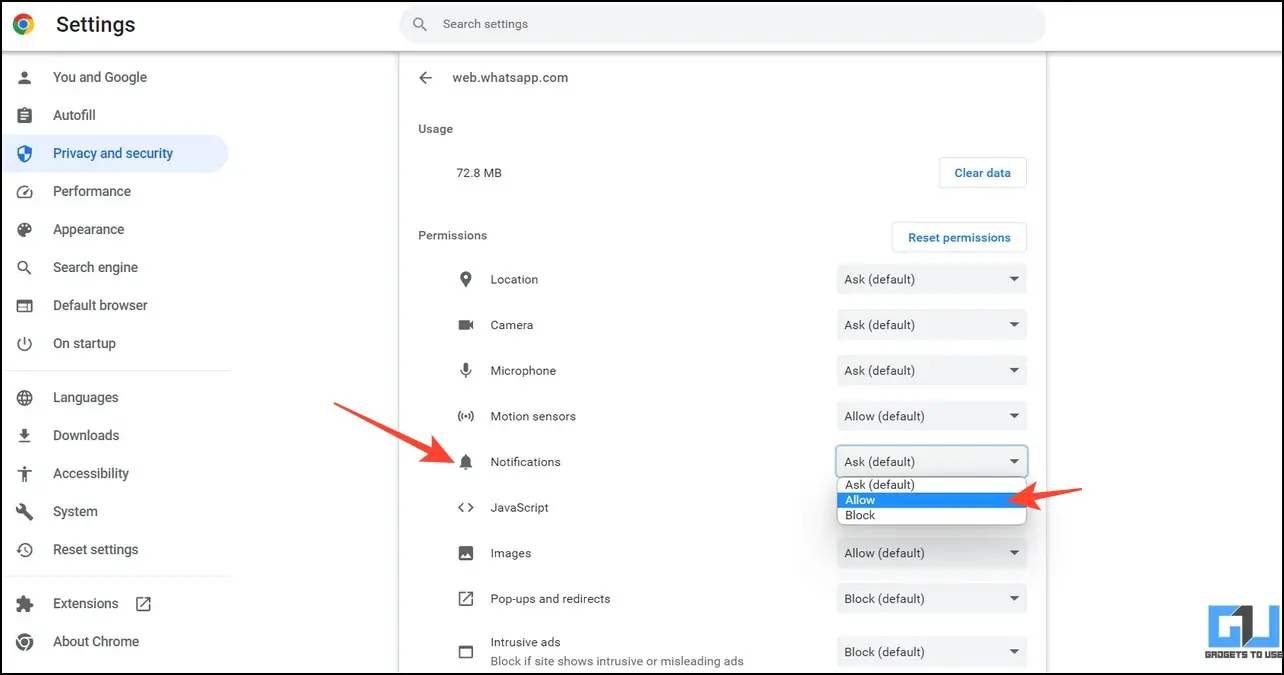 Method 6 – Enable Browser Notifications
If you've unknowingly disabled browser notifications earlier to avoid distractions, you will miss all notifications from websites, including WhatsApp web. To fix it, you can access Windows Settings to turn it on.
1. Press Windows + I keys simultaneously to open Windows Settings.
2. Next, switch to the Notifications section from the right section.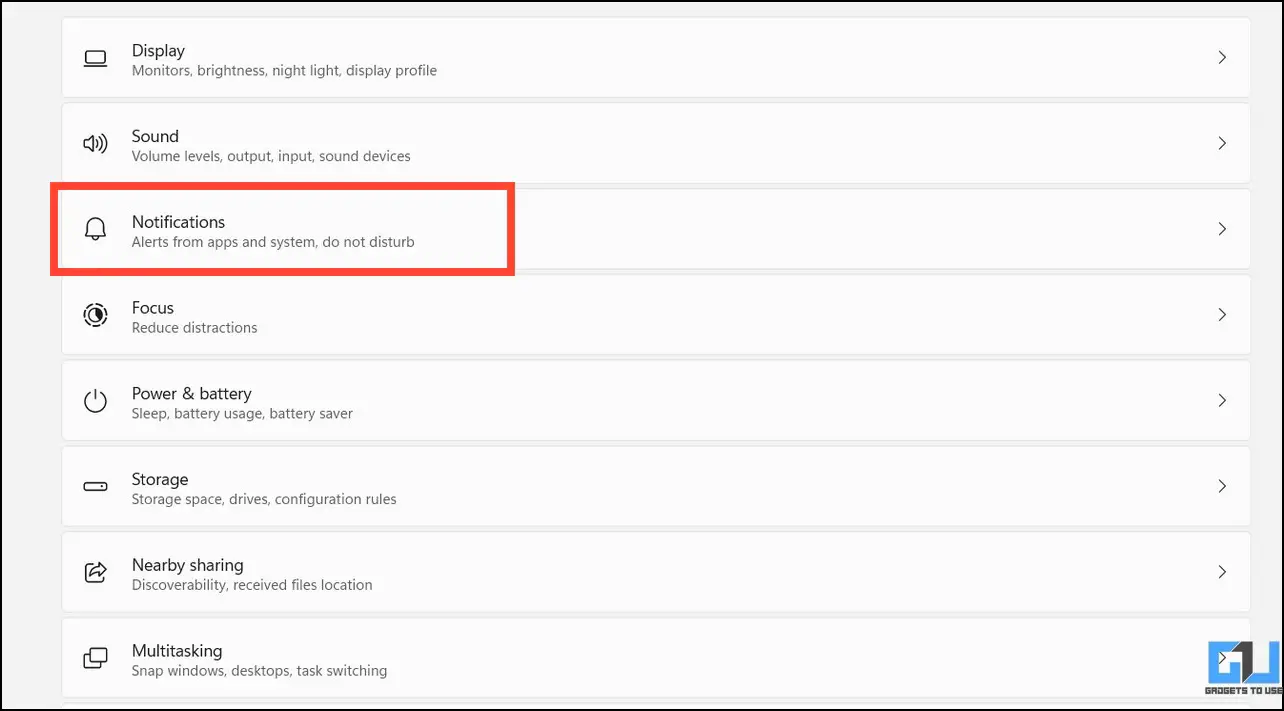 3. Scroll down to locate your Browser (Google Chrome in our case), and turn on its toggle to enable notifications.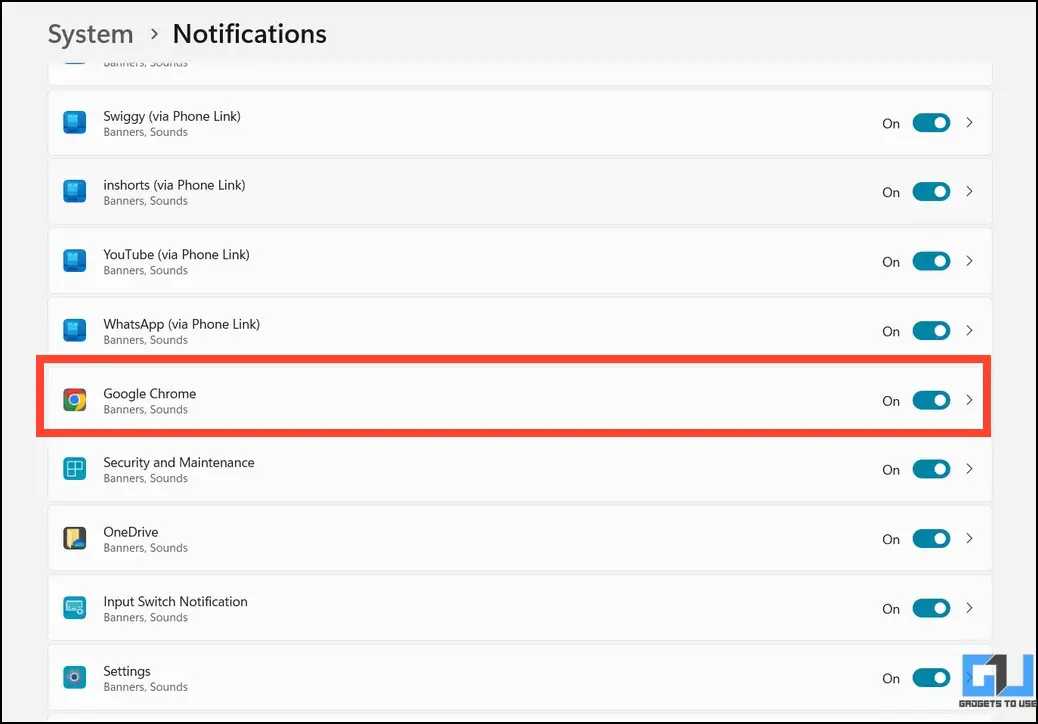 Method 7 – Try Logging out and Signing In
An incomplete WhatsApp sync between your smartphone and desktop can also lead to the web notifications not working issue. You can log out and sign in again to fix the problem easily.
1. Open WhatsApp web and click the three-dot menu to log out of the current session.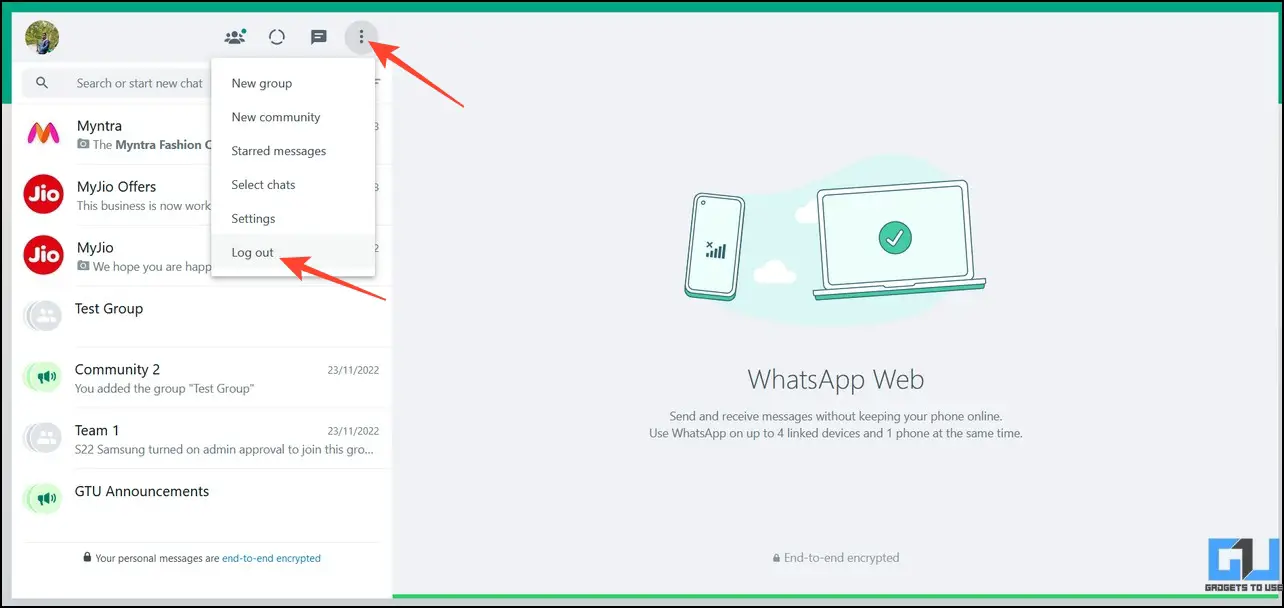 2. Next, scan the QR code from the WhatsApp app on your smartphone to re-link your account to WhatsApp web.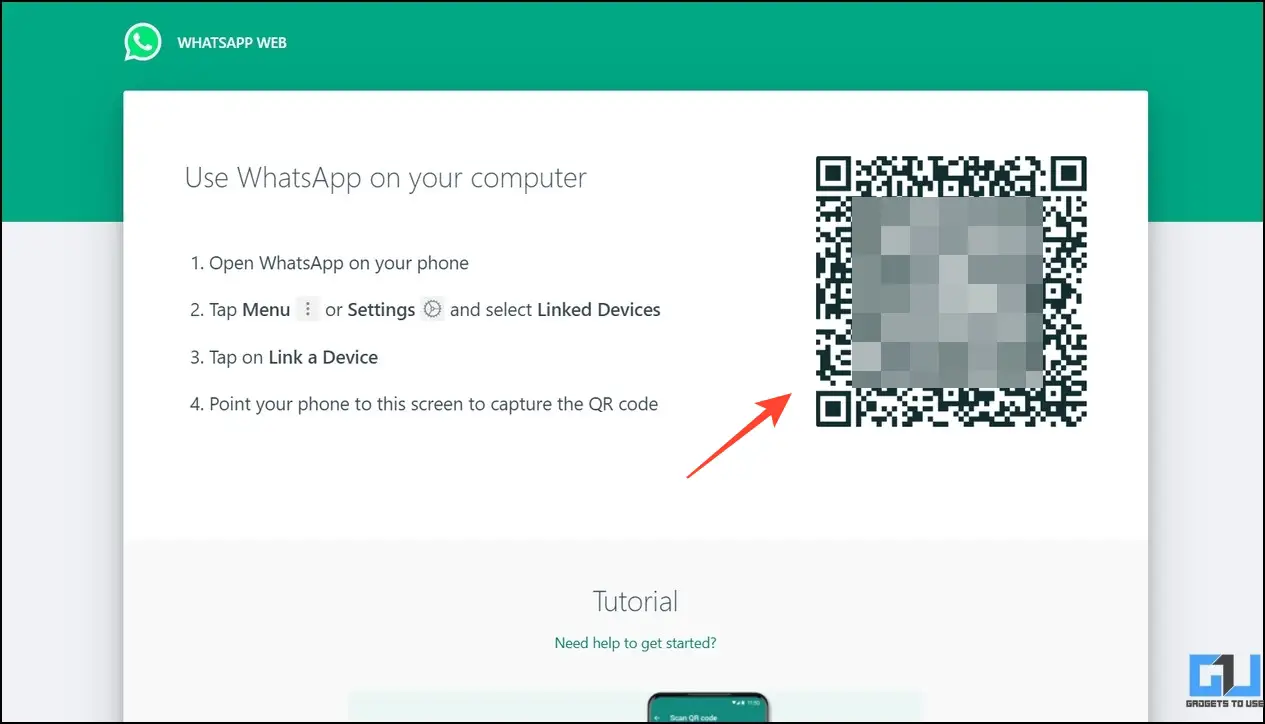 Method 8 – Update WhatsApp App and Browser
An obsolete browser or app version can also contribute to notification issues on WhatsApp web. Ensure running the latest WhatsApp and web browser to avoid the issue.
1. Update the WhatsApp app (Android, iOS) on your phone.
2. Next, click the three-dot menu in your browser window to access the About section.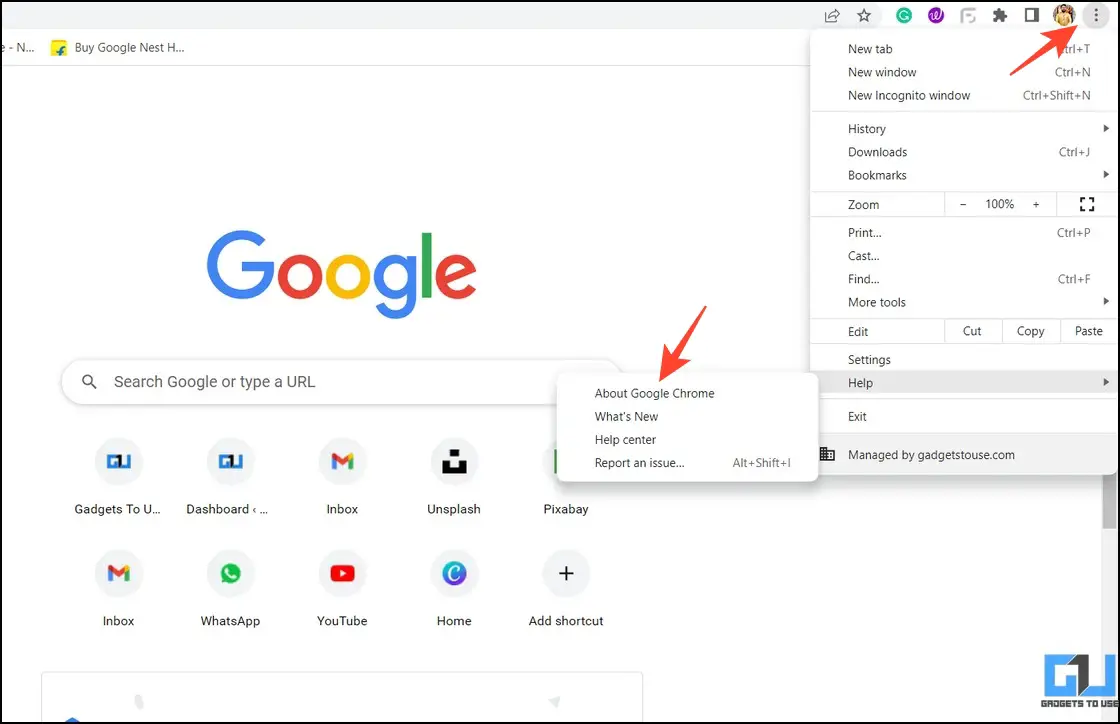 3. Wait for a few seconds to let the browser check and install new updates.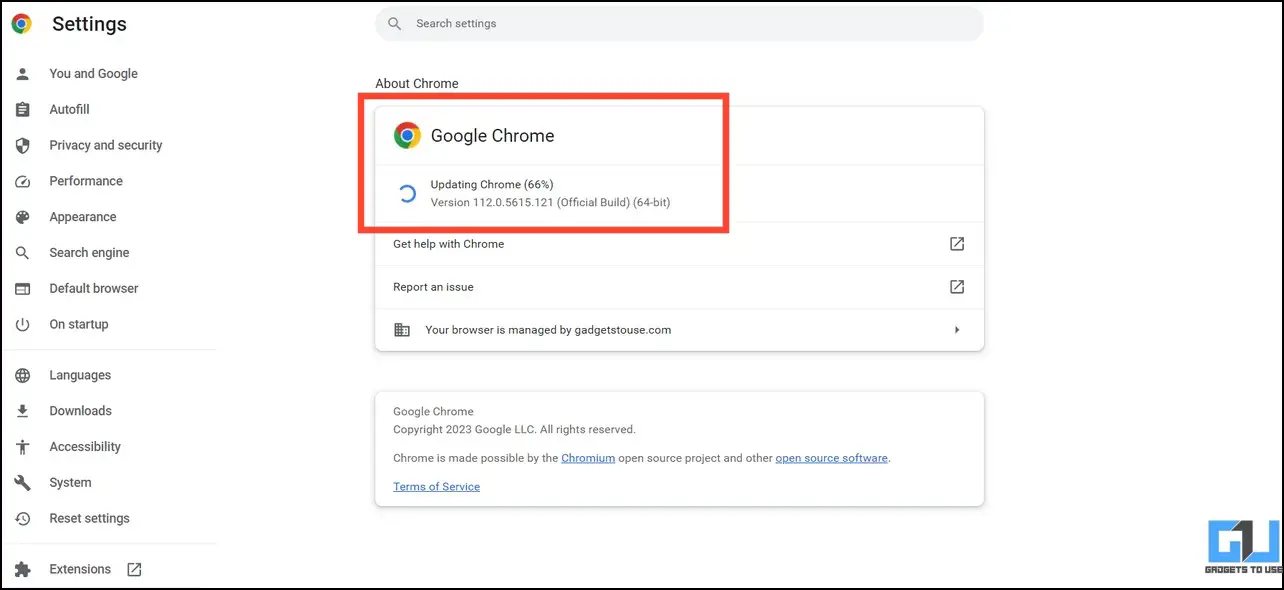 Method 9 – Clear WhatsApp Web Cache Files
Over time a browser accumulates cache files, which can create issues running the basic services such as website notifications. To resolve the same, you can remove all cache files from your browser to get proper notifications from WhatsApp web.
1. Click the three-dot menu in your web browser to open Settings.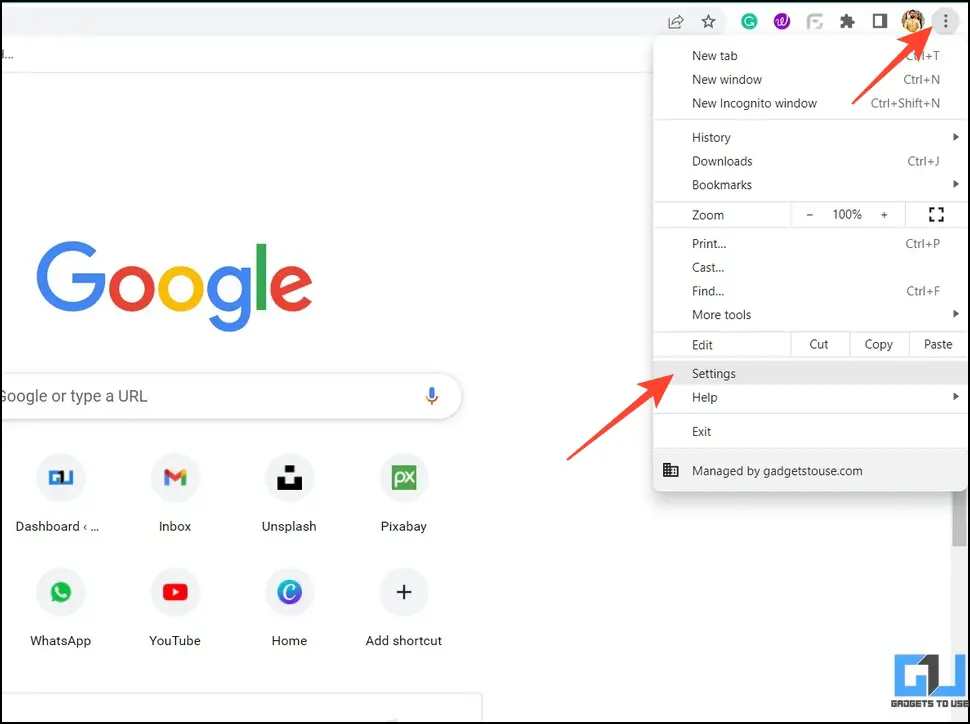 2. Expand Privacy and Security in the left sidebar and click on Clear Browsing Data.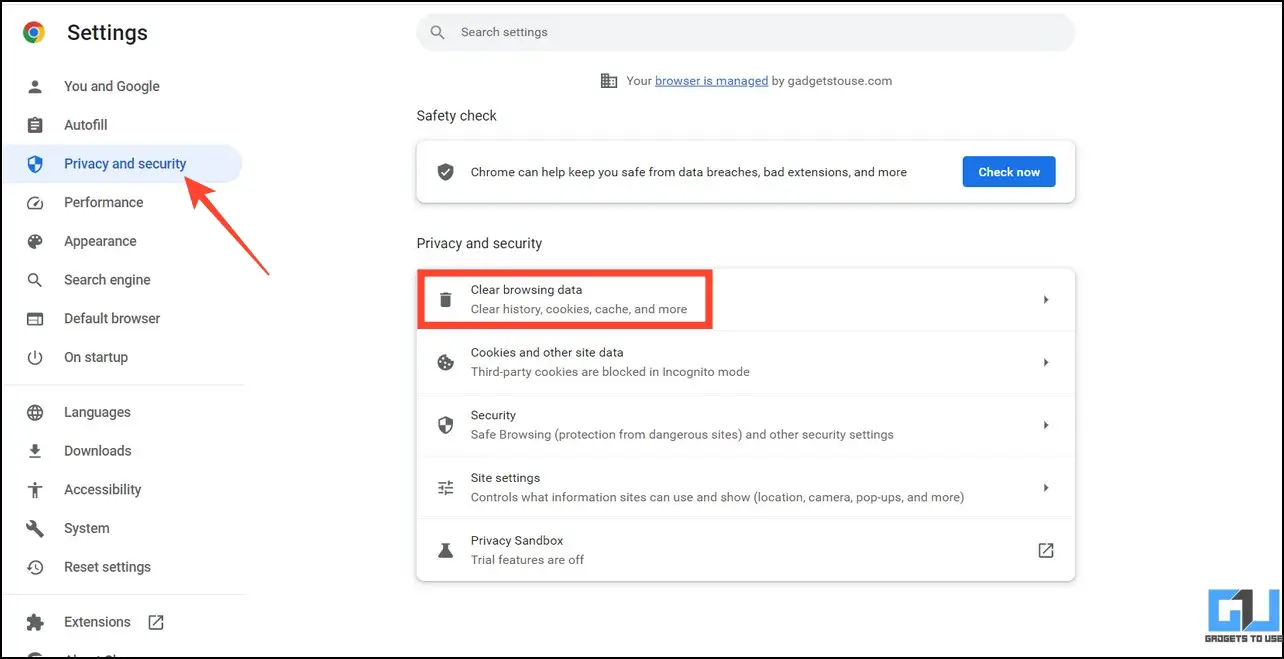 3. Check the Cached images and files and press the Clear Data button.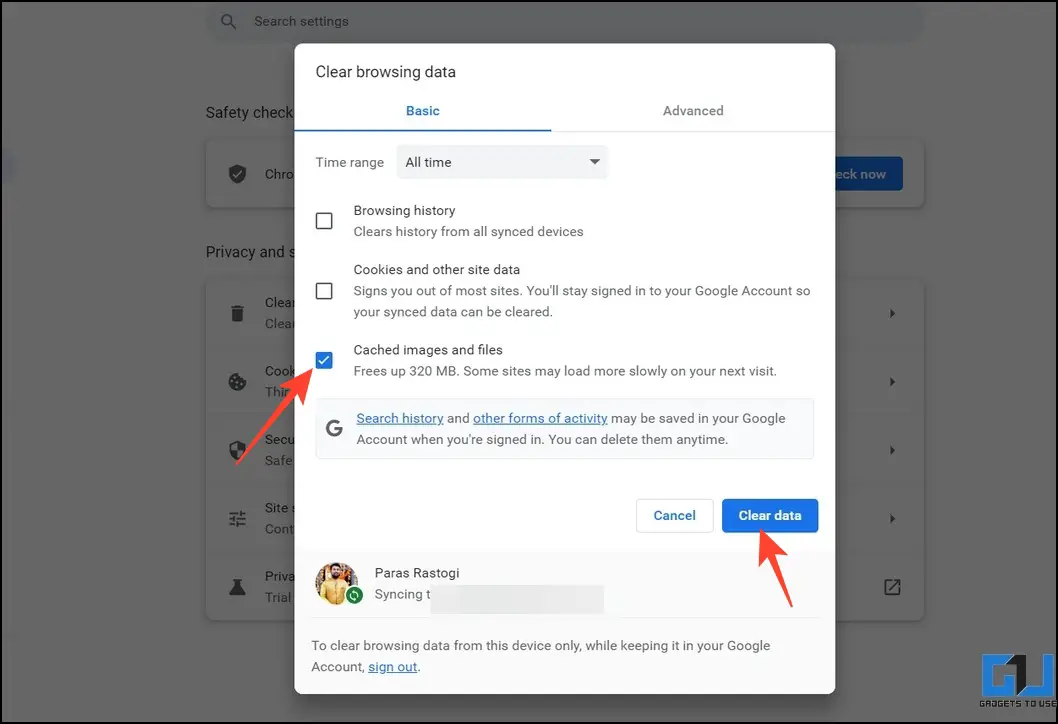 Method 10 – Launch Whatsapp Web in Incognito Mode
Sometimes a recently installed app or browser plugin interferes with notifications, suppressing them. To check whether a plugin is causing such issues, you can access WhatsApp web in Incognito/Private browsing mode, where all installed extensions remain disabled by default.
1. Press Ctrl + Shift + N in your Google Chrome/Brave browser to open the incognito window. Alternatively, you can access Private Browsing mode if you're using Firefox.
2. Next, access WhatsApp web in the incognito/private browsing tab and scan the QR code to activate the WhatsApp web session.
Note: Once you close a WhatsApp web session in incognito window, you will require to sign-in again.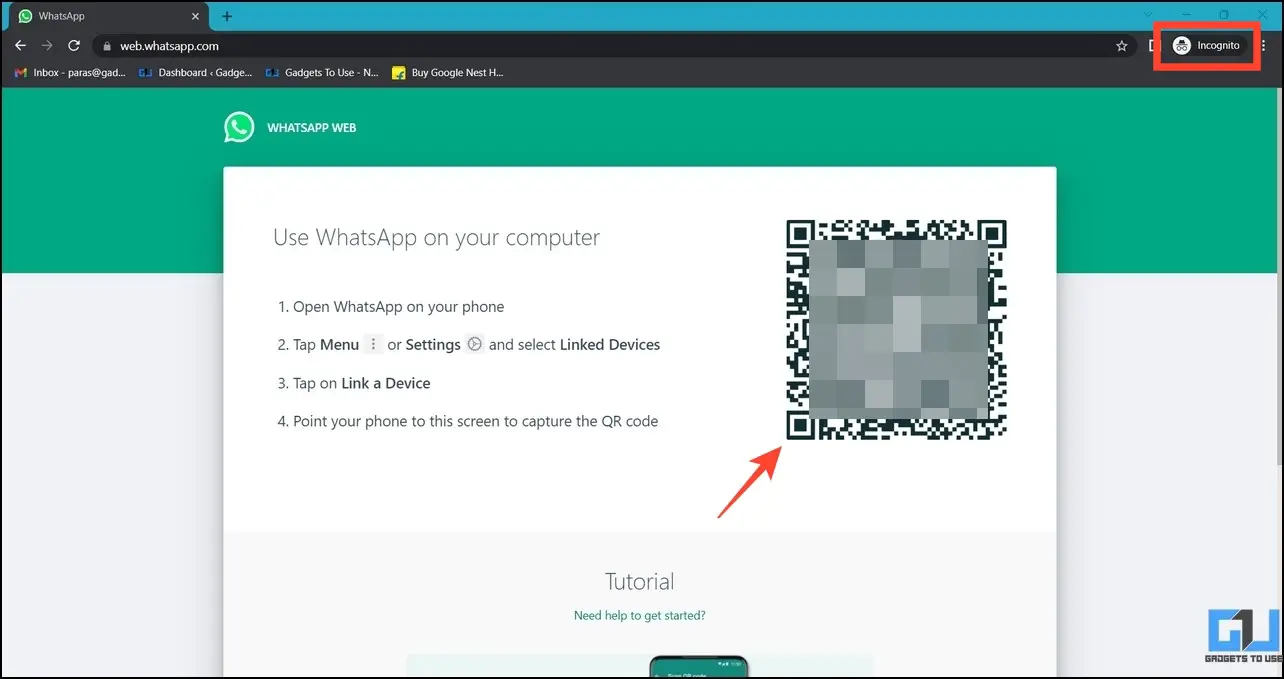 Method 11 – Disable Unnecessary Browser Extensions
If WhatsApp web works fine in incognito mode, then it means an extension or plugin is causing the issue. To fix this permanently, you must disable unnecessary extensions on your web browser that create issues with WhatsApp notifications. Here's how you can remove them:
1. Click the three-dot menu in your web browser to access Extensions.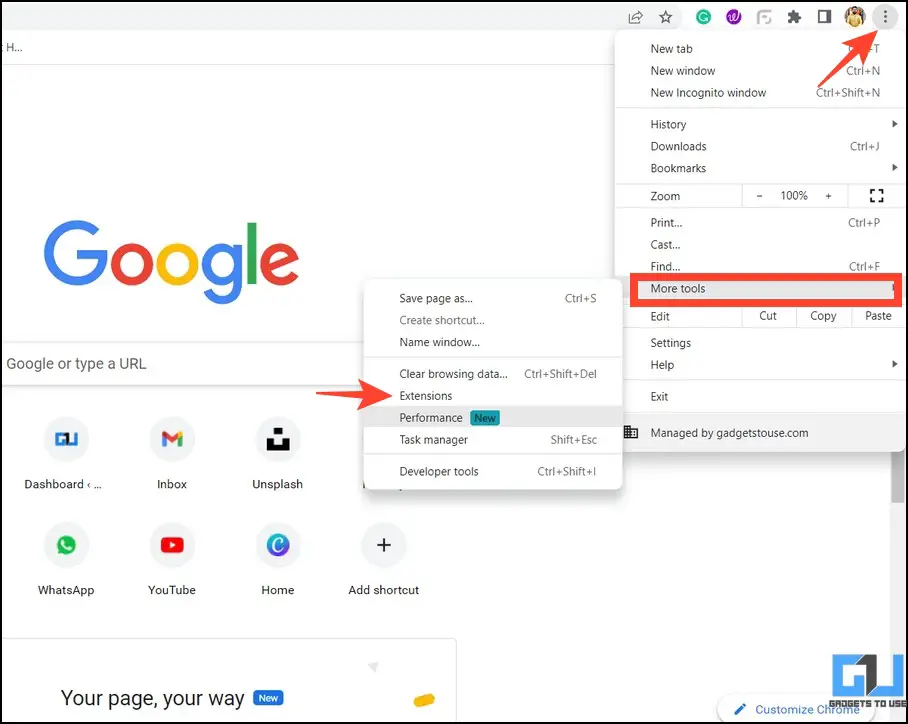 2. Review the list of installed extensions and disable them one by one, to check if the issue is fixed.
3. Once you've found the culprit extension, click the Remove button to remove it.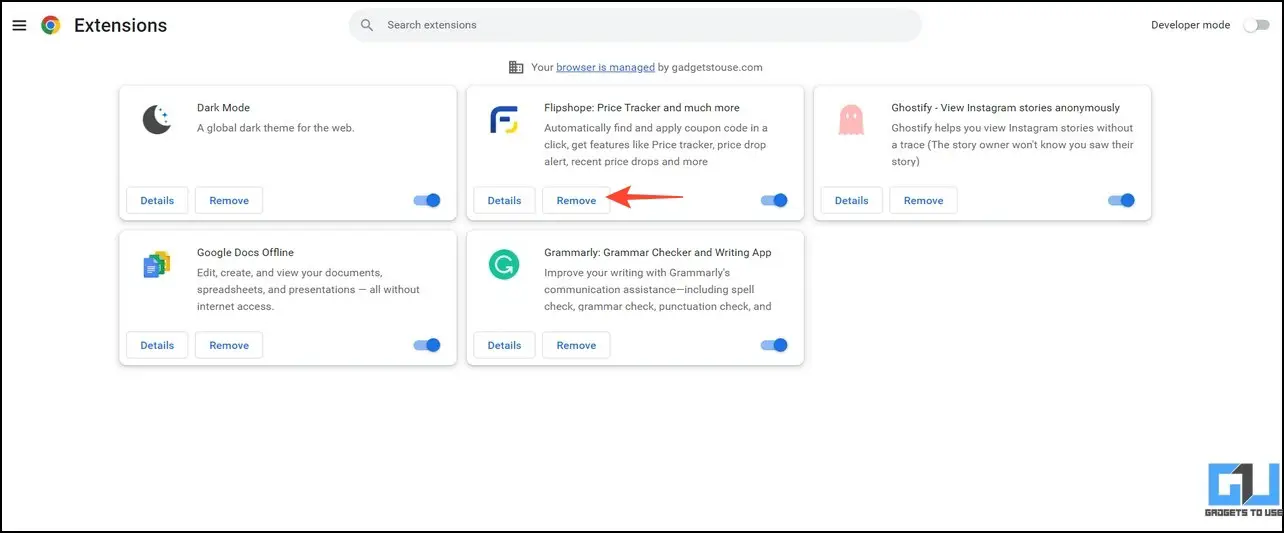 3. Reopen WhatsApp Web to see if the notification issue has been resolved.
Method 12 – Turn off the VPN
If you're browsing WhatsApp web using a Virtual Private Network (VPN), a slow connection might make you miss new notifications. To fix it, disable the VPN service and reload the WhatsApp web interface on your browser.
1. Open the VPN application or extension installed on your PC or browser to turn it off.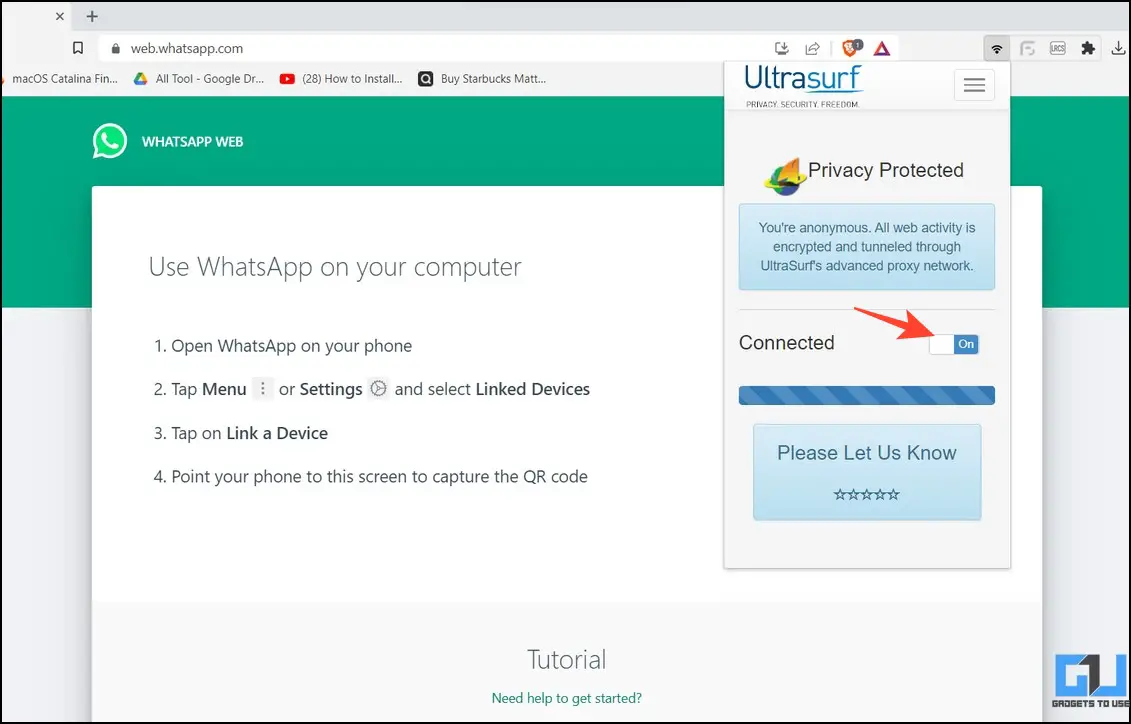 2. Close and reopen your web browser to access WhatsApp web without any issues.
Method 13 – Switch to the WhatsApp Desktop App
If you haven't been able to fix the notification issue on WhatsApp web with the above methods, you can download the dedicated WhatsApp desktop app from Microsoft Store to access your account. Here's how:
1. Open Microsoft Store and search for WhatsApp.
2. Install the WhatsApp desktop app and follow the on-screen instructions to link your account to it.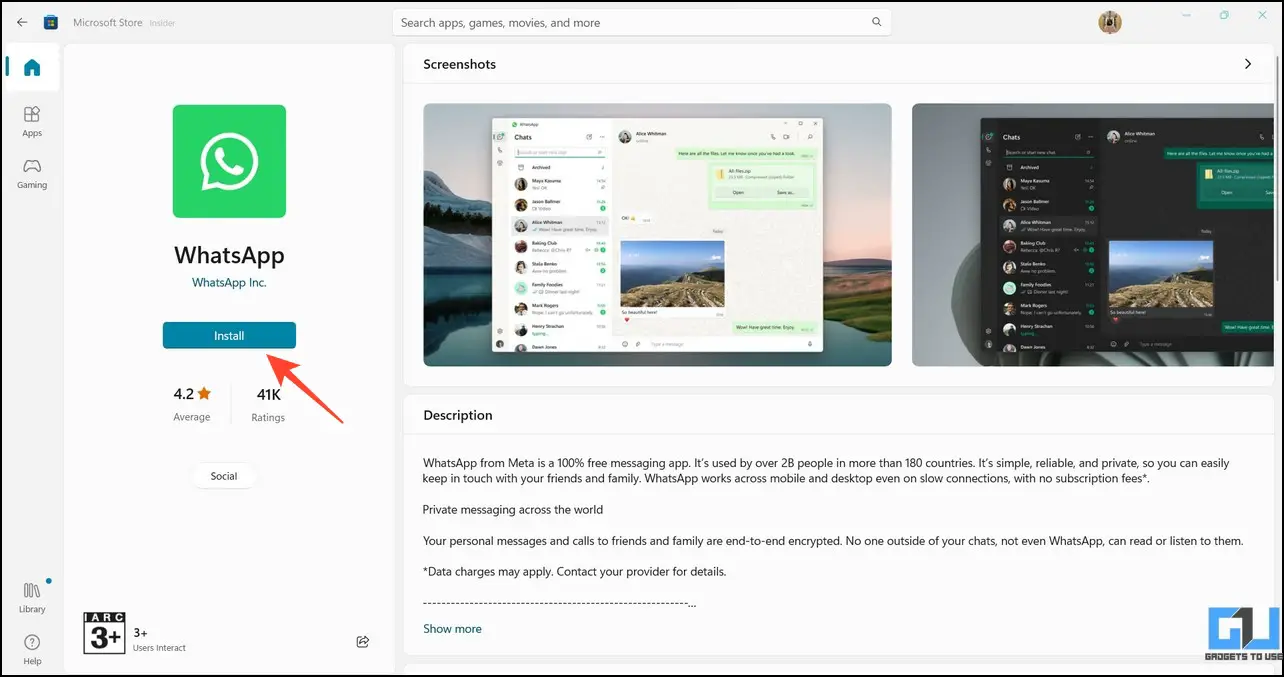 FAQs
Q. Why Is WhatsApp Web Not Working?
It might be due to a service outage or an underlying connection issue. Check out the easy steps mentioned above to fix it.
Q. How to Enable Desktop Notifications for WhatsApp Web?
Access the Notifications tab under WhatsApp web settings and turn on desktop notifications to enable it. For more details, check the steps listed above.
Q. WhatsApp Desktop Notifications Are Not Working on Windows 11/10. How Do I Fix It?
Check out easy methods to fix WhatsApp desktop notifications not working issue on Windows 11/10.
Q. I Am Not Getting Any Sound for New WhatsApp Messages. How to Fix the Issue?
This usually happens due to a recently installed browser extension or an incompatible web browser. Make sure to disable unnecessary extensions and use an appropriate web browser to receive notification sounds from WhatsApp web.
Q. WhatsApp Web Not Showing Delivered Mark. How to Fix It?
This issue occurs when WhatsApp web is not properly synced with your smartphone. To resolve it, log out of the linked device session and sign in again.
WhatsApp Web Notifications, Fixed!
We hope this guide has helped you troubleshoot the WhatsApp web's missing notifications issue. If you find it helpful, forward it to your friends, and subscribe to GadgetsToUse for more useful tips and tricks. You can also check the below links for more walkthroughs on WhatsApp web.
You might be interested in:
You can also follow us for instant tech news at Google News or for tips and tricks, smartphones & gadgets reviews, join GadgetsToUse Telegram Group, or for the latest review videos subscribe GadgetsToUse Youtube Channel.