As a teacher or researcher, you must be familiar with the tiresome and time-consuming process of creating question papers. But what if you could make it instantly without spending much time on research? Yes, you read it right; there are AI tools to create a question paper. Follow this detailed explainer to learn several methods to generate question papers with answers using AI. Additionally, you can learn to read PDFs and extract data using AI.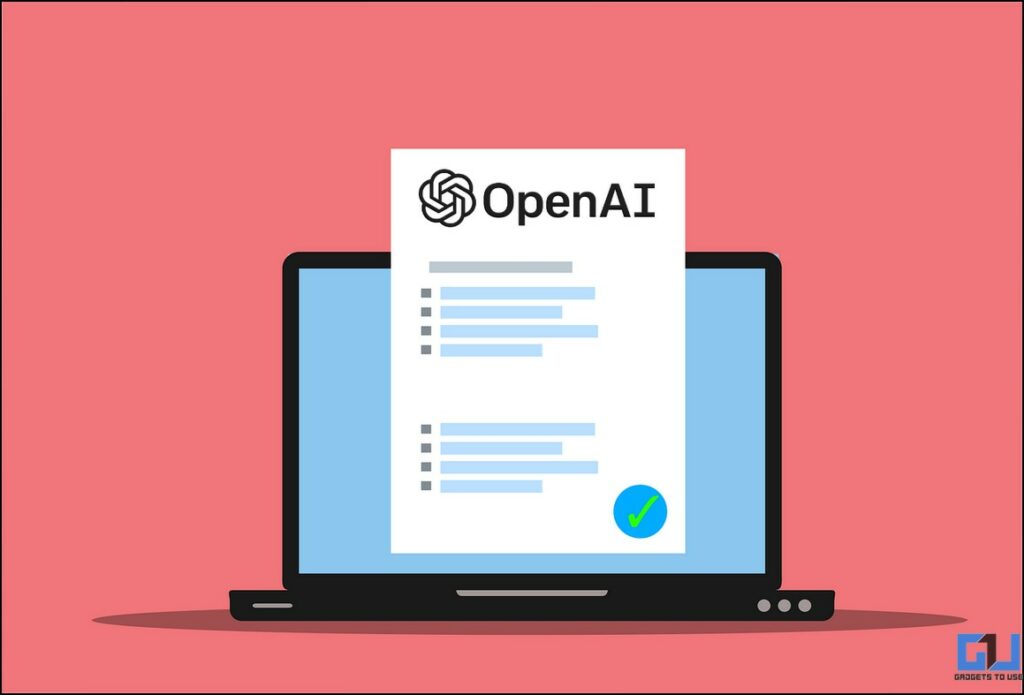 Advantages of Creating Question Papers With AI
With new advancements in artificial intelligence, you can finally cut down on those long hours spent researching and drafting a question paper. This is no less than an 'educational breakthrough' and offers the following advantages:
Saves Precious Time
Enhances the Quality of the Question Paper
Reduces Human Error
Minimizes Resource Consumption, making exams possible 24*7
How to Create Question Paper With Answers Using AI
Creating question papers with AI is a fairly simple process. You only need to provide the topic, content, or file and let the AI generate questions from it. Once generated, you can select the appropriate questions with answers to include in your question paper. Below we have mentioned a few personally tested methods to create a question paper using AI tools.
Using ChatGPT
The easiest and most effective method to create a question paper with answers using AI is through ChatGPT. Enter a prompt asking for the same and copy the results to prepare a question paper in seconds!
1. Visit the ChatGPT website in your web browser and log in with your OpenAI account.
2. Next, type the prompt in the search bar to generate your desired question paper.
For example, 'Create a question paper for thermodynamics with five numerical in it and include answers.'
3. Once ChatGPT generates the results, click the Copy button.
4. Finally, open Wordpad and paste the copied question paper to save it. Alternatively, you can export the entire conversation to download it to your system. That's it! You've successfully created a question paper with answers using AI.
Pros
It uses the latest GPT model to generate a variety of questions.
The interface is simple and easy to understand.
Cons
You have to separate answers from questions to form a question paper manually.
ChatGPT sometimes remains unavailable due to high user requests.
Requires an account.
Utilize PrepAI to Create Question Paper Using AI
Besides ChatGPT, PrepAI is a promising online AI tool that can generate questions from any context. In addition, it lets you add various formats of questions in your paper, such as MCQ, True/False, Descriptive, and Fill-ups, making it completely versatile. Here's how you can make the most out of this tool.
1. Visit the PrepAI website and create a new account to use it for free.
2. Enter a title for your Question Paper and search for the topic to generate relevant questions.
3. Alternatively, the Type or Paste Text tab generates questions from copied content.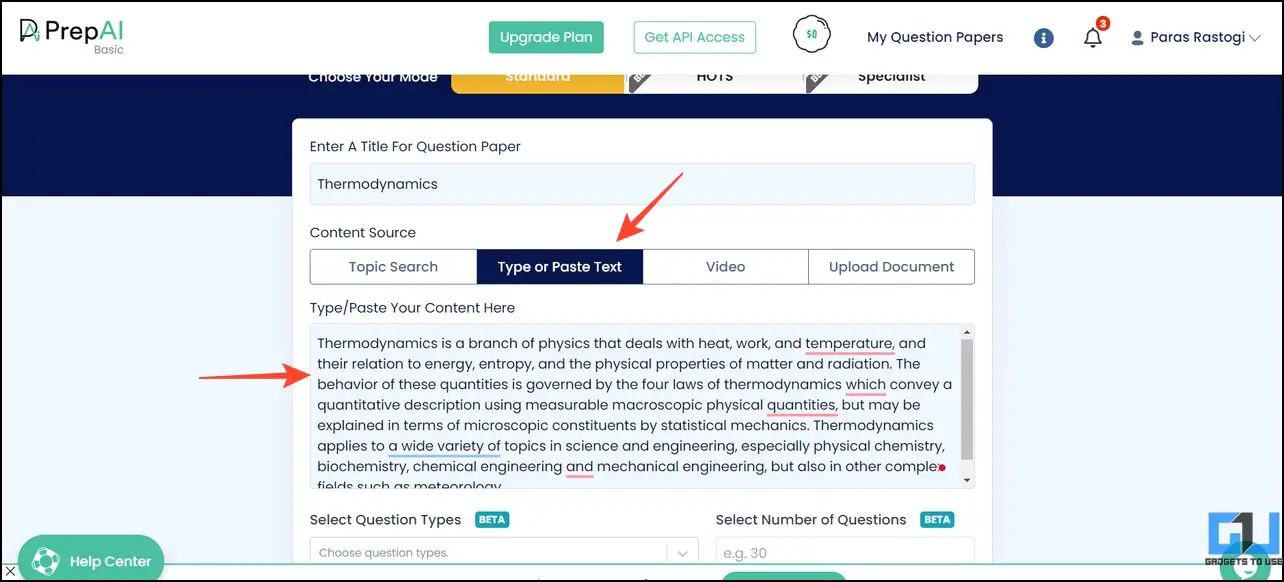 4. Pick your desired question type and enter the number of questions you want to generate with AI.
5. Review the list of generated questions and click the Preview button.
6. Click on the Finalize Questions button to finalize the selected questions.
7. Click Download and pick your desired file format to export the generated questions. To download a separate answer key file for the created questions, click the Get Answer Key option
Congrats! You've successfully created a question paper with AI using PrepAI.
Pros
Interactive interface to generate a question paper.
You can create and add different types of questions.
Downloading the generated paper is just a click away.
The answer key for the question paper can be downloaded separately.
Cons
The downloaded question paper is watermarked.
Only limited questions are generated in the free plan.
Requires an account.
Use TestPortal
TestPortal allows you to design an online question paper using AI and share it conveniently to get things done quickly. Here's what you need to follow.
1. Open the TestPortal website and sign up to create a new account.
2. You can create a new account manually or use your Microsoft account to log in.
3. Next, click New Test and pick the Create from Scratch option.
4. Label your question paper with a name, category, and an appropriate description, and press the create button at the bottom.
5. Click Add Questions on the next page.
6. Pick the Generate Using AI option to create questions for your paper using AI.
7. Paste the subject content, pick a question type, and enter the number of questions you wish to generate.
8. Browse through the list of created questions and click Continue.
9. Review the questions list and click the Activate Test button to make it live.
10. Copy the test link and share it with a person to give the test.
11. Once the participant opens it, he/she will be prompted to provide the name for starting the test.
12. The participant can answer questions individually by following the on-screen instructions.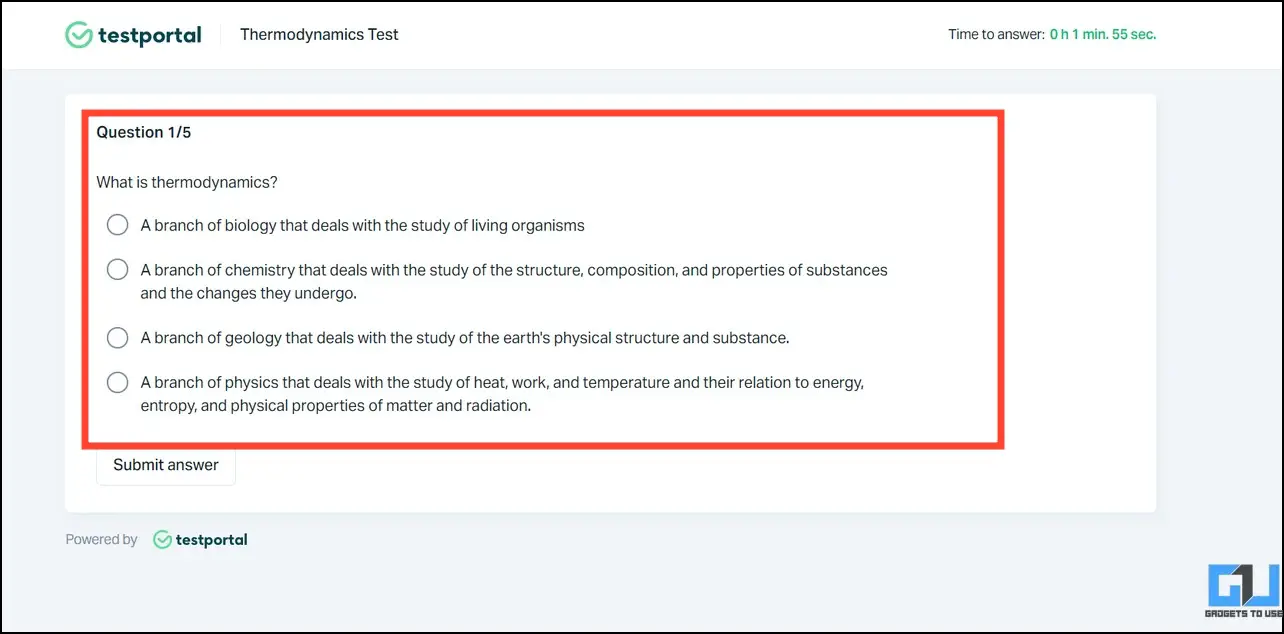 Pros
It provides a complete interface to create and conduct a test using AI.
You can manage and view the results of the respondents from a single platform.
Cons
Requires an account.
You can only generate single-choice and multiple-choice question types with it.
No option to download the question paper for offline use.
Create Question Papers Using OpExams AI
Like other tools, Opexams is another nifty alternative that helps create question papers and answers using Artificial Intelligence. Provide the context to design the questions and shortlist the ones that suit you most to include in your question paper.
1. Access OpExams AI Question Generator and paste the subject content in the context field.
2. Next, pick your desired question type and hit the Generate Questions button.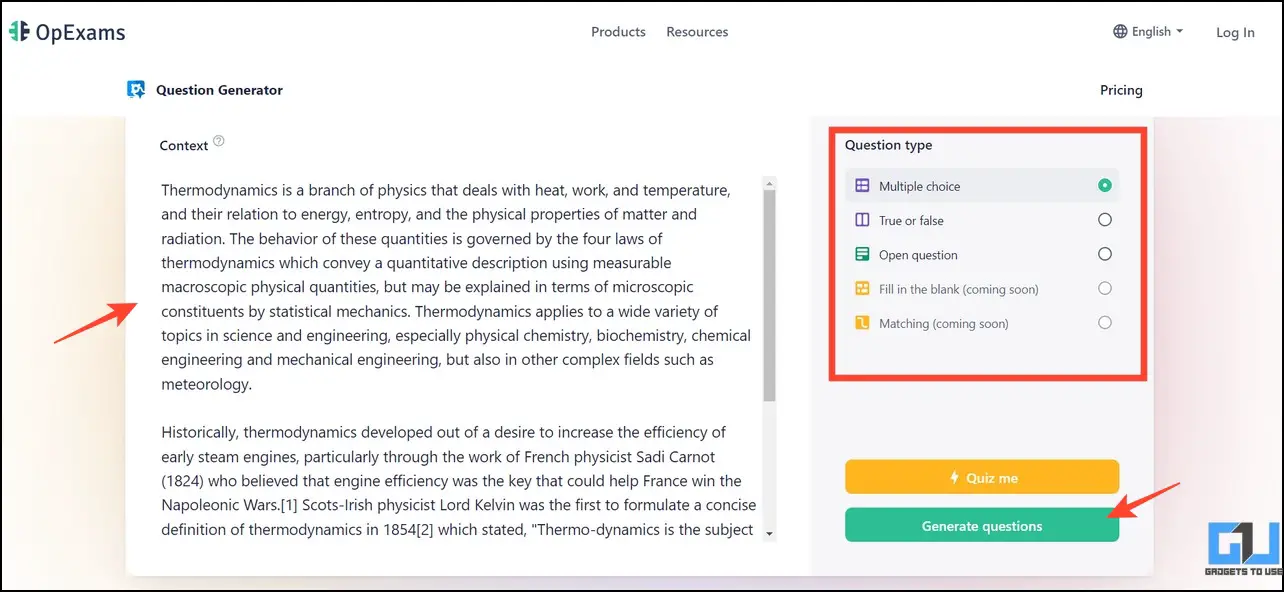 3. The online tool will use AI to design questions based on the provided context.
4. Review the list of generated questions and shortlist your preferred ones using the Add to Collection button.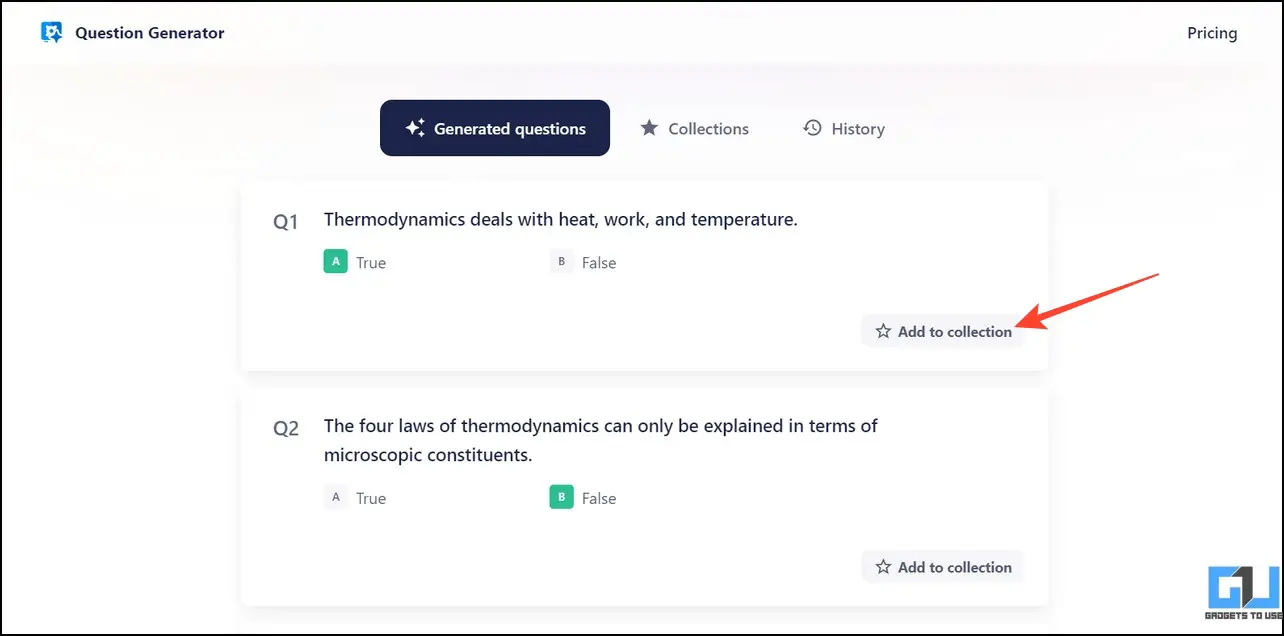 5. Next, navigate to the Collections tab to view the list of shortlisted questions.
6. Finally, copy and save them to a Wordpad/Notepad file for sharing.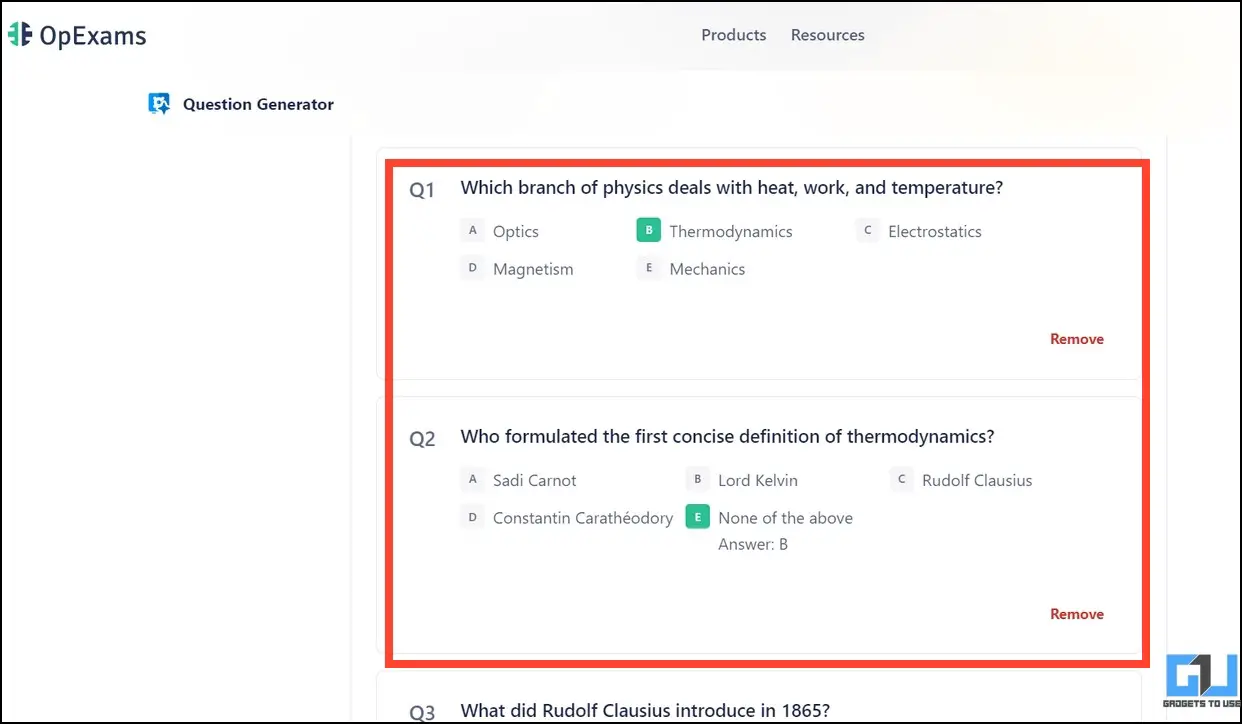 Pros
Simple, clean interface.
It doesn't require creating an account.
You can shortlist your desired questions from the pool of AI-generated questions using lists.
Cons
There's no option to download the created question paper.
FAQs
Q. How to Create Question Papers With Answers Using Artificial Intelligence?
You can use ChatGPT or Bard or dedicated AI tools like PrepAI and OpExams for better results in creating a question paper using AI. Follow the guide above to generate question papers with answers using Artificial Intelligence.
Q. Which Is the Best AI Question Generator Tool From the Text?
You can use PrepAI to conveniently generate questions from the provided text; it also allows you to download the question paper with a watermark. For more details, refer to the steps above.
Q. How to Create Question Papers Using AI for Free?
You can use various AI tools, such as ChatGPT, PrepAI, or TestPortal, to create question papers using AI for free.
Q. How to Use PrepAI to Generate an MCQ Style Question Paper?
Simply provide the content and pick the MCQ option to generate an MCQ question paper with answers.
Wrapping Up
We hope this explainer has simplified creating question papers with answers using artificial intelligence. If you found it helpful, spread the word with your friends, and subscribe to GadgetsToUse for more interesting reads. Meanwhile, make sure to check out the below links.
You might be interested in the following:
You can also follow us for instant tech news at Google News or for tips and tricks, smartphones & gadgets reviews, join GadgetsToUse Telegram Group, or for the latest review videos subscribe GadgetsToUse Youtube Channel.