You've come to the right place if you are new to Snapchat and can't figure out the difference between blocking someone and removing a friend. As in this read, we have listed crucial differences between the block and remove friend features on Snapchat to help you manage your social friendship. Additionally, you can learn to recover your lost Snapstreak.
What Is Block Someone on Snapchat?
As the name indicates, blocking someone removes a user entirely, restricting him/her from contacting you in any possible way on Snapchat. This means the person won't be able to search, add or contact you on the platform anymore. If you wish to block someone on Snapchat, follow these simple steps.
1. Launch the Snapchat App (Android, iOS) on your phone and navigate to the Chats section.
2. Tap the Profile/Avatar icon of the person's chat to expand their profile page.
3. Further, tap the three-dot icon in the top right corner of the app screen to Manage Friendship.
4. To block the person, tap the Block button. That's it. You've successfully blocked the said person on Snapchat.
What Happens When You Remove a Friend on Snapchat?
Snapchat's 'remove a friend' feature is like soft-blocking a user, where you can remove a friend from your profile without blocking them. They can search for your username and send you a friend request.
However, the removed user might be able to send you snaps or messages if your Privacy is set to Everyone. On the other hand, the existing chat with the removed user stays unaffected and shall remain visible under the Chats section for both users.
How to Soft Block Someone Using Remove Friend
To soft-block a user on Snapchat, follow these easy steps to remove him/her from your Snapchat profile.
1. Navigate to the Chats section in Snapchat and tap the user profile you wish to remove.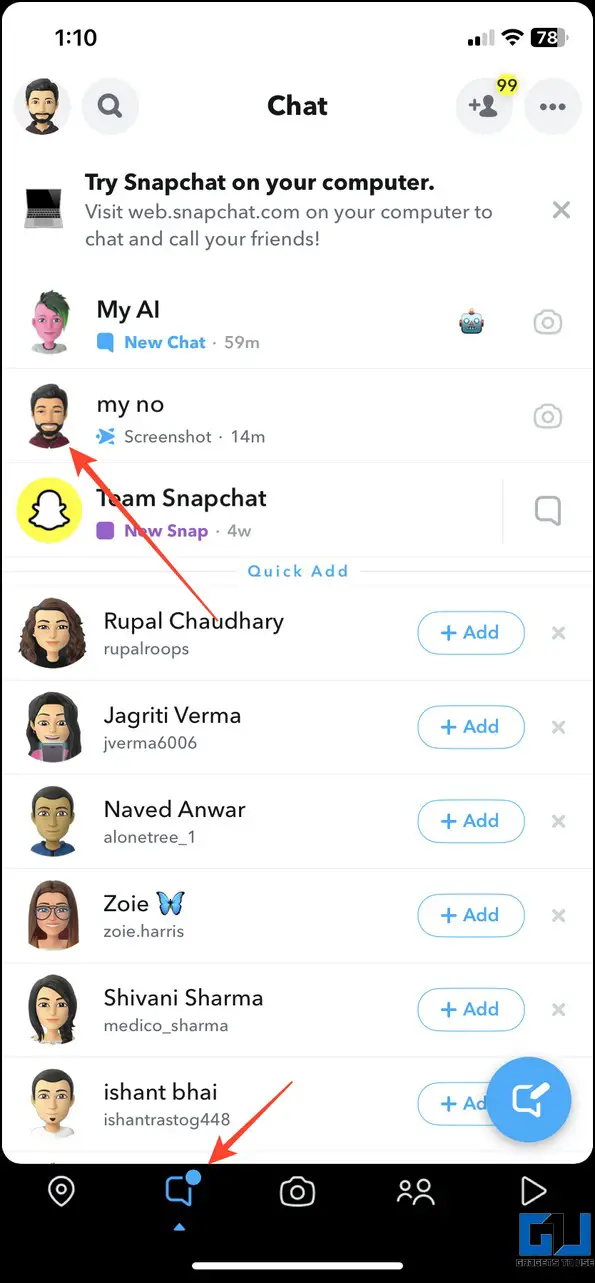 2. Press the three-dot icon in the top right corner of the app screen and tap Manage Friendship.
3. Press Remove Friend and tap Remove to confirm your action. That's it; you've successfully removed the said friend from your Snapchat profile.
Snapchat Block Vs Remove Friend: Differences
The following changes will help you identify and differentiate clearly between when you block or remove a friend on Snapchat.
Blocking a User on Snapchat
When you block a Snapchat user, the following changes will apply:
The user will be instantly

unfriended and removed

from your Snapchat account.

Your Profile will not appear on the blocked user's friend list.

The blocked user

won't find

your username on the platform anymore.

You won't receive any stories/snaps from the blocked user.
Removing a Friend on Snapchat
Contrary to blocking, removing a friend 'soft-blocks' the user, bringing the following changes: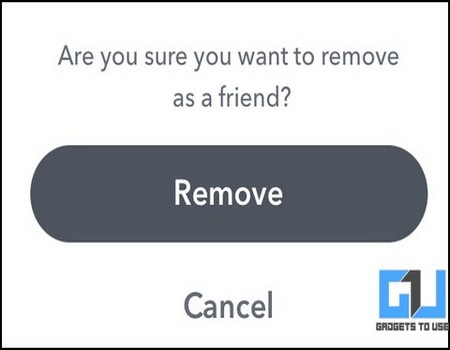 Removing a friend deletes the user from your Snapchat friend list.

Existing chats with the unfriended user will remain

unaffected

and available.

The unfriended Snapchat user can search for your username to

add you back

.

Depending on your privacy settings, the 'removed friend' might be able to send you new messages and snaps if your account privacy is set to

Everyone

.

Similarly, the unfriended Snapchat user might still view your snaps if your privacy is open to everyone.
How to Mute a Snapchat Friend
If you are annoyed at your friend for sending too many snaps or messages on Snapchat, you can mute them to silence all their notifications on the app. Follow these simple steps to mute someone on Snapchat.
1. To mute a Snapchat profile entirely, you need to manually mute notifications for chats, stories, location, and privacy settings.
2. Open Snapchat users' settings from the three-dot menu and tap Chat Settings.
3. Turn off the toggle for Message Notifications to mute them.
4. Next, tap on Story Settings, disable Story Notifications, and enable Mute Story.
5. Access the Location Settings and enable the toggle to mute location.
6. Go to Privacy Settings and turn off the toggle to hide your Snapchat Story.
How to Report a Snapchat User
If you believe a Snapchat user is spamming or sending inappropriate snaps/messages, you can report them directly using the Report feature. Here's what you need to follow:
1. Tap the three-dot menu on the Snapchat user profile and access Manage Friendship.
2. Next, press Report and specify the appropriate reason. That's it; the Snapchat team will review the reported account to check if it has broken any guidelines and will take appropriate measures within 24 hours.
FAQs
Q. If I Block Someone on Snapchat, Will They Know/Get Notified?
Snapchat will not notify the user directly when you block him/her. However, they might realize it when they won't see your interaction (snaps/stories) on their account.
Q. If I Remove a Friend on Snapchat, Will the Existing Chat Get Deleted?
No, the existing conversation with the unfriended Snapchat user will remain unaffected and available to both users.
Q. How to Remove a Friend on Snapchat?
Tap the three-dot menu and pick Remove Friend under the Manage Friendships option. For more details, refer to the steps listed above.
Q. When You Block Someone on Snapchat, Do Existing Messages Get Deleted?
Yes. Your chat history with the blocked friend will instantly disappear from your Snapchat account. However, it will remain accessible on your former friend's profile.
Q. If Someone Blocks Me on Snapchat, Can I See Their Name/Profile?
You can't search or view the profile/username of the Snapchatter who has blocked you. However, you can create a new account or use a different one to check it.
Q. If You Remove Someone on Snapchat, Will They Know?
Like blocking, Snapchat will never notify a user directly when he/she gets removed. However, your sudden disappearance might make them realize it.
Q. How to Know if Someone Blocked You on Snapchat?
You can check our detailed guide to learn several nifty indicators to identify if someone has blocked you on Snapchat.
Wrapping Up: Managing Social Friendships
We hope you've learned the difference between "Snapchat block" and "Remove Friend" and can now pick the best action for maintaining social friendships on Snapchat. If you found this read helpful, share it with your friends and subscribe to GadgetsToUse for more interesting explainers. Also, check the links below for more awesome Snapchat articles.
You might be interested in the following:
You can also follow us for instant tech news at Google News or for tips and tricks, smartphones & gadgets reviews, join GadgetsToUse Telegram Group, or for the latest review videos subscribe GadgetsToUse Youtube Channel.