The days of animating images using complex professional tools are finally over. With increasing advancements in Artificial intelligence, you can animate any image within seconds without having any prior experience. This explainer discusses several methods to animate any image for free using AI tools. Additionally, you can learn to add a smile to images using AI.
Methods to Animate Any Image for Free Using AI
Animating static images is no longer rocket science with the right tools and apps. Upload the image and let the AI do its magic. Let's look at the steps to animate an image using AI for Free.
Method 1 – Use Cutout Pro to Animate Images (Web)
Cutout Pro offers an easy way to animate photos, including portraits, figures, sketches, paintings, cartoons, and more, with a few clicks. The AI will automatically animate and enhance it to give you a stunning result. Follow these steps to use it.
1. Open Cutout Pro in your web browser and click Upload Image.
2. Wait for AI to animate your image and click the Free Download button to save it to your device.
Pros
Easy-to-Use Interface
Creates realistic Animated Images
It doesn't require creating an account
Cons
The Animated result is watermarked
With the free plan, you can only download the animated video in 360p quality
You need to create an account to get more free credits
Method 2 – Animate Images for Free With AI Using MyHeritage (Web)
Like Cutout Pro, MyHeritage lets you animate faces in a photo using artificial intelligence to generate a short video with real results. Using this tool, you can apply various animation effects to faces, such as smiling, blinking, or even turning their head. Here's how it can be done.
1. Access the MyHeritage website and click the Upload Photo button.
2. Let the AI animate your uploaded image for a few seconds.
3. Once processed, click Play to preview the result. If you're satisfied, click the Download Video button to save the animated video of your uploaded photo.
Pros
Easy 2-click interface to create animated videos from photos
Generates accurate and realistic results
Cons
Requires an account creation
Free plan add a logo watermark on the generated animation
Method 3 – Animate Images with HitPaw AI (Web)
HitPaw is another nifty alternative that animates the face in a photo using Artificial Intelligence to produce real, life-like videos. Upload the photo, animate it, and download it to your device for quick results.
1. Open HitPaw and upload your desired photo using the Upload a Photo button.
2. Next, position the required area for animation and click Confirm.
3. Wait for a few seconds to let AI animate the image.
4. Once processed, click the Download with Watermark button to save it to your device.
Pros
Simple, easy-to-understand interface
Selective animate a portion of an image instead of the entire image
Cons
It requires creating an account
The free plan adds a watermark to downloaded animation
Method 4 – Install PixaMotion to Animate Images for Free With AI (Android/iOS)
In addition to free online tools, you can install various free smartphone apps to animate any image for free using AI. The PixaMotion app is one alternative that gets the job done without hassle. Here's how to use it.
1. Download and install the Pixamotion app (Android/iOS) on your phone.
2. Click Start and press the Create New button.
3. Pick your desired photo to animate and select the appropriate crop ratio.
4. Next, tap Animate and mark the area to apply animation effects. You can preview the animation at any point by tapping the Play button.
5. If you're satisfied with the animation, press Save and pick your desired settings like export type, resolution, and duration to save it to your smartphone.
6. Using the Share button, it can also be shared directly to various social media platforms.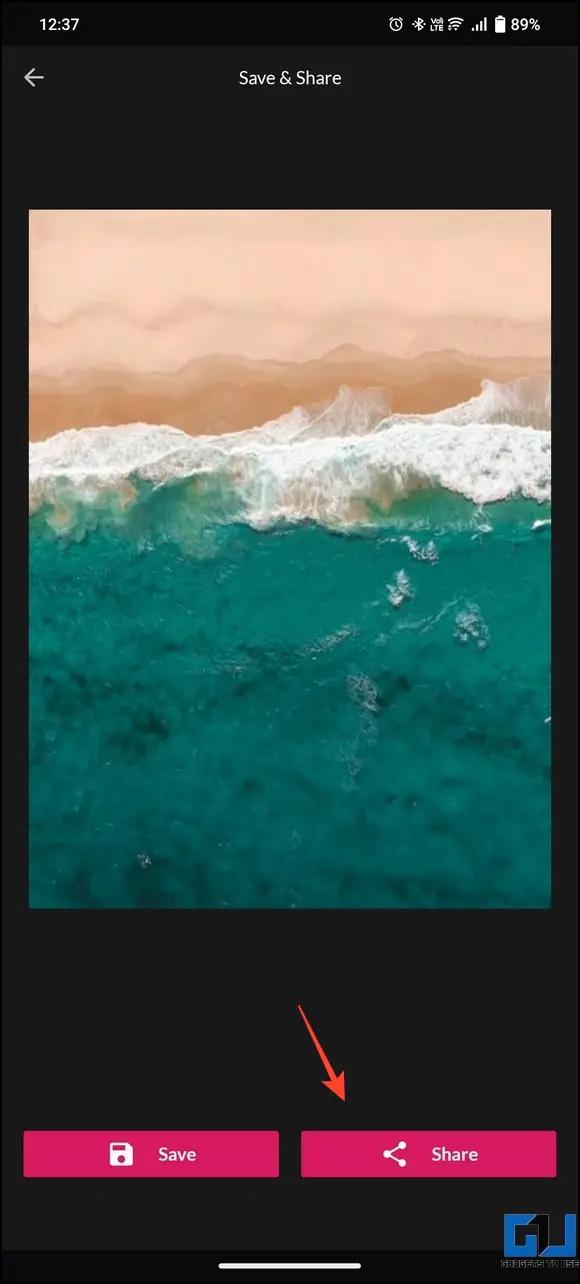 Pros
Animated images are not watermarked
Lots of animation presets to personalize the image
Animations can be exported both in video and gif formats
Cons
Some features, such as Geometry animation, are locked for free users
A subscription is required to unlock more animation features
Method 5 – Use the Revive App (Android/iOS)
Like PixaMotion, you can use the Revive app on your Android or iOS devices to create an animation from any photo. It offers various AI presets that can make any image sing or speak with a few taps. Follow these steps to make the most out of it.
1. Install the Revive AI app (Android/iOS) on your smartphone.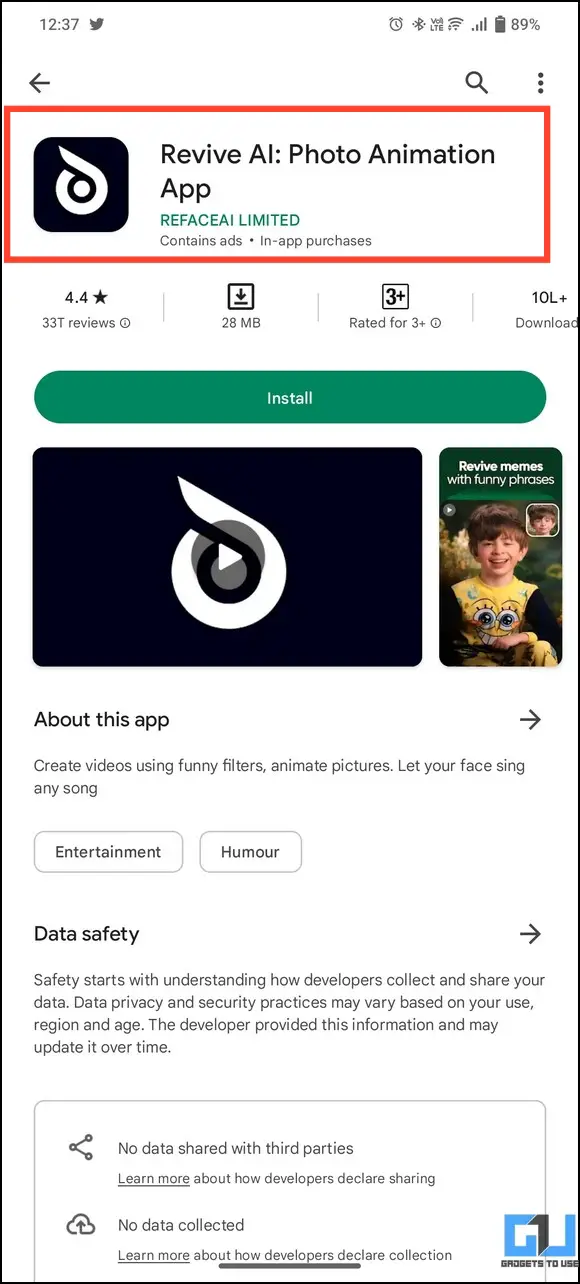 2. Click Try Now and pick your desired photo to animate it.
3. The app offers many free AI customizations to animate your image.
4. Wait a few seconds to let AI animate the selected image.
5. The resulting animation will start playing on your screen once processed. Tap Continue to finalize it.
6. Finally, press the Download button to save it to your device. Alternatively, you can click various social media buttons to share the animation directly.
Pros
Creates artistic animated images that sing along with the lyrics
Lots of customization options to animate your image
Cons
Some AI presets and animation features are only available for pro users
FAQs
Q. How to Use AI Photo Animation Online for Free?
You can use various free online tools like Cutout Pro, MyHeritage, and HitPaw to animate your images with AI. For more details, refer to the methods listed above.
Q. How to Give 3D Animation Effect to Photos With AI Online?
You can animate your image with various free AI tools and apps mentioned in this explainer or check out other tools to add 3D effects to images.
Q. Can I Animate Still Images With AI?
Yes, animating still images doesn't require professional tools anymore. You can do it easily using free AI tools and apps. Follow the above article to learn about the best AI tools to animate images with AI.
Wrapping Up
We hope this guide has assisted you in bringing your favorite images to life with free AI animation tools and apps. If you found it helpful, spread the word with your friends, and subscribe to GadgetsToUse for more quality reads. Also, check the links below for more useful AI-related articles.
You might be interested in the following:
You can also follow us for instant tech news at Google News or for tips and tricks, smartphones & gadgets reviews, join GadgetsToUse Telegram Group or for the latest review videos subscribe GadgetsToUse Youtube Channel.