Attending a call in a noisy environment can be annoying, especially when you cannot reschedule that call for later. Few flagship smartphones come with a feature built right into the OS to remove noise from the calls. Today, in this guide, we'll help you to enable the clear calling feature if your smartphone has it. Meanwhile, you can also learn to remove noise during FaceTime on your iPhone.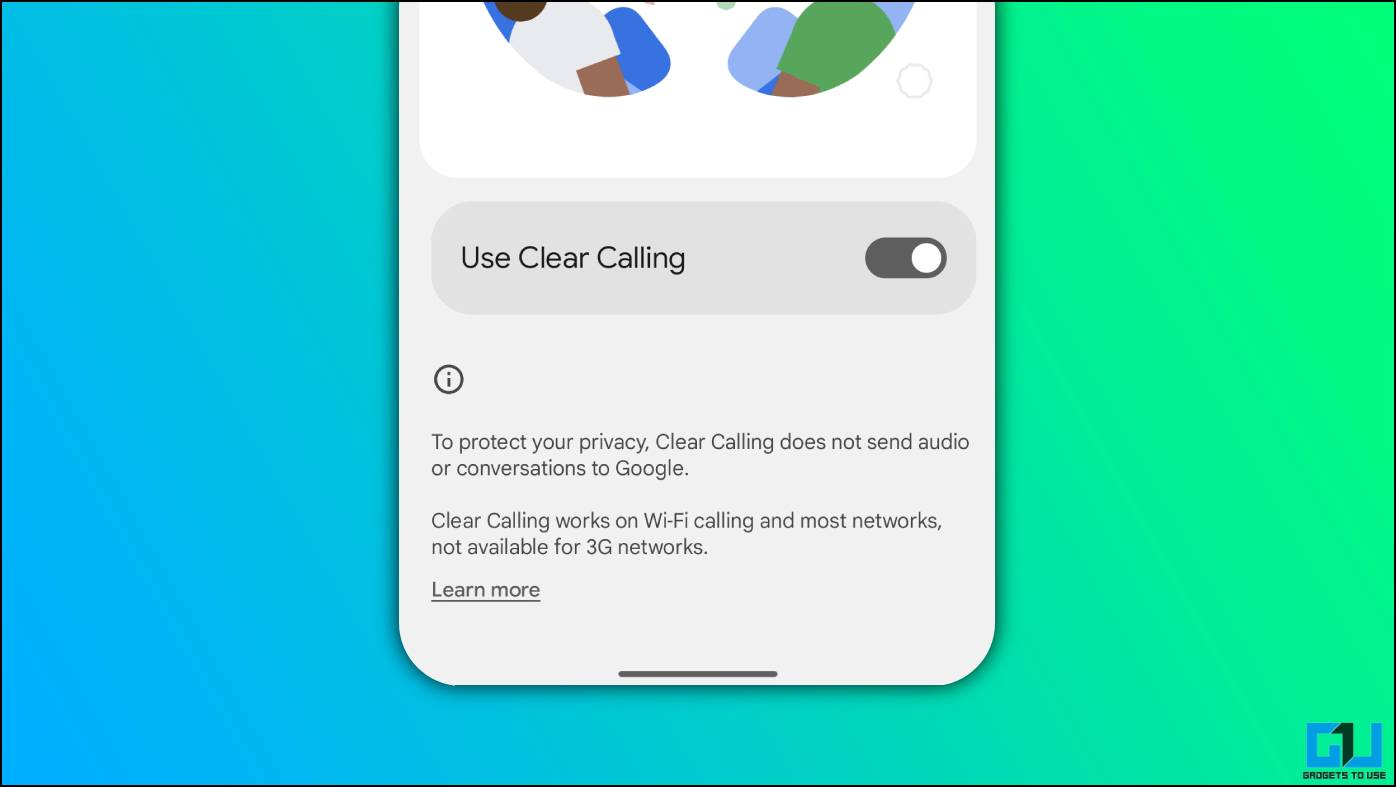 How to Enable Clear Calling On Your Smartphone?
Apple iPhones and flagship Android smartphones from popular brands like Samsung and Google have a native feature for voice clarity. Sometimes, these features are disabled by default, like on iPhone. Here are all the possible methods to enable the clear calling feature on your smartphone.
Method 1 – Enable Clear Calling On Google Pixel Smartphones
Google Pixel phones come with an exclusive feature called clear calling. This feature uses machine learning to remove noise from the calls so you can hear the other person's voice more clearly. Here's how to enable the clear calling feature on your Pixel smartphone.
1. Open the Settings app on your Pixel smartphone.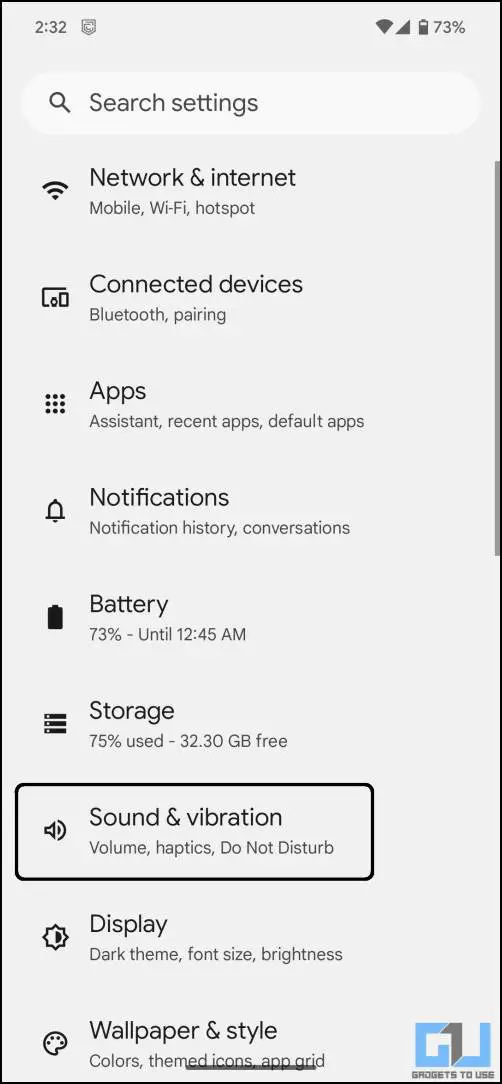 2. Go to Sounds and Vibrations > Clear calling.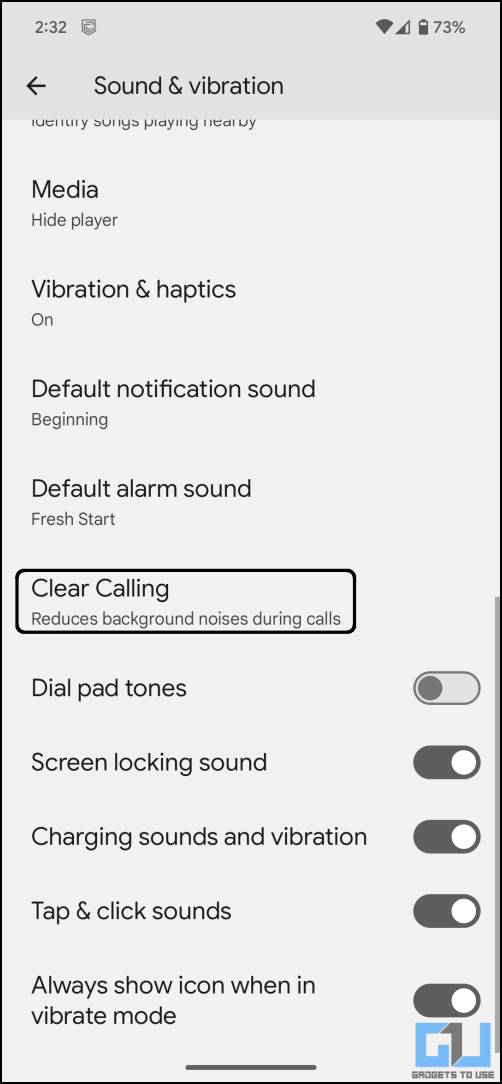 3. Enable the Clear Calling toggle.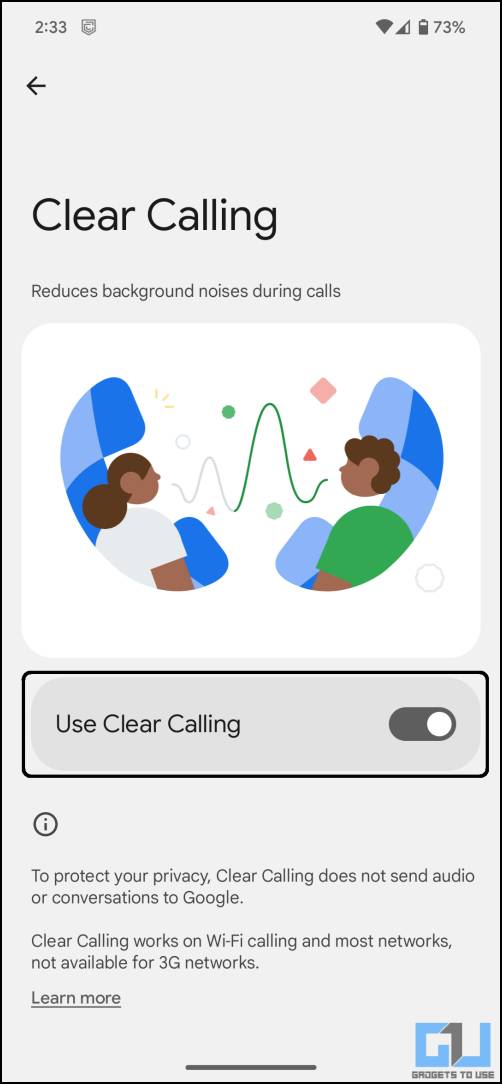 Once the feature is enabled, it will remove noise from voice calls whenever it is required. If you don't see the Clear Calling feature, update your smartphone to the latest OS version. This feature is only available on Pixel 7 series smartphones, but it will support more Pixel phones later.
Method 2 – Enable Voice Focus Mode On Samsung Galaxy Smartphones
Samsung has been providing a similar feature called Voice Focus for its smartphones to improve the voice call quality. This feature removes the noise during voice calls and works amazingly well. Here's how you can enable it on your Samsung Galaxy smartphone.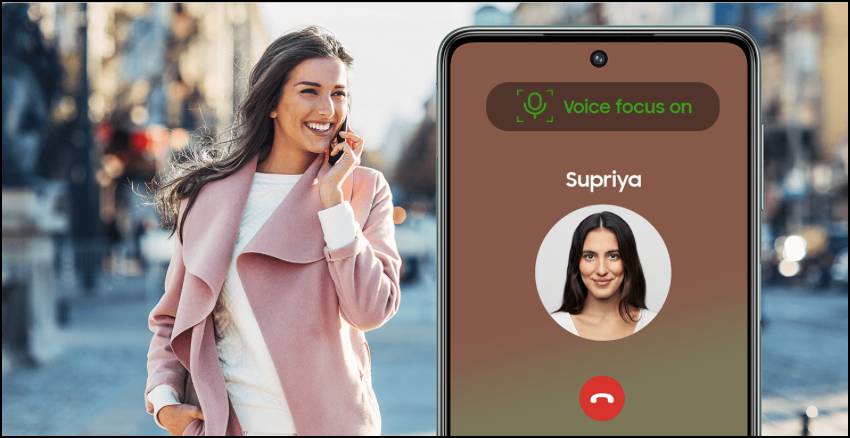 1. Tap the mic icon at the top left on your phone during an active call screen.
2. The voice focus mode will enabled during that call.
This feature is only available in Samsung's M, F, and A series smartphones. There is no option to enable or disable this feature in the settings. Also, there is no clarity on whether the voice focus feature will be available on other Samsung smartphones or not.
Method 3 – Enable Crystaltalk AI on Motorola Smartphones
Motorola smartphones have an exclusive feature called CrystalTalk AI. This feature does the same job as Voice Focus and Clear calling. Here is how you can enable the Crystaltalk feature on your Motorola smartphone.
1. Open the Settings menu and go to Sounds and Vibration.
2. Scroll to locate CrystalTalk AI and open it.
3. Enable it by tapping the toggle.
Once enabled, the smartphone will use machine learning to remove the noise during voice calls. This feature is available on all Motorola smartphones.
Method 4 – Enable Voice Isolation On Apple iPhones
Apple also jumped on the clear calling bandwagon with its Voice Isolation feature. Voice Isolation is available on iPhones running iOS 16.4 or later. It removes the noise from your side so the other person can hear your clear voice. Here's how you can enable this feature on your supported Apple iPhone.
1. Swipe down from the top-right corner to open the Control Center during a call.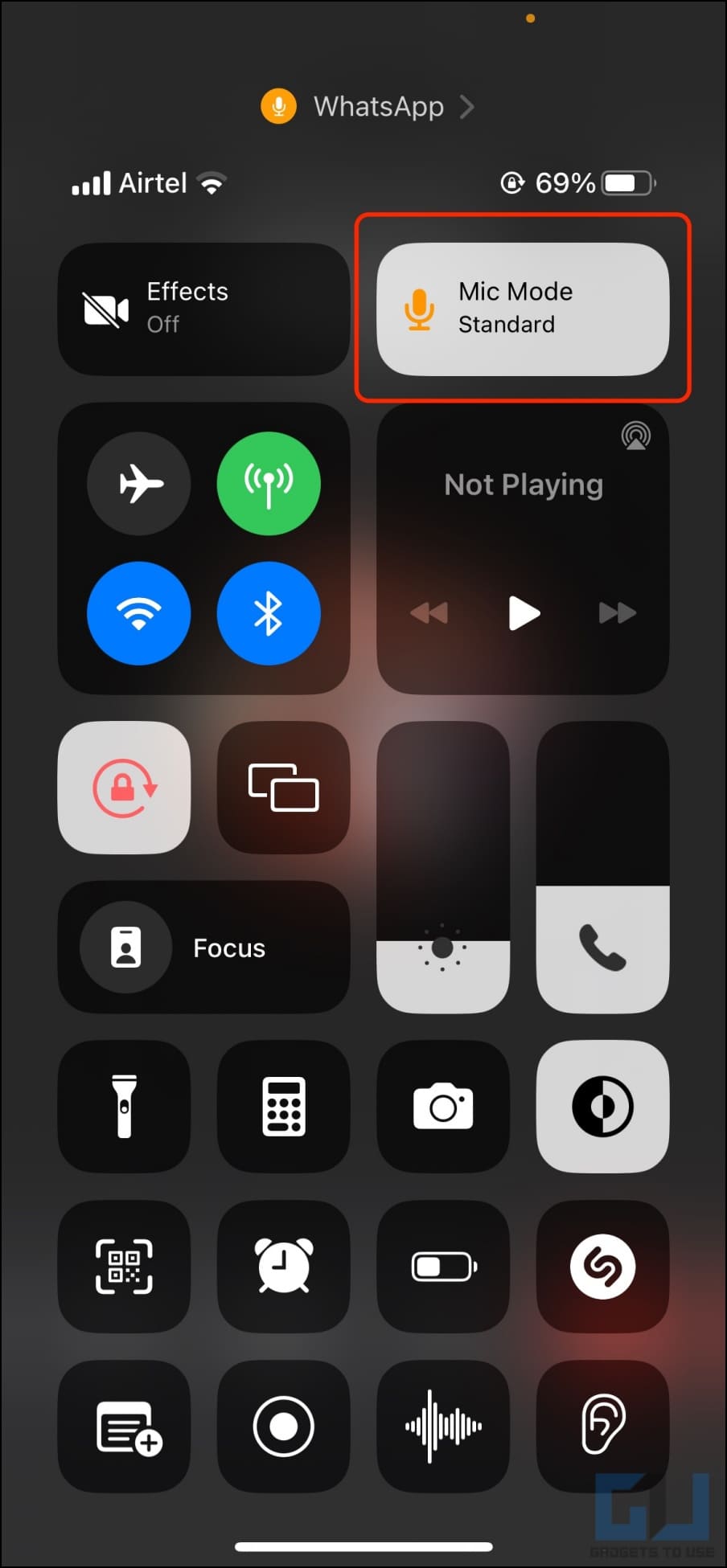 2. Tap the Mic mode option and select Voice Isolation.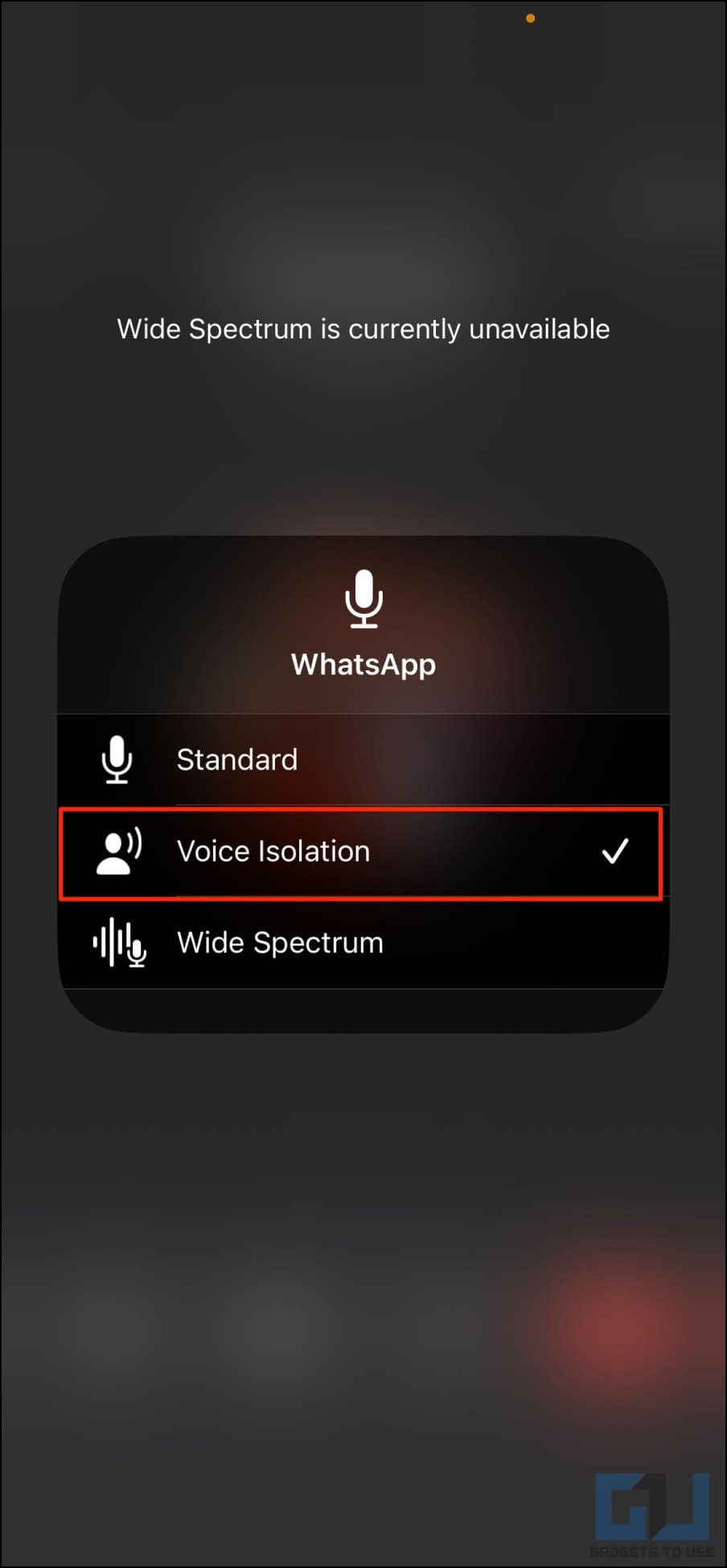 The Voice isolation feature works great on iPhones during calls in noisy conditions. This feature is only supported on iPhone X or newer models.
FAQ
Q. How to Remove Noise During Voice Calls?
There are various methods to remove noise during calls on your smartphone, depending on the phone you have. You can try the methods mentioned above according to your needs. Remember that some features are software implementation while others are hardware-specific and may not work on all smartphones.
Q. Why Can't I Find the Voice Focus Feature on My Samsung Phone?
The voice Focus feature is limited to very few Samsung smartphones, from the Galaxy M, Galaxy F, and Galaxy A series. Your smartphone may not support this feature.
Wrapping Up
This brings us to the end of this article, where we discuss how you can get the best voice-calling experience by eliminating the noise if you have any of the smartphones listed above. We tested most of these features and found that it works great. You can reach us via our social media pages for queries about these features. While there, follow us for the latest smartphone tips and tricks. Stay tuned to GadgetsToUse for more such reads, and check the ones linked below.
You might be interested in the following:
You can also follow us for instant tech news at Google News or for tips and tricks, smartphones & gadgets reviews, join the GadgetsToUse Telegram Group, or subscribe to the GadgetsToUse Youtube Channel for the latest review videos.