ZTE's Nubia brand launched its Red Magic 3 gaming phone in India on Monday. The smartphone comes with some amazing features especially for gamers- such as Snapdragon 855 chip with up to 12GB RAM, active cooling system with turbofan and much more. The Red Magic 3 price in India starts at Rs. 35,999.
At this price point, OnePlus launched its OnePlus 7 series just last month. The OnePlus 7 which is the cheaper version comes with some flagship level specs like AMOLED display, Snapdragon 855 chipset, and 48MP camera.
The OnePlus 7 Pro, on the other hand, is more premium in the series. It shares same specs with the OnePlus 7 but has some better features in terms of display and camera. The 7 Pro starts at Rs. 48,999 while OnePlus 7 starts at just Rs. 32,999.
So, with Red Magic 3, you have these three options in the under Rs. 50,000 segment. Which of these phone best suits your needs and which one should you buy? Let's find out in this comparison.
Red Magic 3 Vs OnePlus 7 Pro Vs OnePlus 7
Design: Metal Vs Glass
Nubia, following the same pattern for its Red Magic series, offers the metal body phone again this time. The Red Magic 3 looks a little bit different from its predecessors. It also has an RGB strip on the back that comes with over million effects.
OnePlus also followed its previous design pattern with OnePlus 7 but changed it a little in 7 Pro. The OnePlus 7 Pro comes with the glass band metal body and the glass back is not that much glossy. Up front, it has a curved full view display with a pop-up selfie camera.
OnePlus 7 sports the same design as the OnePlus 6T. It has a glass back panel with curves at the edges and a waterdrop notch at the front. On both sides, it has Gorilla Glass protection.
Winner: OnePlus 7 Pro
Display: AMOLED panels with a high refresh rate
Nubia Red Magic 3 comes with a big 6.6-inch FHD+ AMOLED panel. The display has a 19.5:9 aspect ratio but it has noticeable bezels and chin at the bottom. However, the good things about the display are that it supports HDR and has 90Hz refresh rate.
OnePlus 7 Pro and OnePlus 7 both come with an AMOLED panel but they have a big difference. The 7 Pro has a bigger QHD display and also comes with HDR and 90Hz refresh rate. Moreover, it is a full view display with no notch or anything. OnePlus 7, however, comes with a smaller and notch display with only FHD+ resolution.
Winner: OnePlus 7 Pro
Performance: Snapdragon 855
All three phones are powered by the latest flagship Snapdragon 855 chipset. The Red Magic 3 and OnePlus 7 Pro are paired with up to 12GB RAM. While OnePlus 7 comes with only 8GB RAM option.
Despite having the same chipset, these phones do not offer the same performance, especially in gaming. Red Magic 3 comes with an active cooling system and some added hardware buttons for better gaming.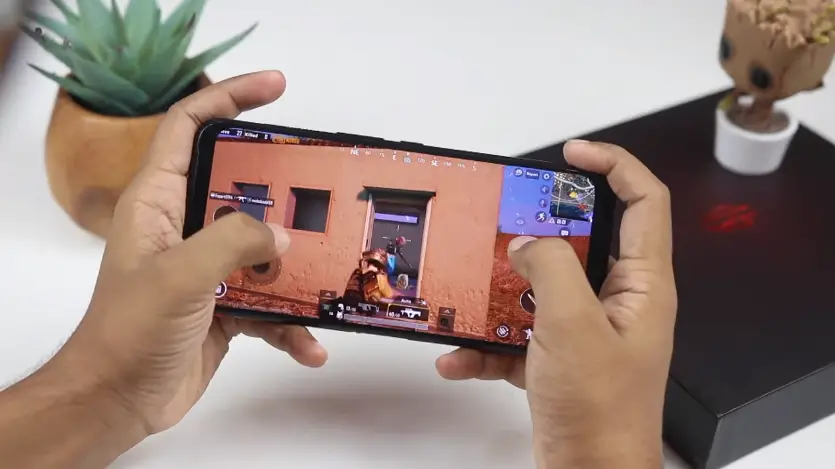 Whereas, OnePlus flagships are the world's first smartphones with the fast UFS 3.0 type storage. These things also matter when we check the benchmark scores of all.
AnTuTu Benchmark
3D Mark Benchmark
Winner: Red Magic 3
Software: Near stock experience
All these phones run the latest Android 9 Pie with their own custom skin on top. The Red Magic 3 comes with Redmagic OS 2.0 which offers near stock experience and has minimal bloatware. Similarly, OnePlus flagships come with their OxygenOS 9 on top. This is also the stock-like UI but also has several new features such as Zen and Fnatic mode.
Winner: You can decide here.
Camera: 48MP Sony sensor in different setups
All of these phones come with a 48MP Sony IMX586 sensor as the main camera. However, they have a different camera set up. The Red Magic 3 comes only with a single 48MP camera.
OnePlus 7 Pro has a triple camera set up with a wide angle and a telephoto lens. OnePlus has a dual camera set up with a depth sensor alongside the main camera.
They all have a different selfie camera as well. Red Magic 3 has a 25MP selfie camera, while OnePlus flagships come with a 16MP selfie camera. If we talk about camera performance, OnePlus 7 Pro beats the other two here.
Winner: OnePlus 7 Pro
Battery: Bigger is better
The Red Magic 3 comes packed with a 5,000mAh battery. It can easily offer you more than a day's usage. It also has support for 27W quick charging which is an added advantage.
OnePlus 7 Pro has a 4,000mAh battery with 30W WARP charging support while OnePlsu 7 has a 3,700mAh battery with 20W Dash charging support. Both the batteries hardly offer a day's usage.
Winner: Red Magic 3
Others
If we talk about other features, the Red Magic 3 comes with a 3.5mm headphone jack. While the OnePlus flagships do not have it and they rely on USB Type C port. Other connectivity features and sensors are there on all the devices. However, OnePlus flagships come with an in-display fingerprint sensor unlike the physical one on Red Magic 3.
Wrapping Up
These three are currently the best choices available in the flagship killer segment. If you are gonna buy a phone for the sake of hardcore gaming only, Red Magic 3 is the right choice for you. However, for an overall better experience, OnePlus 7 Pro is the best choice for everyone. But then again, if you do not have Rs. 50,000 budget, you can go for OnePlus 7.