Google Chrome is indeed the most popular browser in the world, thanks to the slew of features it has on offer. For starters, it gets three different browsing modes, including normal, guest, and incognito. While the normal mode is self-explanatory, the other two can be confusing at times. Therefore, in this article, let's compare Google Chrome's Guest Mode and Incognito mode in detail to know the exact differences.
Google Chrome: Guest Mode vs Incognito Mode
Both the guest and incognito mode are temporary browsing modes and hence may seem very similar to each other. However, both are different when it comes to basic usage and functionality, as detailed below.
Chrome Incognito Mode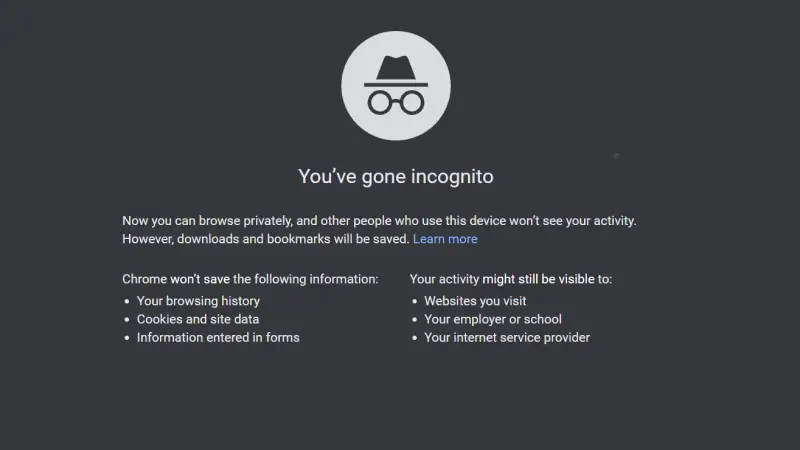 Incognito mode, as many of you might already be familiar with, is to let you privately browse on your own computer. Browsing in this mode won't save any of the data, such as history or cache. And since there are no cookies, you aren't logged into any sites by default.
When you close the Incognito window, all the data from that session is scraped. And while your downloads will stay on your computer, Chrome won't keep any record of those files. That said, you won't be able to take screenshots (especially on mobile phones) when in this mode. Extensions, on the other hand, can be enabled manually in the Extensions menu.
Incognito mode can be toggled by pressing Ctrl + Shift + N in conjunction or by tapping on three dots and selecting New Incognito Tab.
Chrome Guest Mode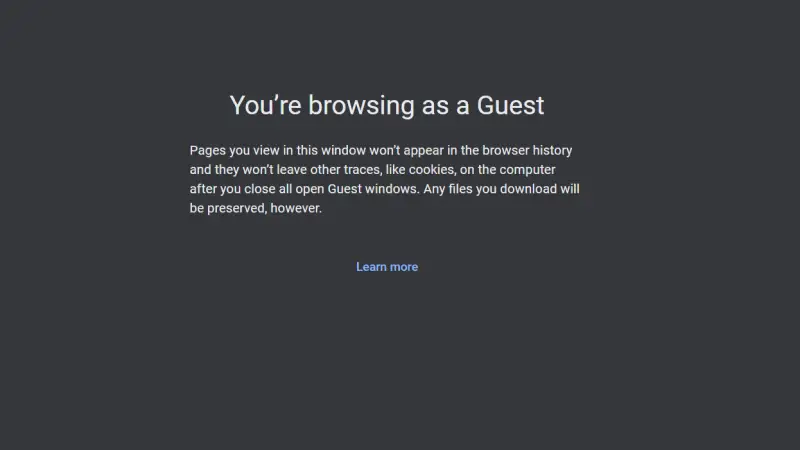 Guest Mode, on the other hand, is meant for someone who's temporarily using Chrome on your computer. In simple words, it's more of a private space that separates your data from others using your computer for browsing the web.
Just like the incognito mode, it doesn't save any of the browsing records, including history, cache, or cookies, but offers some additional features under the hood.
For instance, when in Guest mode, a user won't be able to tweak any Chrome settings aside from the search engine. Plus, he won't be able to see the history of the main user and thereby maintaining the privacy of both the parties.
The Guest mode can be turned on by clicking on the user icon given on the top right and then selecting the 'Guest' option.
Guest Mode vs Incognito Mode: Main Differences
As evident, the primary purpose of both the modes is the same, i.e., to avoid Chrome saving your browsing history and letting you browse in private. Yet, there are some essential differences that you should be aware of.
Profile History-based Suggestions

When in Incognito mode, you'll get suggestions from Chrome, based on your profile's browsing history such that when you start typing a URL in the address bar, it will give you predictions concerning what you've visited in the past.
However, no profile settings will be linked to your activities in Guest Mode. And hence, the sites you've visited in normal mode won't appear in suggestions for the Guest user. This will help maintain the separation between both the users, which is absent in the Incognito mode.
Bookmarks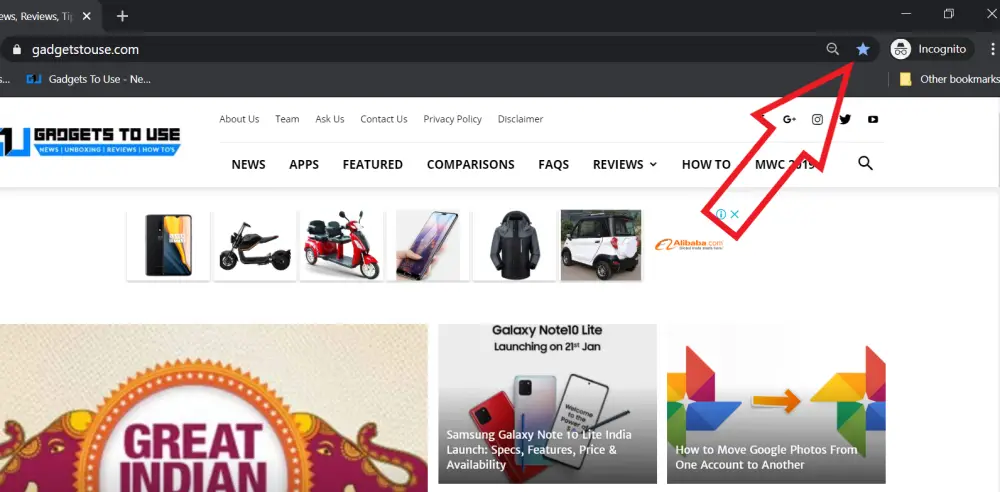 In normal and Incognito modes, Chrome lets you access the bookmarks bar and other bookmarks from the menu. In fact, you can even mark new sites, which will later reflect in normal mode too.
However, the Guest mode will not show any bookmarks bar on the new tab or webpage screen. Also, you won't see any bookmarks menu since the option is disabled altogether for guest users.
Toggling Modes
For those unaware, Chrome allows using all three modes in parallel, in different windows. You can enable normal mode from incognito, and vice versa, since both the options are given together on the menu.
However, there's no such option in the Guest mode, and you'll be required to close or minimize the current window to get back to the normal mode. Also, while the incognito mode is counted in your existing Chrome window, the Guest Mode window appears separately with a new icon in the taskbar.
Chrome Extensions

As mentioned, Chrome extensions are by default disabled in Incognito mode. Yet, there's an option to enable the one you need by going to the Extensions tab in the Settings, clicking on Details, and then toggling 'Allow in Incognito' for that particular extension. On the contrary, the ability to use extensions has been entirely disabled for Guest mode users.
Availability
Notably, the Guest mode in Chrome is only available for Windows and macOS users. In the case of Android, you can use the built-in Guest mode from the settings for a different temporary device profile. Incognito mode, in comparison, is accessible on all platforms, including Windows, Android, iPhone, and macOS.
Note: Using Incognito mode or Guest mode won't make you invisible on the web. Your employer or school, your internet service provider, and the websites you visit can still keep a check on your browsing activity, so keep a note of that. If you want to browse anonymously, we'll suggest using VPN apps on your phone and computer.
Guest Mode vs Incognito Mode- Wrapping Up
This was all about what are Guest & Incognito modes in Google Chrome and how do they differ from each other. In all, the Guest mode is preferred when you're using someone else's computer, or someone else is using your computer. Whereas, the incognito mode can be used when you don't want the history to be saved on your browser.
If multiple people use your PC, create a separate profile in Chrome that can be switched anytime based on who is using the device. Which option do you find the most suitable for your use? Let us know in the comments below. Also, feel free to reach us in case of any doubts or queries.
Also, read-