Recently, there has been a lot of outrage regarding Chinese products in India. There were 'boycott China' hashtags trending across social media. People were also uninstalling Chinese apps from their phones. In such a scenario, an app named 'Remove China Apps' became popular as it used to find China-originated apps on one's phone and also gave the option to uninstall them.
However, just after becoming viral, Google removed it from Play Store for violating its policies. Now, another app named 'BLeave India' has appeared on Play Store that can also do the same job, i.e. finding the Chinese apps on your Android.
But, this app also has an extra feature, alongside finding the Chinese apps, it also suggests that app's replacement, which is a non-Chinese app.
Let's find out how the Bleave app works.
https://www.instagram.com/tv/CBnZbGpgpHN/?utm_source=ig_web_copy_link
How Bleave App Works
When you install the BLeave India App, it has a simple user interface. You will find a 'Scan  Now' button when you open the app, just tap on it and it will show all the Chinese apps installed on your phone, and if you don't have any, it will show 'Your device is using the best apps' message.
However, if you have any Chinese apps installed on your phone, it will show you those in a list. There will be a 'Replace' button right next to each app.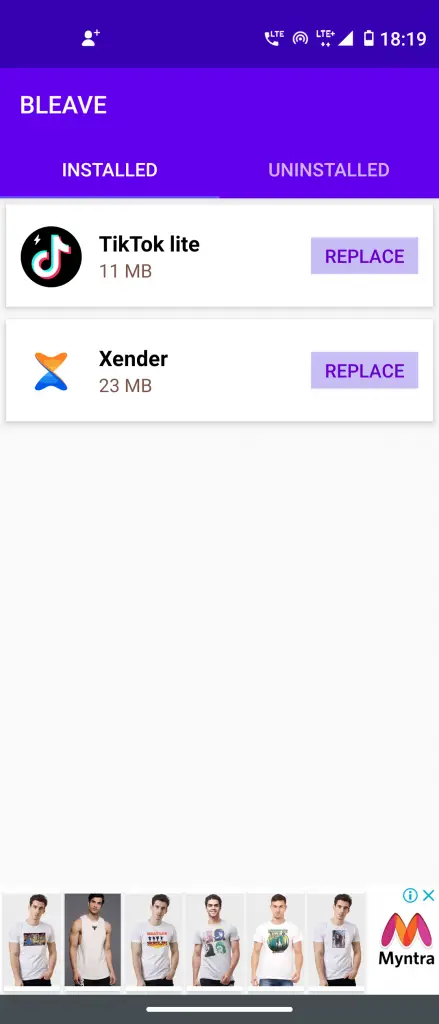 When you tap on replace, it will show you the list of alternative apps to that app. It will then also give the option to remove the Chinese app.
Top 5 Non-Chinese Alternatives to UC Browser                   

5 Non-Chinese Alternatives to SHAREit App
Is Bleave safe to use?
First of all, we know by whom this app was developed. The app has a proper developer's information, including address, website, etc. The app is developed by Mumbai-based media house 3nions. You can go check out their website here.
Also, unlike other such apps, this app asks for no permission on your phone. You install it and it is good to go. Last, but the least, it has it's own privacy policies.
To recall, one such app that gained momentum during anti-China sentiments 'Mitron' got suspended from the play store, as it had no privacy policy defined and its developer was also unknown.
Wrapping Up
As of now, we do not find any suspicious about the app. It is simple, easy to use, and does what it meant to be. So, if you want to not only uninstall Chinese apps but also want to find their alternatives, this app is just for you.
Also, read | 15 Popular Chinese Apps and Their Indian and US Alternatives