ENS(Ethereum Naming Service) is an Ethereum-based NFT project where you can buy .eth domain names. This service allows you to create simple domains like XYZ.eth and use them to link to your crypto wallet or other Web3 addresses. This makes sending and receiving assets on a crypto wallet easier. It is quite a simple process to create and buy a domain, and we will guide show you how you can create your .eth domain.
About ENS Domains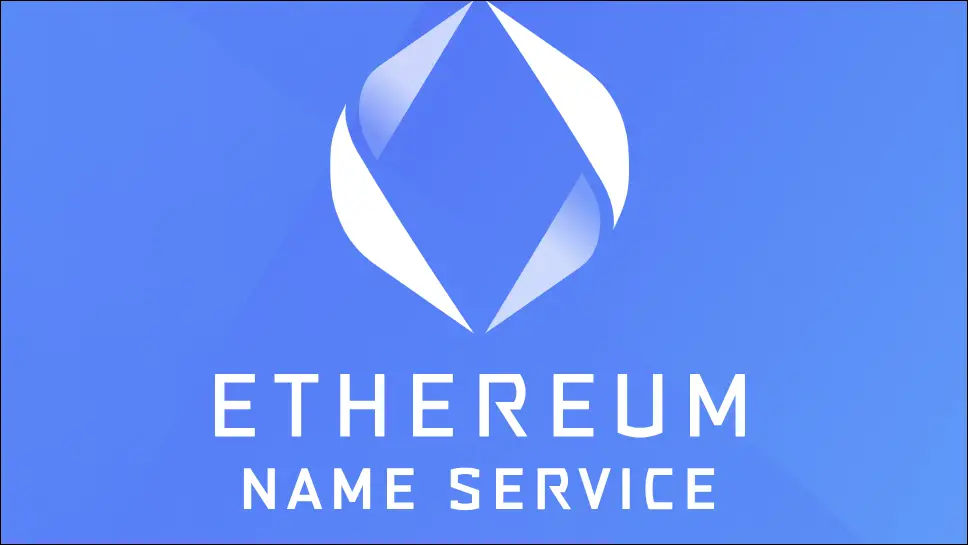 ENS domains allow you to buy .eth domain names as mentioned above. They are based on the Ethereum blockchain and work quite similar to Unstoppable domains, but you do not have to renew your domain. When you buy a domain from Unstoppable, it is yours for life, but they also cost more. Whereas with the ENS domain, you can own them for a limited amount of time, but they cost less if you ignore the gas price.
You also have control over sub-domains with ENS and can create one like if you own the domain XYZ.eth, then you can also create a sub-domain price.XYZ.eth. These are quite handy if you have several crypto wallets and there are plans to integrate them with your social media profiles so that your followers can directly tip or support you.
Also Read: What is NFT? How NFTs Work and Should You Invest in Them?
Creating and Registering ENS Domains
The process to buy ENS domains is straightforward. Let us take a look at how you can create your domain. There are some prerequisites you should consider before starting.
Requirements:
A Private Crypto Wallet preferably Metamask
You will need enough balance in Ethereum to buy the domain and pay for the gas fees.
If you do not have a Metamask wallet then refer to the following guide to create one.
Guide| MetaMask Wallet: How to Create, Setup Account, and Other Tips
Creating an ENS Domain
Step 1: Go to the ENS website.
Step 2:  Go to Connect in the top left corner to connect your wallet.
Step 3: Choose the wallet you want to connect. your wallet to the website to sign in.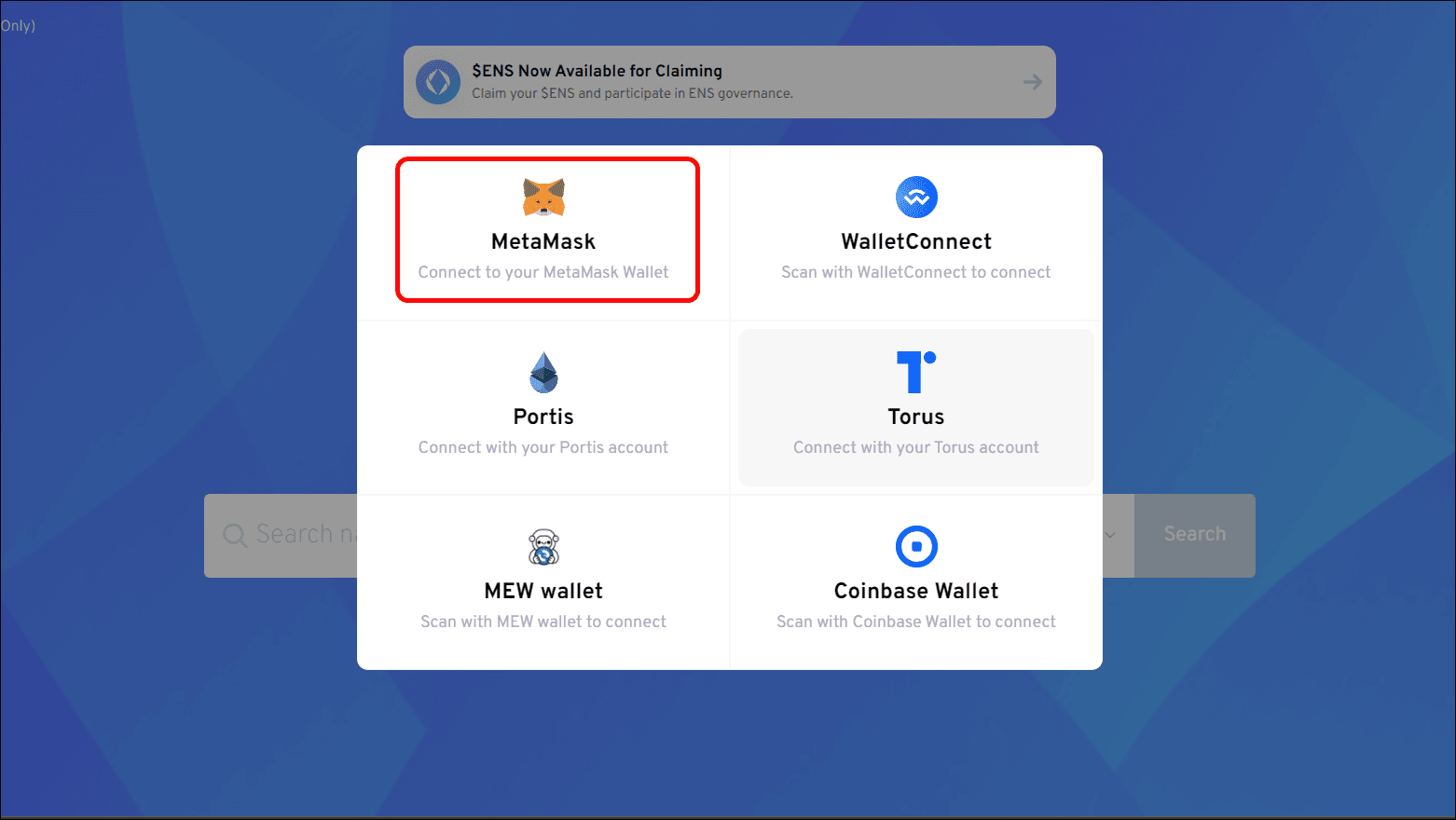 Step 4: On the search bar, search for the name you want for your domain. You can also use your name.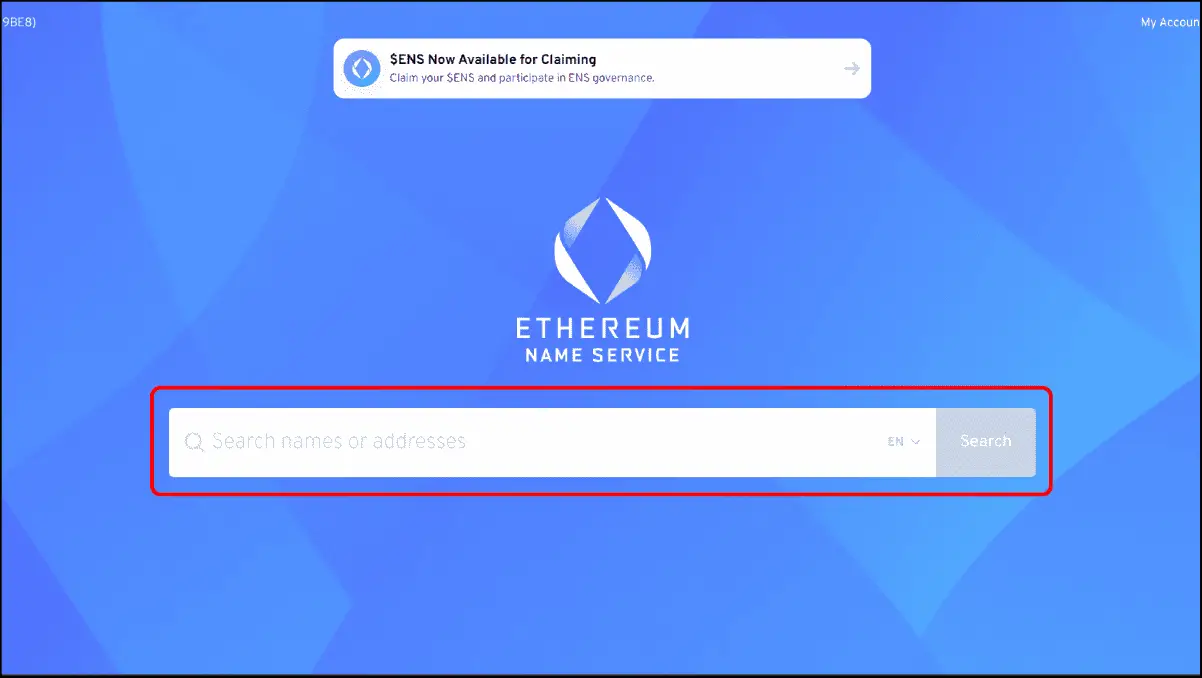 Step 5: Click on Search.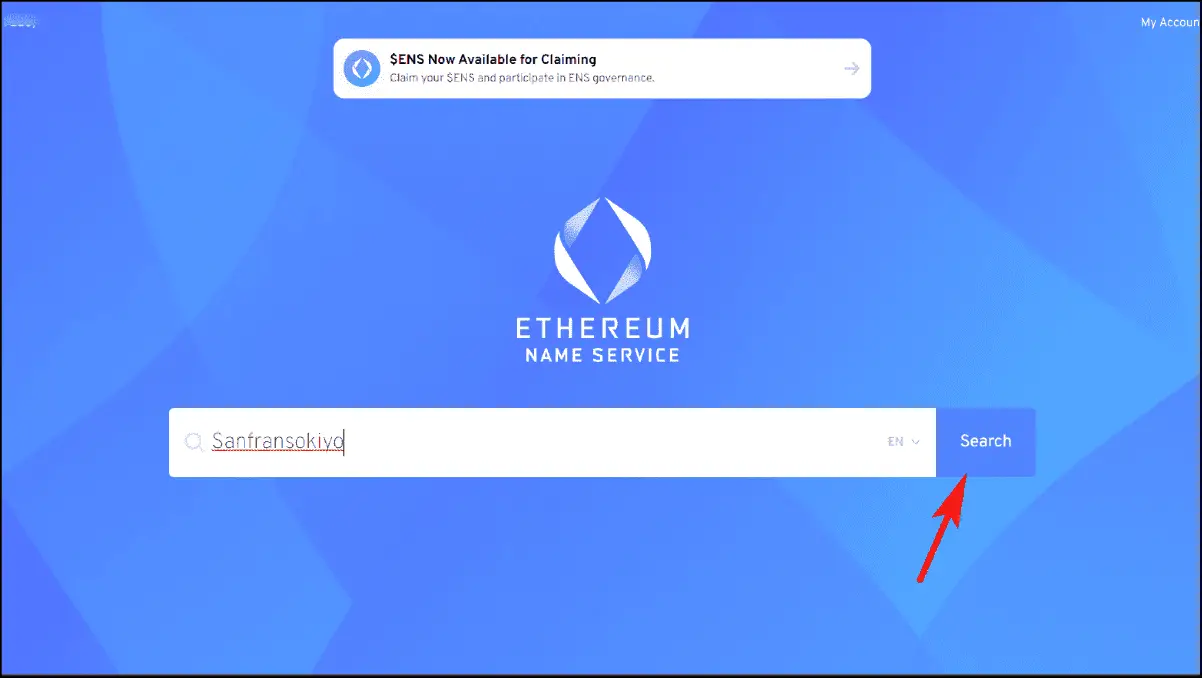 On the next page, you will be able to see that the name you searched for is available for sale or someone has already bought it.
Step 6: If the name is available and not registered then you will see an Available written next to it. Click on it. 
If the name is already taken, you will see the Grace period before it is available again.
Registering and buying ENS Domain
To register the domain, you will have to set the duration of time to own the Domain. The price increases with the duration. You will be able to see the total cost with the gas price.
Do note: The Gas price will be more than the cost of your domain. There will be two transactions that you will have to make. The first one will be the Request to Register, and the second one will be to register your domain.
Step 1: Now, select the duration of time you want to own the domain. It is better to set it for a longer duration to avoid paying gas fees every year.
Step 2: Click on Request To Register to start the registration process. This option will not show up if you have an insufficient balance in your wallet.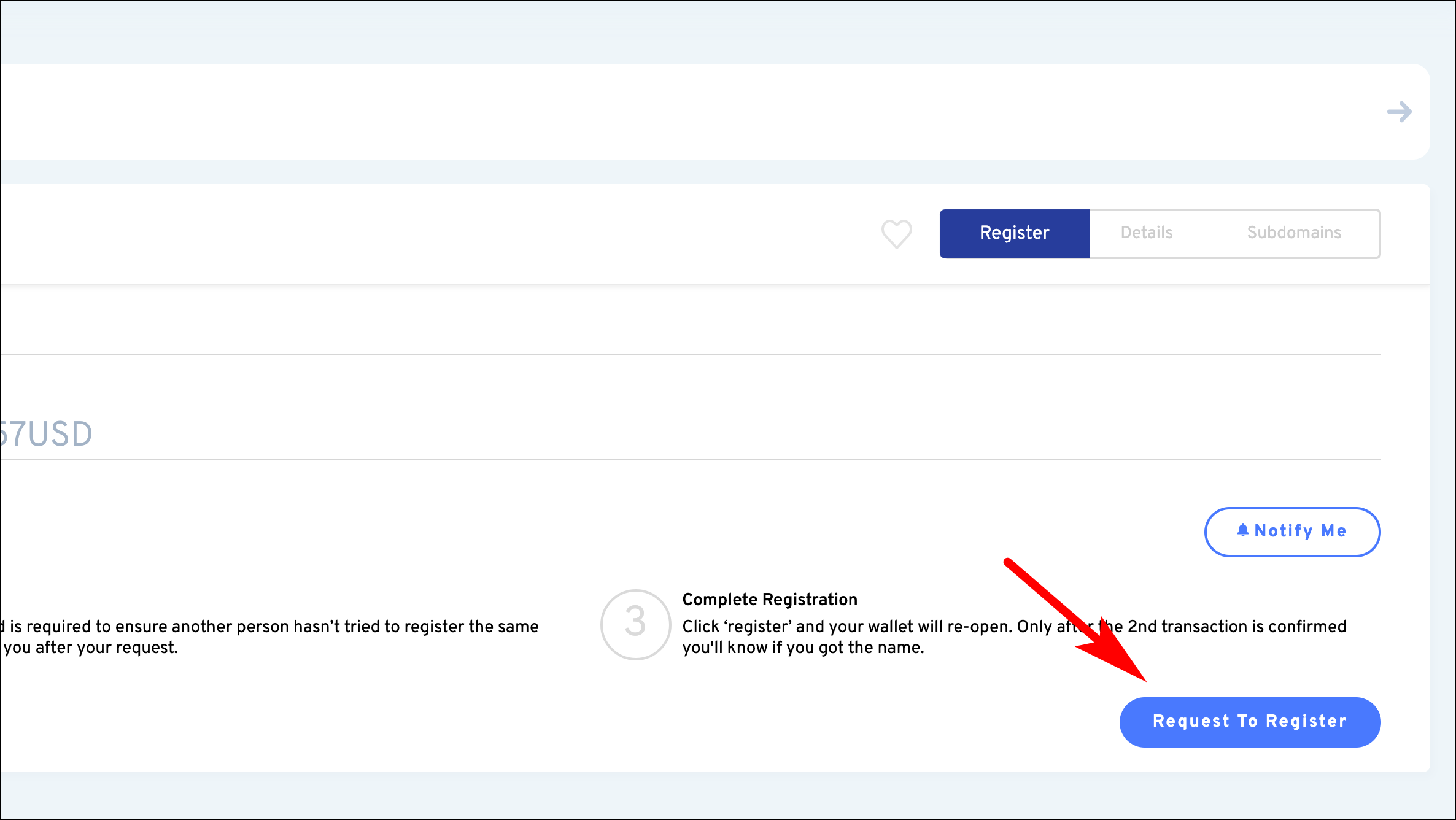 Step 3: Your Metamask wallet will open up, and you will have to make the first transaction. Select Confirm to continue.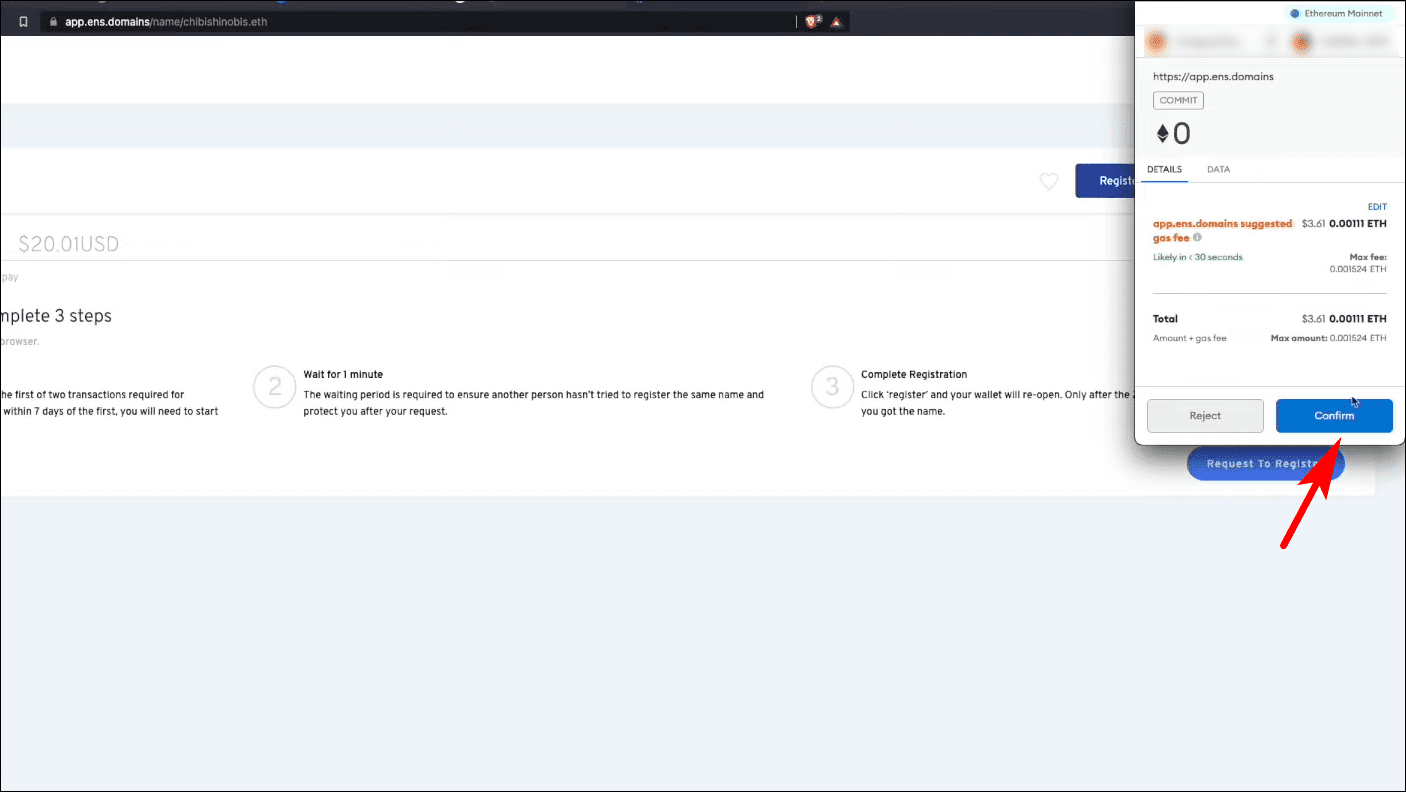 Wait for ENS to ensure another person hasn't tried to register the same domain name.
Step 4: Once done, simply click on the Register button.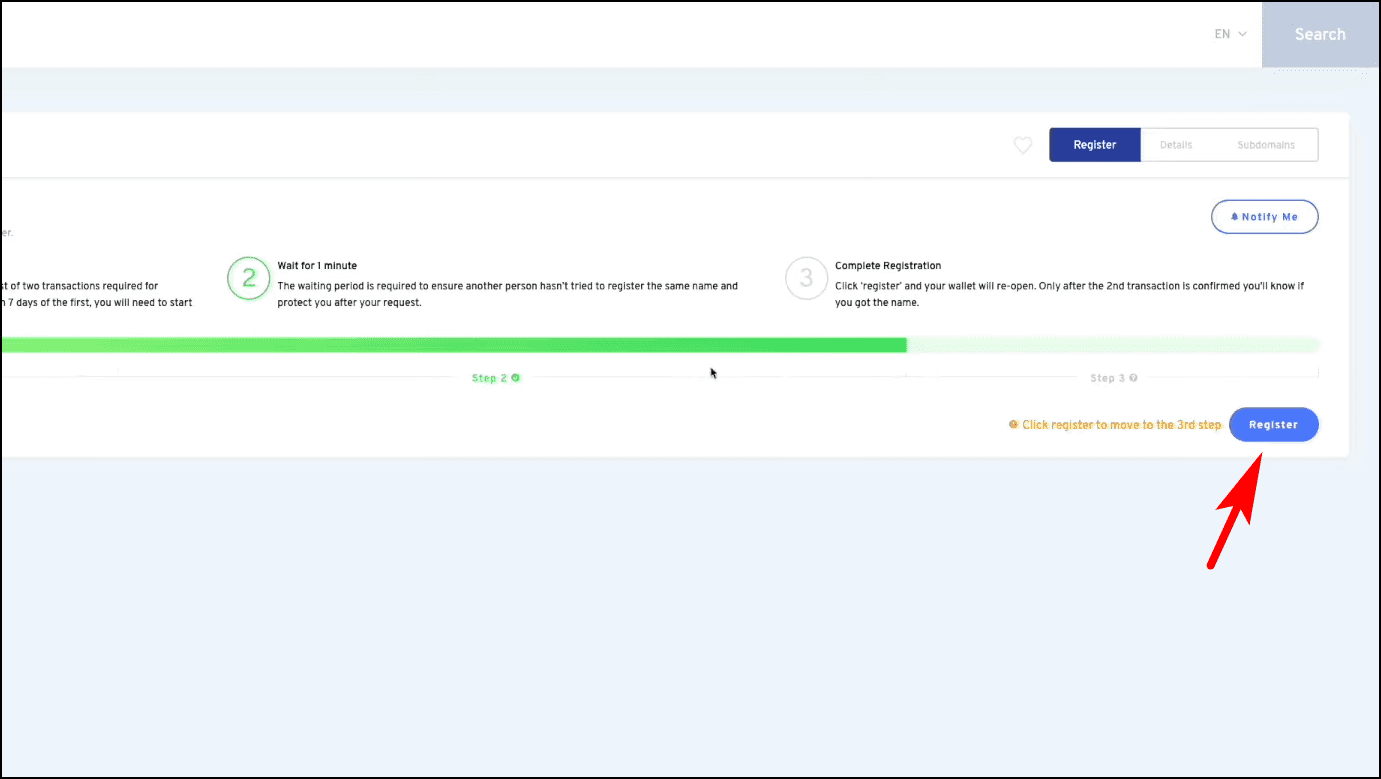 Step 5: Metamask will open up again, and you will have to pay the second transaction to complete registration. Select Confirm to complete the process.
Once the green bar is full, your domain will be registered to you!
Also read: Top 4 Ways to Save Gas Fees While Buying NFT
Linking your Domain with Wallet Address
Step 1: Now, you will have to click on Set Reverse Record to link this domain with your wallet address.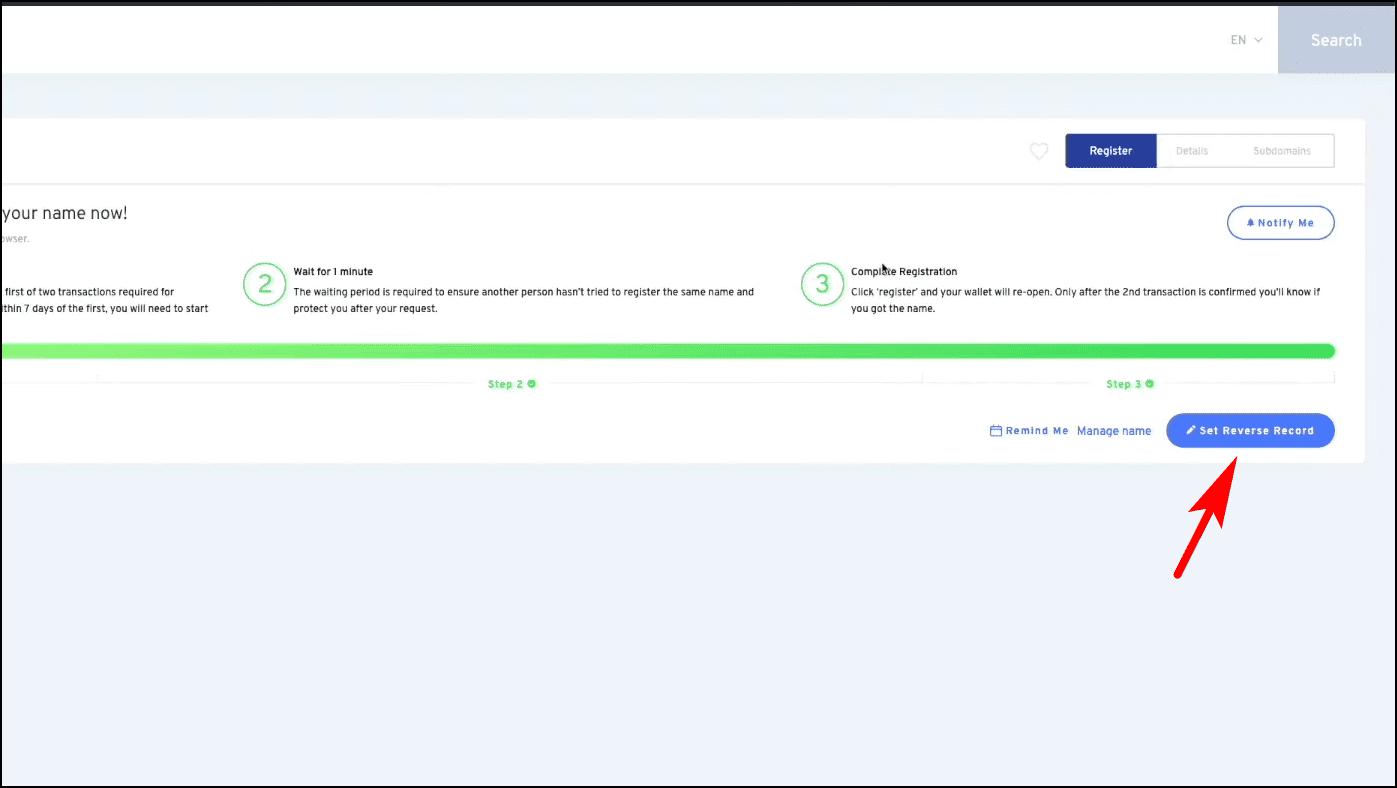 Step 2: Just select your recently created domain name and click Save.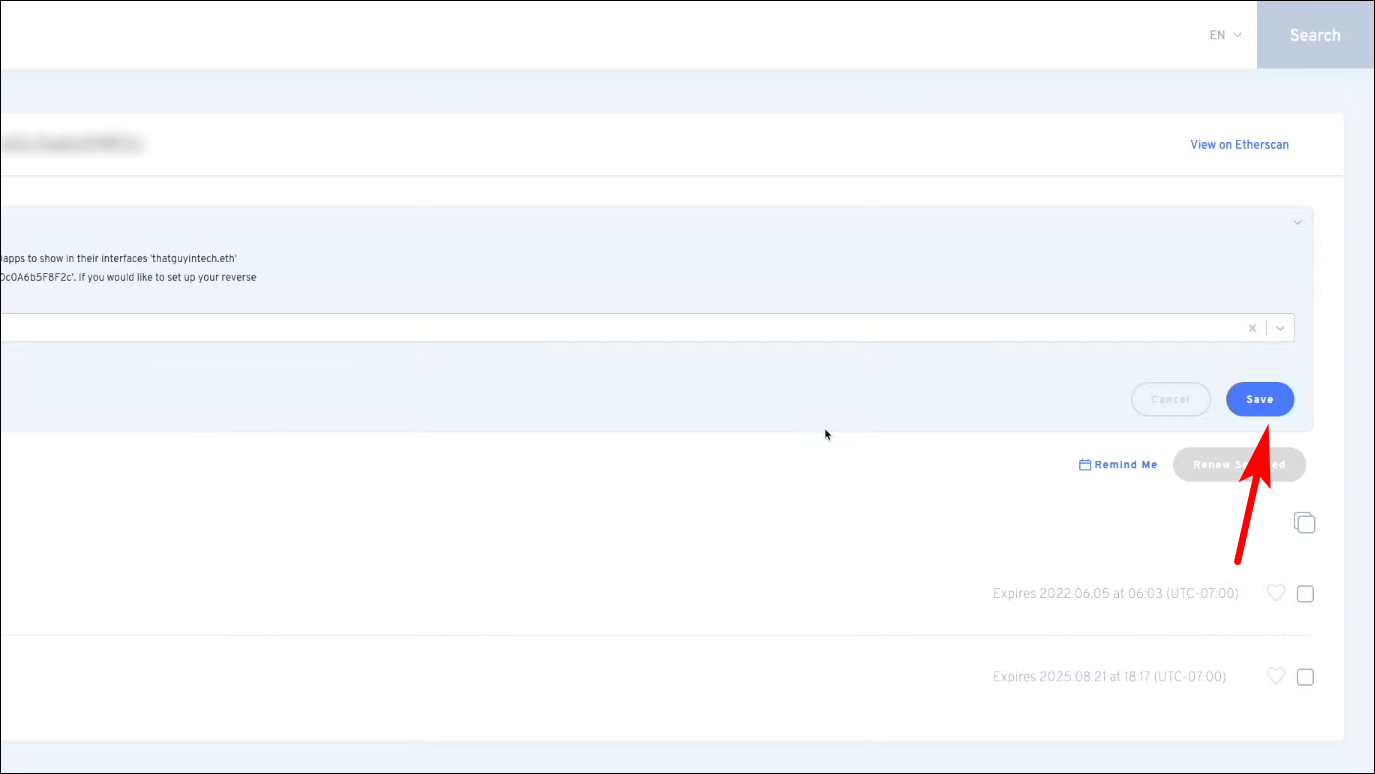 Step 3: Confirm one more transaction to map the domain with your wallet address.
That's it! You are done and now a proud owner of an Ethereum domain. You can visit Etherescan and enter your domain to check if it links to your wallet address.
Wrapping Up
ENS domains are a great alternate way to share your wallet address and also happen to be more secure. Soon more features will be implemented to link these domains with your social media profiles to accept direct donations from your followers. It is a great system for registering a domain on the blockchain.
You can also follow us for instant tech news at Google News or for tips and tricks, smartphones & gadgets reviews, join GadgetsToUse Telegram Group, or for the latest review videos subscribe GadgetsToUse Youtube Channel.