Bitcoin is truly a driving factor in the crypto sphere. Being the first-ever cryptocurrency, it has made all the new-gen investors at least make a small investment in it. The early adopters of Bitcoin (in 2009 or 2010) are modern millionaires today, as the price has recorded a maximum all-time high of over $68,000 in recent years. Since it has become a normal mode of payment to avail goods/services in various parts of the world, For any financial institution, an ATM is crucial. Likewise, crypto-assets like Bitcoins can be obtained or sent through the desired wallet using a Bitcoin ATM. Check out the blog for more information on using a Bitcoin ATM.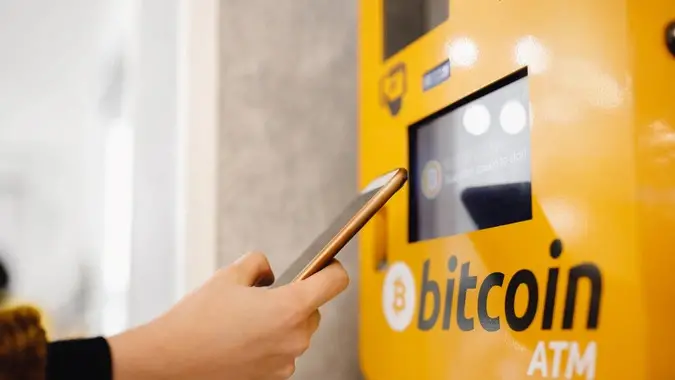 What is a Bitcoin ATM?
A Bitcoin ATM or BTM (Bitcoin Teller Machine) is a physical kiosk similar to the one we use in traditional banking, but with a difference where it allows anyone to buy/sell Bitcoins for cash or debit. It may look like regular ATMs, but actually, they will have the feature to connect with a Bitcoin wallet instead of a bank account. These wallets will stay as repositories for sending as well as debiting Bitcoins. Some of the regular ATMs will be personalized with software that accepts these coins. 
How to Use a Bitcoin ATM or BTM?
Catch a glimpse of the steps required to use a BTM or the steps involved in purchasing Bitcoins using fiat currency in Bitcoin ATMs. But note that you must have a functioning Bitcoin wallet before using this BTM.
1. Enter your Mobile Number: The first step in using the BTM is that the machine wants to verify your identity. So it kick-starts the process by asking you to type your mobile number. Some machines may even ask you to submit a government-provided ID card for verification. This is because certain laws are enforced for Bitcoin ATMs to verify the identity of users. 
2. Identity Verification: Once you provide the right mobile number, a one-time password will be sent to the mobile number. Enter the OTP to pass the verification. This step assists in screening fake mobile numbers among users. 
3. Wallet QR Code Scan: This is the crucial step in using the BTM. It prompts you to scan the QR code to make the machine understand to which wallet it must send the Bitcoins. BTC public wallet addresses can be created using paper wallets, applications, and addresses on exchanges.
4. Fiat Currency: This step allows you to insert fiat currency into the machine to get your BTC transferred to your wallet. Like your cash deposit machines, you can place your fiat currency in respective denominations. The machine then shows the equivalent value in BTC for the recognized fiat. 
5. Confirm & Complete Transaction: Click on the Confirm or Buy button once you acknowledge the amount of BTC. The machine then transfers the required BTC to the wallet address you provided in the previous step. Usually, BTC takes six network confirmations before getting confirmed. So no worries if it does not reflect immediately in your wallet. It may take ten minutes to an hour to get confirmed. 
Steps Involved in Selling Bitcoins
1. Click on the Sell BTC button on the home page.
2. Scan your wallet QR code, which will allow you to type it manually. 
3. Verify the identity by submitting a proof or government-issued ID. 
4. Specify the wallet address to which you want the machine to send BTCs. 
5. Some machines cash it straight away, while others will wait for the receiver to confirm the transaction initiated. 
6. Once you complete the aforementioned steps, you can validate the transaction and hold on for some minutes for the machine to complete the transaction. 
7. Remember to have your receipt ready before you get an appointment.
FAQs Related to Using Bitcoin ATMs
Q. How does the BTM work?
There are two types of machines generally used in Bitcoin ATMs, and the functioning of the BTMs will depend on the type. 
Unidirectional Machines: This machine supports only one-way transactions, which supports either the buying or selling of crypto assets. 
Bi-directional Machines: This machine supports both-way transactions, which supports both the buying and selling of crypto assets.
Q. What are the merits of Bitcoin ATMs?
A fast and convenient way to buy/sell Bitcoin.

No physical cards are required. 

Some BTMs do not require KYC verification. 

It makes Bitcoins accessible to people worldwide. 

A much easier way to transact BTC. 
Q. What are the demerits of Bitcoin ATMs?
A transaction fee is the main disadvantage, as it varies from 7%-12% for all BTC transactions. 

Large-value transactions are not possible in BTMs. 

No privacy as the majority of the BTC ATMs will require identity verification. 
Wrapping Up
The reports show that there are more than 28,000 Bitcoin ATMs all across the globe. Other than Bitcoins, the various altcoins supported by the ATMs are as follows: Litecoins (LTC), Ether (ETH), Dogecoin (DOGE), Bitcoin Cash (BCH), Dash (DASH), Tether (USDT), Zcash (ZEC), Monero (XMR), Ripple (XRP), Lightning BTC (LBTC), etc. So, if you are trying to buy through the BTC ATM, check online resources using the Coin ATM Radar.
You can also follow us for instant tech news at Google News or for tips and tricks, smartphones & gadgets reviews, join GadgetsToUse Telegram Group or for the latest review videos subscribe GadgetsToUse Youtube Channel.