Cryptocurrency is booming around the world, and people from all walks of life are starting to see cryptocurrencies as a viable form of investment. Well, if you reside in America and want to start investing, then you will need to choose the right crypto exchange to buy and sell cryptocurrency. So in this article, we will look into five of the best crypto exchanges in America and what they offer you, along with some related FAQs.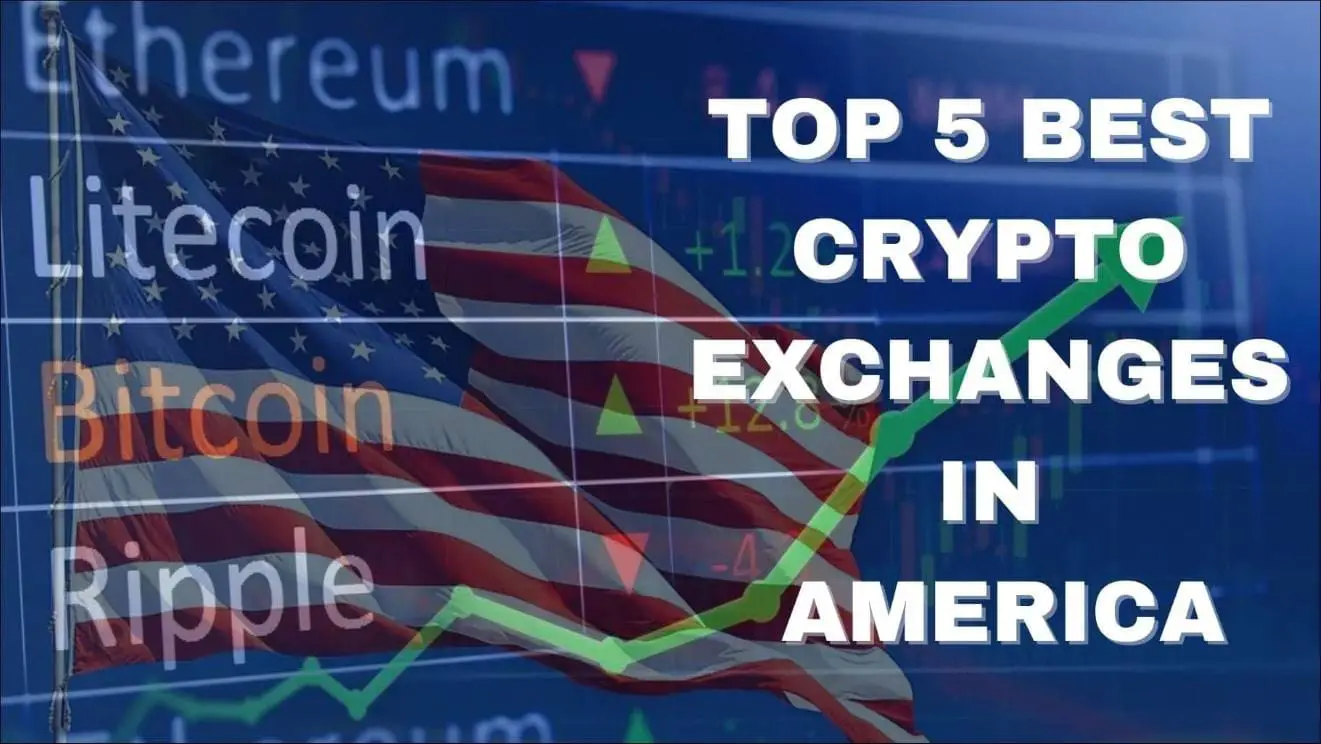 Top Crypto Exchanges in America
Right way, we will jump into our list. Some of these exchanges might not be able to provide the full range of global features due to SEC guidelines. Also, the exchanges mentioned here are organized in no particular order. So without any further wait, let us look at the top 5 crypto exchanges in America.
Crypto.com
Pros:
Variety of 250+ crypto assets.
The app provides a full-fledged exchange experience.
Has a blockchain network.
Offers Credit.com VISA card.
Advanced security protocols.
Cons:
Trading fees are high unless you trade in bulk.
Customer support is lackluster.
Certain services are blocked in America.
Crypto.com is a HongKong based crypto exchange. It is one of the leading crypto exchanges in the world with over 10 million active users in more than 90 countries. You can find more than 250 cryptocurrencies listed here. It is available in 49 states of America.
Crypto.com has its blockchain network called Crypto.com Chain. The native token of this blockchain is called CRO. Having a blockchain allows Crypto.com to offer several decentralized services like a cold wallet, NFT Marketplace, and different features to earn passive income from cryptocurrency.
It also has an intuitive app that provides all the necessary tools to trade on the go. You can also make transactions directly from the app or claim a Crypto.com VISA card to buy goods and services from cryptocurrency. It also offers multiple ways to buy cryptocurrency from USD.
Coinbase and Coinbase Pro
Pros:
User-friendly interface for beginners.
Pro version with more tools and fewer fees for advanced traders.
Offers both custodial and non-custodial wallets.
Supports 150+ cryptocurrency and trading pairs.
Insures users' funds in case of a data breach.
Cons:
Customer support is poor.
Exchange fees are quite high compared to other exchanges.
Certain features are locked behind the Pro version.
Coinbase is a globally renowned crypto exchange operating in well over 100 countries. It is one of the biggest exchange supporting more than 150 cryptocurrencies and trading pairs with high liquidity. Founded in 2012 and previously located in San Francisco, Coinbase went decentralized later on.
It has a seamless and easy-to-learn interface for beginners and provides a separate advanced service called Coinbase Pro for advanced and professional traders that have in-depth and detailed charts and a lower trade fee.
Coinbase also provides custodial and non-custodial crypto wallets with strong security measures. It will Insure users' funds in the Federal Deposit Insurance Corporation (FDIC) to prevent loss of assets in case of a hack or data breach.
Binance.US
Pros
The lowest trade fee among all exchanges is at just 0.1%.
25% discount on trading fee when paid with a BNB coin.
Has its Blockchain network.
Provides a separate user interface for both beginners and professional traders at no extra cost.
Allows you to buy coins directly from USD.
Cons
The service is not available in a few states.
Limited features compared to its international counterpart.
The variety of coins is limited compared to other exchanges.
Binance is the largest crypto exchange in the world in terms of its userbase and trade volume. Binance.US is a part of Binance that works under the regulation of the SEC. It offers 60 coins and tokens with over 120 trading pairs in terms of variety.
Its key highlight is the trade fee which is the lowest among other exchanges at 0.1% and 0.5% on faster transactions. But you can get a 25% discount when you pay the trading fee using the BNB coin, which is the native coin of the Binance blockchain network. Yes, Binance has two blockchain networks they recently merged in February 2022.
Binance has an intuitive interface for both beginners and experienced traders that you can enable within settings. The pro version of Binance offers more trading options and detailed charts without asking for any charges.
Binance.US does miss out on some features compared to its global version and is not available in the following states of the US: New York, Idaho, Vermont, Hawaii, Louisiana, and Texas.
Gemini Exchange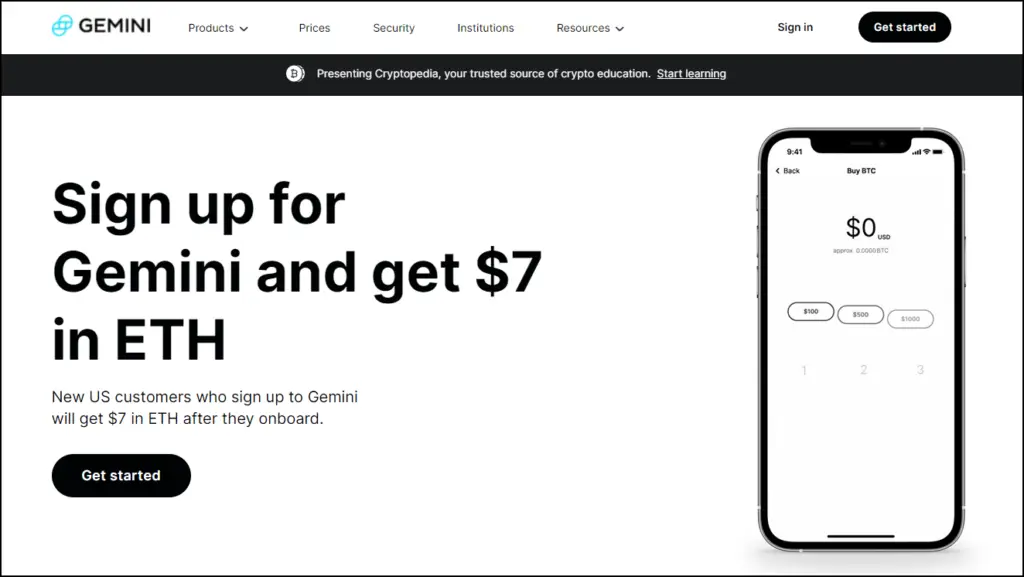 Pros:
Provides robust security features.
Available in all 50 states in America.
Supports newer and low-capital coins and tokens.
Funds stored in Gemini wallet are Insured.
Offers Gemini card to make purchases with cryptocurrency.
Cons:
Not beginner-friendly.
Lacks decentralized features
Supports only a limited number of cryptocurrencies and trading pairs.
Gemini is another well-known crypto exchange available in all states of America. It was established in 2014 in New York and founded by the Winklevoss brothers, who you would recognize if you are familiar with the story of Facebook or have seen The Social Network movie.
Gemini exchange proud itself on its strong security features. It is certified by third-party auditors. It supports over 50 coins and tokens and 70 different trading pairs. Gemini also lists low-capital crypto in their exchanges, which offers a great opportunity for those who want to invest early in a token before it gets listed on other exchanges.
With Gemini, users can also get a Gemini card which they can use to buy goods and services from cryptocurrencies. But the interface is not beginner-friendly, and trading fees are steep but lower than Coinbase.
Kraken and Kraken Pro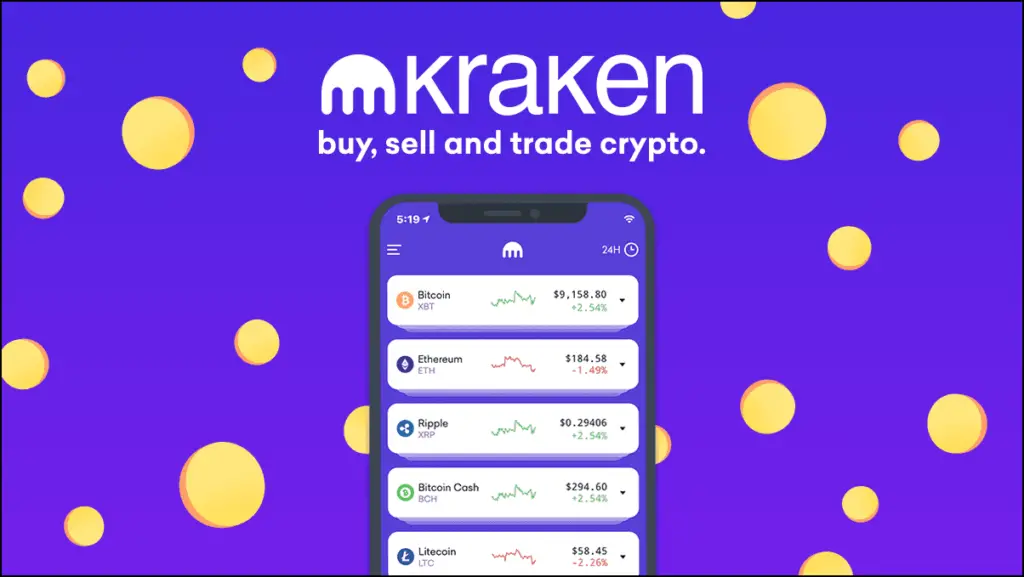 Pros:
High security and liquidity
Support for a large number of coins and tokens.
Offers several trading features for experienced traders.
Staking options are available for passive income.
Very low trading fees on Kraken Pro.
Cons:
Only wire transfers can be used to add funds.
The base version has high fees for instant buying of cryptocurrency.
Only on-chain services are available for US residents.
Not available in all US states.
Kraken is a reputable exchange platform that was launched in 2013. It is based in San Francisco and owned by Paywood. It is a favorable option for professional crypto traders as it provides advanced order types and supports margin and futures trading.
The platform hosts over 120 cryptocurrencies and 370 different trading pairs. It has high liquidity of tokens and reasonable security measures. Kraken Pro offers trading features like spot, margin, limit orders, and market orders. Users can also stake their crypto to earn passive income.
But the reason it is on this list is that the pro version of Kraken has some of the lowest fees on trading next to Binance. Sadly it is exclusive to the pro version, and a new trader might get overwhelmed by the layout of the pro version. As for new traders, the base version of the platform is simple and easy to use.
FAQs related to Crypto Exchanges
Are crypto exchanges legally allowed in America?
Cryptocurrency exchanges are legal in America, but different states have different regulations for their operation. But all crypto exchanges operating in the USA are regulated under the Bank Secrecy Act (BSA). This means that exchanges have to get registered with FinCEN and implement an AML/CFT program. They also have to maintain proper records and submit reports when asked.
Does SEC regulate cryptocurrency and crypto exchanges?
Yes, the Securities and Exchange Commission does regulate cryptocurrency and the platform that offer them like crypto exchanges. It views cryptocurrency and other digital assets as securities and applies security law to both cryptocurrency wallets and exchanges. They have laid out detailed guidelines for the operation of crypto exchanges that they must adhere to.
Which crypto exchange is best for US customers?
All the ones that we mentioned here are great options to start your journey in cryptocurrency. All of them are properly regulated and fall under the guidelines of the SEC. But certain factors that you should consider when choosing a crypto exchange in America are:
Availability of the exchange in your state.
Payment methods are supported by the exchange.
Reputation and security.
Customer support
Easily understandable interface.
Is it safe to link a bank account to a crypto exchange?
Crypto exchanges will require you to link your bank account to the exchange to add money to your exchange wallet so you can buy cryptocurrency.
If you are linking your bank account to a trustable and well-known exchange like the ones mentioned in the list, then it is safe, but if you feel uncomfortable linking your bank account, then try to find another method to add funds to your wallet.
Wrapping Up
Cryptocurrency is a global phenomenon spreading across the globe. SEC's guidelines in America, along with state regulations, do make it a little difficult for crypto exchanges to operate with full potential but in the end, it is for the benefit of American citizens and to protect their investments. We hope you were able to find a suitable crypto exchange with the help of this list.
You can also follow us for instant tech news at Google News or for tips and tricks, smartphones & gadgets reviews, join GadgetsToUse Telegram Group or for the latest review videos subscribe GadgetsToUse Youtube Channel.