Let's say you have a little something on someone say, their username, email, image, contact, etc., and wish to know all the details about the person. Well, you're in luck. In this read, we have listed 5 different ways to find information on anyone using the Internet. Meanwhile, you can also learn to share your Google search results with anyone.
Also, Read | 7 Ways to Search Anything, any File on iPhone.
Find Information on Anyone Using the Internet
Use Search Engines to Find Information on Anyone
The quickest and most effective method to easily find information about anyone is through various search engines. You can make use of popular search engines such as Google, Bing, Yahoo, Ask.com, and DuckDuckGo to easily discover and gather the required data on anyone.
1. Open your preferred web search engine and search with the keyword related to the person you wish to discover. This keyword can be anything related to the person or organization such as username, email, phone number, address, and even images.
2. Browse through the given links in the search results to find information associated with the person that you wish to discover.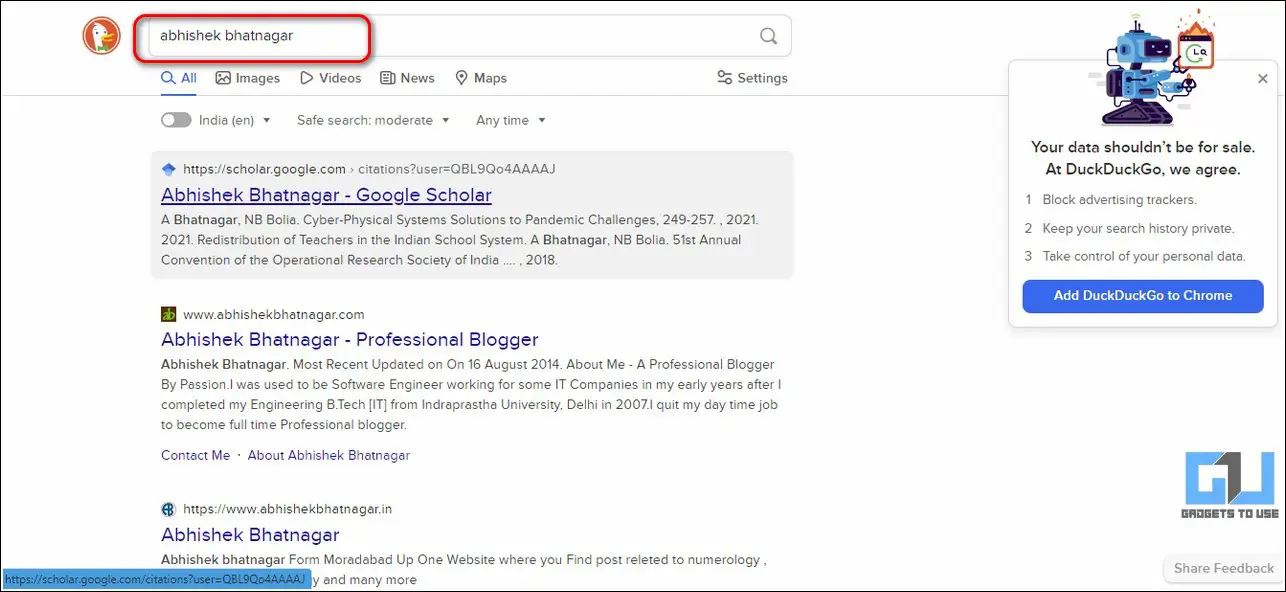 Make Use of Social Media Platforms
Another effective source to find information on anyone is through various social media platforms such as Facebook, Twitter, Instagram, etc. You can search and gather information using these sources by searching them with your related keyword.
1. Open your preferred social media platform such as Facebook and click on the search bar to find information using the keyword or data you have.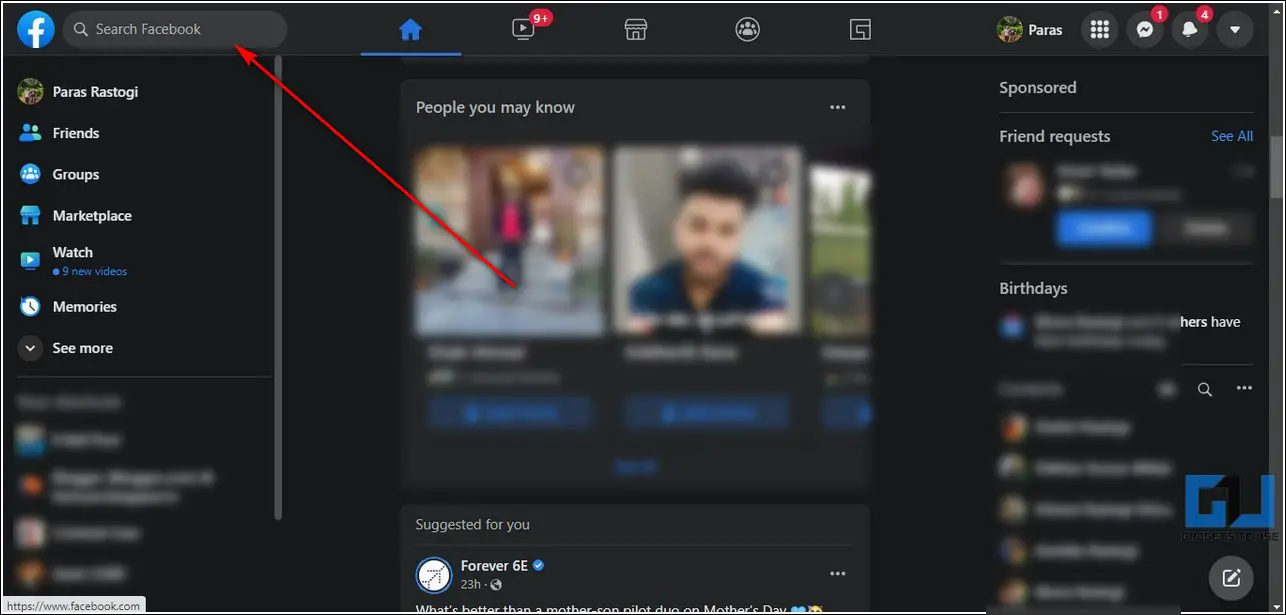 2. Analyze the search results to identify and gather information about your desired person or organization.
3. Similarly, you can use Twitter to find information about anything or anyone.
Dig Out Email Addresses with Hunter
If you wish to contact and know about the email address associated with a person working in a particular organization, then Hunter is all you need. This online tool lets you find professional email addresses in seconds so you can connect with people to have a business conversation. Follow these steps for the same.
1. Access Hunter on a new tab in your web browser and click on the Sign-Up button in the top-right corner to create a free account. You can also use your existing Google account to sign in to this online tool.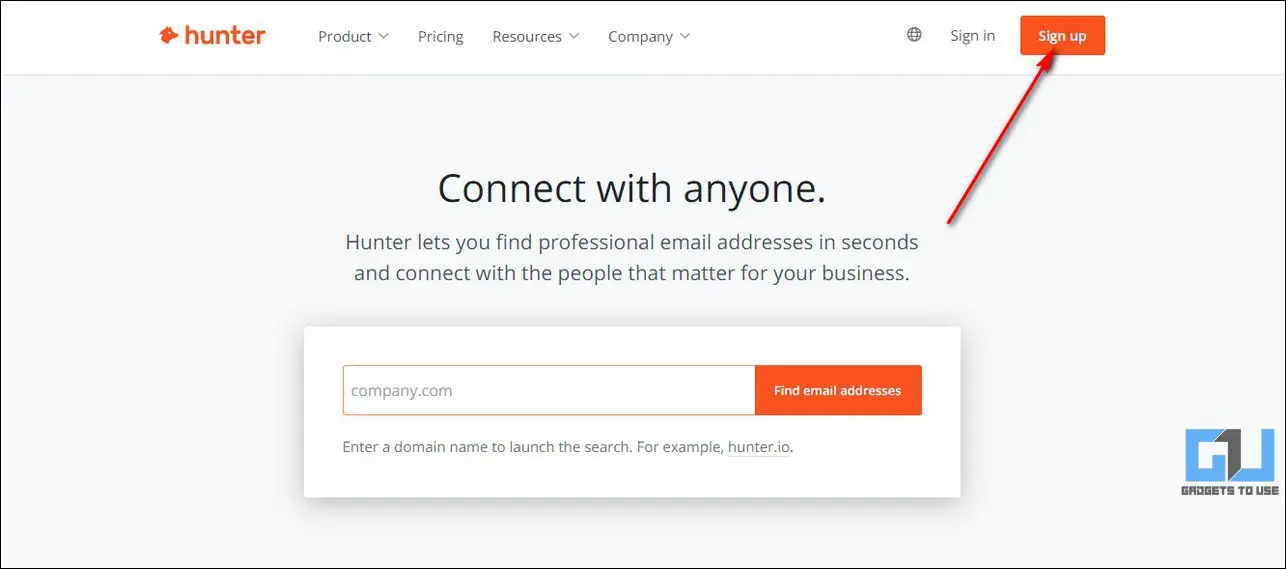 2. Next, enter the name of the organization or company to find all the associated email addresses.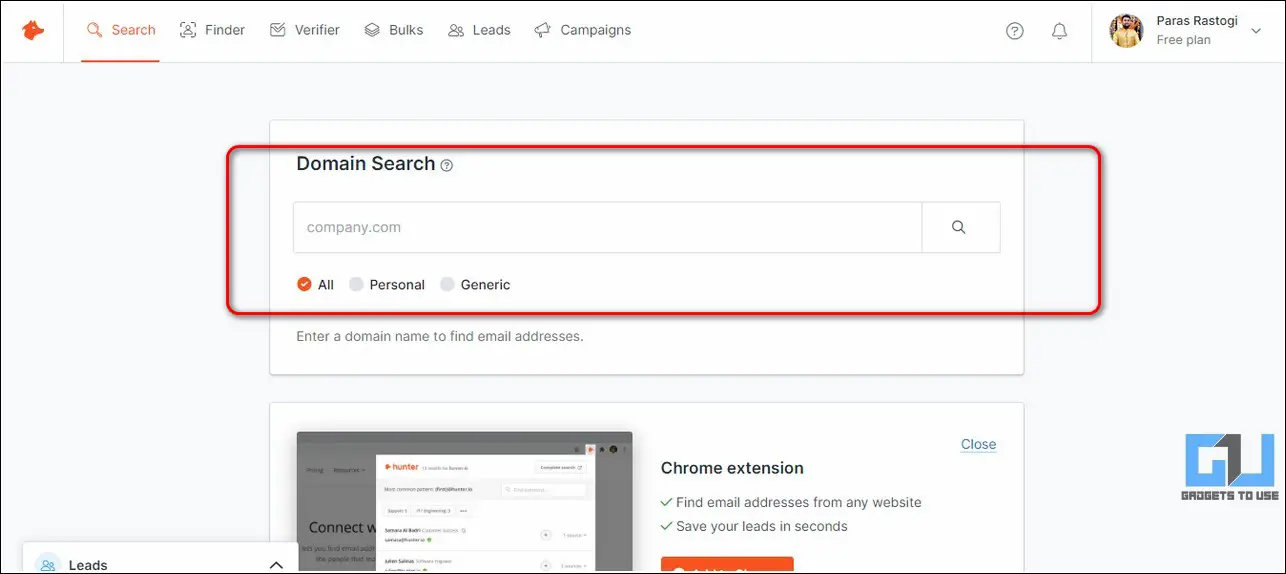 3. Further, you can click on any desired email address to view information about the providing source. You can copy this email address and use it for initiating your business conversations.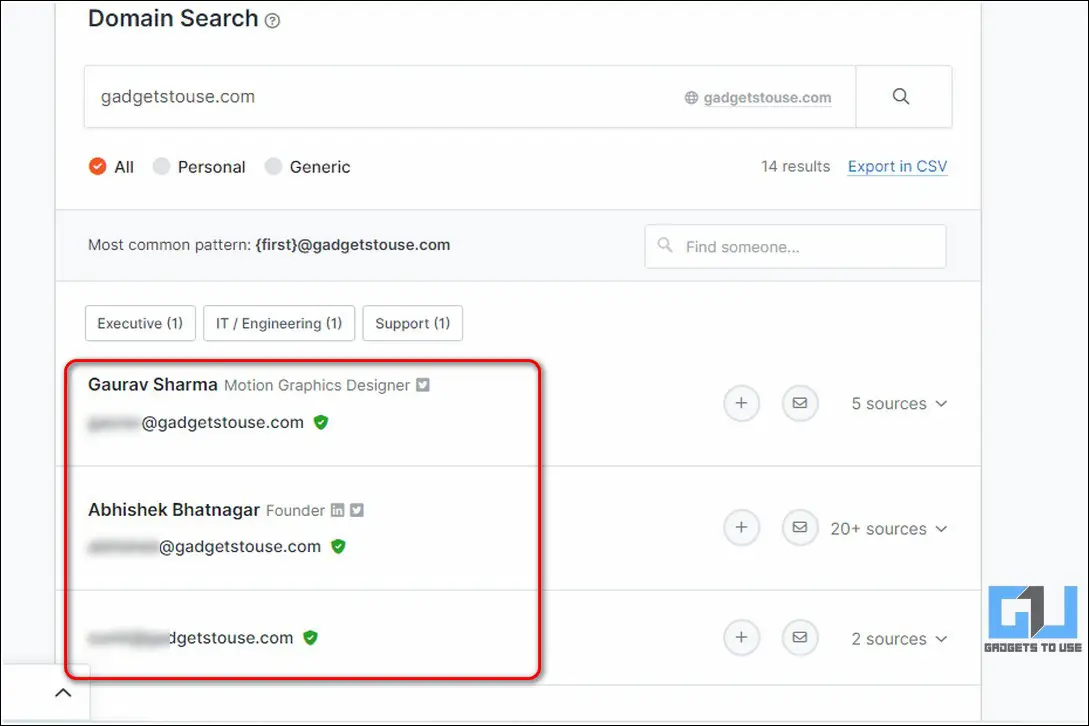 4. For quick access, you can install the extension of this tool from the Chrome Web Store.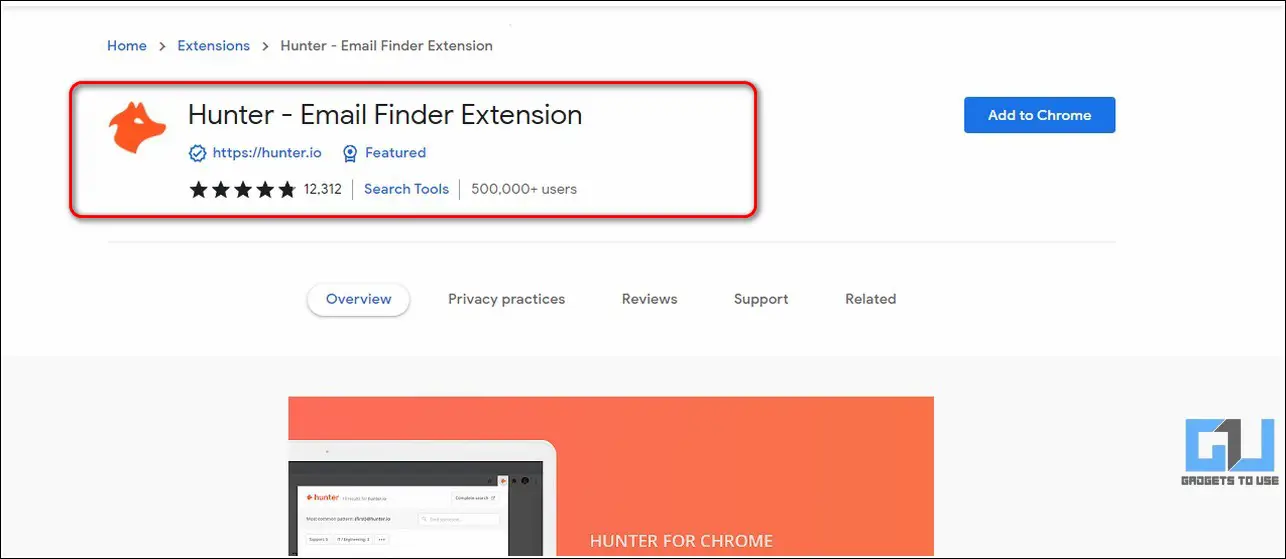 Find Anyone Using Reverse Image Search
In addition to finding information using email, usernames, or social media platforms, you can make use of a reverse image search to gather information using an existing image. There are lots of effective online tools that offer reverse image search features to capture details based on the searched image.
You can also follow this guide to do a reverse image search on your iPhone or iPad.
Bonus Tip: Find Information with Phone Numbers
If you have an unknown phone number and wish to find information about its owner, then you can make use of effective online tools such as Truecaller to gather all the required details.
1. Open a new tab in your web browser and access the Truecaller website.
2. Next, click on the Sign-in button to access all the features of Truecaller. You can also sign in with your Google or Microsoft account to get started.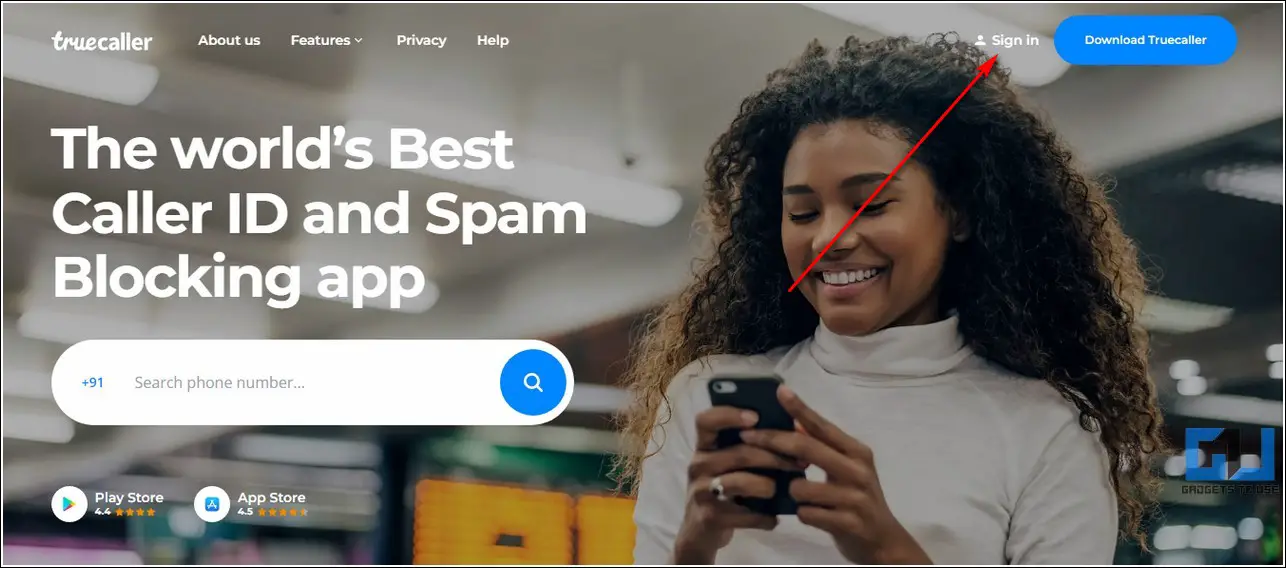 3. Further, enter the unknown phone number in the search field to know about the details of the owner. In addition to ownership details, you can also gather crucial information such as location, email addresses, etc.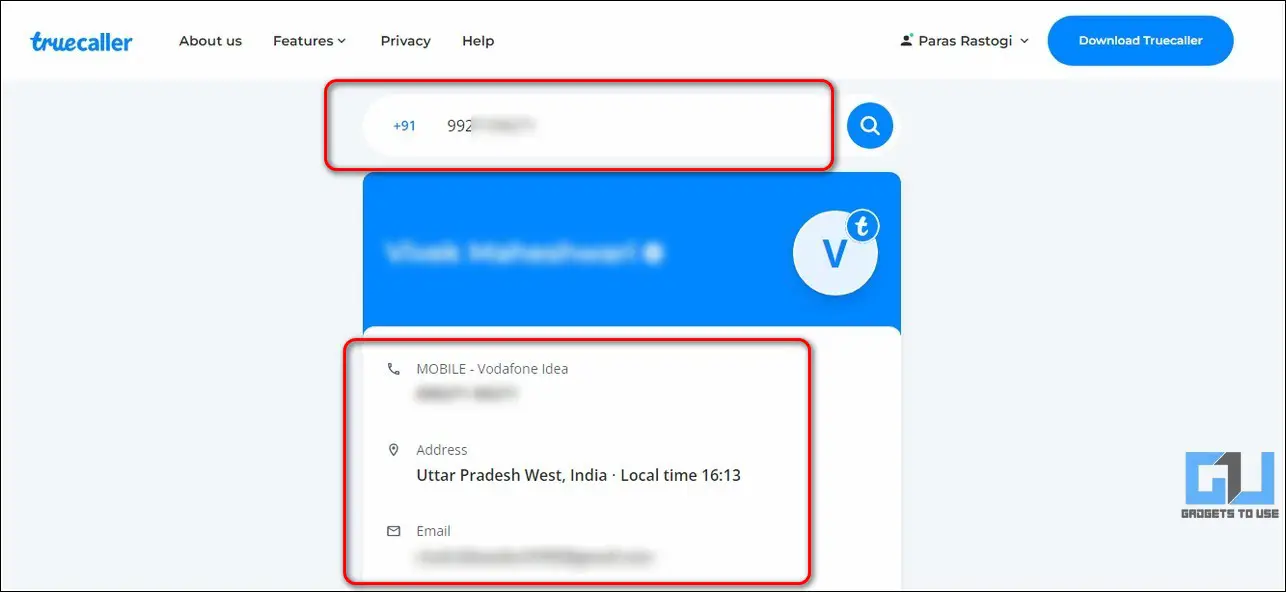 Related, 2 Ways to Remove Your Personal Information from Google.
Wrapping Up: Find Them All
So, that's all for the top 5 ways to find information on anyone using the internet. If this quick read has helped you to know the details about someone using the methods listed above, then hit the Like button and share this read among your friends to assist them as well. Stay tuned for more interesting walkthroughs.
You can also follow us for instant tech news at Google News or for tips and tricks, smartphones & gadgets reviews, join GadgetsToUse Telegram Group or for the latest review videos subscribe GadgetsToUse Youtube Channel.