Can't see a person's last seen on WhatsApp? Well, whether the other person has hidden their last seen status or blocked you on the platform, there are workarounds to track and monitor their WhatsApp online status and activity. Using free apps, you can quickly see when someone was last active on WhatsApp web or mobile app. Keep reading to see how you can check WhatsApp Last Seen if blocked or hidden.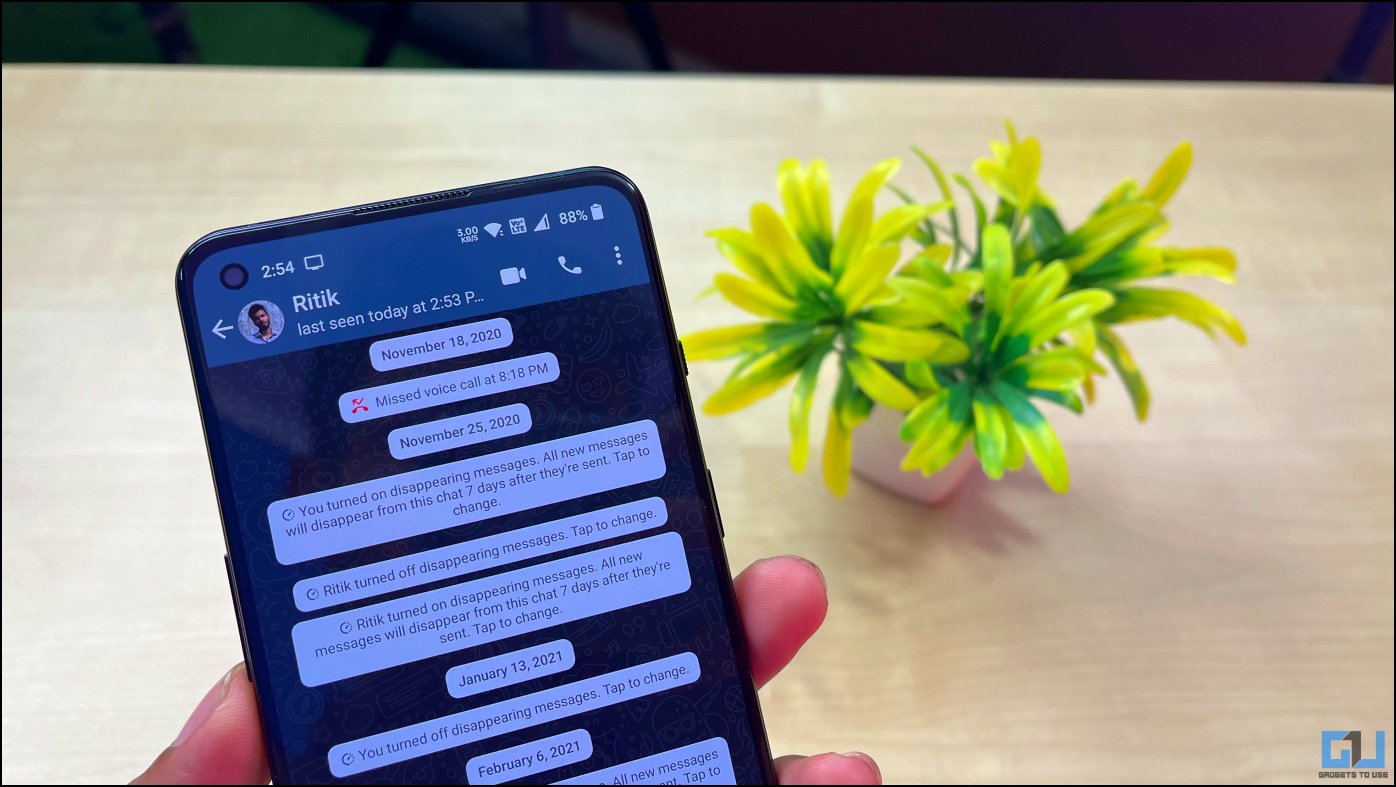 Check WhatsApp Last Seen Online if Blocked or Hidden for Free
Are you unable to see when was the last time a person was active on WhatsApp? Well, the platform hides the last seen for three reasons:
You have turned off your last seen
The other person has hidden their last seen or limited it to their contacts
The other person has added you as an exception in last seen privacy settings
Or you have been blocked by the other party
While you can still see when they're online from a different number, you won't be able to check their last seen or active hours. This is where WhatsApp tracking apps come to the rescue.
These apps use a bot to keep a track of the contact's "online" status and the time they have been active. This log is visible to you to get the stats of when they have been active on WhatsApp, and for how long, alongside a toast notification for whenever they open WhatsApp on their phone or computer.
WaStat WhatsApp Tracker (Free, No Ads)
WaStat Tracker is a free app that lets you check any contact's WhatsApp last seen and online status if hidden or blocked. The only caveat is you can track a maximum of one contact in the free version. Overall, the app works great and I did not experience any annoying ads during my usage. Here's how to use it.

1. Download WaStat WhatsApp Tracker from Google Play Store on your Android phone.
2. Open the app and skip the instructions.
3. Tap on the Add Number icon on the top right corner.
4. Type the WhatsApp number you want to check online status or last seen for. Make sure to add the prefix of the international code (+91 for Indian numbers).
That's it. The app will automatically notify you when the other person opens and goes online on WhatsApp. You can also see a detailed chart of their last seen and the time they have been online throughout the day.
Family Tracker WhatsApp Online Status (Free Trial, No Ads)
Family Tracker- Online Status is another reliable app that lets you track any WhatsApp user's last seen and online status for free without any pesky ads. However, you get a free trial of only 8 hours. So, use this app only when you want to track someone's WhatsApp activity for a limited time.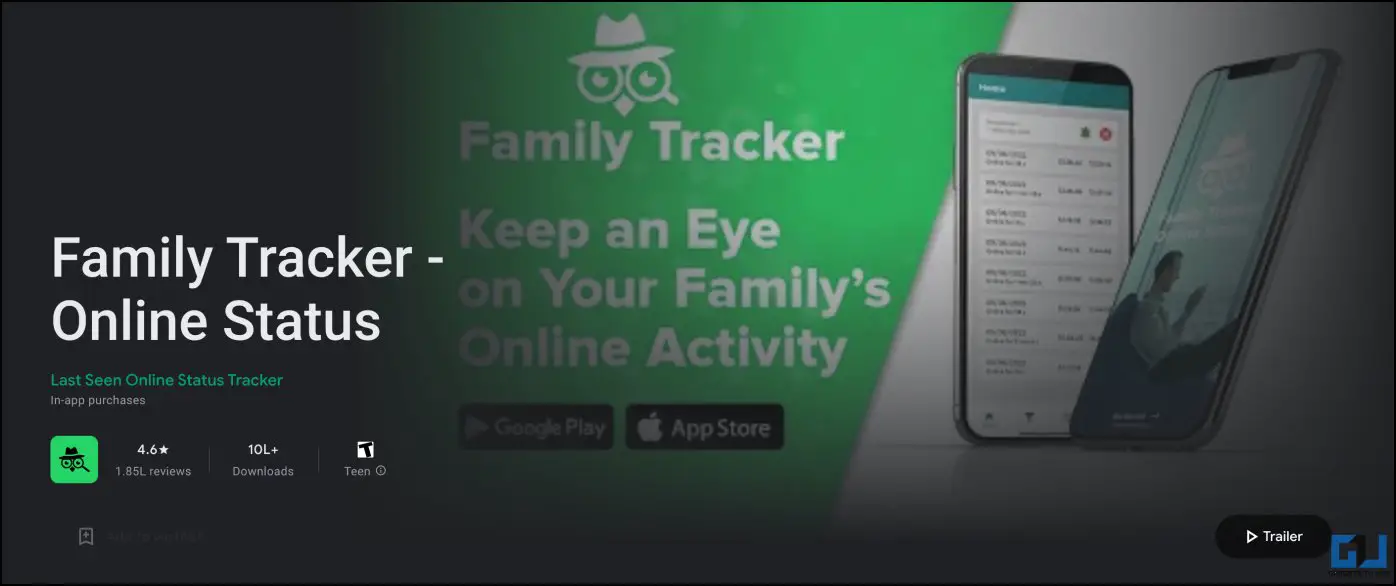 1. Download Family Tracker from Google Play Store on your Android phone.
2. Open the app and click on the + (Add a number) button.
3. Type the contact name (can enter dummy information).
4. Then, select the country code, enter the WhatsApp number, and hit OK.
5. The app will now start tracking the online activity of a given WhatsApp number.
You will get a heads-up notification when the contact goes online or offline. You can tap the alert to open their online history. The app also lets you visually compare the chat activity of two numbers. This can help you figure out if both numbers are talking to each other during the day.
Online Monitor for WhatsApp (Free Trial, No Ads)
Online Monitor is another WhatsApp tracking app that shows the online status and sends alerts when the contact goes online or offline. You can monitor up to five profiles and collect and analyze online stats for the last 30 days. The free trial works only for up to 12 hours and there are no ads in the app. Here's how to use it:

1. Download Online Monitor (Last Seen) app from Play Store on your Android phone.
2. Open the app and tap + at the top right corner.
3. Enter the WhatsApp number and nickname. Check the boxes for notification types you want to receive.
4. Click on Save to start monitoring the WhatsApp user's online activity.
To make sure you get timely notifications whenever the other party goes online or opens WhatsApp on their phone, add the application to the memory whitelist so that it does not get killed in the background.
FAQs
Q. Is it Safe to Use WhatsApp Online Status Tracking Apps?
A. Yes, it is safe to use these WhatsApp Tracking apps. But do not allow the app permission to access your contacts, messages, or any other sensitive data. All you should do is provide the mobile number you want to track. And if at all it asks for the contact name, use dummy information.
Q. Are WhatsApp Trackers the Same As WhatsApp Spy Apps?
A. WhatsApp Trackers merely let you see when a user or contact was last seen or active on the app. On the other hand, WhatsApp Spy apps are meant for intercepting and reading one's personal messages and other WhatsApp activity.
Q. How to Check if a WhatsApp Tracker is Reliable?
A. The easiest way to check the reliability of any WhatsApp last seen tracker app is to use it on your own number. If it sends you alerts when you go online and accurately shows the time of day you were online, you're good to go.
Q. Can WhatsApp Ban Your Account for Using Tracking Apps?
A. Using WhatsApp Tracker apps is in no way related to your WhatsApp account. You are not making any modifications or hijacking the WhatsApp app or servers. And therefore, you shouldn't be worrying about your account getting banned. That being said, the same cannot be said about WhatsApp mod apps like GB WhatsApp.
Q. How to Avoid Being Tracked By WhatsApp Trackers?
A. You cannot avoid being tracked through such WhatsApp Trackers. But if you know someone is using such services to track your online activity, here's a trick: Turn off Wifi or mobile data, open WhatsApp and read/ reply to messages, and close it. Now, re-connect to the internet. This should help you avoid long active hours when on someone's radar.
Wrapping Up
This was all about how you can track any WhatsApp contact's last seen and online activity and see when they were last active if blocked or hidden. I hope the guide helps you keep a tab on your child or friend's online and offline timings on WhatsApp. We have also answered some of the commonly asked questions about these WhatsApp Tracker applications. Check out other useful tips linked below, and stay tuned for more such tips, tricks, and how-tos around gadgets and apps you use.
Related:
You can also follow us for instant tech news at Google News or for tips and tricks, smartphones & gadgets reviews, join GadgetsToUse Telegram Group or for the latest review videos subscribe GadgetsToUse Youtube Channel.