There can be many reasons why you should log out of your google account from your Android phone. For example, if you are changing your Android smartphone or you lost it, unfortunately, you must want to log out of your Google Account from that smartphone. Here's how to log out of your Google account from your Android phone in person or remotely.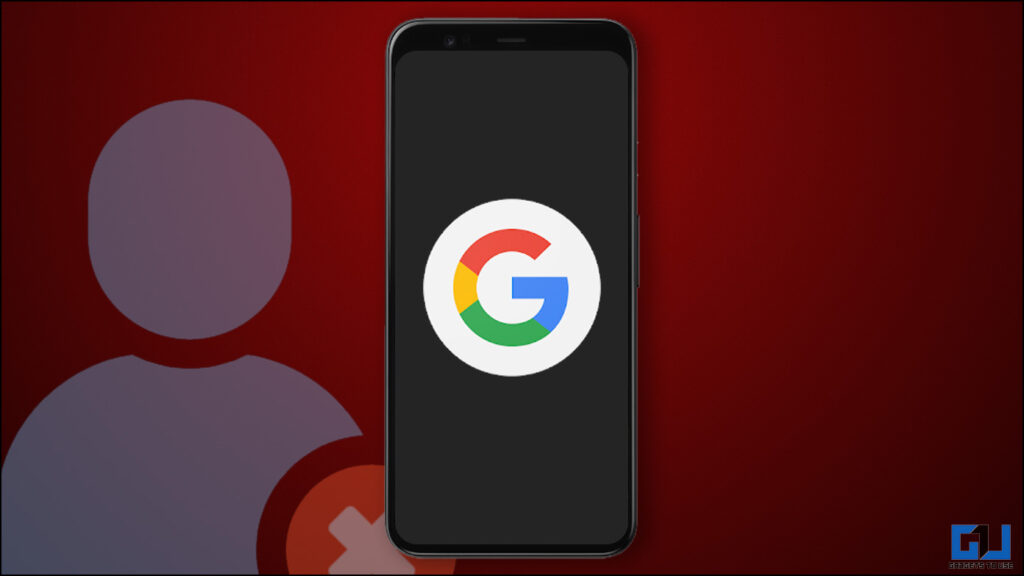 How to Log Out Your Google Account From Phone
As mentioned, there are two ways to do that- via smartphone settings and via Google dashboard on the browser. Let's check out the steps for both ways.
Method 1- From Smartphone Settings
Logging out of your Google Account from your smartphone is pretty simple and quick. You can do that from the settings menu, by following the steps listed below.
1. Go to your phone's Settings app from the app drawer, and navigate to Accounts.
2. Under Accounts and select the Google Account which you want to log out of.
3. Next, tap the Remove account button here to finally log out of your Google Account.
Method 2- Logout Your Google Account from Phone Remotely
Google account dashboard has a feature that shows you all the devices that has your Google account logged in. Also, you can easily sign out of your account from that device quickly. Here are all the steps that you need to follow.
1. Open a browser on your PC and navigate to the My Google Account Page.
2. Click on the "Go to Google account" button in the top right and log in via your Google account.
3. Switch to the Security tab from the left pane, and then scroll down to Manage all devices.
4. Here, all your devices will be listed where your Google account is logged in.
5. Click on the device from the list to access more options.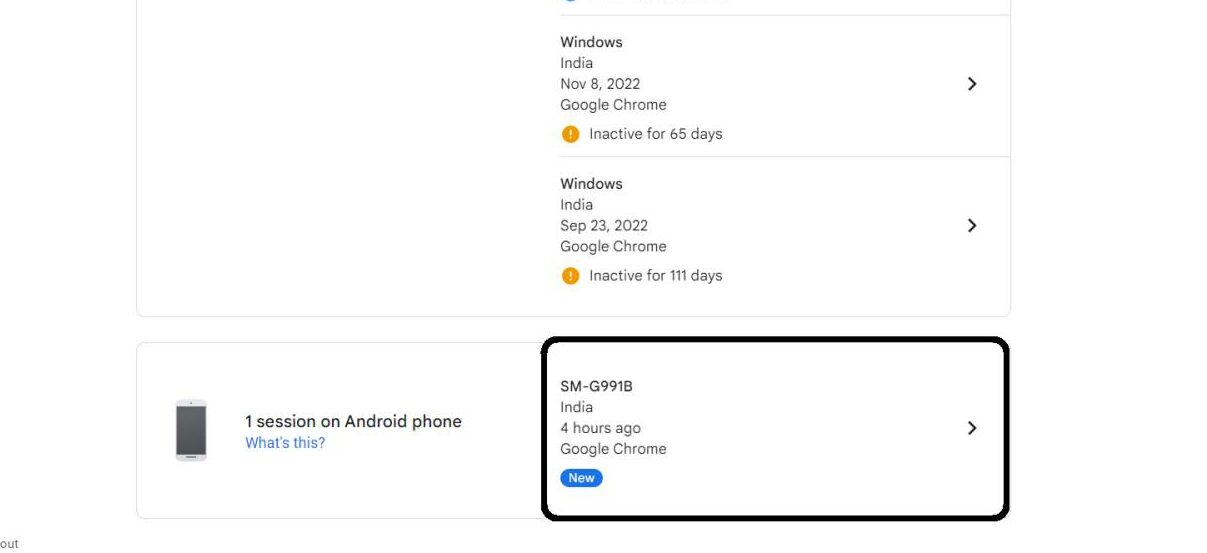 6. Next, click the Sign-out button.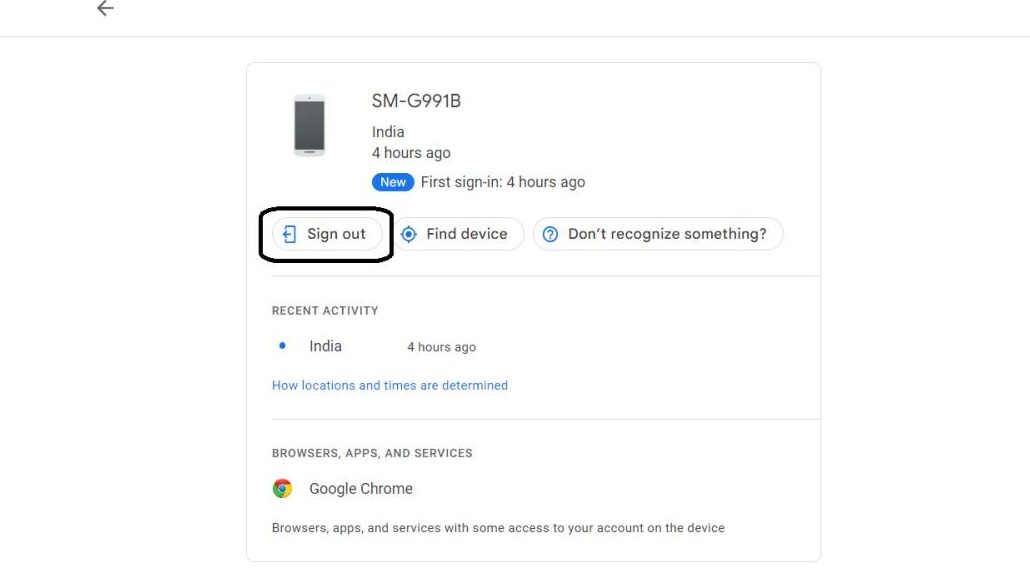 7. Then, click Sign-out again to confirm on the popup.
7. The account will log out, and you will get a confirmation message.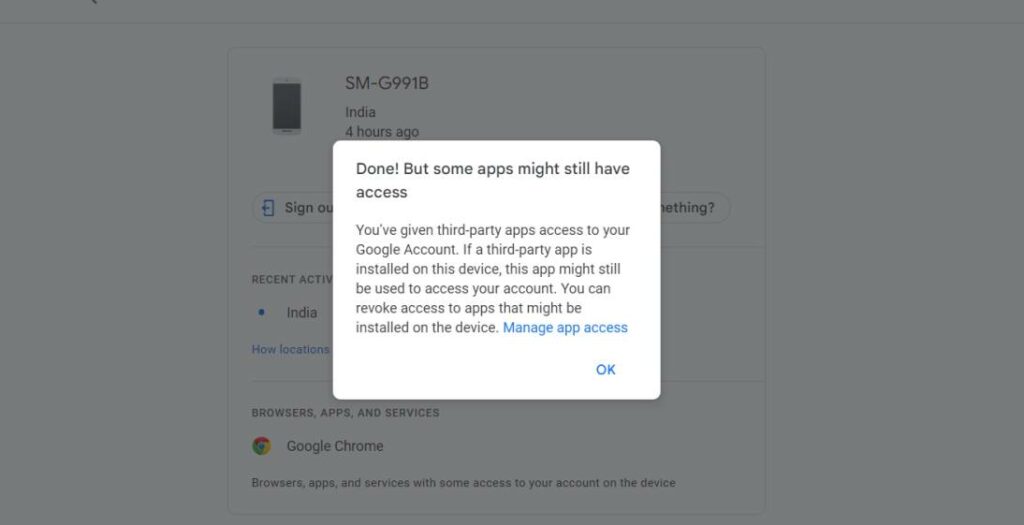 Bonus: Erase Phone Data using Find My Phone
In case you have lost your phone somewhere and want to delete all its content, then you can do so via Google find my phone tool. Check our guide to erase all data using Find my phone.
FAQs
Q: How to Log Out of Your Google Account on Your Phone?
A: You can log out from your Google Account from the Accounts section under your phone settings. Check the steps above to learn them in detail.
Q: How Do I Sign Out of Google on My Android?
A: The Google account on your Android phone can be logged out from the device settings, follow the steps mentioned above to check the detailed steps.
Q: I Lost My Phone, How Do I Log Out of My Google Account From It?
A: If you are not able to access your phone, you can log out of your Google account using the Google account dashboard or via Find My Phone tool. Check the detailed steps to do so in our article above.
Q: How Do I Log Out of My Google Account on My IPHONE?
A: Go to your iPhone settings, and tap your profile picture at the top. Next, tap the Sign out button to log out of your account.
Wrapping Up
This is how you can sign out of your Google Account both with and without accessing your devices. You can also do that using another smartphone just open the Google dashboard in the desktop mode of that phone. Check out other useful tips linked below, and stay tuned to GadgetsToUse for more such reads.
You might be interested in:
You can also follow us for instant tech news at Google News or for tips and tricks, smartphones & gadgets reviews, join GadgetsToUse Telegram Group or for the latest review videos subscribe GadgetsToUse YouTube Channel.