Sometimes we murmur our favorite film dialogues but cannot recall the movie name it originated from. If you frequently experience such struggles, we have compiled a list of online movie repository tools to help you get the exact movie clip of the quoted dialogue. That said, this explainer demonstrates several ways to search for a movie clip from the dialogue. Additionally, you can check out the best video player apps to watch Movies with Subtitles on Android.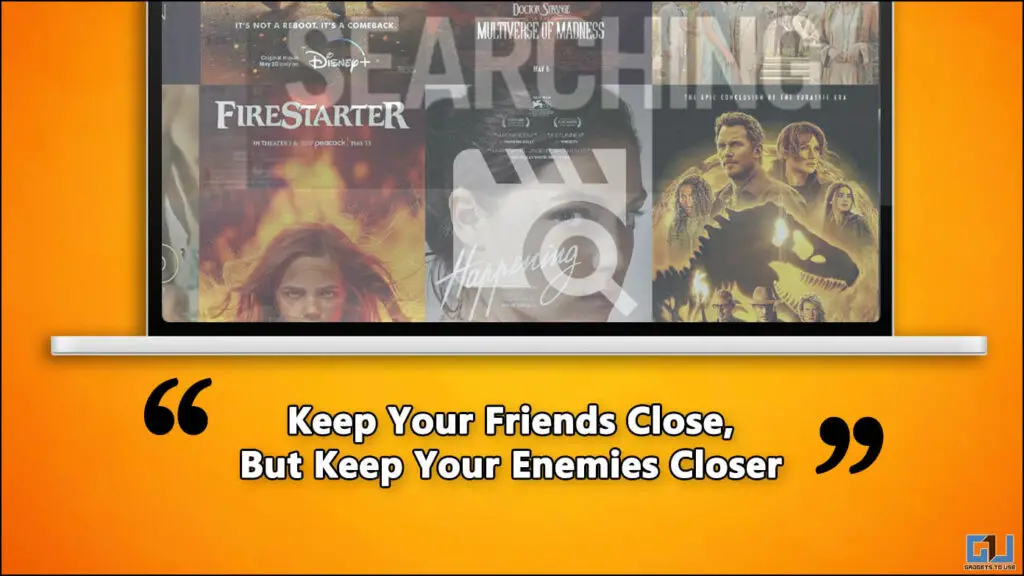 How to Search a Movie Clip from Dialogue
There are tools to search songs with a phrase of it, now with advancements we can search for a movie clip or its title from a dialogue becomes quite easy with dedicated free online tools. To ease the same, we have handpicked several effective tools for searching for your desired movie clip. Let's get started.
Use Yarn to Search a Movie Clip From Any Dialogue Instantly
Yarn is a sure-shot online tool that makes searching for a movie clip super easy. All you have to do is type the movie dialogue in the search bar to browse an entire collection of clips containing the phrase. In addition, the tool offers quick share buttons to send your favorite movie clips to your friends.
1. Access the Yarn dialogue search in a new tab on your web browser.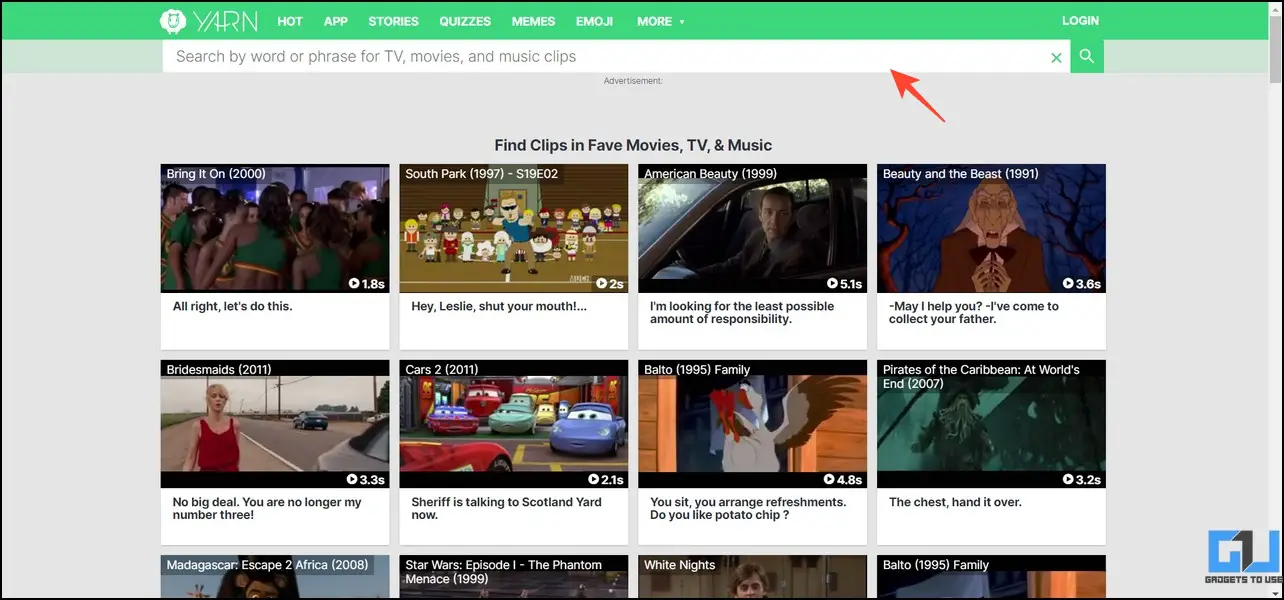 2. Next, enter the movie dialogue or phrase you wish to find in the search bar and hit the Search button to browse the list of related movie clips.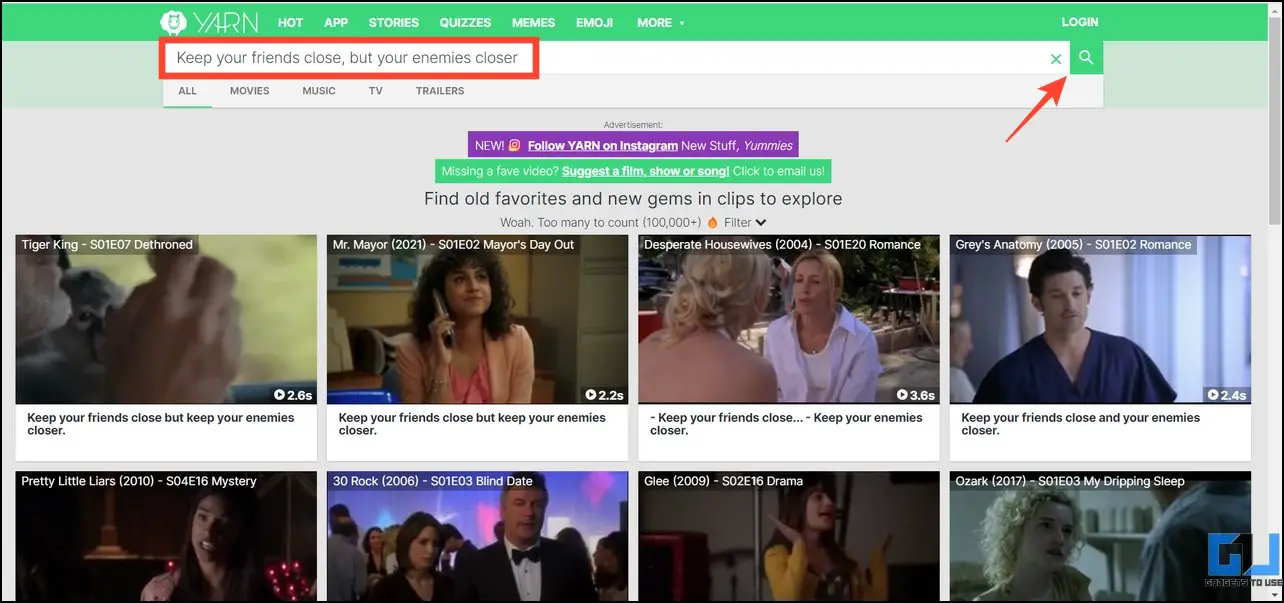 3. Finally, click your desired movie clip to play it. You can also share it on various social platforms or export it to your system by clicking the Download button.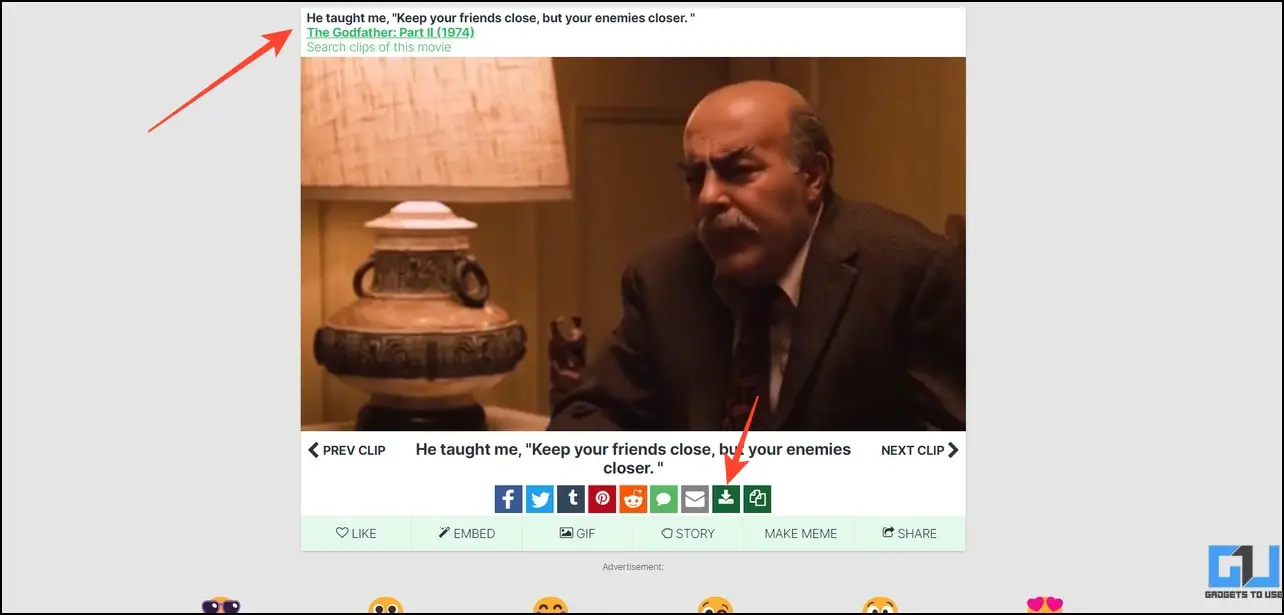 Search Movie Clips for Dialogues With Clipcafe
ClipCafe offers solid competition to Yarn for searching and providing movie clips containing your searched phrase/dialogue. Follow these easy steps to use this tool to your advantage:
1. Visit the ClipCafe online tool on your web browser.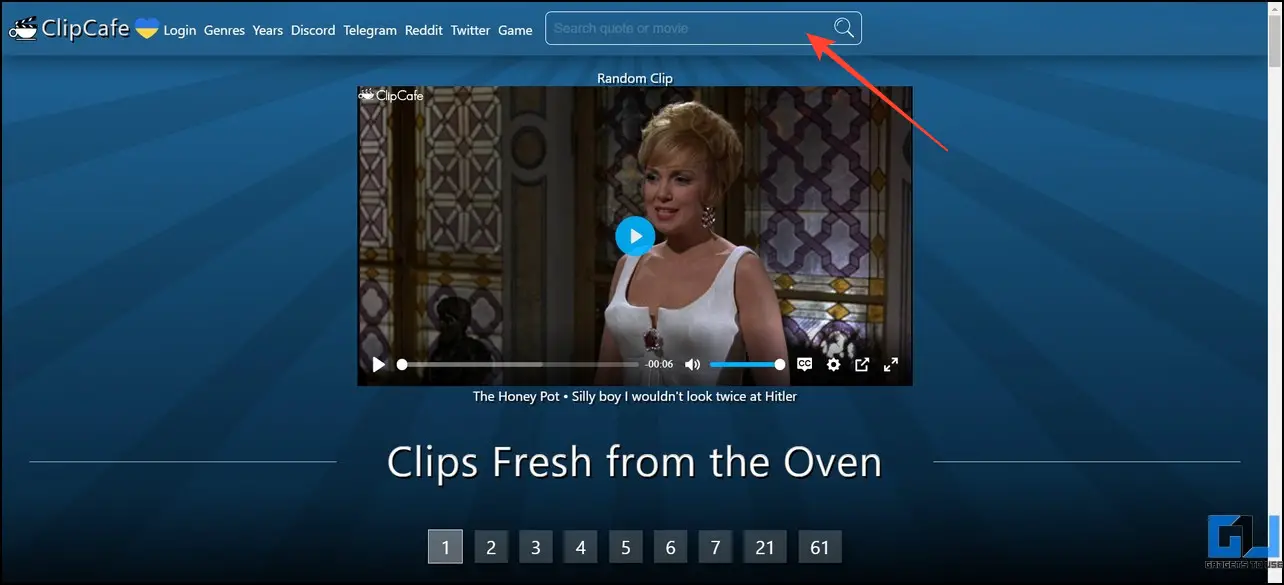 2. Next, type the movie dialogue in the search bar and press the enter key to fetch relevant movie clip results. You can refine the results, by picking the movie category and year of release.
3. Finally, you can play the movie clip containing your dialogue. Click the Download button to save it on your system (requires a login).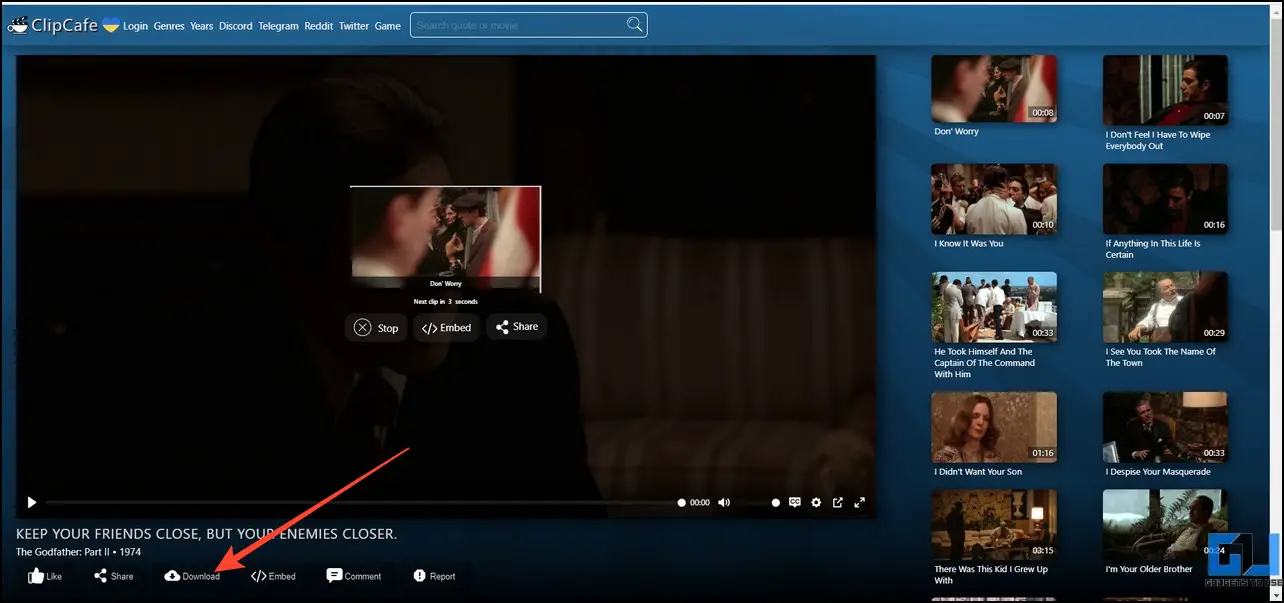 Utilize Vlipsy to Search for a Movie Clip
Vlipsy is another nifty alternative that can help you locate movie clips for any searched movie dialogue with a few taps. Here's what you need to follow:
1. Access Vlipsy on your web browser and locate the Search bar in the top-right corner.
2. Next, enter your favorite movie dialogue in the search bar and hit the enter key to find relevant video clip results.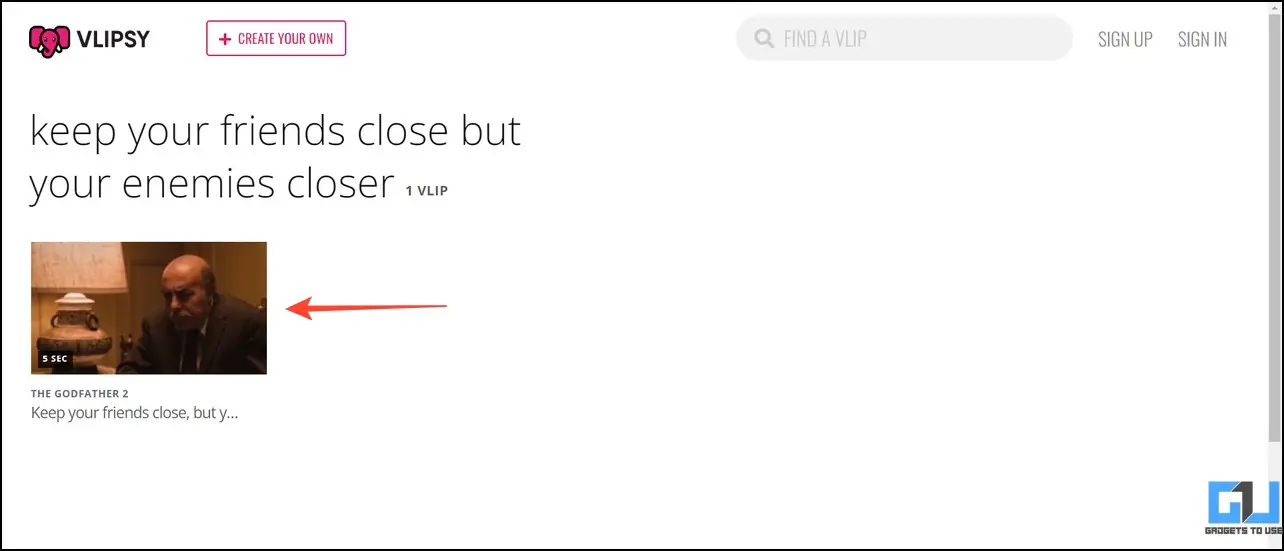 3. Finally, click your desired movie clip to play it. You can also share or embed it to your website using the provided quick access buttons.
Try Playphrase to Get Movie Clips for Your Dialogue
PlayPhrase offers a minimal yet effective browsing experience to find movie clips based on your searched dialogue. Follow these steps to get the most out of this tool.
1. Open the PlayPhrase movie search tool and type or paste the movie dialogue in the bottom search bar.
2. The website will filter all movie clips based on the provided quote and start playing them individually on your screen. You can navigate through them using the forward and previous buttons.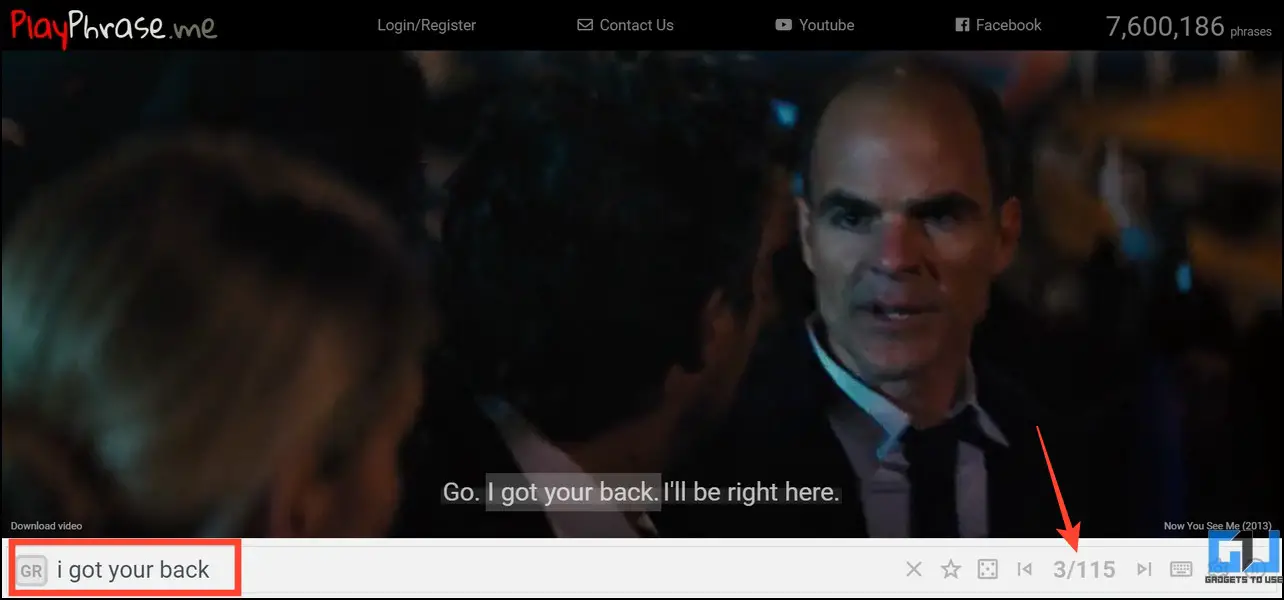 Bonus: Search Famous Movie and TV Quotes with Pop Mystic
If you wish to know the movie's title instead of the video clip for the searched quote/dialogue, Pop Mystic is your one-stop solution. This tool offers a huge library of both Bollywood and Hollywood movie titles which you can use to find movie titles for the searched phrase. In addition, the app displays the exact timestamp of the dialogue in the movie.
1. Access the Pop Mystic tool on your web browser and search or paste the keyword/movie dialogue to find the movie name.
2. Browse through the list of movie name results to find the one you're looking for.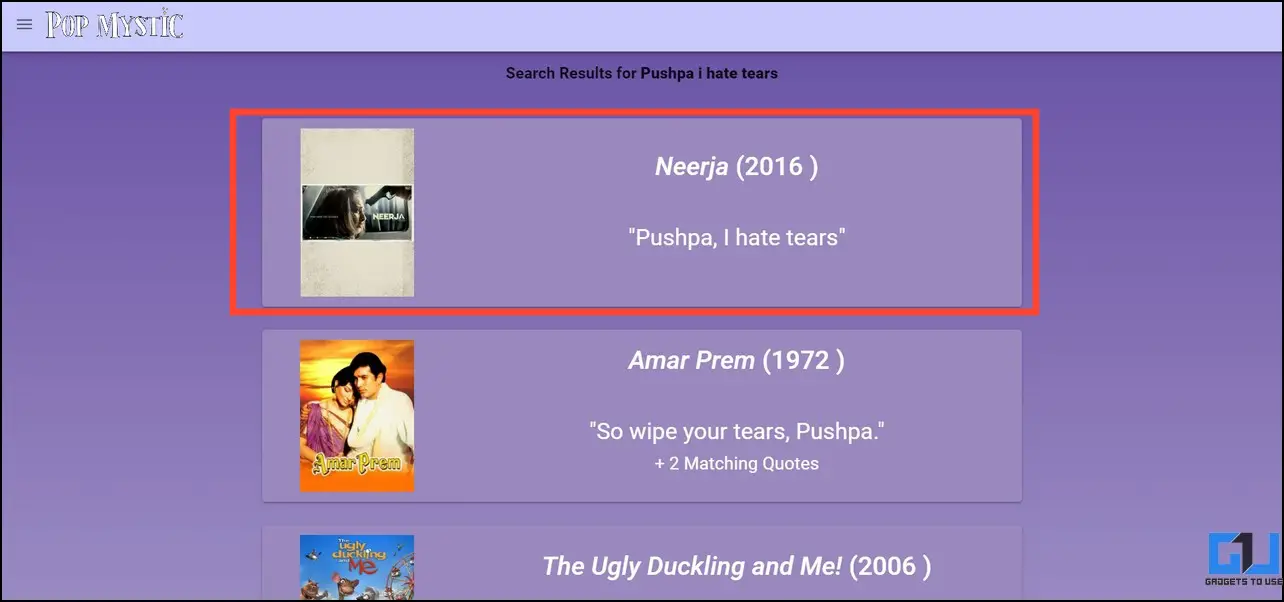 3. Finally, click on the movie title to view its name and other details, including the exact timestamp for the searched quote inside the movie.
FAQs
Q. How to Find Movie Video Clips From a Phrase or Dialogue?
You can use free online tools to find movie video clips by using phrases or dialogue. Check out the four such free tools in this explainer.
Q. How to Use Yarn Movie Clips to Find Clips Using Dialogue?
Using Yarn to find Movie Clips is pretty straightforward. Simply type in your favorite dialogue in the search box and browse the list of video clips to recall the movie name it is from.
Q. How to Find Which Movie a Quote Is From?
You can take the help of various free online tools to find the movie a quote is from. For more details, refer to the methods listed above.
Wrapping Up: Finding Movie Clips is now a Piece of Cake!
We hope this guide has assisted you in recalling movie names by providing their corresponding movie clips for the searched dialogues. If you find it useful, forward it to your friends, and subscribe to GadgetsToUse for more such interesting articles. Also, check out the links below for more productive walkthroughs.
You might be interested in:
You can also follow us for instant tech news at Google News or for tips and tricks, smartphones & gadgets reviews, join GadgetsToUse Telegram Group, or for the latest review videos subscribe GadgetsToUse Youtube Channel.