Twitter's Blue checkmark is no longer worth bragging about. After Musk rebranded Twitter to 'X,' the platform's trust and credibility went downhill, as anyone purchasing the Blue subscription is entitled to a blue tick/checkmark. If you're tired or wish to take a break from plenty of blue ticks displaying on your timeline, this guide will help you fix it. In this explainer, let's look at several ways to hide the Blue tick on X (Twitter). Additionally, you can learn to identify bots and fake accounts on the X.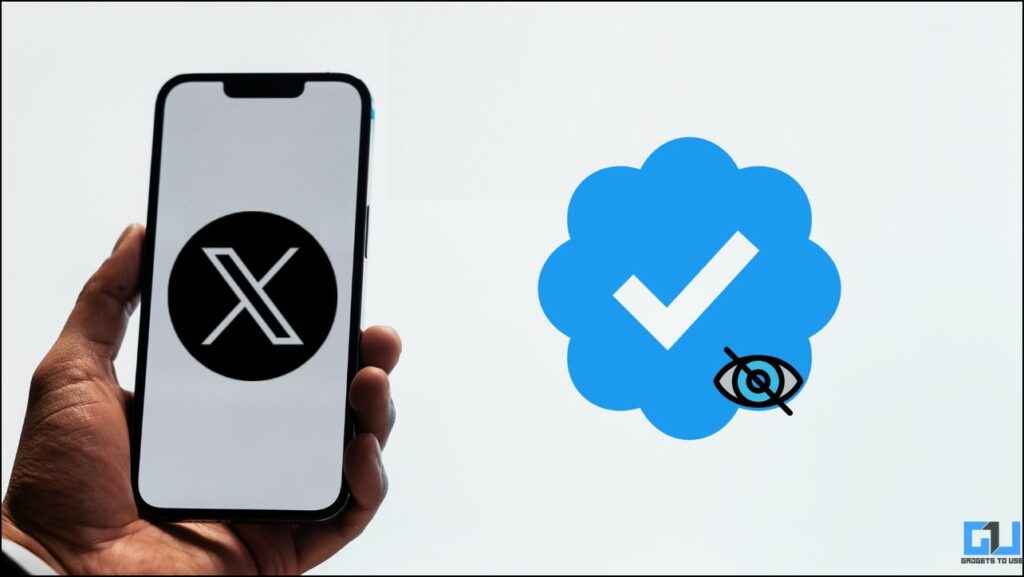 Why Should You Hide the Blue Tick on X?
There can be several reasons behind hiding the 'legendary' blue verified tick on the X. Some of them are mentioned below:
A large number of tweets from verified profiles on X clouding your timeline.
X's algorithm pushes tweets from verified people, even when you're not following them. This can make you miss important updates from people you genuinely follow on X.
It can help you blend in with other non-verified users while enjoying paid subscription features (like incognito).
How to Hide the Blue Tick on X (Twitter)
Hiding the blue tick on X (formerly Twitter) has become convenient, thanks to the latest update and tweaks. Moreover, you can install a dedicated browser extension to conceal these verified checkmarks locally. Let's look at them in detail:
Method 1 – Using X's In-App Feature
As part of the new update, the company has recently announced a new feature for paid Blue subscription users on X, where they can hide their blue checkmark while still enjoying the subscription benefits. You can consider it an incognito mode for Blue Tick users. Here's how to hide your verification tick from the app:
1. Tap your profile icon in the X app and expand the Blue subscription panel to access Preferences.
2. Next, tap on Verification and press the Blue checkmark option.
3. Finally, toggle the Hide blue checkmark to hide your verified tick on X.
Method 2 – Unsubscribe the X Blue Subscription
Canceling/Unsubscribing the existing Blue subscription is another sure-shot method to hide the Blue tick on X or Twitter. Follow these easy steps to unsubscribe from the X Blue subscription:
Note: Canceling the subscription doesn't terminate its benefits instantly; they remain available until your next billing period.
1. Access the X Blue subscription preferences by expanding your profile sidebar.
2. Tap Manage Subscription and cancel your active plan. If you don't see a Cancel button, access the X on web and repeat the process to unsubscribe from the X Blue subscription.
Method 3 – Edit Profile Bio to Hide the Blue Tick on X Temporarily
When you edit your X profile, such as updating the display name, bio, or profile photo, your blue checkmark will get temporarily hidden for a certain period. The company reviews it again as part of its security measure. You can use this fact to hide your Blue tick on X temporarily.
1. Open your Profile on X and tap Edit Profile next to your username.
2. Edit your display name, profile photo, or bio, and tap Save to apply changes.
Method 4 – Use the Hide Blue Checks Browser Extension
If you often get distracted by the Blue Verification Tick on X or Twitter, you can hide the icon or filter posts from verified users to block them locally on your browser. The Hide Blue Checks is a brilliant browser extension to help you get it done. Follow these steps for an easy fix:
1. Install the 'Hide Blue Checks on Twitter' extension to your Browser.
2. Refresh your X timeline to see a clean interface without the blue checkmarks.
3. Additionally, you can filter your timeline by hiding tweets with blue checks using this extension.
FAQs
Q. How to Hide Your Profile's Blue Tick on X?
You can hide your profile's blue tick on X using the new verification feature or cancel your Blue subscription. If you wish to do it temporarily, edit your profile bio to hide the blue checkmark until the next successful review.
Q. Can I Hide the Blue Checkmark on Twitter Without Losing Its Subscription?
Head to your X Blue subscription preferences and tap Verification to hide the Blue checkmark. For more details, read the first method listed in this explainer.
Wrapping Up
So these are all the methods to hide your profile's blue tick on the X. If you found it helpful, forward it to your friends, and subscribe to GadgetsToUse for more awesome reads. Meanwhile, don't forget to check the below links for other trending articles related to Twitter (now, X).
You might be interested in:
You can also follow us for instant tech news at Google News or for tips and tricks, smartphones & gadgets reviews, join GadgetsToUse Telegram Group or for the latest review videos subscribe GadgetsToUse Youtube Channel.