Currently, there are two types of Twitter users- those who use communities and those who don't. If you're the latter, you may want to hide the Communities tab from your view, given the unnecessary space it takes in the navigation bar. And therefore, here's how to remove the Communities Tab from the Twitter app and web.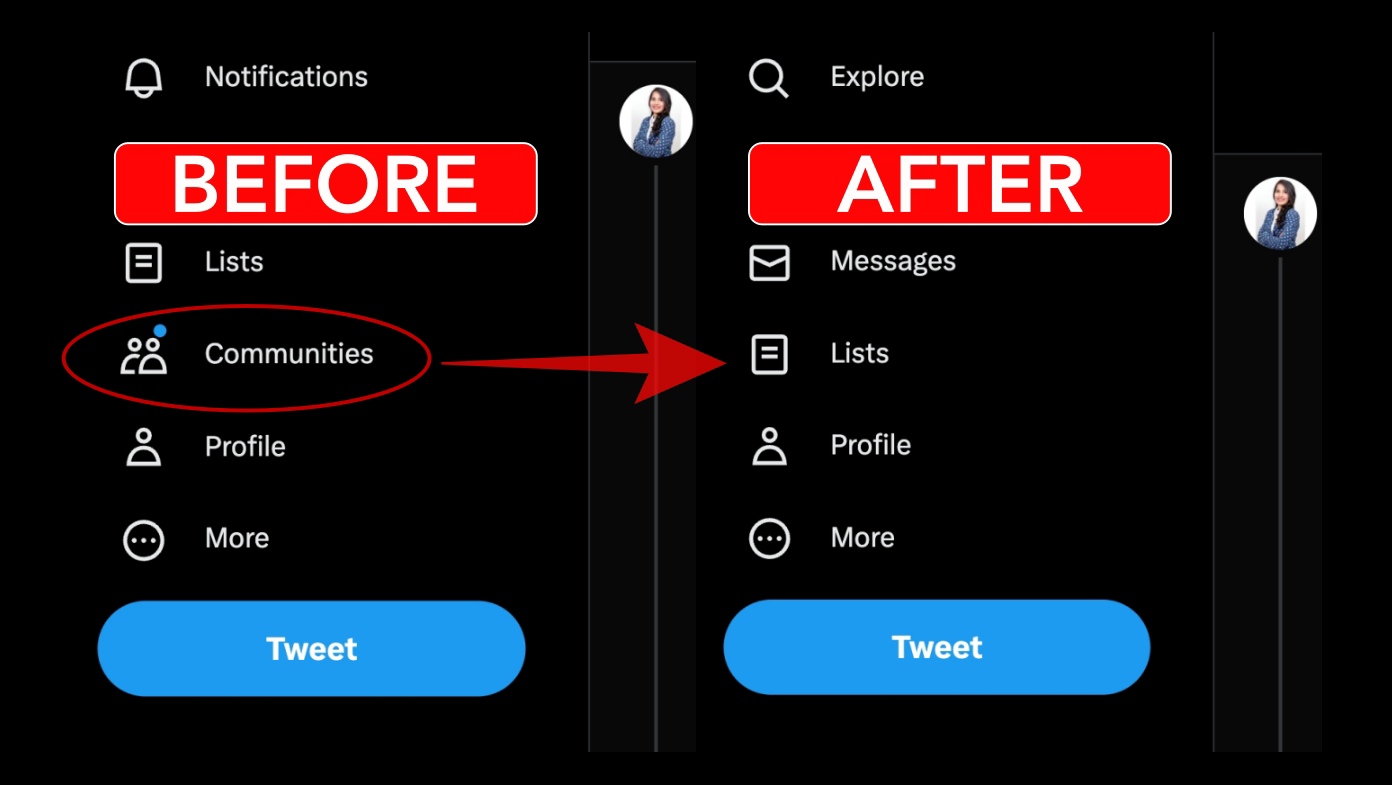 What are Twitter Communities?
Twitter Communities allow like-minded users to connect, share, and discuss things they care about within a group. Launched first on iOS and Web in September 2021, the feature made its way to Android by January next year.
A Twitter community is more like a closed group on the platform where only the members can create, view, and engage with the posts. For example, it could be a community of students discussing their upcoming exams, people sharing their views about the stock market or a bunch of techies discussing phones and software.
How to Remove the Communities Tab from Twitter App?
By default, the Twitter Communities icon (two people) occupies the center spot in the app's navigation bar, consuming unnecessary space and creating a cluttered and cramped feel.
However, if you're a Twitter Blue subscriber, you can customize the navigation bar to keep only the relevant options and remove the ones you won't use as much. Here's how you can use it to remove the Communities tab from Twitter (X) app:
1. Open Twitter (X app) and subscribe to Twitter Blue if you haven't already. Here's how to get Twitter Blue for less price.
2. Tap your profile picture in the top left corner.
3. Here, click on Premium and select Preferences.
4. On the next page, select Extras to see all the customization options available for Twitter Blue users.
5. Click on Custom Navigation.
6. De-select Communities from the list.
7. Click on Save. You can also add or remove other tabs from the navigation bar, like Spaces.
That's it. Your Twitter app will no longer show the Communities tab at the bottom. And you can now enjoy a much cleaner and less crammed experience on the X app.
How to Remove the Communities Tab from Twitter Web?
Unfortunately, the customization options are unavailable on Twitter Web, irrespective of whether you're a Twitter Blue subscriber. However, you can still remove the Communities tab using third-party extensions.
The "Control Panel for Twitter" extension allows you more control over your Twitter timeline and makes it less distracting by removing certain elements from your Twitter Web feed. And the best part is- you don't need a Blue subscription; it's all free.
You can hide the "For You" tab, hide retweets, hide tweets quoting accounts you've blocked or muted, hide the "Home" heading, revert the X branding to the bird icon, hide subscriptions, and whatnot. Here's how to use it to hide Communities tab from the view:
1. Open the Control Panel for Twitter page on Chrome Web Store.
2. Click on Add to Chrome > Add Extension to install.
3. Open twitter.com and tap the extension icon in the toolbar at the top right.
4. Scroll down to "Hide UI items you don't use." Check the box for Communities.
It will instantly remove and hide the Communities tab from view on your Twitter Web feed.
Wrapping Up
This is how you can remove the Communities tab from the Twitter (X) app on your Android, iPhone, and web. I hope the above guide helps you have a less cluttered and algorithm-driven experience on Twitter. Locking customization options behind a paywall may sound absurd for a social media app, but that has helped the giant create a bundle value for its Blue subscription. Stay tuned for more such tips, tricks, and how-tos.
You might be interested in:
You can also follow us for instant tech news at Google News or for tips and tricks, smartphones & gadgets reviews, join GadgetsToUse Telegram Group or for the latest review videos subscribe GadgetsToUse Youtube Channel.