Touchscreen displays have changed the way we interact with our smartphones and made the usage of mobile phones easier than it was with physical keyboards. Despite being very helpful in most ways, touchscreens can also be trouble at times. These are very prone to accidental taps and can make things worse. However, to avoid this you can temporarily disable the touch screen on your Android and iPhone. So, how do you disable touch screen input? Here are some ways!
Also, read | How to Find Who Tried to Unlock Your Phone
Disable Touch Screen on Android
1. Screen Pinning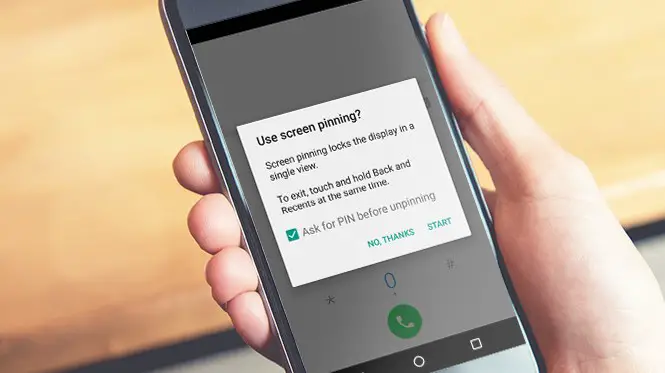 The first method is to use the screen pinning feature on Android. Screen Pinning feature was introduced with Android Lollipop and it lets you lock your phone to one app working only. Here's how you can enable this feature:
Go to Settings > Security > Advanced > Screen pinning. (In older Android versions, this section is called Lock screen & security). Enable the toggle On.
Now, open the app you want to pin on the home screen.
Open the app switcher or go to the Recent apps. 
Swipe up on the Recent apps' card and tap the app icon and select the Pin icon.
Read our detailed guide on How to Lock Android Smartphone with One App Working Only.
2. Touch Lock App
Touch Lock is a free app that lets you lock the touchscreen on Android. It also lets you temporarily disable both soft keys and hardware keys. The app shows a five-second advertisement after every unlock, which you can remove with a $1.99 in-app purchase.
Note: This app can track all entered including personal and financial details.
Once you download and install the app, it's very easy to use. Here's how to enable touch lock on your Android:
After opening the app, give the necessary permissions.
Swipe left in the setup wizard and tap on Enable Now.
This will take you to Accessibility Settings and you can enable it from there too.
Click OK to confirm and then you can use it from the notification panel.
Once enabled, the touchscreen and all other buttons should be locked on your phone. Also, choose your unlock method, by default it is a double-tap.
Disable Touch Screen on iPhone
The iPhones come with a built-in feature to disable the touch screen temporarily known as Guided Access. This feature lets you disable some areas of the screen and lock buttons. Here's how to enable Guided Access on iPhone:
Go to Settings -> Accessibility -> Guided Access.
Tap on the Guided Access toggle to enable it.
After that click Passcode Settings to set a Passcode to disable Guided Access.
You can also enable the Accessibility Shortcut to directly enter this feature from home screen. Once Guided Access is enabled, here's how to use it:
Open the app you'd like to pin and tap the Home button thrice to enter Guided Access.
Select the areas on the screen you would like to disable. (If you'd like to disable the whole touch screen, draw over the whole display.)
After that tap Options in the bottom-left corner to disable buttons and tap Done.
Lastly, tap Start at the top to enable Guided Access.
The disabled touch screen will gray out and not respond to touches. To disable Guided Access, again tap the Home button thrice and enter the passcode.
This is how you can disable the touch screen, whether you want to prevent accidental taps or avoid misuse by a child.
For more such tips and tricks, stay tuned with Gadgets To Use!