Turning your home into a smart home has never been easier before. Many may think upgrading to smart appliances is the only solution, but you can convert your devices like TVs, fridges, and AC to smart for cheap using smart plugs, sockets, and more. Once set up, you can turn these devices on/ off and control them however you want through mobile app or voice commands via Google or Alexa. Here are different ways to convert your existing home appliances to smart ones on a budget.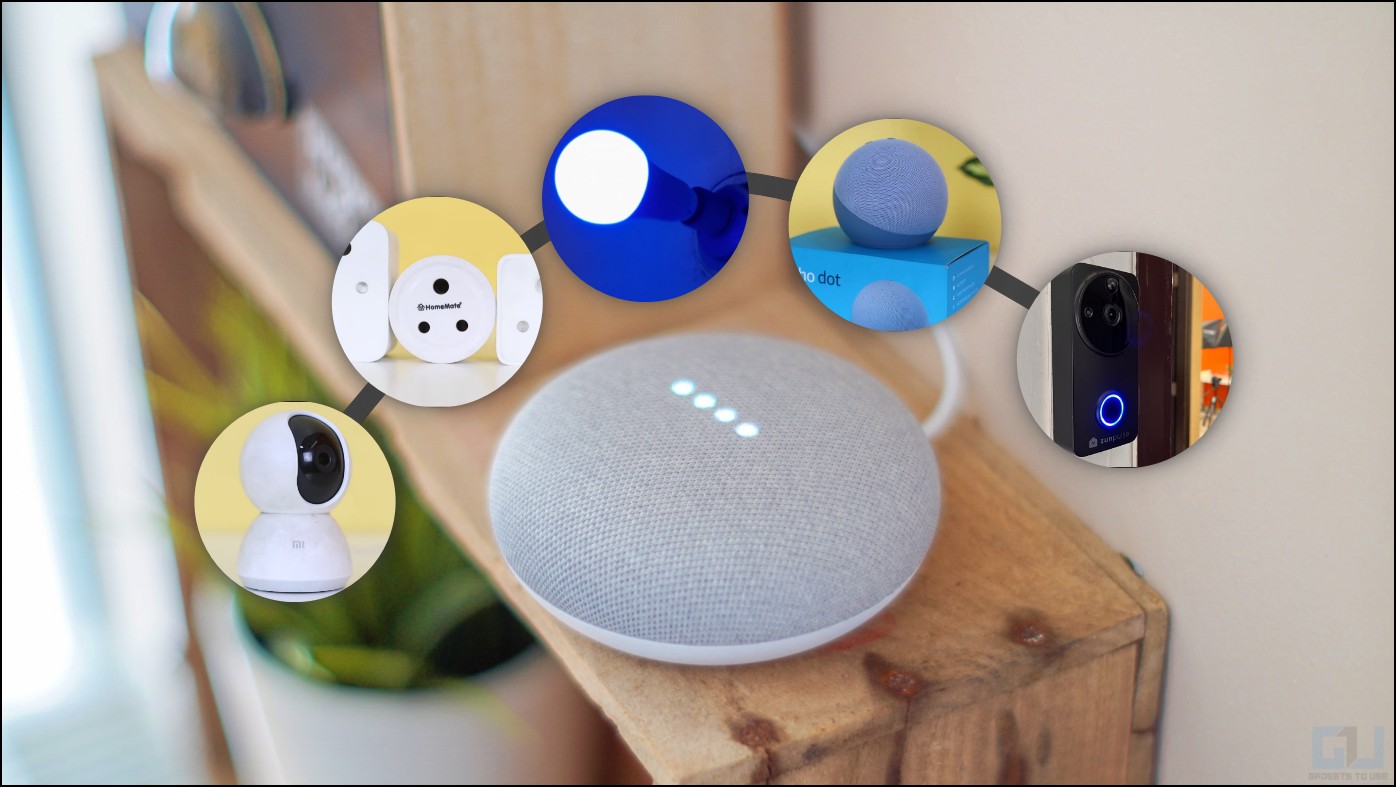 How to Convert Your Home Appliances to Smart Devices
To turn your home smart, you need to connect your existing appliances to the internet. But how's it possible when these devices do not have Wifi connectivity in the first place? Well, this is where smart plugs, sockets, and remotes come into the picture.
With Wifi and third-party smart devices, you can control appliances like Fridge, AC, TV, IR fans, and RO water purifier with Alexa, Google Assistant, or the mobile app. Furthermore, you can install smart lights and switchboards to remotely control all connections in your home, followed by smart doorbells, cameras, and locks.
What to go for entirely depends on your budget. But assuming you're just starting with smart devices and don't want to spend a dime, we'll be sticking to budget options wherever possible. Read on.
Smart Speakers
Most gadgets mentioned below have their own mobile apps. And you can control them via Google Assistant on your phone (for the ones that support Google Home). However, it's best to have smart speakers to have these devices at your disposal with voice commands.
Amazon Echo devices are our first choice when it comes to smart speakers. However, you can also go for Google Home Mini, Xiaomi Smart Speakers, Lenovo Smart Clock, and other options available in the market.
Here are the budget smart speakers we recommend:
Echo Dot 4th Gen
The new Echo Dot equips Alexa, who can speak English and Hindi. You can ask it to control your smart home devices, play music on Spotify, Amazon Music, etc., and stay updated with news and stories around the globe.
Alexa can also pay bills, purchase items from Amazon, and crack jokes. There are over 30,000 skills to perform. Plus, you can make routines for smart home devices; for example- you say "Alexa, TV time," and it turns on the TV and dims down the room lights. When your Wifi is down, you can also use Echo as a Bluetooth speaker.
The latest Echo Dot 4th gen comes with a spherical design and better sound. It also has another variant that brings you an LED clock onboard. However, the Echo Dot 3rd gen is still an excellent option if you are tight on budget.
Check on Amazon: Echo Dot 4th Gen | With Clock | Echo Dot 3rd Gen
Google Nest Mini
The second-gen Google Home Mini is now known as the Nest Mini. It comes with Google Assistant and offers direct competition to the Echo Dot. And likewise, it's also available in the Hindi language.
The Nest Mini is wall-mount-ready and can play music. You can control all smart home devices connected to your Google account using voice commands. Moreover, the smart speaker supports music streaming via Bluetooth.
Check on Amazon: Google Nest Mini
Echo Show 5
If you want a smart speaker with a display, Echo Show 5 is one of the reliable options to go for. It has a 5.5-inch screen and can be controlled via touch and voice. With Alexa, you can voice-control your smart home devices, toggle between routines, and play music.
Echo Show also lets you monitor your home remotely with a built-in 2MP camera. Using the same, you can video call friends and family who have the Alexa app or Echo Show devices. Plus, the drop-in feature lets you check on Alexa's camera from anywhere, like the intercom.
Check on Amazon: Echo Show 5 (2nd gen)
Smart Plugs
A Smart Plug connects your appliance's power cord and the wall socket, acting as a mediator between them. It comes with Wifi and functions as a remote-controlled power switch, which can be controlled by a mobile app or through voice commands from Amazon Alexa or Google Assistant.
Here's what you can do with a smart plug:
Turn on or off your appliances remotely.
Set a timer for your appliances.
Set automatic schedules to turn on and off devices to save energy.
Measure electricity consumption of appliances.
You can use smart plugs to smartify your geyser, fridge, RO water purifier, table fan, kettle, iron, socket lights, and any other common electric device into smart devices. All you need to do is plug it into the socket, and voila- you can now turn on or off the socket's power from anywhere.
Here are the smart plugs we recommend:
Realme Smart Plug (6A)
Realme Smart Plug supports Wifi and is compatible with Alexa and Google Assistant. The plug lets you schedule and automates daily tasks like turning on the coffee maker when you wake up. It also features five layers of safety so that all your appliances function safely.
The plug supports a maximum load of 6A. Buy it only for low-power appliances like RO water purifiers, Television, mobile, and laptop chargers,
Check on Amazon: Realme 6A Smart Plug
Polycab
Hohm Lanre

Smart Plug (10A, 16A)
Polycab also makes smart plugs that can convert your home appliances into smart devices. It is compatible with Google Assistant, Alexa, and the Hohm mobile application.
Using the plug, you can set daily on and off schedules and select different countdown timings to prevent overcharging of the electrical appliances. You can also track power consumption in the mobile app.
The Polycab Hohm smart plug comes in two different versions- 10A and 16A. The 10A can be used for low-power devices like mobile chargers, TV, and kettle, whereas the 16A is meant for large appliances like geysers, microwave ovens, and air conditioners.
Check on Amazon: Polycab 10A | 16A Smart Plug
Wipro Wifi Smart Plug (16A)
Wipro 16A is another reliable Wifi smart plug for handling heavy appliances. It can remotely control your refrigerator, geysers, microwave ovens, and air conditioner power supply.
You can control it from anywhere using the Wipro Smart app on your phone. The switch works with both Alexa and Google Assistant. And like most other smart plugs, it supports scheduling, and you can monitor the energy consumption of your devices.
Check on Amazon: Wipro 16A Smart Plug
Besides the option mentioned above, you can also go for Amazon 6A and HomeMate 10A smart plugs. Both of which worked reliably well in our usage.
Always use heavy-duty smart plugs rated 16A designed to handle the load for high-power electronic devices like refrigerators, motors, or geysers.
Smart Remote (AC, TV, Fan, Other IR Devices)
IR-based remote control devices in your home, such as AC, TV, and IR-control fans, can be controlled via smart IR remotes. These devices mimick the traditional IR remote but are online and can be controlled wirelessly via mobile app, Alexa, and Google voice assistants.
Here are the smart remotes we recommend:
HomeMate IR-Control Smart Hub
HomeMate Wifi Smart Remote can be used to control air conditioners. You can say, "Alexa, turn on/off Air Conditioning, turn up/down temperature, set temperature to (value)," and more.
Besides, the smart remote supports over 80,000+ IR-controlled devices, including heaters, ceiling fans, and LEDs. It works with both- Alexa and Google Home.
Check on Amazon: HomeMate IR Control Hub
Oakremote Wifi All-in-One Smart Universal Remote
Oakremote is a smart all-in-one remote for the TV, air conditioner, speakers, home theater, and DTH set-top box. You can control all these devices through the mobile app or voice commands.
The remote comes equipped with an inbuilt library of Indian TVs, set-top boxes, and air conditioners. Since it works with Alexa, you can ask Alexa to change the AC temperature, change channels on the set-top box, control speakers' volume, and more.
Check on Amazon: Oakremote Wifi Remote
Havells Crabtree Smart Universal IR Remote 
Havells Crabtree Smart remote works with IR-controlled devices including AC, TV, Set-top box, Air-coolers, Home theatres, and Ceiling fans. You can control the devices with the Havells Digi tap app on your phone, replacing all existing remotes in the room.
It comes with presets for popular devices in the country. Plus, you can create multiple scenes by grouping various devices and set schedules to turn on or off the devices at any time of day.
Check on Amazon: Havells Smart Remote
These smart remotes will work only with IR (and not RF) devices.
Smart Bulbs
Smart Bulbs are an affordable option for installing smart lights in your home. They connect over Wifi and can be controlled via Alexa, Google Home, or mobile apps. You can set the color and brightness based on your mood and requirements. Plus, the lighting can be set to follow a schedule if the bulb supports it.
Here are the smart bulbs we recommend:
Wipro Smart Bulb (9W, 12W)
Wipro is a very reliable smart bulb that supports 16M RGB colors. The light can sync and change with the rhythm of your favorite music. Plus, you can set smart schedules to automate the lighting.
The bulb can be voice-controlled via both- Alexa and Google Home. And for bigger rooms, you can opt for the 12W version, which shares the same features. Check out the Wipro Smart Bulb guide here.
Check on Amazon: Wipro 9W Smart Bulb | 12.5W
Philips 9W Smart Bulb
Philips Wiz is another popular yet affordable smart bulb in the market. It is a multipurpose bulb where you can set scenes, rhythms, and schedules, dim the light and switch between millions of colors with a tap.
You can control the smart bulb via the Wiz app, Alexa, and Google Home. However, there's no music sync option yet.
Check on Amazon: Philips 9W Smart Bulb
Mi LED Smart Bulb
The Mi LED Smart Bulb costs slightly more, but Xiaomi promises high efficiency with 11 years+ long life. You can create ambiance for preset modes- party, reading, movie nights, or candlelight dinner. And the bulb can be voice-controlled with Alexa and Google Assistant.
Using the Mi Home app, you can group Xiaomi lights together to create a suitable decor. Other features include schedule and adjustable color temperature.
Check on Amazon: Mi LED Smart Bulb
Smart Doorbells
Smart doorbells allow you to keep a check on your front door from anywhere. All you need is an active Wifi connection, and you can answer your door without actually opening it and coming face-to-face with whoever is waiting.
If you're on a spree to convert your home into a smart one, smart doorbells should be a priority, given that they add to your safety at home. Here are the smart doorbells we'd recommend:
Zunpulse Smart Doorbell
The Zunpulse smart doorbell is Wi-Fi-enabled and supports 2.4GHz networks. It comes with a rechargeable battery and needs to be recharged about twice a week. There's a 720p camera that automatically detects you when it detects motion.
You also get on-phone alerts if someone presses the bell. And with two-way talk, you can talk to the person standing at the door directly through the mobile app.
Check on Amazon: Zunpulse Smart Doorbell
Procus Home Boy Smart Doorbell
Procus Home Boy doorbell lets you answer the door with your smartphone in HD. It shows you a 140° view of everything you need to see outside your door and supports two-way communication.
You get an instant push notification when someone rings the bell. And it also supports motion detection, which starts recording automatically on suspicion. The doorbell is IP65 weatherproof and can see in the dark with IR sensors.
Check on Amazon: Procus Smart Doorbell
Smart Home Security Cameras
A smart home is incomplete without smart cameras. While smart doorbells are enough for surveillance over the door, smart cameras can keep an eye on kids in the house, your parking lot, or the common area from anywhere in the world.
Most smart cameras have motion detection and can also capture video evidence in case of burglary or other crimes. Here are the smart cameras we'd recommend:
Mi 360 Home Security Camera
The Mi 360-degree is a 20MP 1080p home security camera with AI-powered motion detection. It can automatically pan 360 degrees to keep the subject in the frame. This means if a person enters the room, the camera will automatically rotate to keep an eye on the person.
It also has a two-way talking feature. Using it, you can talk to whoever is in front of the camera using the given speakers. The camera supports an SD card up to 64GB and works on a USB power supply. Xiaomi has also equipped NAS (Network Access Storage) support and Infrared night vision.
Check on Amazon: Mi 360 Camera
Realme 360 Wifi Smart Camera
The Realme 360 Wifi smart camera is an alternative to the Mi 360. It shares features like an all-around view with moving object tracking and two-way talking. But as an extra, it offers sound detection and can record and alert when it detects any noise.
The camera records FHD video and supports a memory card of up to 128GB. It also supports multi-view, wherein you can check the feed from all Realme cameras at your home on a single screen. That said, it does not support NAS.
Check on Amazon: Realme 360 Camera
Convert Your Home into a Smart Home
This was all about how you can make your home smart and voice-controlled by converting existing devices and appliances on a budget. For the same, you can use products like smart plugs, smart remotes, and add smart speakers, lights, and cameras.
I hope the above guide helps you turn your home smart on a budget. Watch the video to learn more about how we made our home smart with Amazon Alexa.
---
Gadgetstouse.com has affiliate and sponsored partnerships. We may earn commissions on purchases made using our links. However, this does not affect the recommendations we make.