Honestly, getting personalized ads and recommendations feels like an incursion on one's privacy. Social media platforms such as Instagram continuously collect data from your photos and posts to provide your preferences to advertisers. As a result, businesses on Instagram serve you personalized ad suggestions and can even use your photos without your consent. Luckily, there's a way to restrict it. In this read, we will demonstrate how to stop Instagram Businesses to use your photos for ads. Furthermore, you can learn to spot fake ads and scams on Instagram.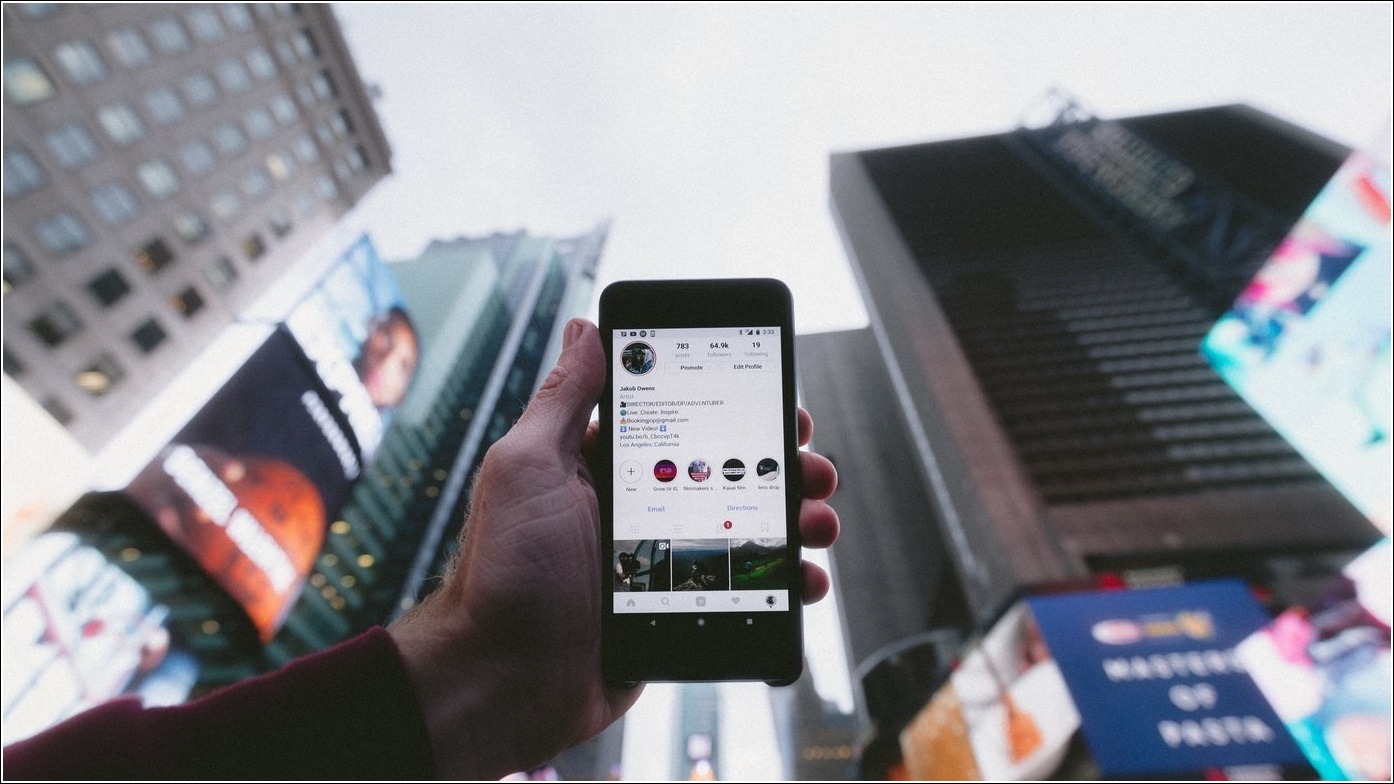 How to Stop Instagram Businesses from using your Photos?
Instagram's terms and conditions clearly state the following statement "We do not claim ownership of your content, but you grant us a license to use it." This means that even if you're the owner of the content, Instagram will not ask for your consent or pay you anything to use it elsewhere on the internet such as in other businesses.
Now, if you're a photographer or a digital content creator, you might find it a bit concerning as it might cost you the entire work credibility. But worry not for we have come up with four nifty solutions to stop Instagram businesses to use your photos for ads. So, without further ado, let's get started.
File A Copyright and Watermark it to your Photos
One of the most effective methods to stop other businesses and even Instagram to use your photos for ads is to watermark them with your own registered copyright. This would give you a solid advantage to prove your ownership in an event of a copyright infringement. Depending on your country, you will have to pay a certain sum of money to the government to gain copyright for your work. Here's how you can file for copyright in India and the US:
1. First, Head over to the Copyright Office Portal to register your own copyright in India.
2. Next, fill out the copyright registration form by clicking on the 'Registration of Copyright form XIV' option from the left sidebar.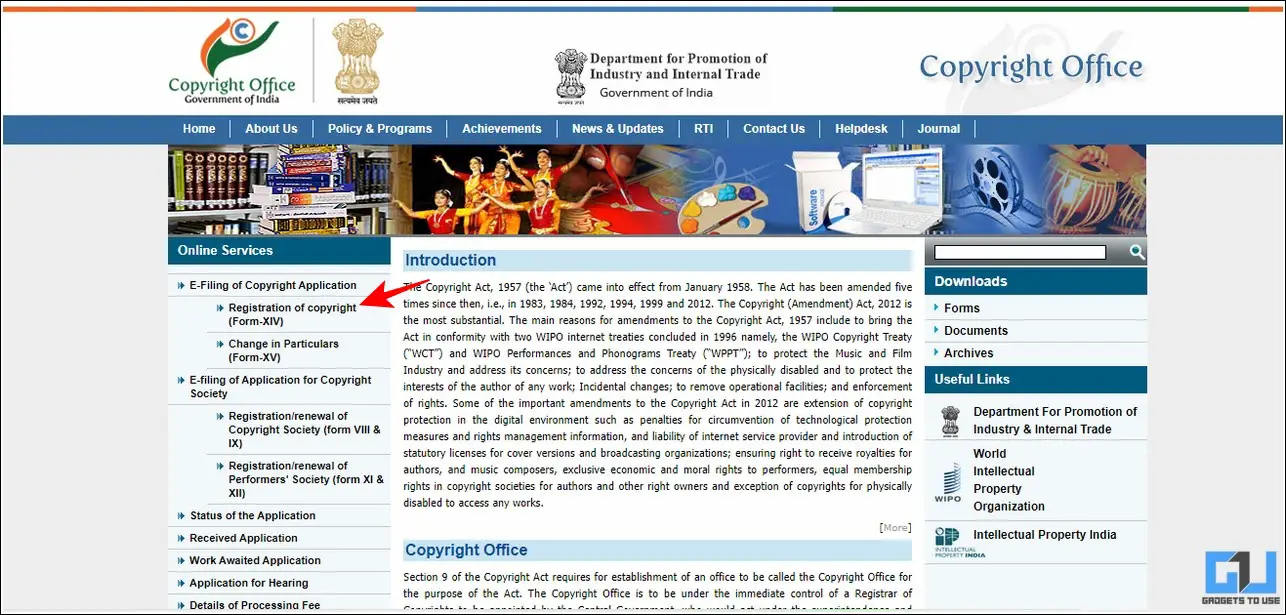 3. Finally, follow the on-screen instructions and make the necessary payment to register the new copyright.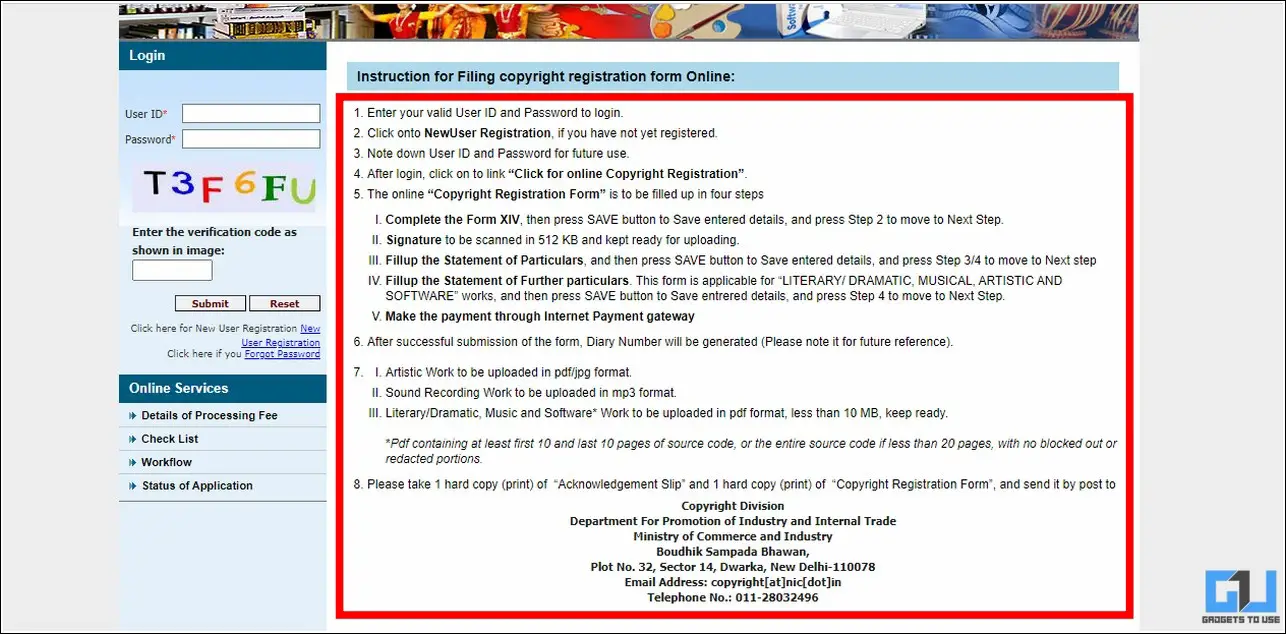 4. Typically, the registration fees can range between INR 500 to 5,000 depending on the type of your work. You can refer to this link for all the details on the copyright fee structure in India.
5. Alternatively, if you reside in the States, you can head over to the U.S Copyright Office to register your work and gain the copyright.
6. Once acquired, you can watermark the copyright logo to your work using either your Android Phone or iPhone.
Watermark a Copyright Symbol or add Social Media Handle to Photos
If you don't wish to go to the lengths of acquiring copyright for your work, so you can stop businesses to use your photos for ads. You can simply watermark your photos with a copyright symbol or your social media handle to ease your pocket. Consequently, the algorithm of various social media platforms will detect this watermark and refrain from forwarding it to other advertisers or businesses, hence protecting your work from 'credibility theft'. An example of such a watermark is as follows: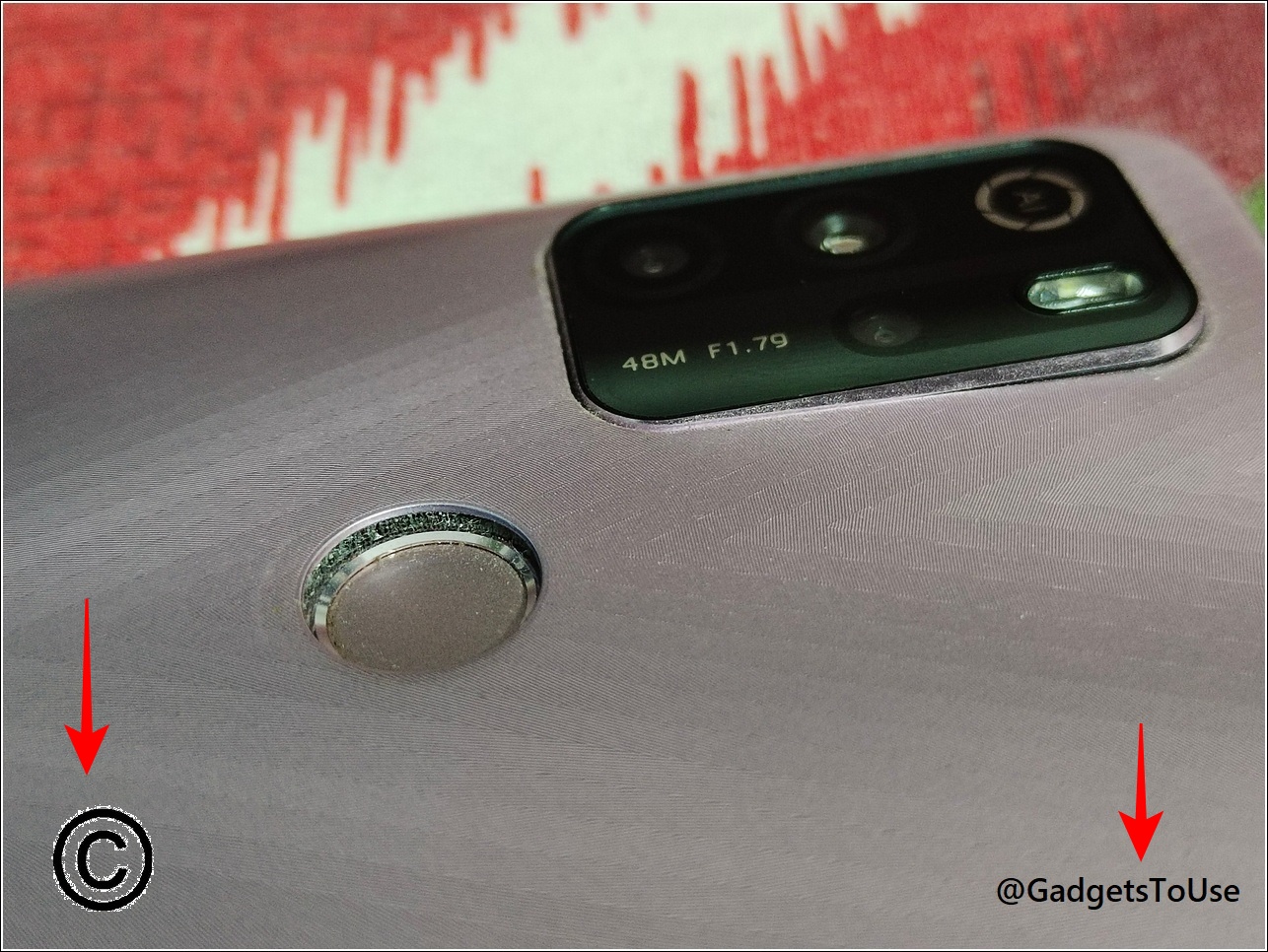 Track and TakeDown Online Reproductions of your Photo using Pixsy
Pixsy is another effective platform designed specifically for creators and photographers to safeguard their work online by marking it with digital copyright. You can create a free private account and upload your photos there to assign a unique fingerprint that acts as a permanent authentic record of your work on the internet.
Once registered and uploaded, Pixsy will keep a check on the internet against your uploaded image to track down its online copies. You can then use this platform to know the source and take legal action against the infringement. Follow these simple steps to create a free account on Pixsy:
1. First, head over to Pixsy and create a free account by clicking on the Sign-Up button.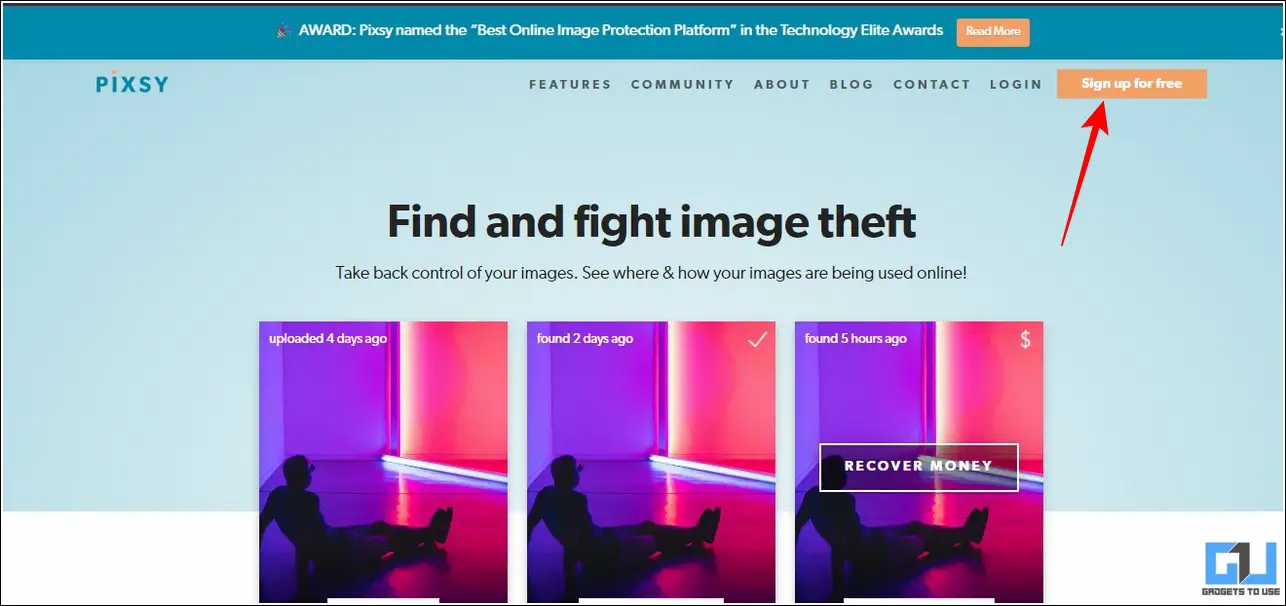 2. Once created, click on the Images option in the left sidebar to upload or import your images to Pixsy.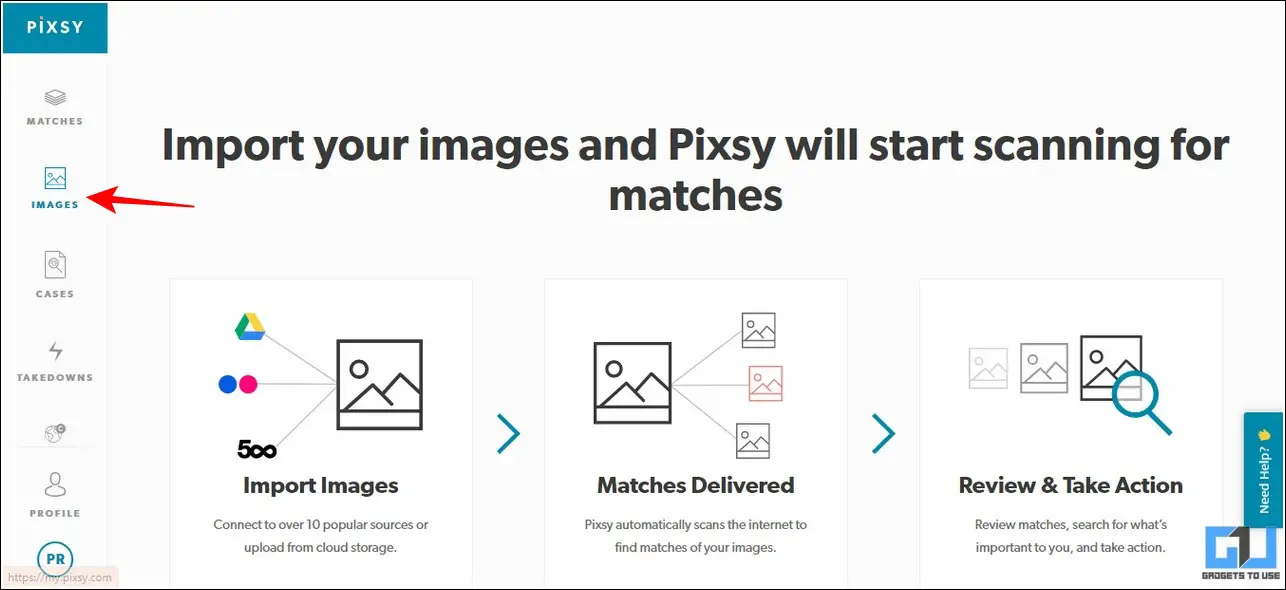 3. Upon successful upload, Pixsy will start tracing all existing copies of the image on the internet and shall notify you about the same.
4. You can view all the matching copies of your uploaded image by tapping on the Match tab and take action against the infringement using the Cases and Takedown tabs respectively.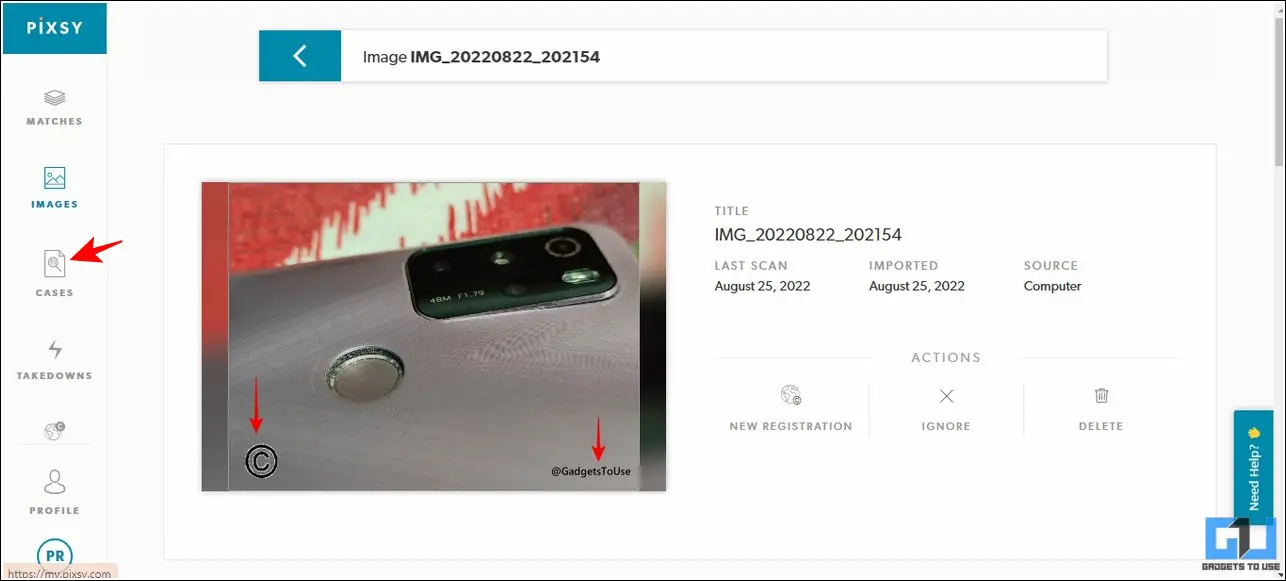 Do note that the free account only offers to detect and show all existing copies of your uploaded image online. However, you need to upgrade your account to use its premium features of imposing legal action against copyright infringement.
Instagram Settings to stop Businesses from using your Photos
Besides watermarking, you can adjust the Instagram app settings to restrict them from collecting data, and hence stop businesses to use photos for ads. Here's how you can restrict the same:
1. Go to Instagram Settings by tapping on the hamburger menu (three lines) from the top-right corner and choose the Settings option.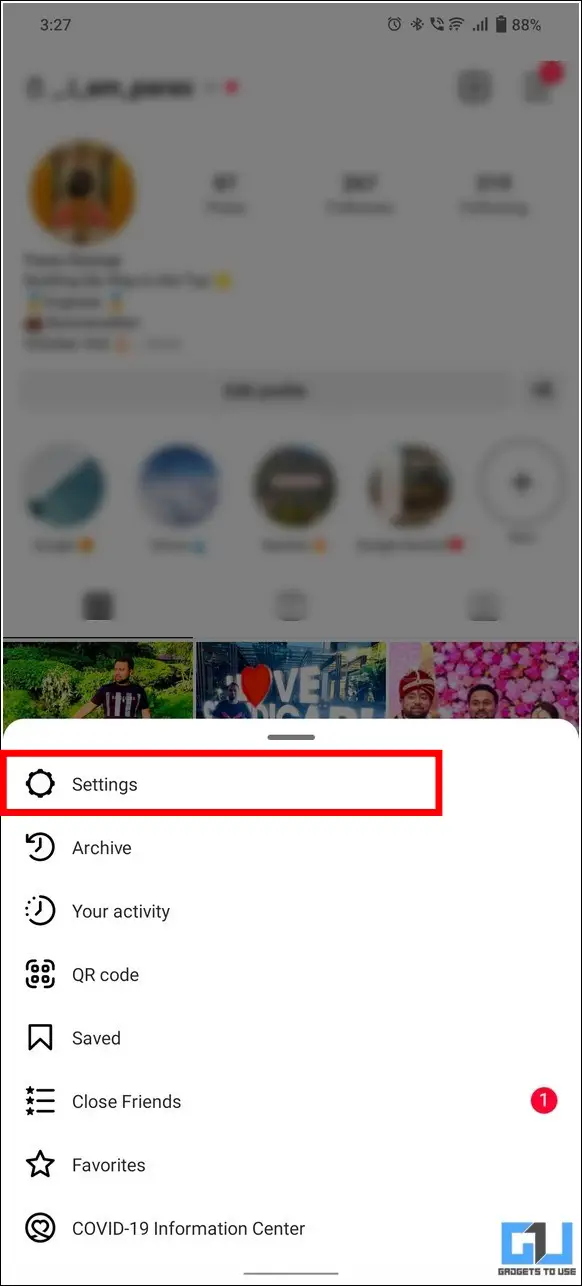 2. Next, go to About and then Privacy policy.
3. Scroll down to the bottom and tap on the Ad Preferences option to configure it.
4. Sign in with your Facebook account when prompted and switch to the Ad Settings tab.
5. Next, tap on the Data about your Activity from partners option and deny the permission by switching off its toggle.
6. Similarly, the toggle for off-Facebook Ads can be turned off to stop businesses reach you based on your photos and account activities.
Note: Additionally, you can learn to download your entire Instagram data to know about all the details Instagram has collected about you.
Bonus Tip: Collaborate with other Instagrammers using the Insta Collab Feature
If you're an active content creator, collaborating with other fellow Instagrammers might help you achieve new heights. With its recent update, Instagram introduced the collab feature to quickly collaborate with other creators on the platform. Follow our detailed guide on this new Insta Collab Feature to get a detailed insight.
FAQs
Q: Where do I file image copyright and how much does it cost?
A: Based on your country, you can either file a copyright for your work online or reach the government premises offline to submit it. In India, the copyright fees vary from INR 500 to 5,000 based on the type of work that you wish to get copyrighted. Follow the detailed steps mentioned in this explainer to get it done.
Q: How to protect your Photos on Instagram from being used Anywhere?
A: You can either watermark it with your logo/social media handle, or the copyright icon to prevent social media platform algorithms from forwarding it to their advertisers. In addition, you can also make an account on Pixsy to get online protection against image thefts. Furthermore, you can learn to stop someone from impersonating you on Instagram.
Wrapping Up: Stop Businesses to Use your Photos
So these are the four ways to protect your images and stop Instagram Businesses to use your photos for ads. If you find this read helpful, hit the like button and share it with your photographer friends. Check out other useful tips linked below, and stay tuned for more informative guides.
You might be interested in:
You can also follow us for instant tech news at Google News or for tips and tricks, smartphones & gadgets reviews, join GadgetsToUse Telegram Group or for the latest review videos subscribe GadgetsToUse Youtube Channel.