With over a billion users, one of every ten Instagram accounts is fake. While Instagram actively monitors and blocks such accounts, removing them completely from the platform is impossible. Fortunately, certain indicators mentioned below might help you reveal their real identity; let's discuss several indicators to recognize Fake Instagram accounts. Additionally, you can stop Instagram Businesses from using your Photos for Ads.
Why Should You Worry About Fake Instagram Accounts?
Getting more followers from unknown accounts might seem rewarding, but it poses a big risk to the security if the account is fake. It can lead to the following issues:
Fake accounts can create unnecessary distractions by sending spam to you or your followers.
These accounts often promote a service or make unnecessary random comments on your posts.
They can be dangerous as their messages often contain malicious links, leading to cyber fraud.
How to Recognize Fake Instagram Accounts?
Recognizing a fake Instagram account is no rocket science. If you pay attention to the following indicators, you can differentiate it from a genuine user. So, without further ado, let's get started.
Indicator 1 – Generic, Impersonating, or No Profile Picture
Fake Instagram accounts often have blank, generic, or a profile picture impersonating someone. While blank or generic profile pictures can't be traced back, fake accounts sometimes use someone else's photos to gain more followers or tempt them into having a conversation.
Since such accounts are mostly operated by hackers, spammers, or people with nefarious motives, we strongly advise you to stay away and block them. You can also report them to Instagram if they're impersonating an account you know.
Indicator 2 – Incomplete Account Bio, Copied, Inconsistent, or has Errors
An incomplete profile bio is among the top red flags to recognize a fake Instagram account. Since these accounts are usually created in a rush, the underlying user doesn't bother filling in complete profile details or fills them with copied or erroneous content.
However, not all Instagram accounts with a missing/incomplete bio are fake; some users might be too lazy to fill in all the details. Therefore, it is best to stay vigilant and pair them with other identifying indicators for recognizing fake Instagram accounts.
Indicator 3 – Promotional Links or Instagram Pages in Your DM
Ninety-nine percent of Instagram accounts sending promotional or links to follow random pages are fake. Besides spam links, they might ask you for personal details in exchange for an attractive product/service discount, risking your account's safety. If you often receive such message requests in your direct message, the best way is to block them right away.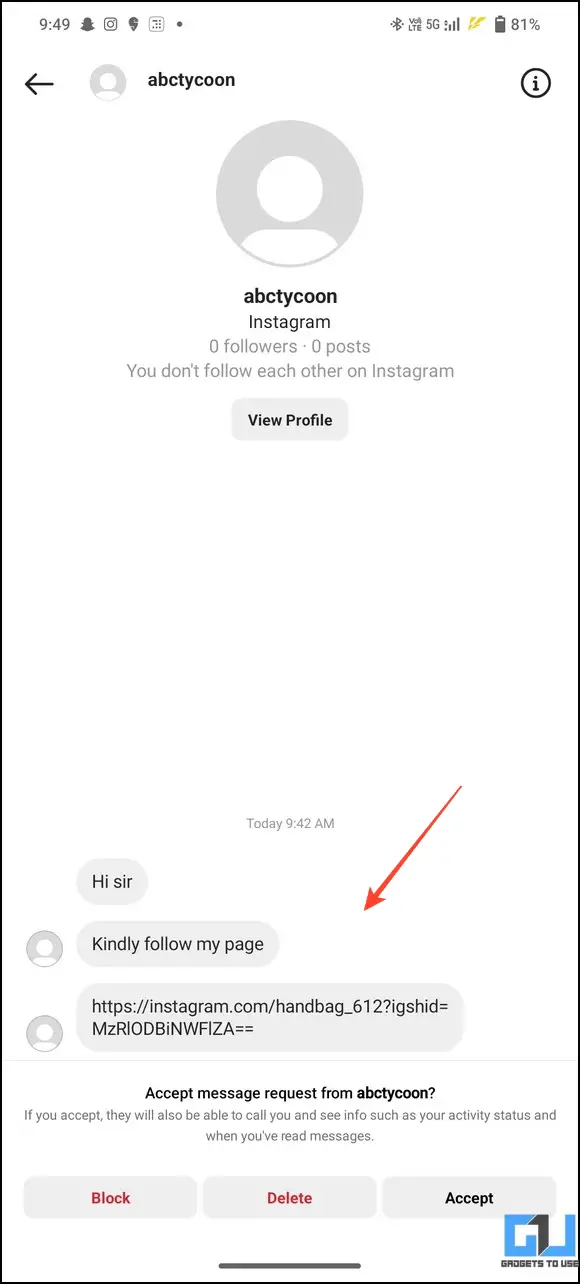 Indicator 4 – Recognize Fake Instagram Accounts by Identifying Common Scams
Instagram's big user base makes it an easy target for scammers and hackers. They often post fake advertisements and run different scams, such as login scams, profile picture scams, giveaway scams, and many more, to drain people of their precious data or hard-earned money.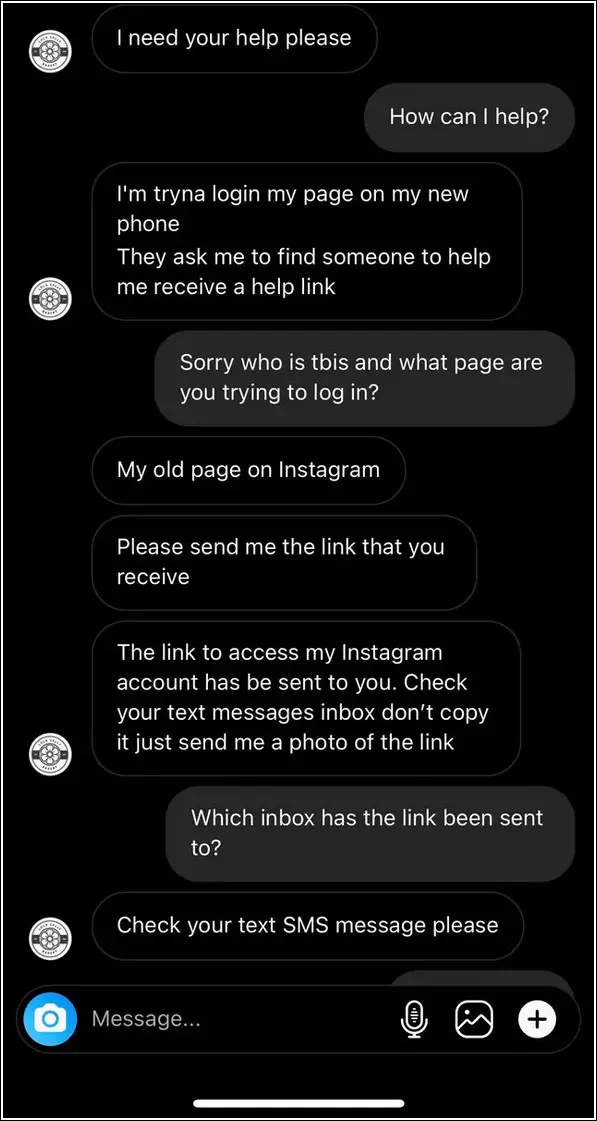 But if you identify such scammers beforehand, necessary actions can be taken to block these fake accounts. Check out our detailed explainer to learn more about common scams on Instagram.
Indicator 5 – Zero Followers With No or Extremely High Following
If you notice an Instagram account with zero or unusually high number of following accounts compared to followers, you might be looking at a fake account. This is because the main motive of such accounts is to follow the maximum number of users and send spam DMs to do scams.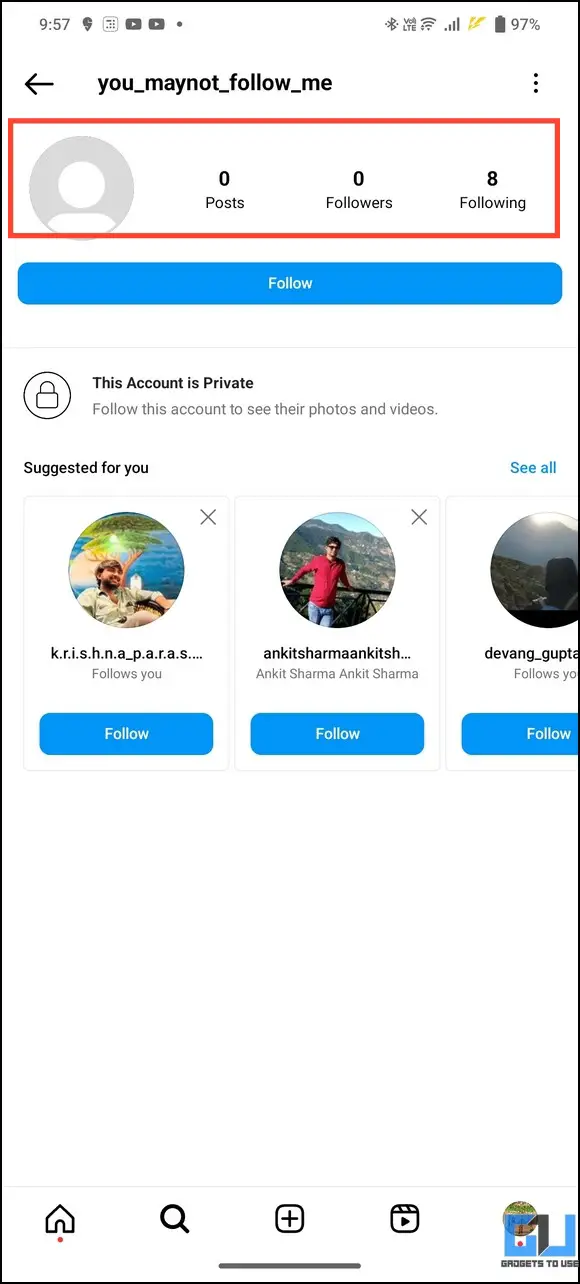 Some accounts also purchase fake followers to boost their follower-following ratio to look legitimate. If you spot one, it is best to unfollow or block them.
Indicator 6 – Spammy and Generic Comments/Replies
Have you often noticed a link or random reply in your post's comment? If yes, it might be done by a fake account. If you're unsure, to verify, open their Instagram profile from the comments section and check the other indicators mentioned in this guide. Such accounts often reply with repeated comments or spam links, tempting users to click them.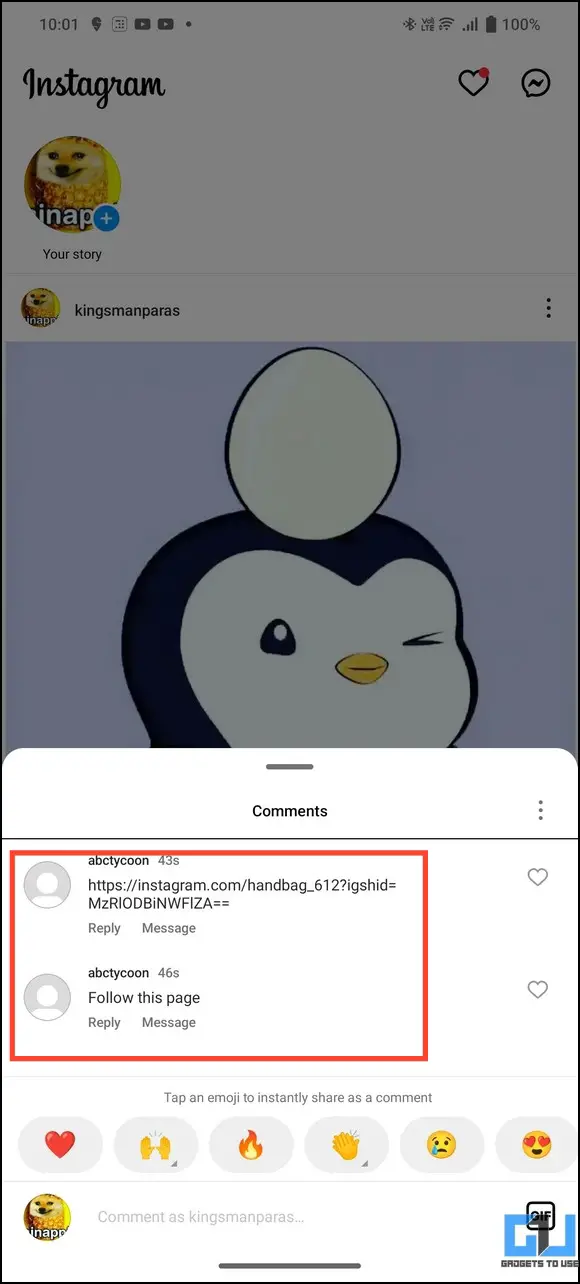 Indicator 7 – Recently Created Account
Fake accounts exist for a very short period. Social media platforms, including Instagram, actively monitor and flush them out. Consequently, hackers/spammers create new accounts to lure target profiles.
Fortunately, you can recognize them by viewing their joining dates on Instagram. It is a fake account if it is a recent date and fulfills the above indicators. Here's how you can check an Instagram account's joining date:
1. Tap the three-dot menu next to an Instagram profile and press 'About This Account.'
2. The sign-up date should be visible under the Date Joined field.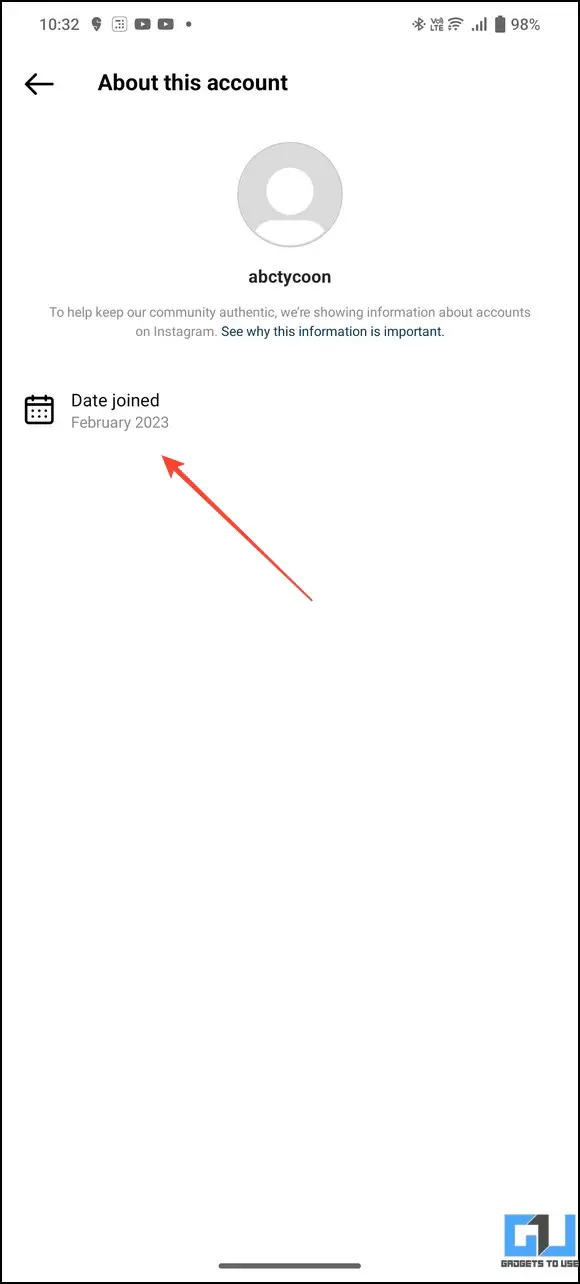 Indicator 8 – Account Activity is Either Too Low or Too High
An Instagram account with very less or extremely high activity can potentially be a fake account. If the account activity is too low, for example, very few posts and comments, it primarily spams people via DMs. Alternatively, an extremely high account activity can signify a bot or an unknown person interacting with users in bulk in the hope of a follow back in return.
To verify it, browse the account's timeline and check the time gap between posts. Also, please pay attention to the posts and use reverse image search tools to check their authenticity.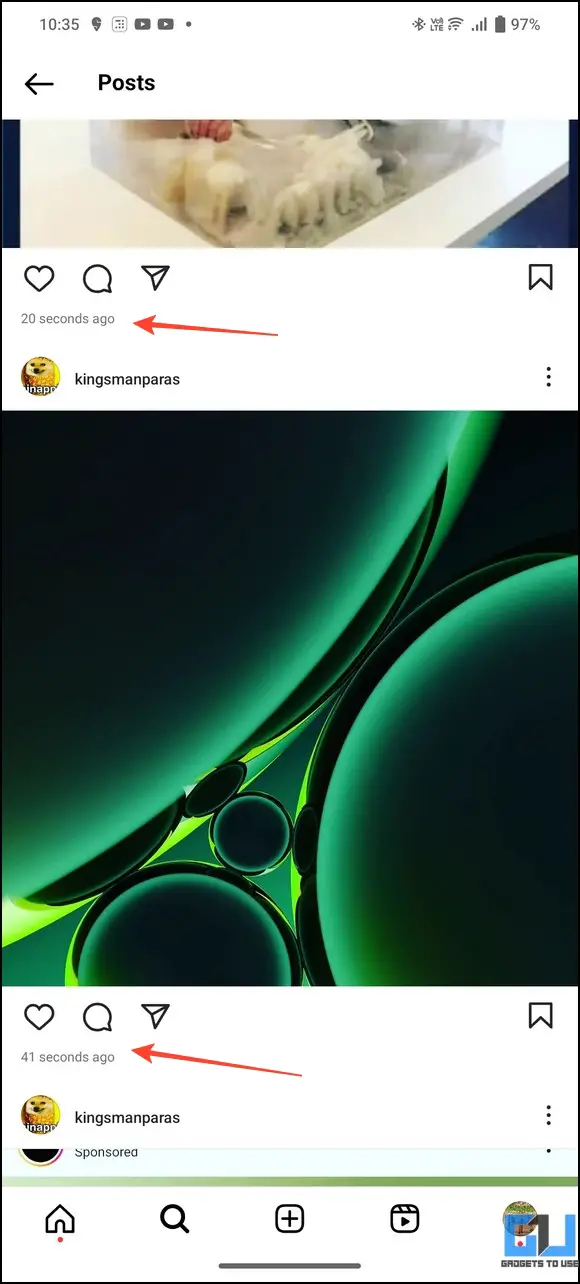 Indicator 9 – Frequent Sale or Discount Posts
Fake Instagram accounts are also created with the ill intent of fraud by spreading discount and sale posts with lucrative offers. People often fall prey and fill in their personal information on the provided sale link, compromising their account. If you notice such an account, block it and report it to Instagram.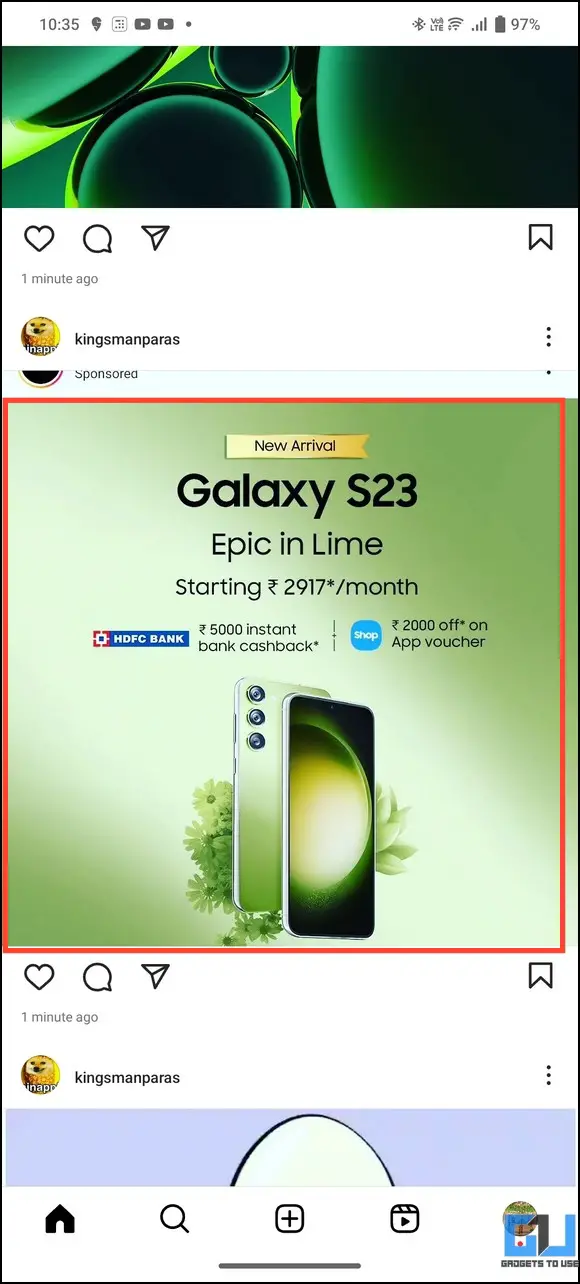 How to Block a Fake Instagram Account
Now that you've recognized a fake Instagram account, if you are wondering how to block it. Don't worry; follow these steps for an easy fix:
1. Tap the three-dot menu next to the fake Instagram profile and press Block.
2. Tap Block to remove the user from your followers' list and other linked accounts like Threads account.
3. Alternatively, you can use Block and Report to directly block and report the account to Instagram.
4. In case you wish to block a user from your Instagram message request, open the message and tap Block.
5. Finally, press the Block Account option. You can also check other nifty methods to remove fake and bot Instagram followers.
Recover Your Instagram Account After a Hack
Has someone gained unauthorized access to your account? Are you unable to log in because the hacker changed your password? Panic not; we have crafted a detailed guide covering all the nits and grits to recovering your hacked Instagram account.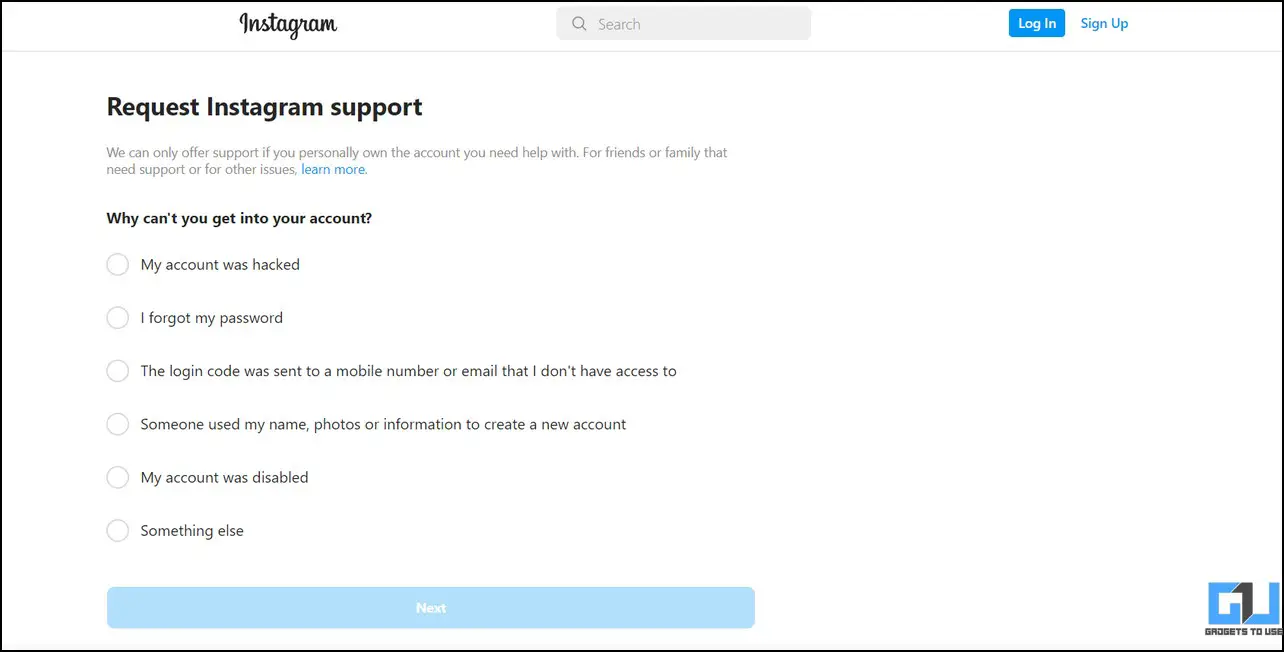 Wrapping Up
We hope this guide has helped you identify fake Instagram accounts using the indicators mentioned above for recognizing and blocking them. If you found it useful, spread the word with your friends and subscribe to GadgetsToUse for more interesting reads. Also, don't forget to check the links below for awesome Instagram tips and tricks.
You might be interested in:
You can also follow us for instant tech news at Google News or for tips and tricks, smartphones & gadgets reviews, join GadgetsToUse Telegram Group or for the latest review videos subscribe GadgetsToUse Youtube Channel.