An Android notch is much more capable than just housing the camera unit. You can customize it to open apps, automate actions, get notifications, or even set up your dynamic island like that on the iPhone 14 Pro series. In this explainer, let's look at different ways to use the notch area fruitfully on your Android phone. Additionally, you can learn to install Dynamic Island on Windows.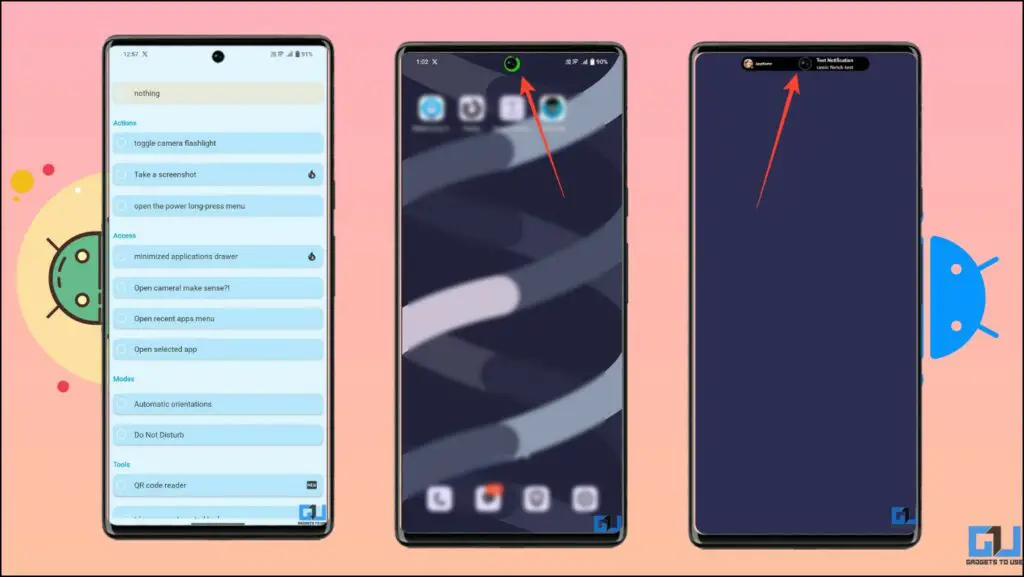 How to Customize the Notch Area on Your Android Phone?
Thanks to creative Android app developers, you can make your device's notch area useful by assigning screen gestures, battery indicators, dynamic notification designs, and more. This makes it convenient to access apps or know the current status of your Android phone. Let's look at different methods to set it up.
Method 1 – Make Notch Useful With the Touch the Notch App
Touch The Notch is an incredible Android app that puts the camera cutout on your phone to some use by assigning certain shortcuts, gestures, and activities. In addition, the app allows you to configure independent actions for each touch gesture to make the most out of the notch on your Android phone.
1. Install the Touch The Notch app from the Google Play Store and tap OK to accept its privacy policy.
2. Expand Required Permissions and enable them to run the app.
3. The app allows you to configure the notch behavior based on various touch gestures such as single touch, long touch, double tap, swipe right and swipe left. Tap your desired gesture to assign an action to it.
4. You can assign various actions, access, modes, and system events to trigger them by touching the notch.
For example, you can toggle the camera flashlight, switch music tracks, or even turn the screen off with a single tap on the notch.
5. For best productivity, configure all gestures (single touch, long touch, double-click, swipe right/left) to control your Android device by interacting with the notch.
Method 2 – Use Notch Area on Android as a Battery Indicator
If you don't wish to dig into your phone's settings to know the battery status, you can transform your notch into a battery indicator by installing certain third-party apps. The "Notch Battery Bar" and "Energy Meter" are popular apps in this domain. Here's how you can use them.
1. Open the Google Play Store and install the Notch Battery Bar on your Android phone.
2. Tap Overlay and provide the necessary permissions to run the app.
3. Next, pick the appropriate notch design of your phone.
4. The battery indicator should instantly appear on your screen. Adjust its position and align it with your device's notch using the position controls.
5. Finally, you can change the notch color using the Change Colors button, and you're all set. The battery indicator should display the current battery level of your smartphone around the notch.
You can also check our dedicated guide around battery indicator apps to make the most out of punch-hole on your Android phone.
Method 3 – Get Dynamic Notifications on Android
Do you wish to change your device's conventional way of displaying notifications? NotiGuy is your one-stop solution for providing a refreshing new look to new notifications arriving on your device. The app offers several dynamic designs that wrap around your phone's notch to display real-time notifications. Follow these steps to install and configure it on Android.
1. Install NotiGuy- Dynamic Notch from the Google Play Store and align the app's notch ring with your phone's notch cutout.
2. Tap > to view all dynamic notification designs.
3. Next, tap the Dynamic Notification Island and enable Dynamic Notch.
4. Provide the necessary permissions to run the app when prompted.
5. That's it! You've successfully enabled dynamic notifications on your Android phone's notch. You can test it by using the Preview button to view how dynamic notifications will look on your phone.
6. You can change the design style anytime by configuring the Expanded and Minimized Notification Style options.
Method 4 – Add Notification Light to Notch on Android
Remember the golden days when Android phones had a physical notification light? If you still crave it, the "aodNotify" packs exactly what you need. Using this app, you can easily set a notification light around your phone's notch to simulate the LED light. Here's what you need to do.
1. Install the aodNotify app from the Google Play Store on your Android phone.
2. Tap Next and provide the required permissions.
3. Next, tap Notifications and go to Apps.
4. Scroll down and pick the apps you want to use for notifications with "aodNotify".
5. Press Notification Light and tap Style to customize it.
6. Set your desired style and transition effect to personalize the notification light animation.
7. Finally, tap Colors and pick your preferred color for the notification light. That's it! Your Android phone's notch will light up automatically when a new notification arrives for the enabled apps.
Method 5 – Set Up Dynamic Island on Any Android Phone
Apple cleverly transformed its huge notch into a software feature with Dynamic Island, introduced with the iPhone 14 Pro. The feature transformed the pill-shaped notch on iPhone 14 Pro models into a shape-shifting 'island' to display important notifications artistically. Fortunately, you don't need to spend a fortune on iPhones to experience it. Check our detailed read to set up Dynamic Island on any Android phone.
FAQs
Q. How Do I Customize the Notch on My Android Phone?
You can install several free third-party apps to customize your Android phone's notch to display dynamic notifications, battery level, or open apps with a touch gesture. Check different creative Android apps in this explainer for more details.
Q. How Do I Get an iPhone's Dynamic Island Notch on My Android?
You can use NotiGuy or try other free apps explained in the last method to get an iPhone's dynamic island notch on any Android device. We prefer the Dynamic Spot app for enjoying dynamic island features on Android.
Q. How to Make Use of the Notch on My Android Smartphone?
You can transform the useless notch area on your Android device into a battery indicator, assign touch gestures to control your phone, set a notification light, or turn it into a dynamic island to maximize your productivity. Check our hand-picked apps in this guide for specific details.
Wrapping Up
We hope you've grabbed some creative use cases and features for the Android notch from this guide to assist you in your daily routine. If you found this read interesting, forward it to your friends and subscribe to GadgetsToUse for more quality explainers. Also, don't forget to check the below links to learn more jaw-dropping Android features.
You might be interested in:
You can also follow us for instant tech news at Google News or for tips and tricks, smartphones & gadgets reviews, join GadgetsToUse Telegram Group or for the latest review videos subscribe GadgetsToUse Youtube Channel.