When we post a photo on social media, we all want it to be perfect. Some choose to beautify the images with filters and effects, while others take the help of various smartphone apps. But what if you could replace yourself with a younger version in the photo? This is where Artificial Intelligence comes into play. Let's look at several ways to create a young version of yourself using AI in this explainer. Additionally, you can learn to fix old distorted photos online for free.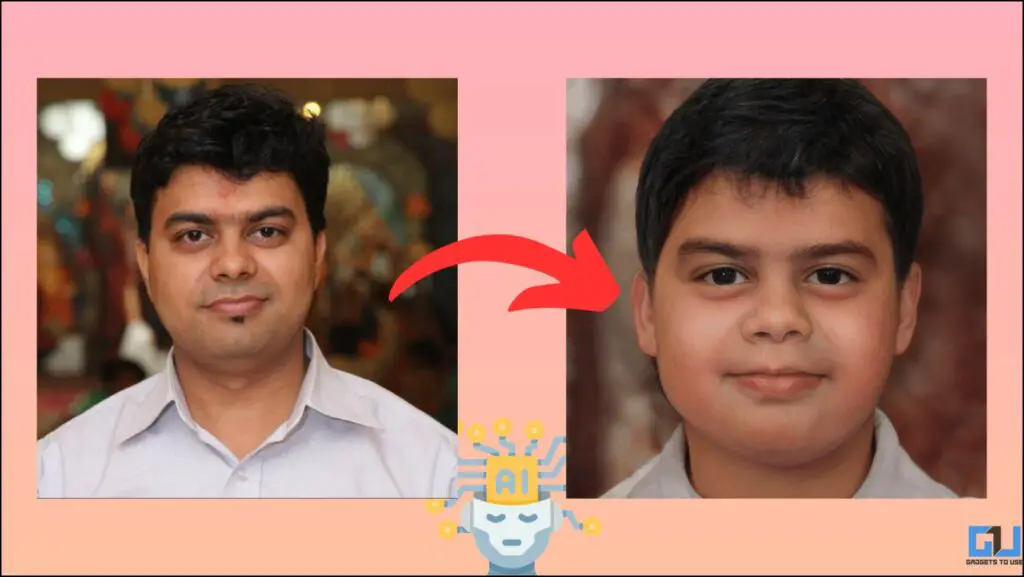 How to Create a Young Version of Yourself Using AI?
Photographs create an ever-lasting memory, and you might sometimes be tempted to look younger in them. Fortunately, AI-powered tools and apps make it possible to quickly create a young version of yourself. Media.io, Photor AI, FaceApp, and Reface App are popular tools to achieve this. Let's look at how you can use them to your advantage.
Method 1 – Use Media.io to Create a Young Version of Yourself (Online)
Media.io by Wondershare is a remarkable online AI tool to edit an existing face in your photo and replace it with a younger version. The platform provides a clean and simple interface where you can upload your photo and set the desired age filter, and you're all covered. Follow these easy steps to create a younger version using this tool.
1. Open Media.io Age Filter studio and click Local File to upload your image.
2. Adjust the Age Slider and set a lower value to create a young version of the uploaded image.
3. Next, click Start to Process.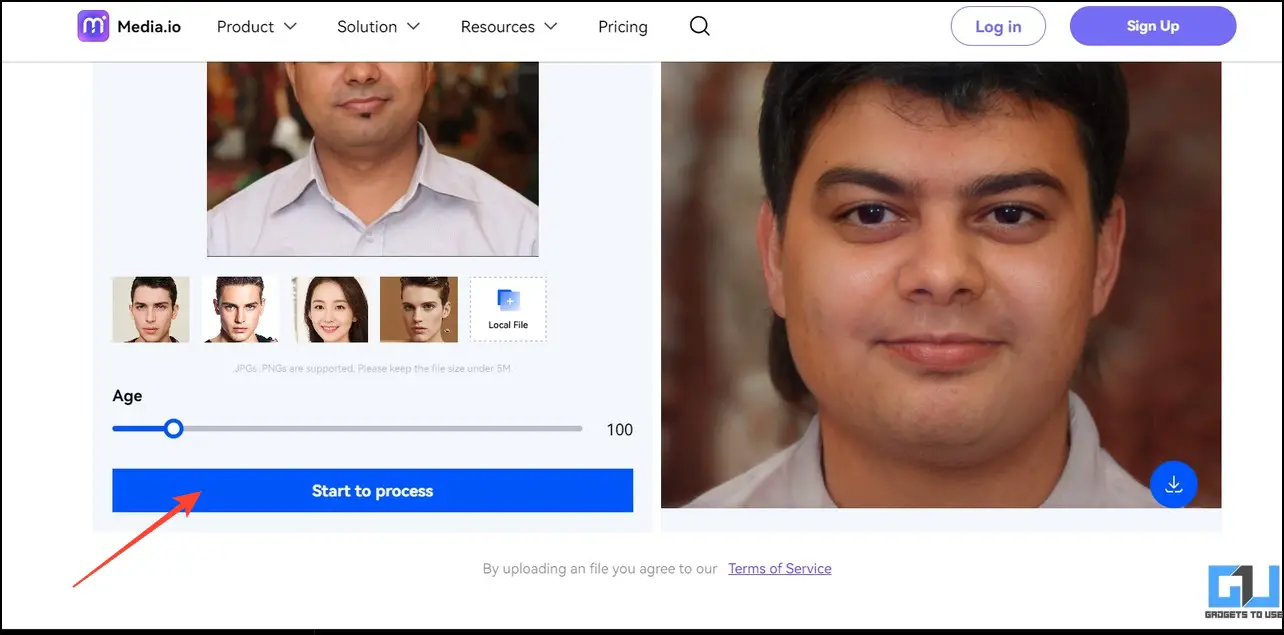 4. Wait a few seconds to get the result on the right. Click the Download button to save it to your device.
5. Finally, create a new account or log in using existing social handles when prompted to download the image.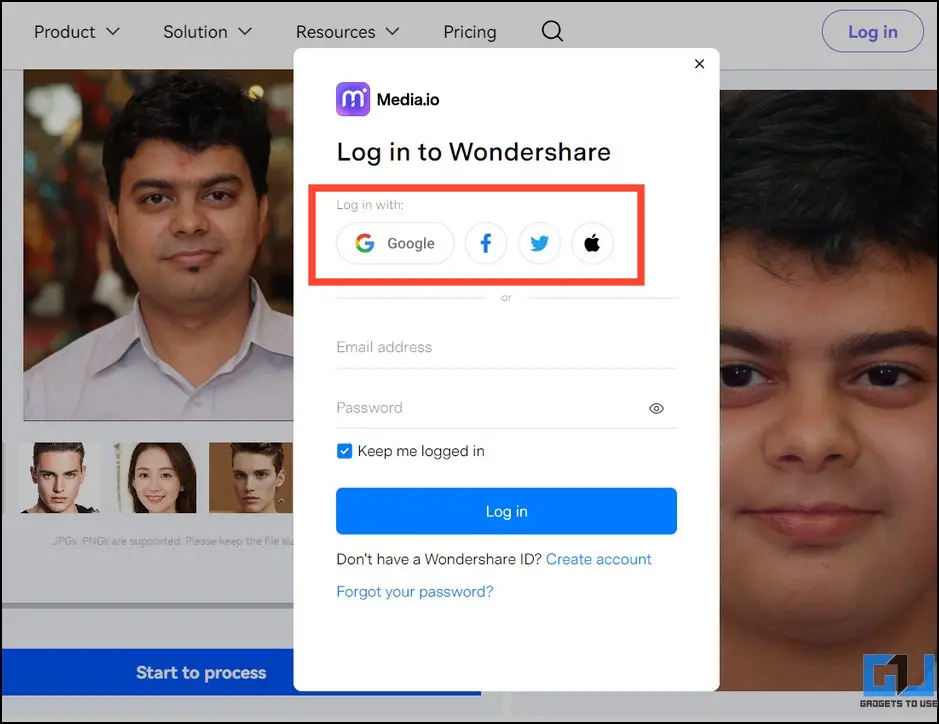 Method 2 – Try the Photor AI Age Transition Tool (Online)
The Photor AI age transition tool is a step ahead of Media.io, where it converts your uploaded photo to a stunning age transition visualization. The final GIF result visualizes your aging journey and can be converted to a static image format using online image converters. Here's how you can make the most out of this AI tool.
1. Access Photor Age Progression and drag your desired image to the Upload section.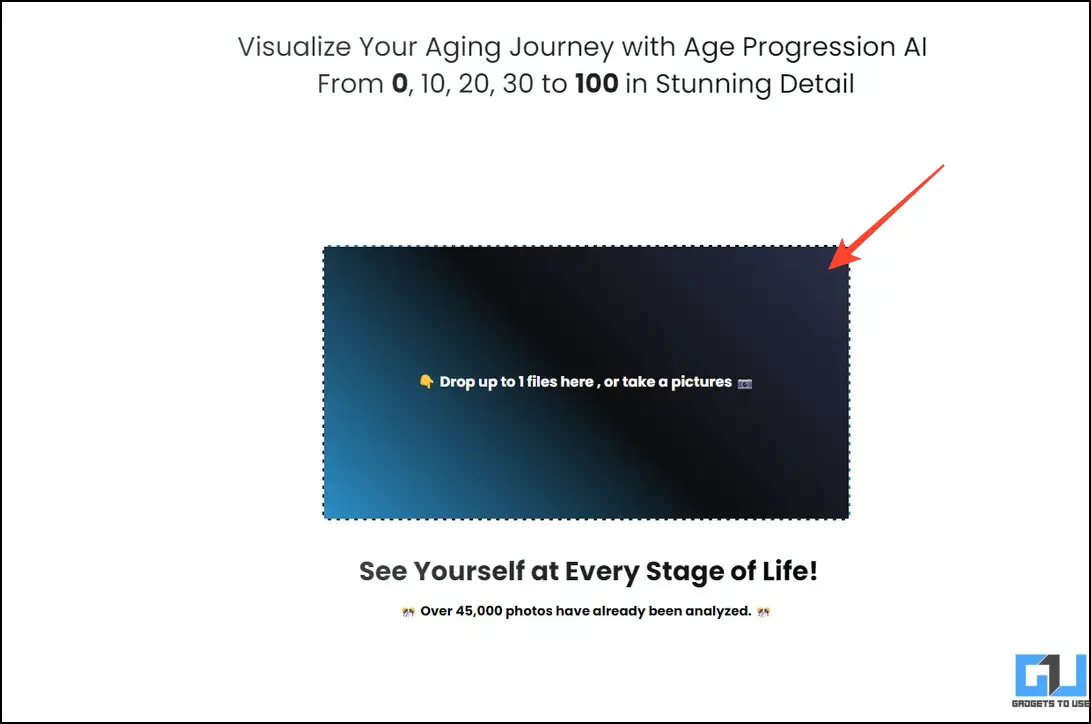 2. Click the Generate New Version to create an age transition GIF photo.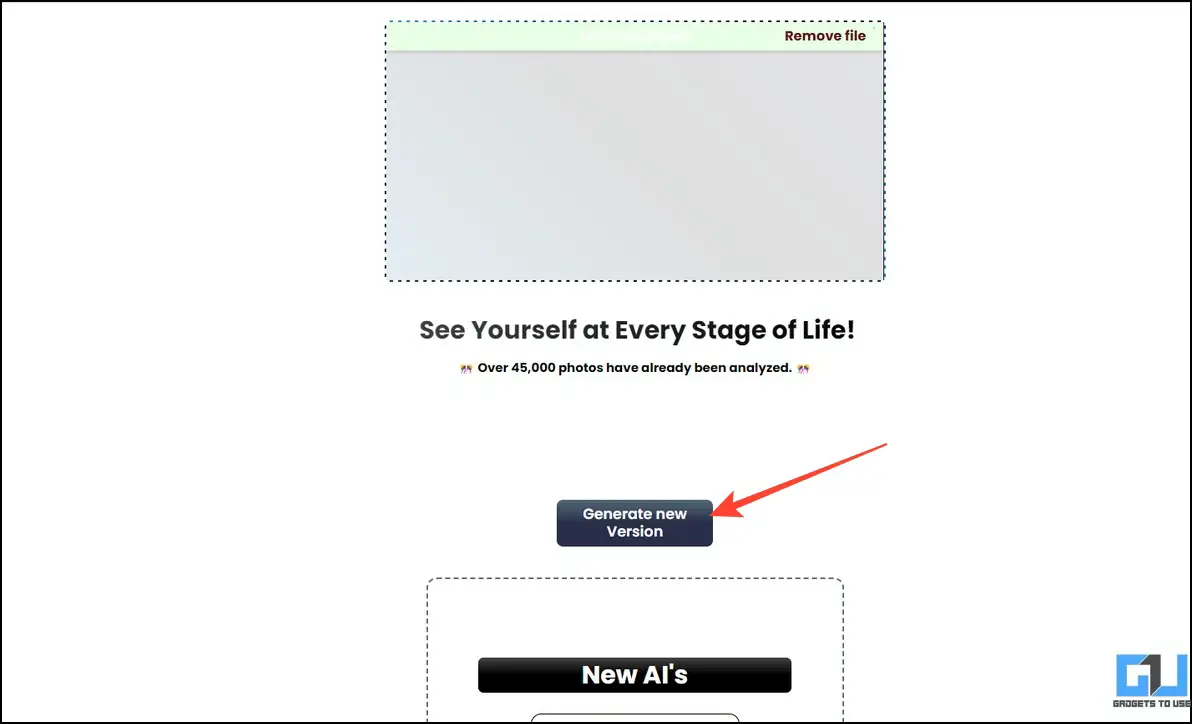 3. Wait a few seconds to get the desired results.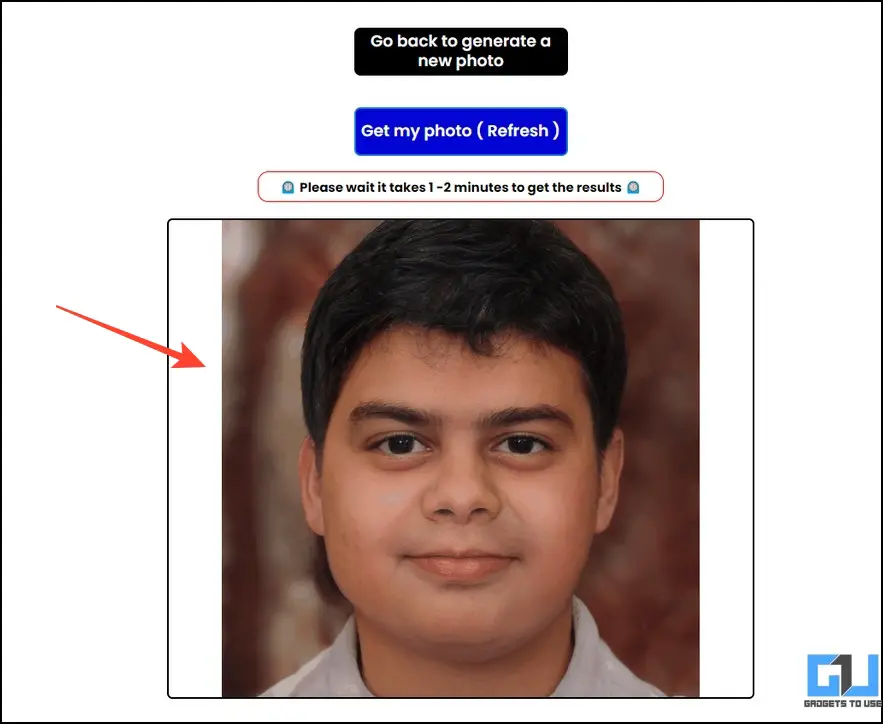 4. Right-click the image to save it to your device.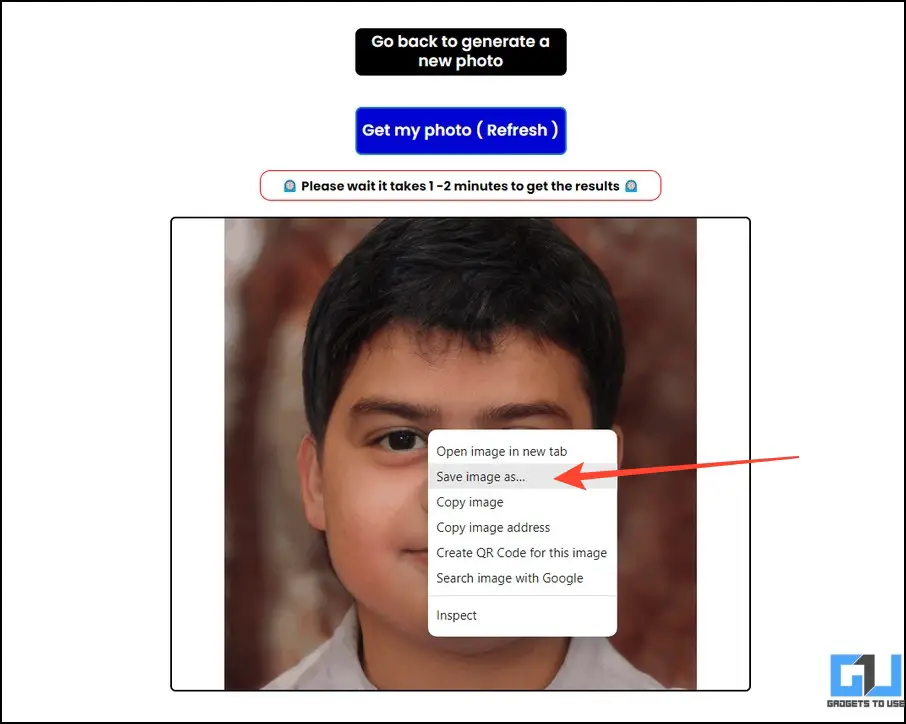 5. Next, open the EZGIF GIF to JPG converter and upload the downloaded age transition GIFf.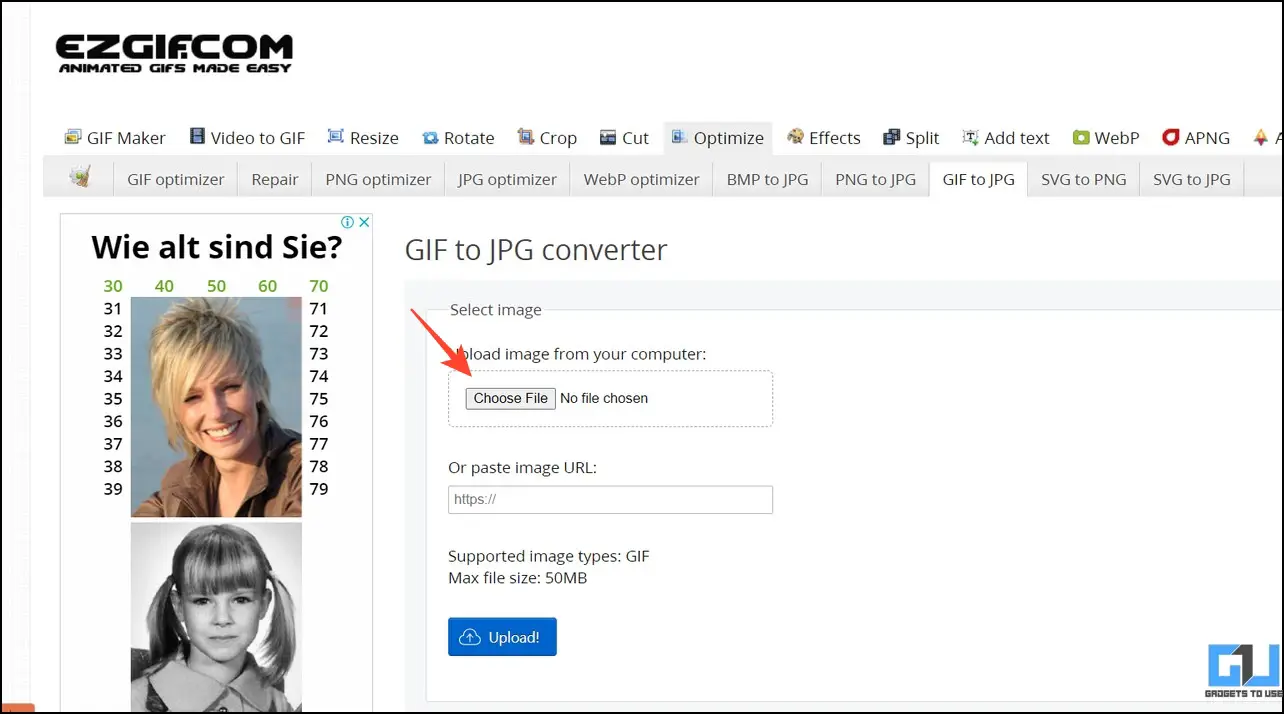 6. Scroll down to the bottom and click Convert to JPG.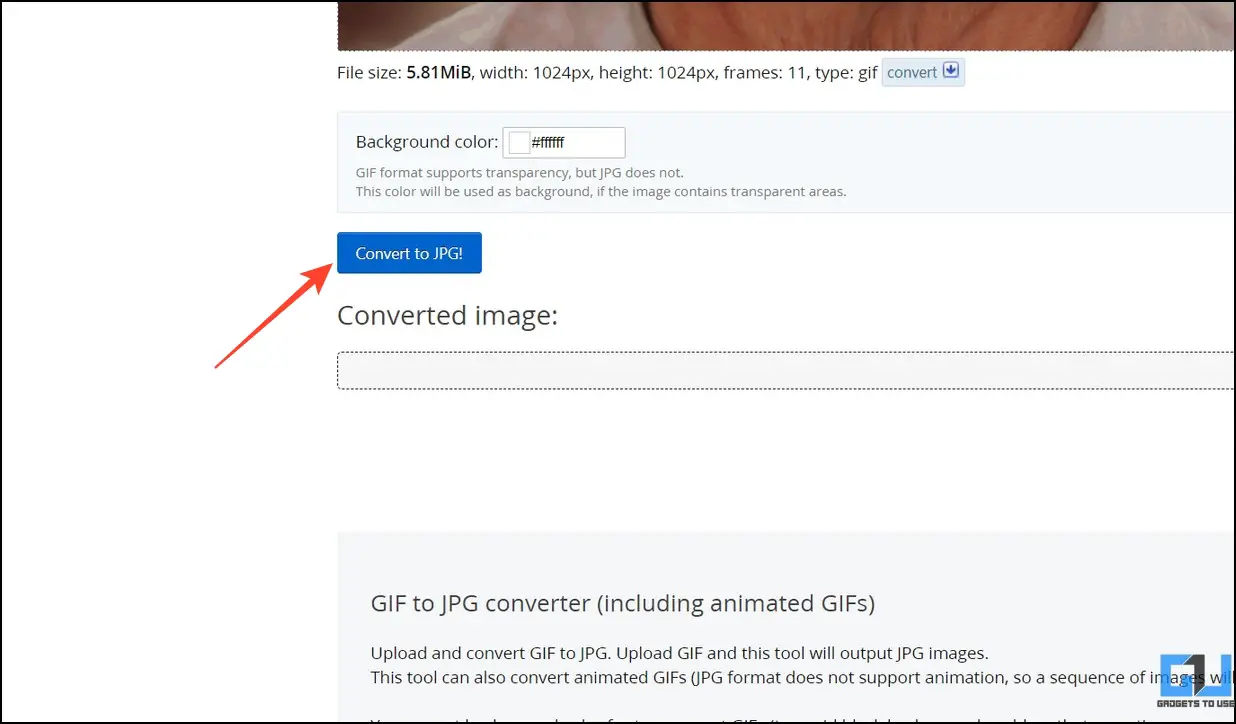 7. Finally, click the Download All Files button to save the compressed folder containing different images from the GIF file. The compressed file contains different AI-generated images based on your age.
Method 3 – Use Snapchat's Time Machine Filter (Android/iOS)
Snapchat filters are incredibly good at beautifying images. Consequently, you can use its 'Time Machine' filter to age back and look a little younger in the photos. Follow these steps to create a young version of yourself using Snapchat.
1. Open the Snapchat app and tap the Search filter button in the bottom right.
2. Search for the 'Time Machine Filter' and tap to open it.
3. Adjust the age filter to create a younger version and press the Shutter button to capture it.
4. Finally, tap Download to save it to your smartphone.
Method 4 – Use FaceApp to Create Your Younger Version (Android/Ios)
FaceApp is a popular choice for photorealistic face editing. It offers several AI presets and filters to create a 'worthy' young version of yourself to post on social media. In addition, you can change the background, add blur, or beautify the image with its in-app features.
1. Install the FaceApp Face Editor from the Google Play Store or Apple App Store.
2. Tap Next and provide the necessary file access permissions.
3. Press Gallery and pick your desired photo to create its younger version.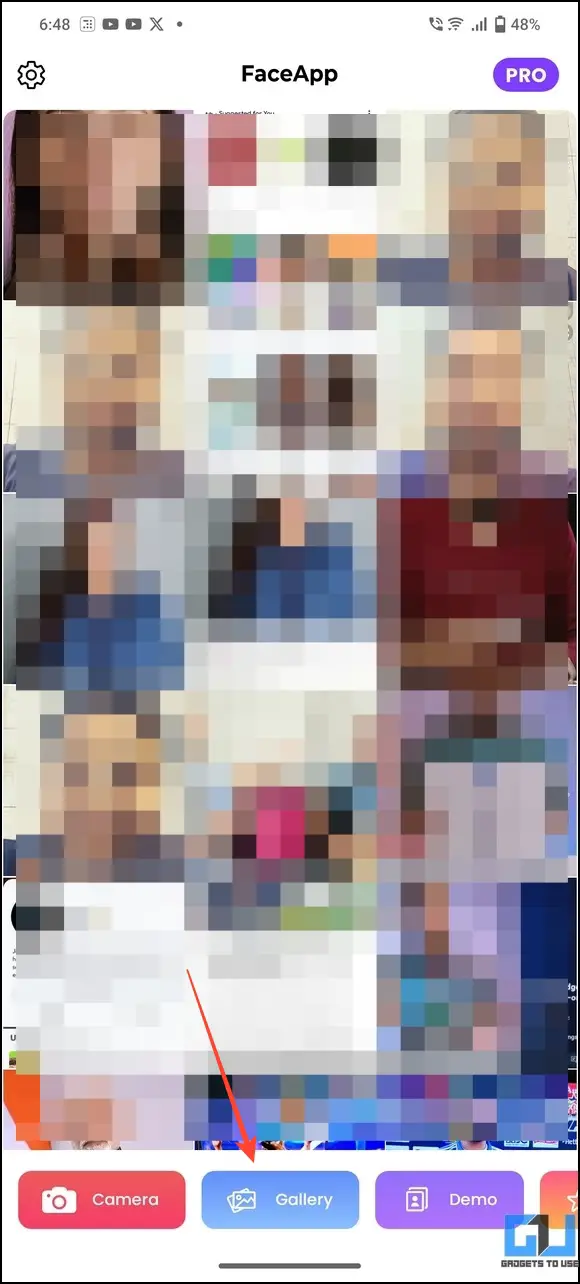 4. Next, tap Age and experiment with the available 'Young' filters to transform your image.
5. You can also try the Child filter to apply stunning child-like facial effects to your image.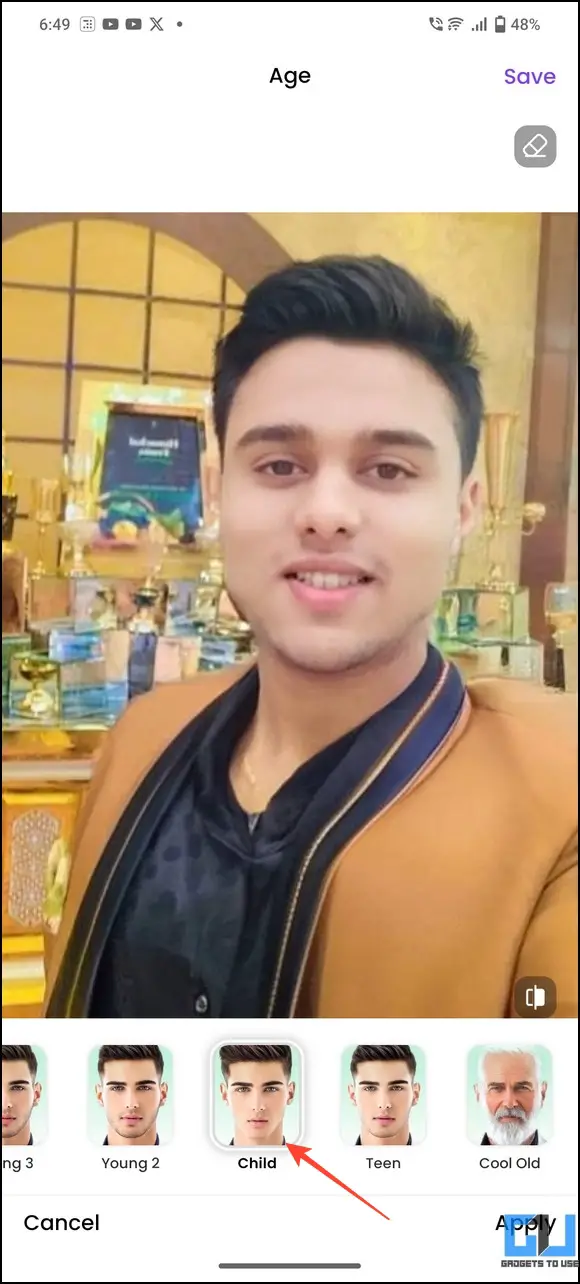 6. Finally, tap Save to export it to your smartphone. You can also tap other social media buttons to share the result directly.
Bonus – Try the Reface App (Android/iOS)
In addition to creating a younger version of yourself, you can swap your face with a popular or funny video to create perfect artwork with the Reface app. It offers a plethora of funny face filters and videos to create artistic images with a few taps. Moreover, you can use its AI avatar feature to transform your photos into breath-taking selfies. Check our detailed guide on the Reface app for more details.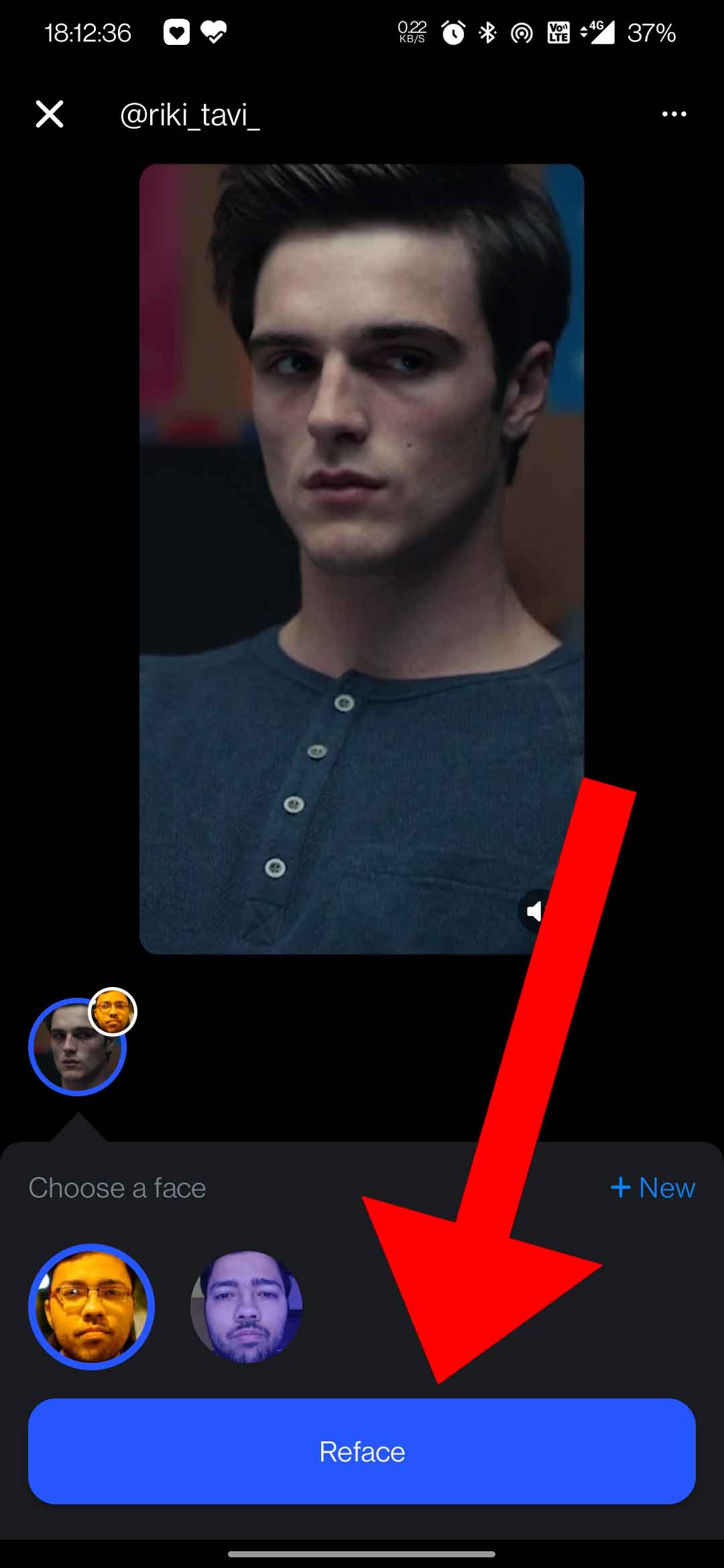 FAQs
Q. How to Create a Younger Version of Yourself in Photos Using AI Online?
You can try various online AI tools, such as Media.io and Photor, to create a younger version with a few clicks. If you're on a smartphone, use Snapchat's time machine filter or install the Faceapp or Reface app to get similar results.
Q. How to Look Younger than My Age Using AI?
Install the Faceapp Face Editor and use its AI age presets to reduce the age of your face in the uploaded photo. For more details, check the steps listed above.
Wrapping Up
We hope you picked nifty methods from this guide to create a younger version of yourself using artificial intelligence. We prefer the Media.io tool as it creates incredible age-transformation results. If you found it useful, share this read with your friends and subscribe to GadgetsToUse for more amazing articles. Also, don't forget to check the below links for trending AI image editing walkthroughs.
You might be interested in:
You can also follow us for instant tech news at Google News or for tips and tricks, smartphones & gadgets reviews, join GadgetsToUse Telegram Group, or for the latest review videos subscribe GadgetsToUse Youtube Channel.