Clickable links on social media play a huge role in redirecting your viewers to your desired destination. If you are an Instagram influencer or own a business and wish to increase engagement with your audience, adding a clickable link can do wonders. This guide provides a complete walkthrough to add clickable links on Instagram. Additionally, you can learn to share Instagram profile links on WhatsApp or Facebook.
Add Clickable Links on Instagram Stories, Bio, DM, Video Posts, and Reels
There are several ways to post a clickable link on Instagram. You can add it to your profile bio or post it by creating a new story, post, or reel. In addition, Instagram also allows you to send clickable links to anyone via a DM. Let's have a detailed look at these methods:
Method 1 – Add Clickable Links to Your Instagram Profile/Bio
One of the most effective methods to redirect your viewers to a desired destination, e.g., a website, video, etc., is to embed a link in your Instagram profile. Here's how it can be done:
1. Open the Instagram app (Android, iOS) and tap your profile icon in the bottom right.
2. Tap Edit Profile to update your Instagram profile info.
3. Click Add Link below Bio and tap Add External Link. You can also tap the Add Facebook Link to link your Facebook profile.
4. Finally, copy the link of your desired destination, e.g., link to a website, video, channel, etc., and paste it into the URL field.
5. Provide a Title to identify the pasted link and save changes easily.
6. That's it. You've successfully added a clickable link to your Instagram profile.
7. Repeat these steps or follow other alternatives to add up to five links in your Instagram Bio.
Method 2 – Use Instagram Stories to Add a Link to Your Website
Instagram Stories is another quick way to instantly share information/updates with your followers, lasting up to 24 hours. In your stories, you can include text, images, videos, polls, or clickable links to your website/video to direct your followers to the linked page. Follow our guide to learn the easy steps to add a clickable link to your Instagram story.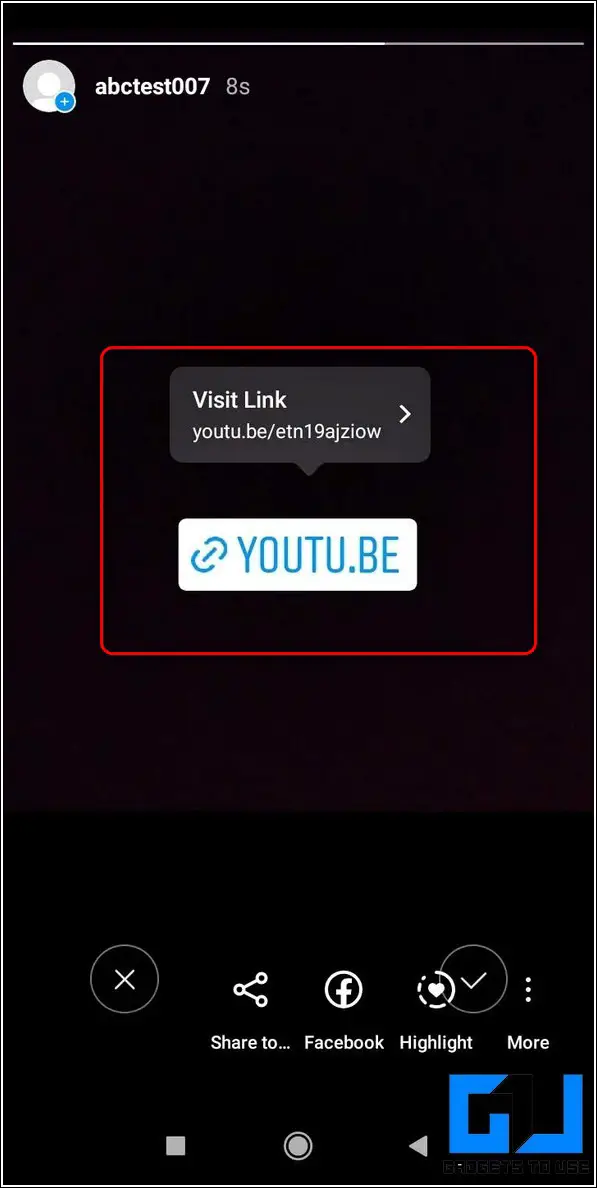 Method 3 – Send a Clickable Link to Someone via Instagram's Direct Message (DM)
Besides adding a link to your profile or story, Instagram allows users to send a clickable link to someone using the direct message feature. Follow these easy steps to learn more.
1. Open Instagram on your phone and tap the DM icon at the top right corner.
2. Locate the username under Messages and tap to send a new message.
3. Copy your desired link and paste it into the message field.
4. Tap Send to share this clickable link with your preferred Instagram user.
5. Both sender and receiver can see the preview of the clickable link in their direct message section.
6. You can also DM the link silently by adding the /silent keyword before the message.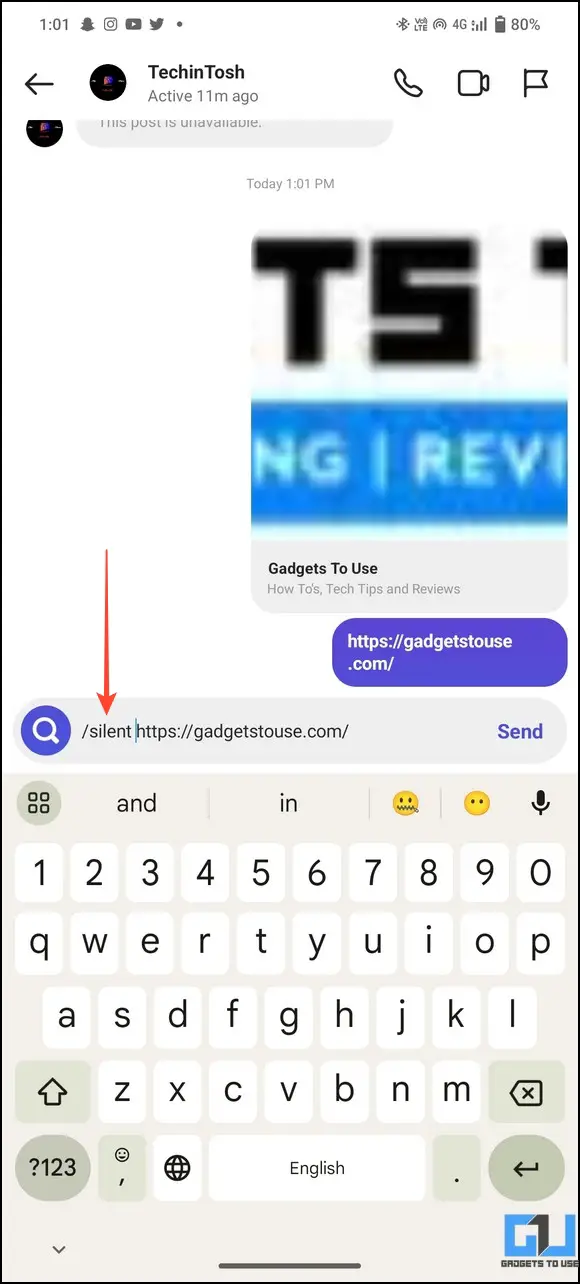 Method 4 – Add a Clickable Link to Your Instagram Post
Adding clickable links to a social media post is a brilliant technique to redirect viewers to your product or website. However, Instagram doesn't offer any official feature to do it. Fortunately, we have worked on nifty workarounds to solve the problem. Check our detailed read to add clickable links to Instagram posts.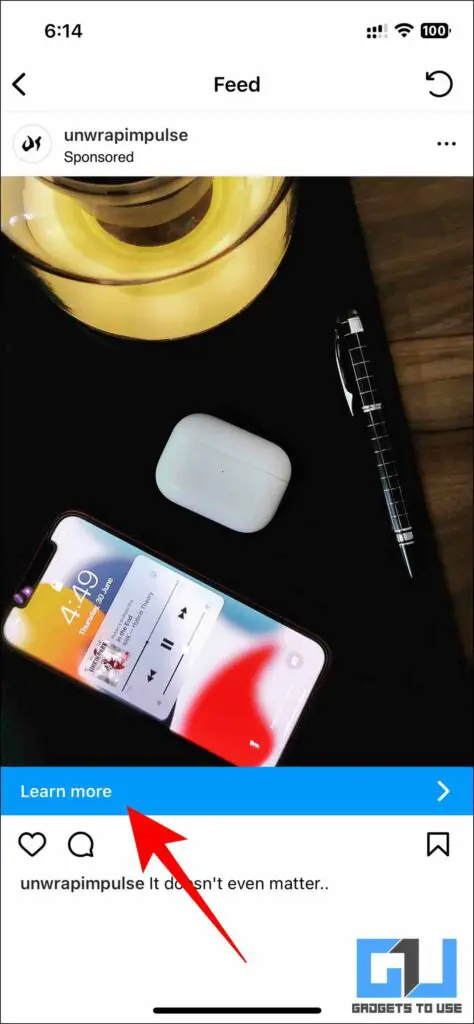 Method 5 – Adding Clickable Links to Instagram Reels
Like captions, Instagram doesn't allow you to add a clickable link to your Instagram Reels. However, this nifty trick can redirect users from your reel.
1. Open Instagram and swipe towards the left to create a new reel.
2. Once created, tap Aa in the editing workspace at the top to add new text.
3. For this trick to work, add clickable links to your Instagram profile/bio using the first method.
4. Add the 'Link in Bio' text and position it at the bottom of your reel.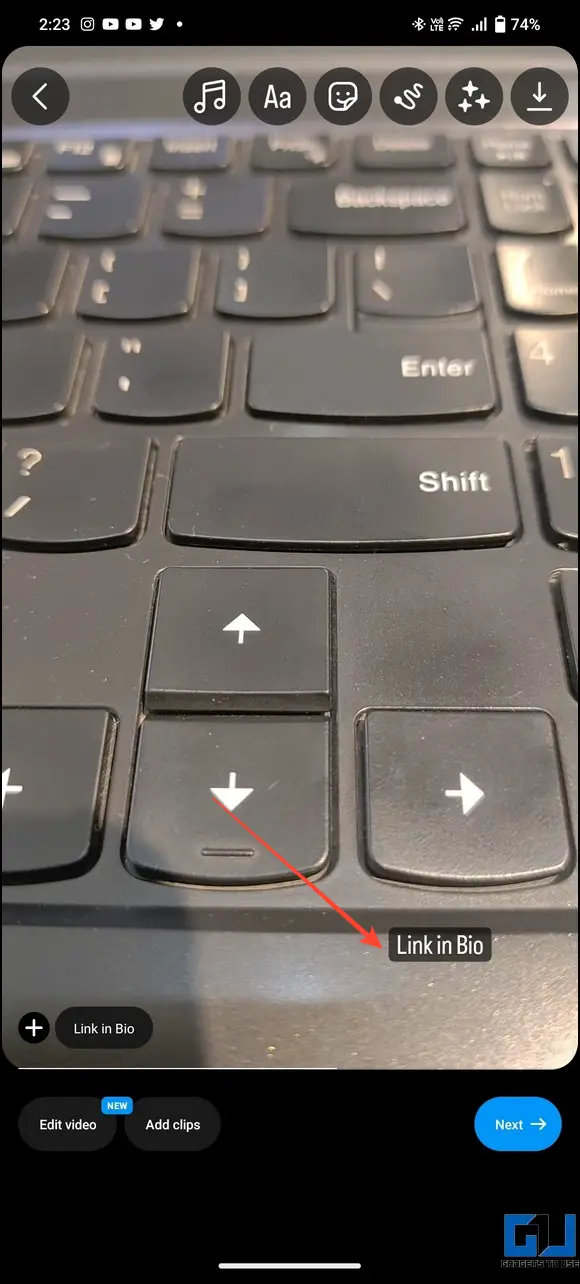 5. Tap the Next button to save the changes.
6. In the caption, type your video title or copy the link to your desired destination, e.g., a website, a video, or even a channel link, and press the Next button.
7. Finally, tap Share to share your Instagram Reel. That's it; you've successfully shared a clickable link via an Instagram reel.
FAQs
Q. How Can I Add a Clickable Link in an Instagram Reel?
Contrary to Stories, Instagram doesn't allow adding clickable links to reels. However, you can add an external link to your profile/bio and type the 'Link in Bio' text while creating the reel to redirect users. Check the steps above for more details on adding a link to your Instagram bio.
Q. How to Add a Link to Instagram Story?
Create a new story and pick the Link feature from Stickers. Add your desired address to the link and drag it to an appropriate location on your Instagram Story.
Q. Can You Add a Link to an Instagram Post?
Like reels, you can't add clickable links in the caption of any Instagram post. However, we have gathered a list of the best tricks to get around the problem. Check the fourth method above for precise details.
Q. How to Add a Link to Your Reel in Your Instagram Story?
Copy the link to an Instagram reel and create a new story. Next, pick the Link Sticker and paste the copied link of your reel to share it.
Wrapping Up: Gain More Views with Links!
This brings us to the end of this guide, where we discussed different ways to add clickable links to your Instagram account. If you found it useful, forward it to your friends and subscribe to GadgetsToUse for more informative reads. Also, don't forget to check the below links for other useful articles on Instagram.
You might be interested in:
You can also follow us for instant tech news at Google News or for tips and tricks, smartphones & gadgets reviews, join GadgetsToUse Telegram Group, or for the latest review videos subscribe GadgetsToUse Youtube Channel.