Besides its new privacy policy, WhatsApp allows you to gain control over connected groups so you can manage them effectively with tools like reporting and exiting. If you feel confused between the two and are concerned about their aftereffects on your WhatsApp account, today we will clear the confusion around Report and Exit a WhatsApp Group, and explain everything to you in simple words through this explainer. Furthermore, you can check out our detailed guide on Hiding WhatsApp Status from a specific contact.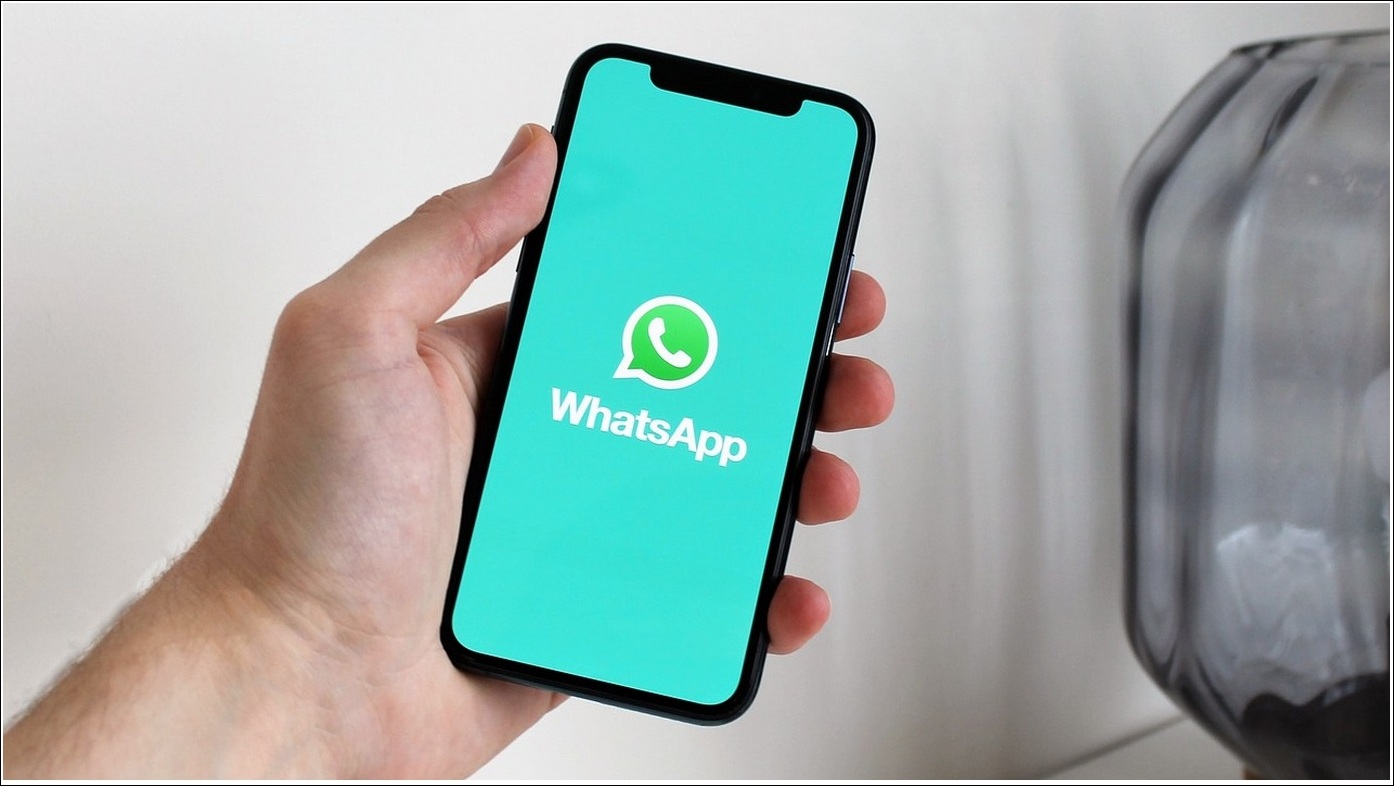 Everything About WhatsApp Report and Exit Group Feature
This guide will help you to clear out all your confusion around the Report and Exit feature on WhatsApp. Hence without further delay, let's get started.
Steps to Report a WhatsApp Group
If you're tired of receiving fake news, rumors, spam messages, incorrect information, or questionable content on a WhatsApp group, you can report it to WhatsApp to investigate and remove its existence. Here's how:
1. Go to the WhatsApp group that you wish to block and tap on the three-dot icon in the top-right corner.
2. Next, tap on More and press the Report option to report the selected WhatsApp group.
3. Finally, tap on the Report button to confirm your action. You can also check the 'Exit group and Delete Chat option' to automatically delete all the group chats and exit the group once you've reported it to WhatsApp.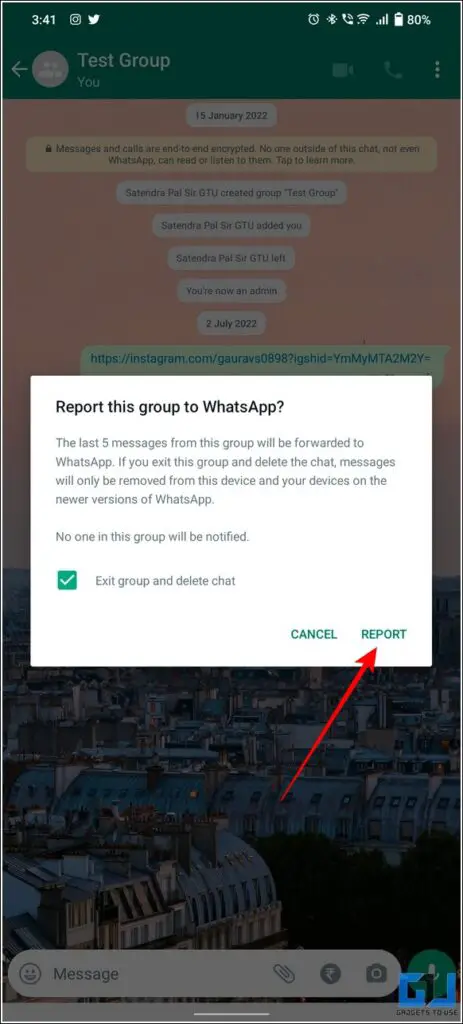 4. Alternatively, you can tap on the Group name and scroll down to the bottom to press the Report button.
What Happens when you Report a WhatsApp Group?
When you report a group, its last five messages will be forwarded to WhatsApp for close inspection to determine any violation of the community guidelines. On an account of violation, the entire WhatsApp group will be deactivated to prevent any further communication among the participants.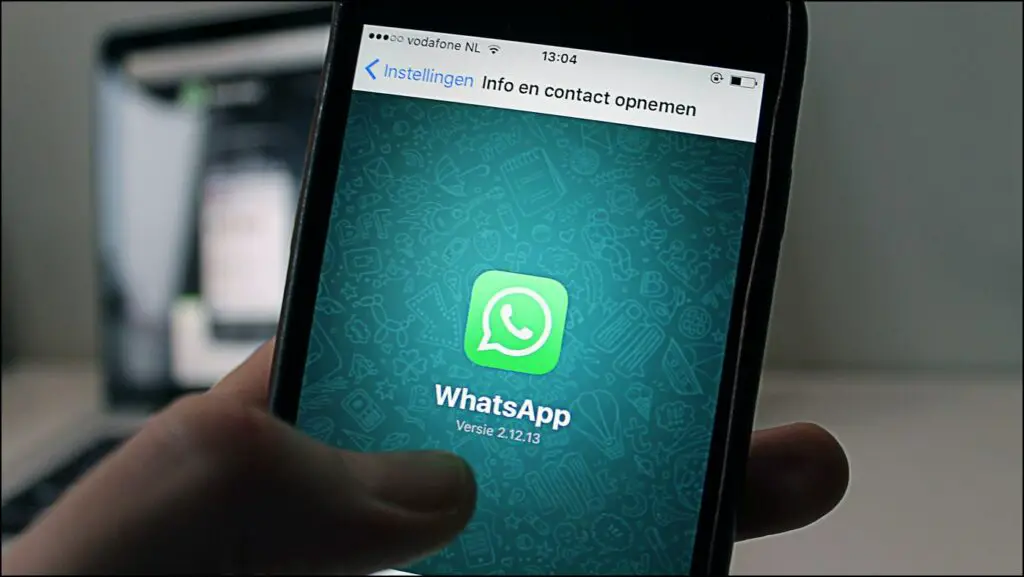 However, WhatsApp will only go to such lengths when the severity involved is very high such as the presence of malicious and critically questionable content inside the group. Otherwise, in most non-severe cases, the reported group is placed on monitoring and the group might still remain present even after you've reported it. It is only under the condition of multiple group reports that WhatsApp may decide to finally deactivate it.
Steps to Exit and Delete a WhatsApp Group
Besides reporting a WhatsApp group, you can exit it using the in-app features if you find it annoying and non-useful. Upon a successful exit, your Whatsapp account will be removed from the group and you shall receive no further notifications from it. You can consider it similar to deleting a WhatsApp chat. Follow these steps to exit and delete a WhatsApp group:
1. Go to the desired WhatsApp group and tap on the three-dot icon in the top-right corner to access more options.
2. Next, tap on the Exit Group option and press the Exit button to leave the selected WhatsApp group.
3. Alternatively, you can tap on the Group name and scroll down to the bottom to press the Exit group button.
4. Once exited, you can delete the WhatsApp group from your list of conversations by pressing the Delete Group option.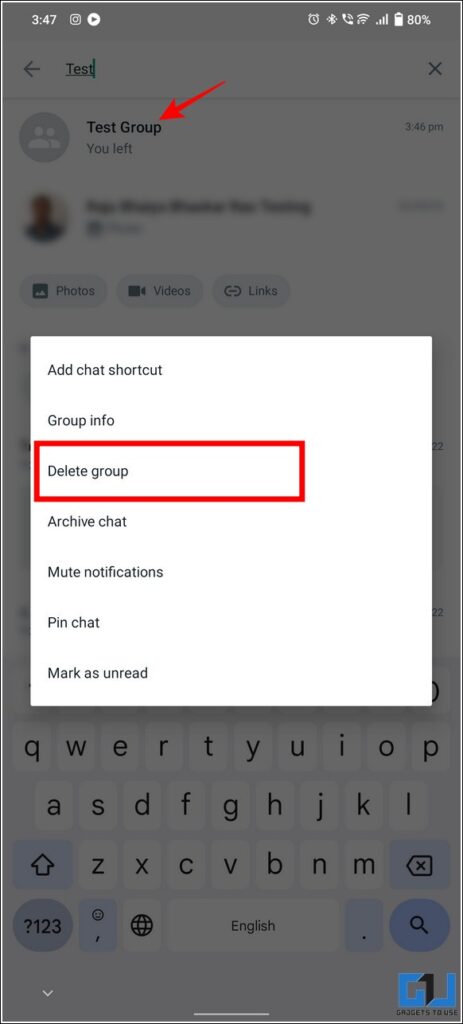 What Happens when you Exit a WhatsApp Group?
Once you exit a WhatsApp group, you will be instantly removed from the list of group participants leaving behind all the previous conversations and attachment files unless deleted. As a result, you won't receive any further new notifications from the group nor you will be able to send a new message to it. Upon exiting the group, the other group participants will be alerted with a 'saved name/contact number left ' message which usually no one pays attention to if the conversation keeps piling up in the group.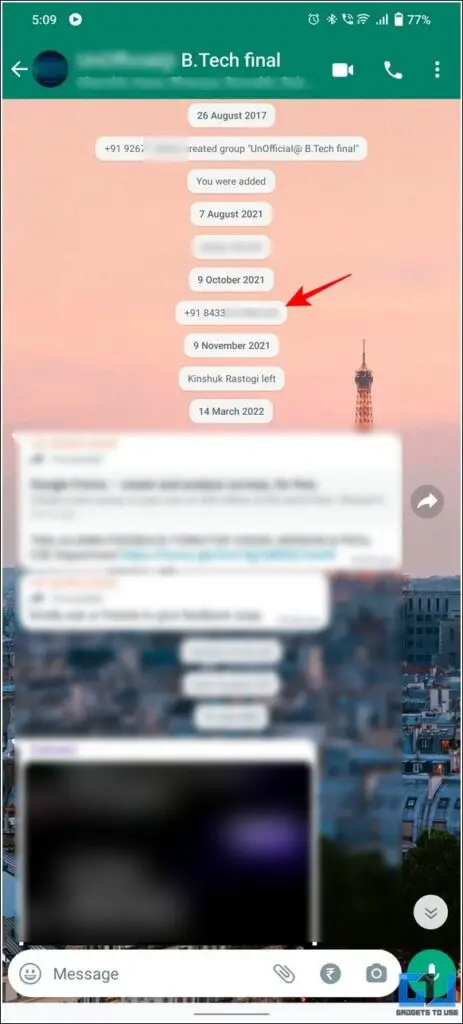 Stop someone from adding you back to a WhatsApp Group
WhatsApp allows admins to add anyone to their group, whether they are in the contact list or not. If you don't want to get randomly added to any WhatsApp group, check out our guide to stop someone from adding you to a group on WhatsApp.
Difference Between Clearing Chat and Exiting WhatsApp Group?
Contrary to exiting Whatsapp groups, the clear chat option helps you to clear all the previous group conversations and attachments that you have sent or received without leaving the group. Here's how you can achieve the same:
1. Tap on the three-dot icon in the top-right corner to access more group settings.
2. Next, tap on the clear chat option to clear all the previous conversations and attachments in your opened group.
Difference between Exiting and Deleting A WhatsApp Group?
You can't delete a group on WhatsApp unless you exit it. Hence, exiting the group will still show you the left group along with all its previous conversations and content. On the other hand, when you delete a group, you will no longer see it in the Chats tab and all its corresponding history will be removed.
FAQs
Q. Will Group Members Recieve Notification when you Report a Group?
A. Contrary to the exit group feature, reporting a group does not send notifications to the group participants or its administrator. However, WhatsApp will only take action on the reported account when it receives multiple reports or the group contains potentially questionable content such as nudity, obscene, hateful, or severely questionable content.
Q. How to Exit a WhatsApp Group without notifying its Members?
A. Have you ever been in a situation where someone adds you to a WhatsApp group that you don't like to be part of and wishes to leave it without announcing it to other group participants? Well, the newly rolled out WhatsApp features allow you to silently exit a group without notifying everyone about it. Follow our quick guide to silently exit WhatsApp groups using the new in-app features.
Q. Can you Permanently delete a WhatsApp Group?
Yes. However, you need to have administrative privileges of the group to permanently delete it. In simpler words, you need to be the group admin to be able to remove other participants and permanently remove the existing group. Check out our detailed guide to Delete WhatsApp groups permanently on Android, iPhone, and the Web ' to achieve the same.
Q. How to Rejoin a WhatsApp Group after Exiting?
A. The only way to rejoin a WhatsApp group that you have exited before is to ask the dedicated group administrator for it. By default, only the administrators have the required privilege to add or remove any participant from the group. Now, technically a WhatsApp group can have an unlimited number of admins and you can ask any single one of them to get you back in the group.
Q. How to View Past Participants in any WhatsApp Group?
A. Group histories play a vital role in determining the kind of WhatsApp group you're in and whether you should retain it. Keeping this in mind, WhatsApp has recently rolled out a new feature of 'Viewing Past Participants' in a group to help you check the list of all its past members. You can learn to view the same by following our quick guide to view past participants on WhatsApp.
Q. Can we see Group Conversations after Reporting or Exiting a Group?
A. No. However, there's a slight difference between both situations. When you exit a group but don't delete it, you can view all the past conversations and attachments sent or received in the group. On the other hand, when you report a WhatsApp group, you won't be able to view any of its content and past conversations as WhatsApp assumes that you want no part with it. In both situations though, you won't be able to view any new notifications or send/receive new messages on the exited/reported group.
Q. How long does WhatsApp take to remove Reported Groups?
A. Based on the number of reports and severity of the reported group, WhatsApp may take up to 24 hours to take solid action against the violation. In case the violation is limited to a particular individual, WhatsApp may suspend that particular account for a certain period of time keeping the rest of the group intact. However, repeated violations inside the group can certainly lead to the permanent deletion of the entire WhatsApp group.
Wrapping Up: Getting straight the Report and Exit WhatsApp Group dilemma
This was all about the Report and Exit a WhatsApp Group, a feature offered by WhatsApp to manage your groups. I hope this guide has helped you; if it has cleared all your doubts and concerns about the same, then hit the like button and share it with your friends who you think might be looking for it. Check out other useful tips linked below, and stay tuned for more awesome explainers, tips tricks, and how-tos.
You might be interested in:
You can also follow us for instant tech news at Google News or for tips and tricks, smartphones & gadgets reviews, join GadgetsToUse Telegram Group, or for the latest review videos subscribe GadgetsToUse Youtube Channel.