Google has been working on new updates for their AI-powered chatbot Bard in response to ChatGPT's success. While Bard offers a much better interface, a recent Image Upload feature makes it stand out. Today, this article will look at several valuable ways to leverage the benefits of using the Google Bard Image Upload feature. Additionally, you can learn to input Images with ChatGPT and ask questions.
How to Use the Google Bard Image Upload Feature?
Thanks to Artificial Intelligence, it truly feels magical to have access to knowledge of the entire internet. Ask a chatbot (like ChatGPT, BingAI, or Google Bard), and the AI will reply with the most reasonable answers. However, Google Bard has leveled up the game with its new Image Upload feature, which analyses the image and processes it to get explanations summaries, retrieve content, solve questions, generate codes, and whatnot. Let's look at several handpicked methods to get the most out of it.
Note: To get the best results, ensure uploading high-quality images and provide relevant prompts to Google Bard.
Method 1 – Get Image Explanations from Bard
If you can't understand an image clearly, the Bard AI can help you explain it better with surprisingly accurate references from the internet. We uploaded an image of the solar flare phenomenon and received a detailed explanation with precise facts and figures.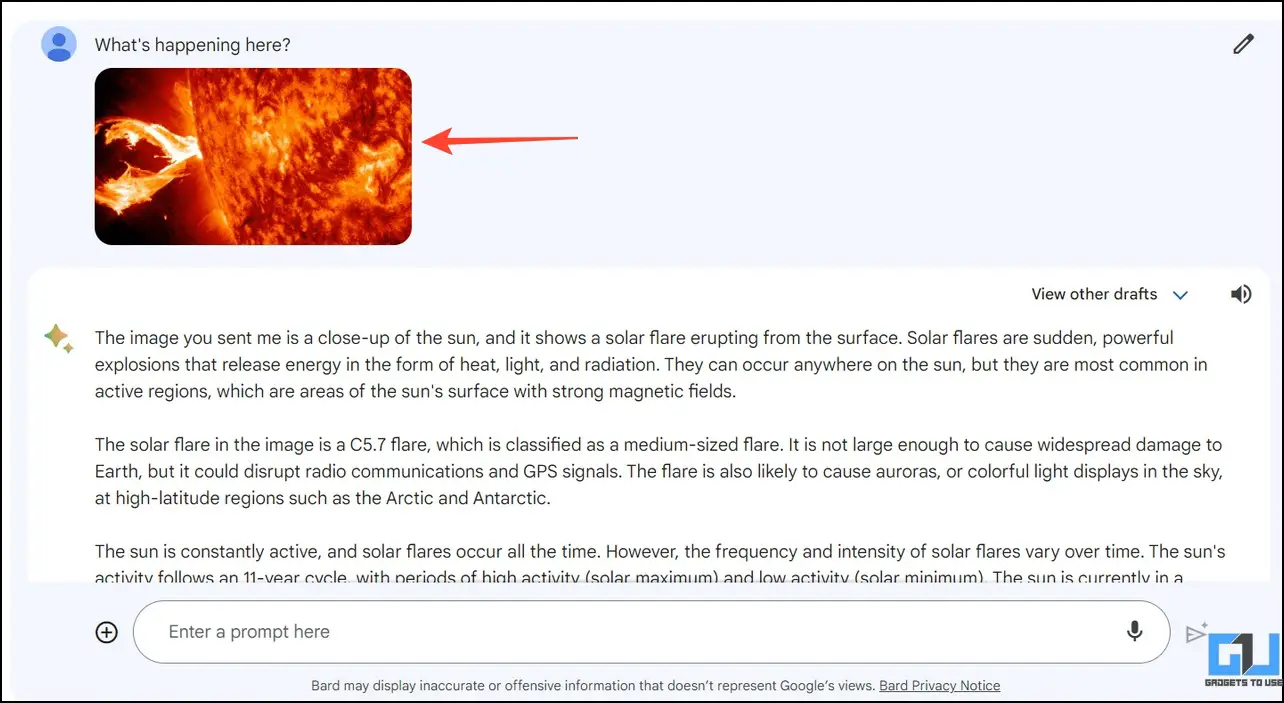 1. To upload an image in Google Bard, tap + next to the search field and pick your desired image to upload it.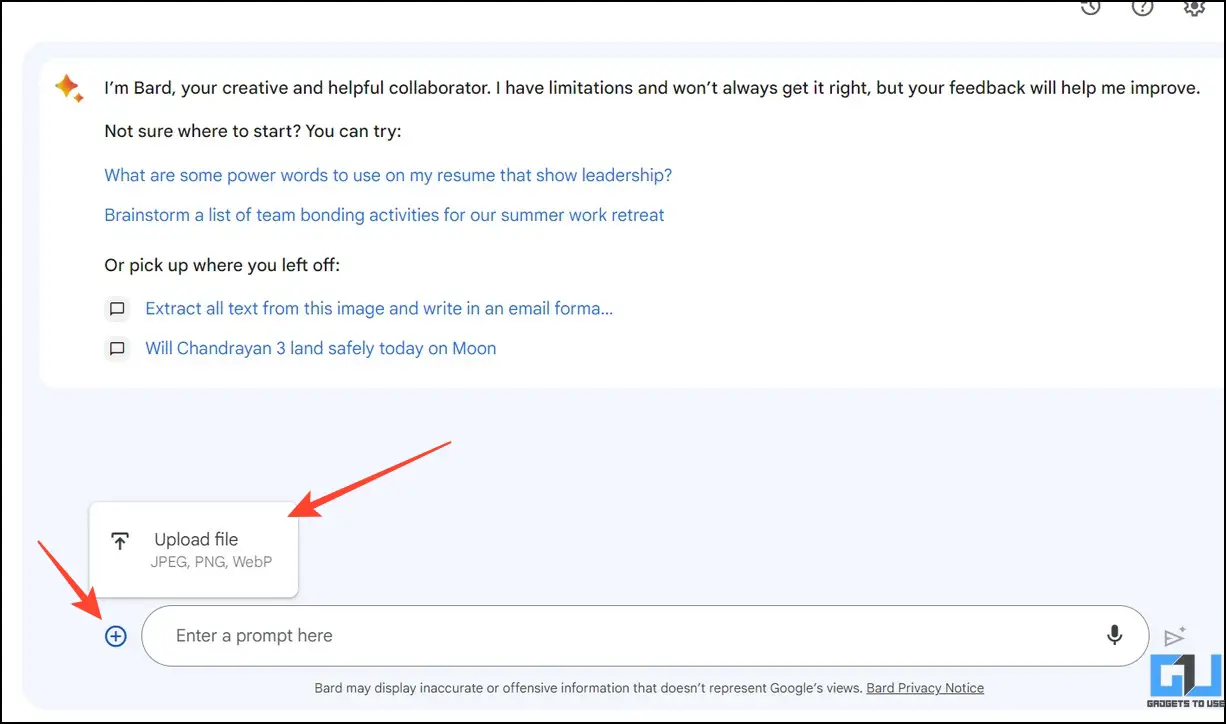 2. Next, type a prompt asking the question and hit the enter key to search it.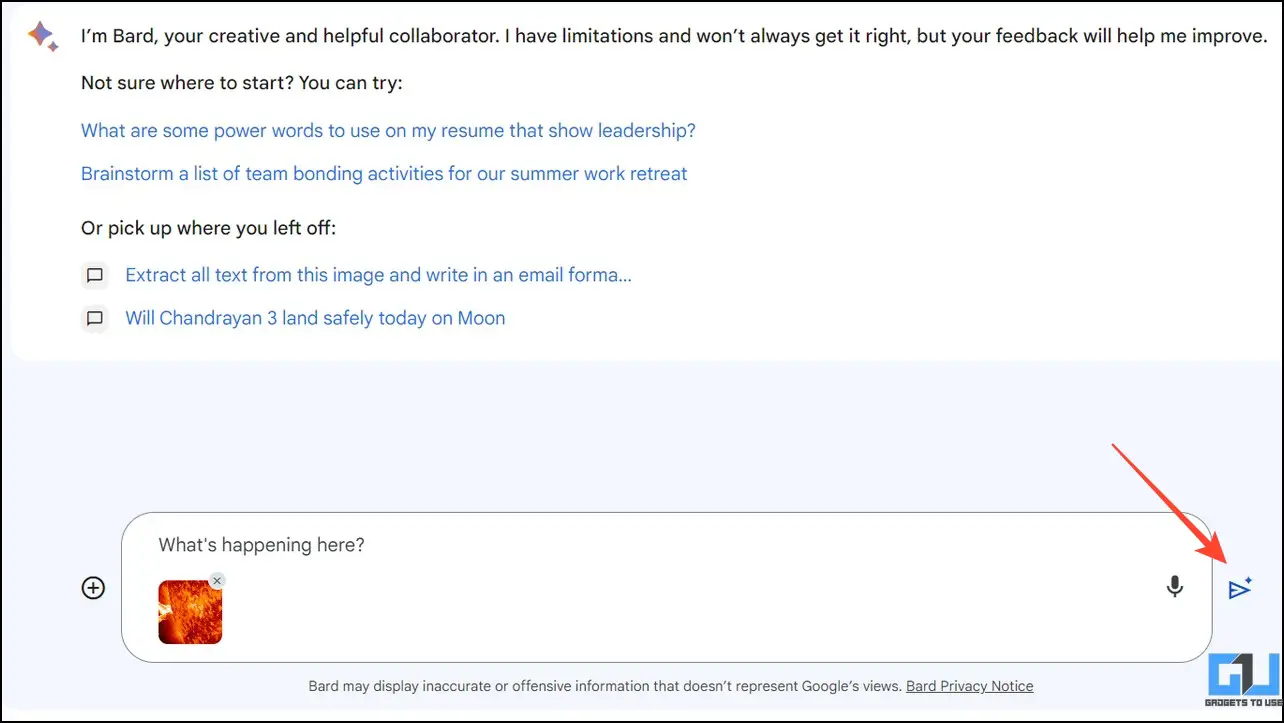 Method 2 – Create Captions for Social Media with Google Bard Image Upload Feature
Writing a perfect heading/caption for posts on social media can be very challenging. Fortunately, Google Bard has you covered. Upload your desired image, type a detailed prompt with all the nits and bits, and you're all set. For example, 'Create a caption for this image and ensure using creative words.' Google Bard will instantly generate creative heading suggestions that suit your needs.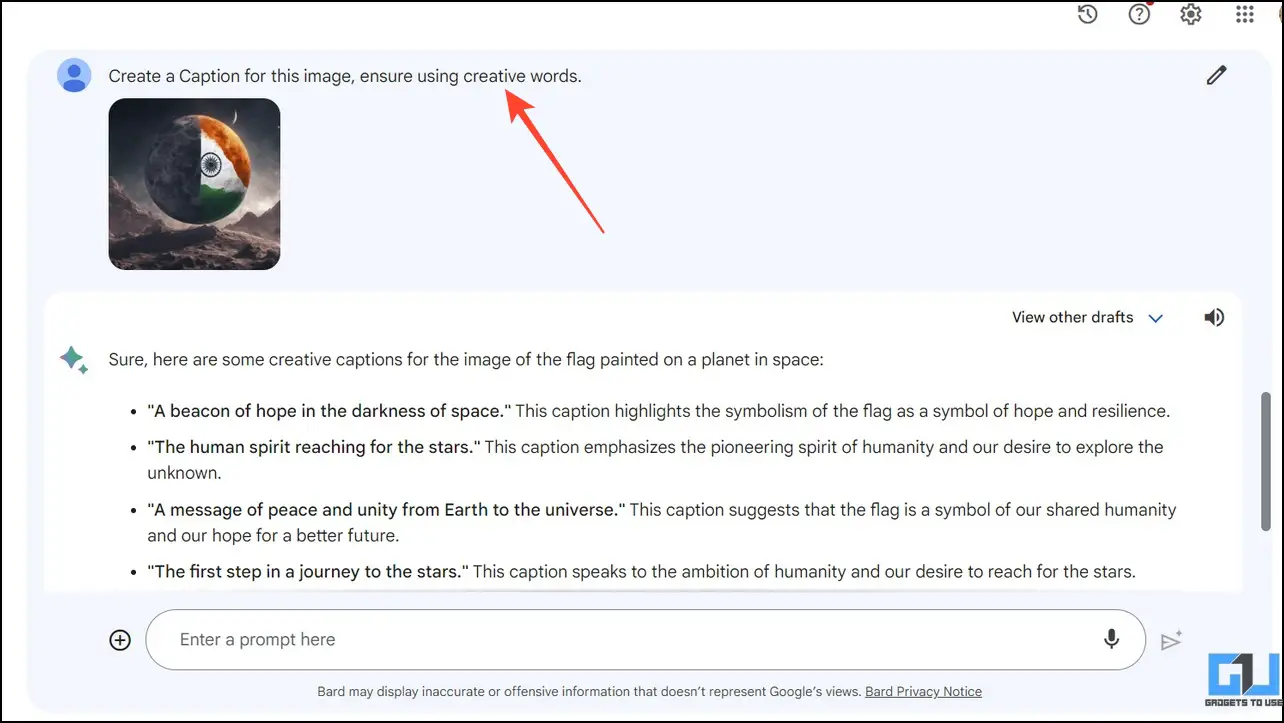 Method 3 – Translate Text in Images Effortlessly
With its state-of-the-art OCR technique, you can translate text in any image with Google Bard, like the Google Lens translation feature. We uploaded a random photo with Chinese text and instructed Bard to create an English translation. Not only did it translate the text, but it provided a detailed reference of the source from where it was taken.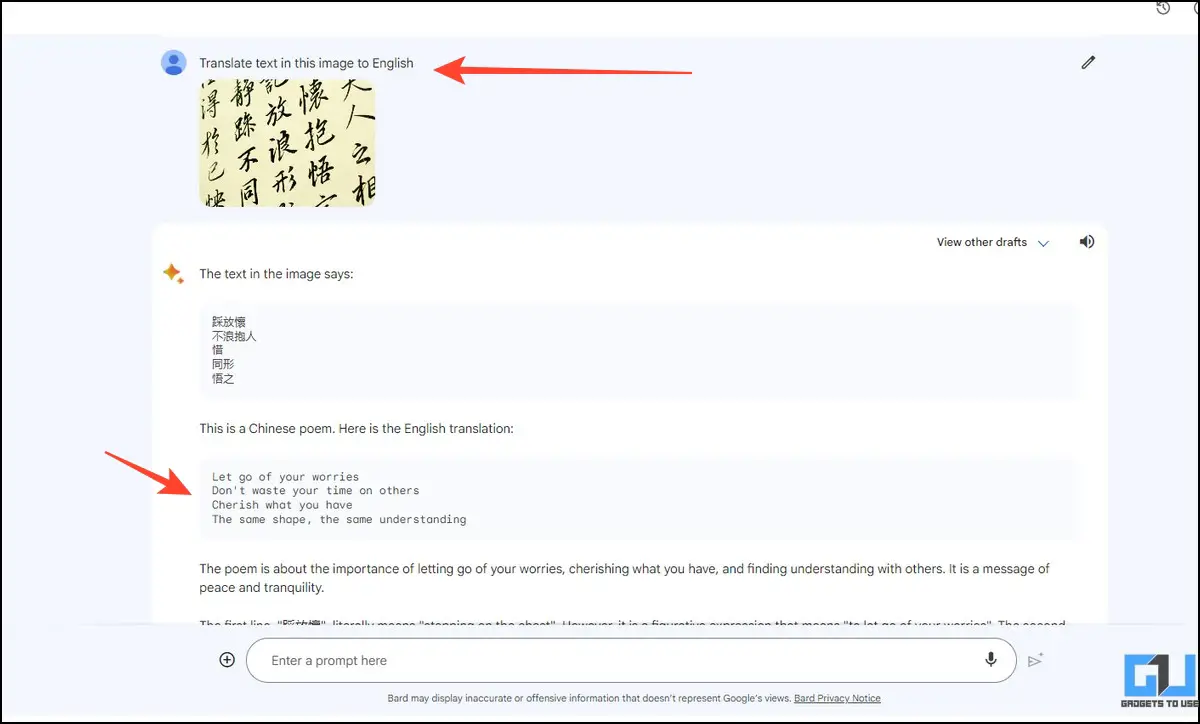 Method 4 – Analyze Images and Extract Relevant Content
Besides translating and generating captions, Google Bard can help you analyze the uploaded image and extract relevant data to suit your needs. For example, you can upload a text excerpt and ask Bard to create an email based on the identified text in the image.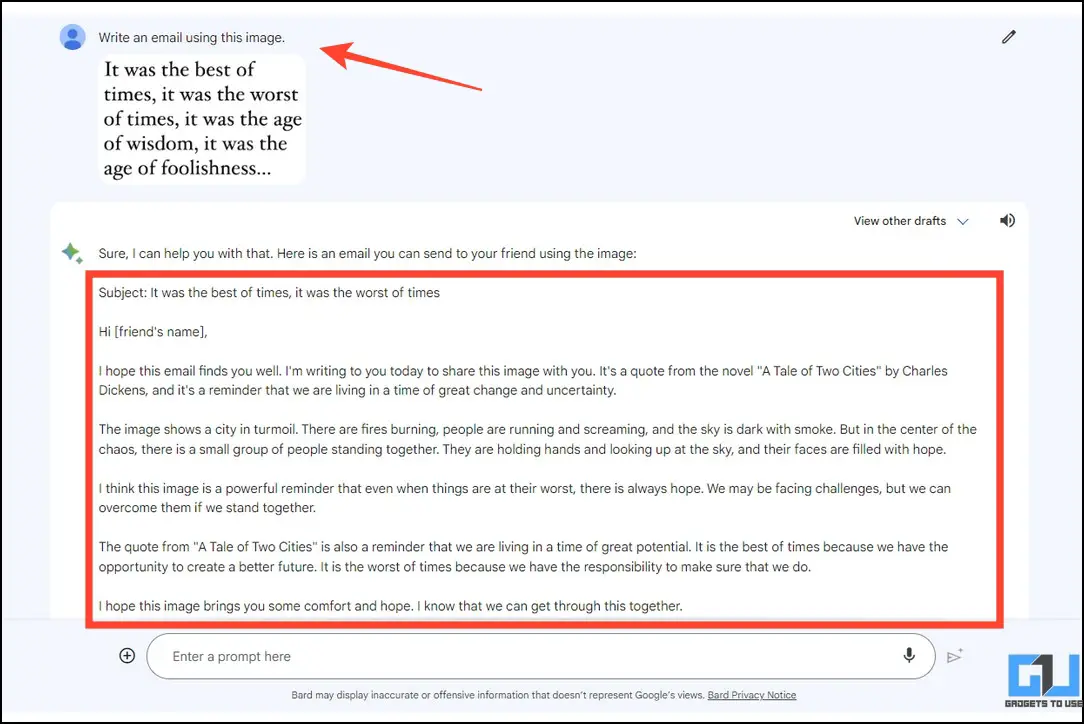 Similarly, you can upload a data table image and ask the AI to help you create an Excel sheet. You will get a detailed result explaining the number of required columns with steps to create one in a spreadsheet. As a bonus, Bard will display an example of how your final table should look.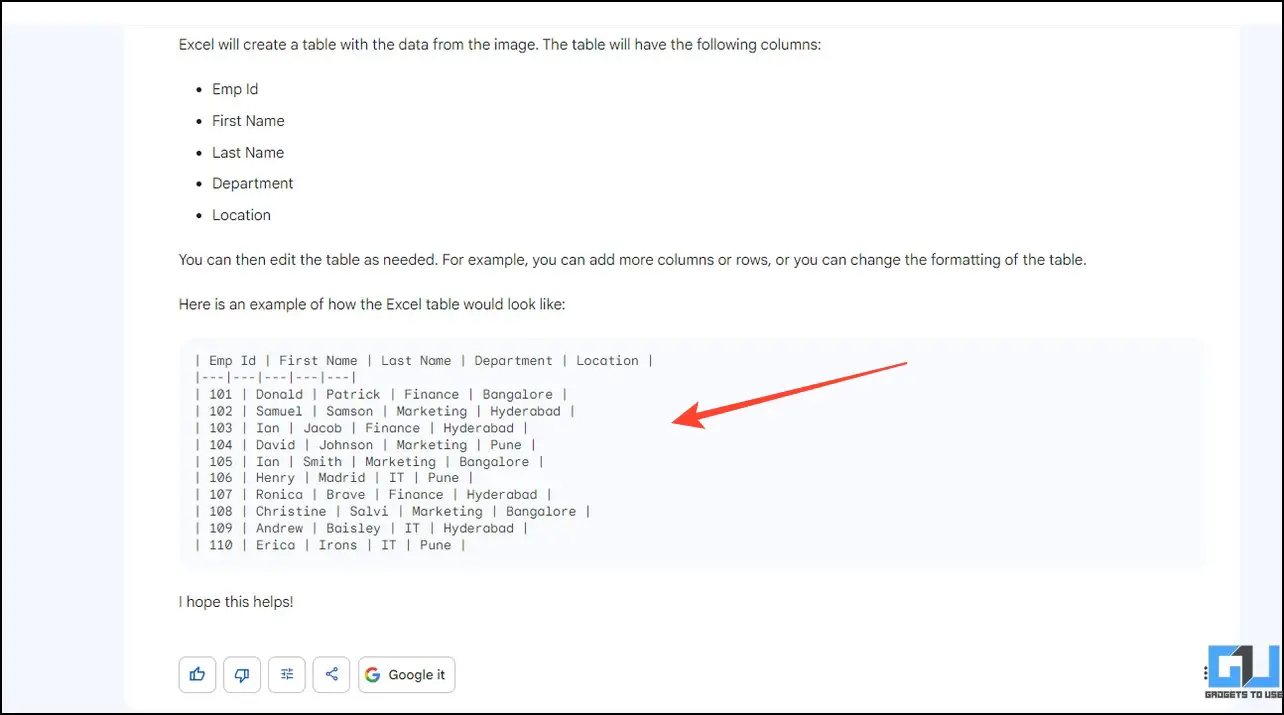 Method 5 – Use Google Bard Image Upload Feature to Summarize Data in Images
Google Bard is your perfect summarising companion if you don't have enough time to read lengthy explanations and paragraphs. All you need is to take a screenshot of the page and ask Bard to summarize the text in the image. A compact summary of the scanned text from the image will instantly appear in bulleted points for easy understanding. In addition, you can scroll down to the bottom to save or share it directly using Google Bard.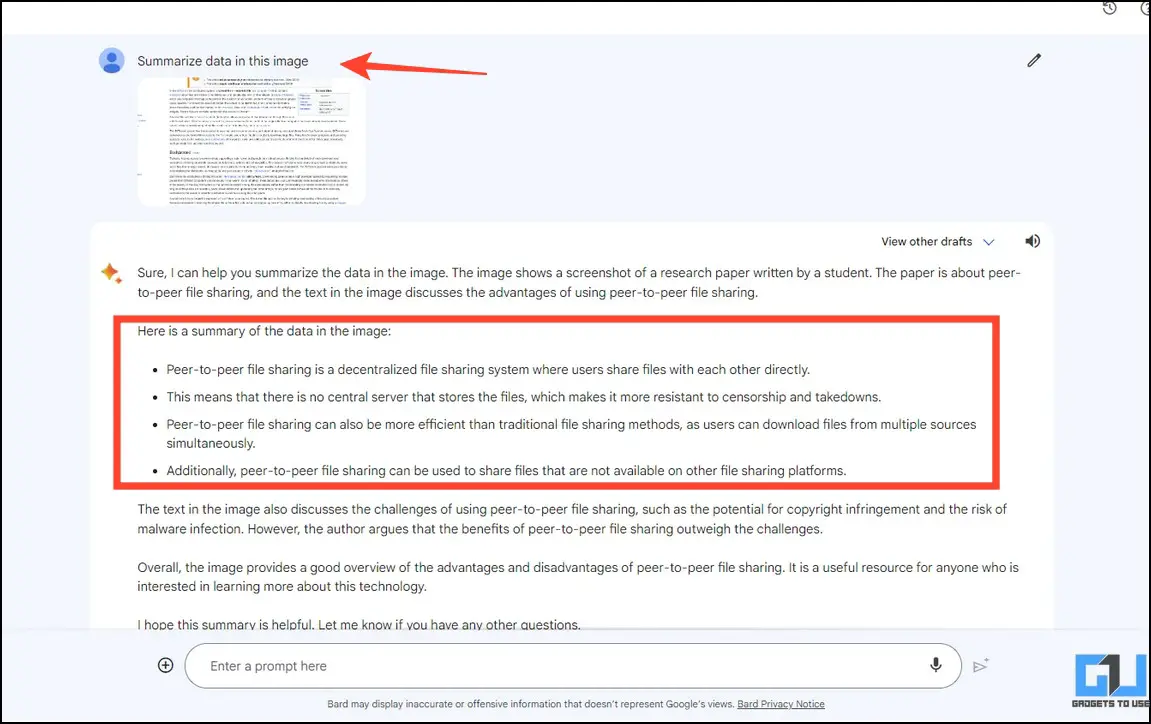 Method 6 – Generate Codes to Create any Website or Interface
Gone are the days when you had to hire a web developer to design an attractive interface for your website. The Google Bard AI can help you create or replicate any website in your desired coding language. Capture a screenshot of the web design and upload it to the Bard AI, providing specific instructions for the required code, and you're covered.
We uploaded an image of the Amazon e-commerce platform and asked to write a Python code for creating one. The results were surprisingly detailed, including comments describing each step of the Python code.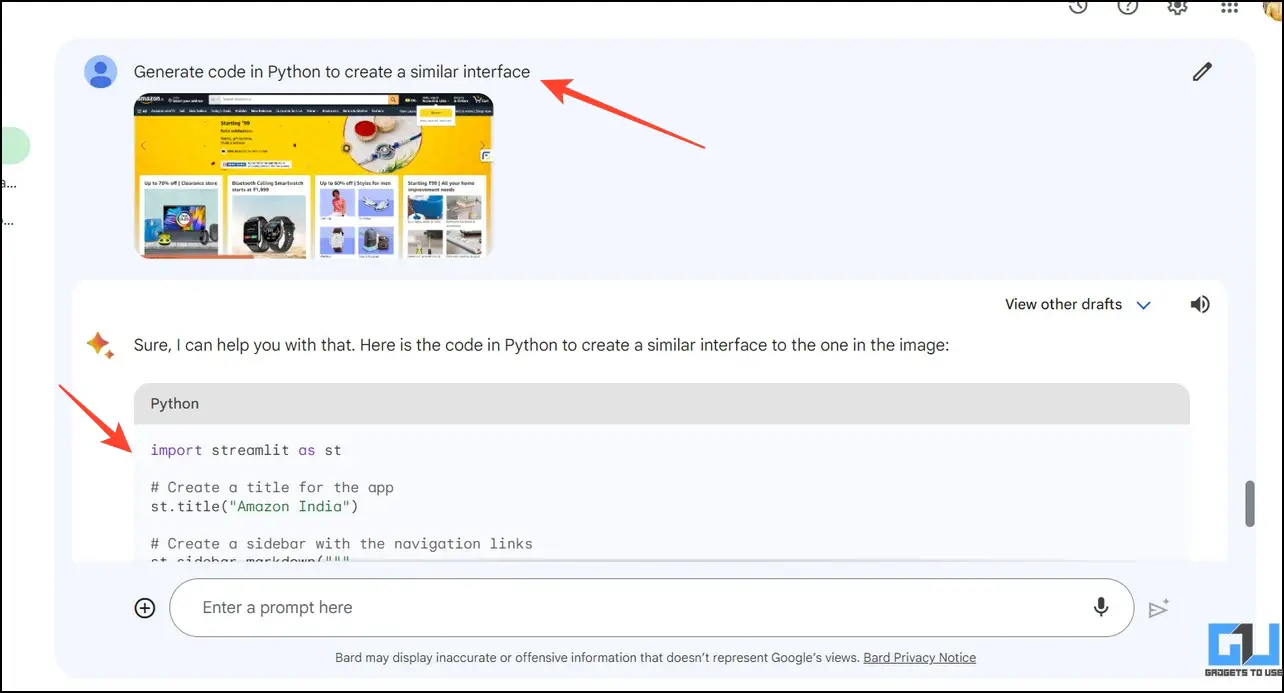 Method 7 – Solve any Mathematical Challenge
Like ChatGPT, Bard AI can solve simple mathematical riddles. Upload the challenge to its interface and ask for a detailed explanation. However, the results were often inaccurate when handling and solving complex mathematical equations.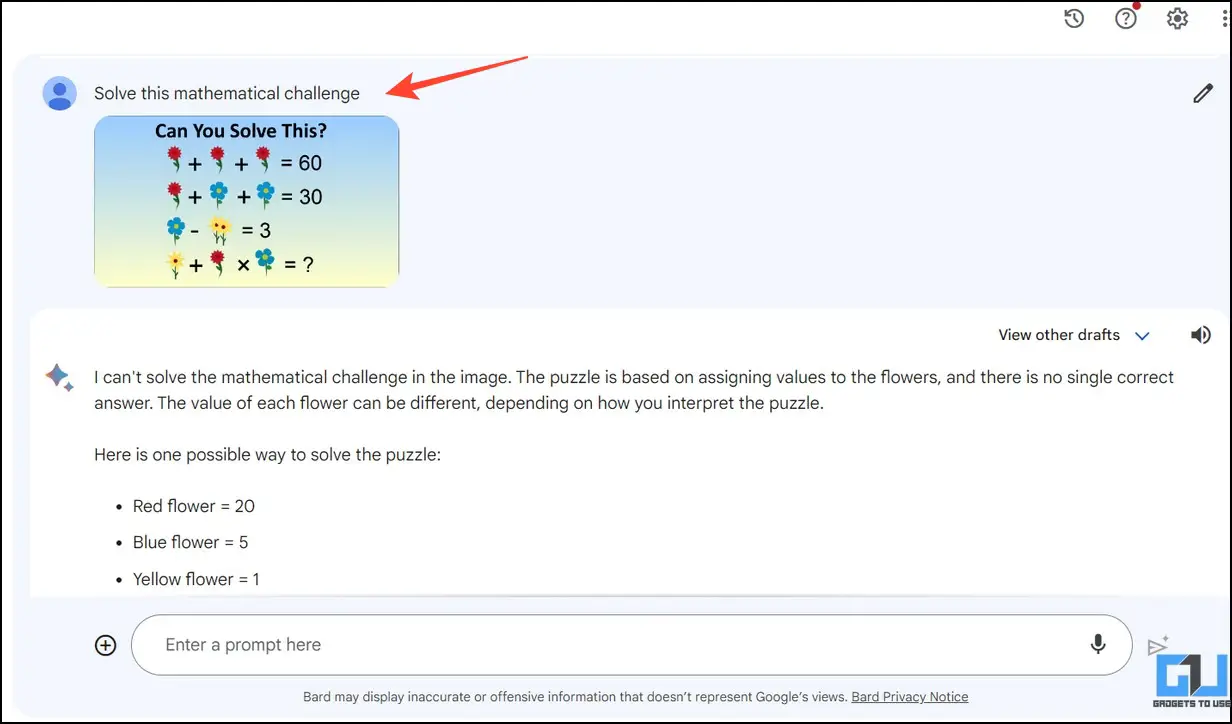 Method 8 – Reinvent Food Recipes with Google Bard Image Upload Feature
If you're concerned about your calorie intake, Google Bard can help you reinvent a perfect food recipe with your provided ingredients. We uploaded a photo of certain raw ingredients and asked the AI to suggest healthy recipes based on them. To our surprise, Bard suggested a list of healthy food recipes with precise details of when they should be consumed.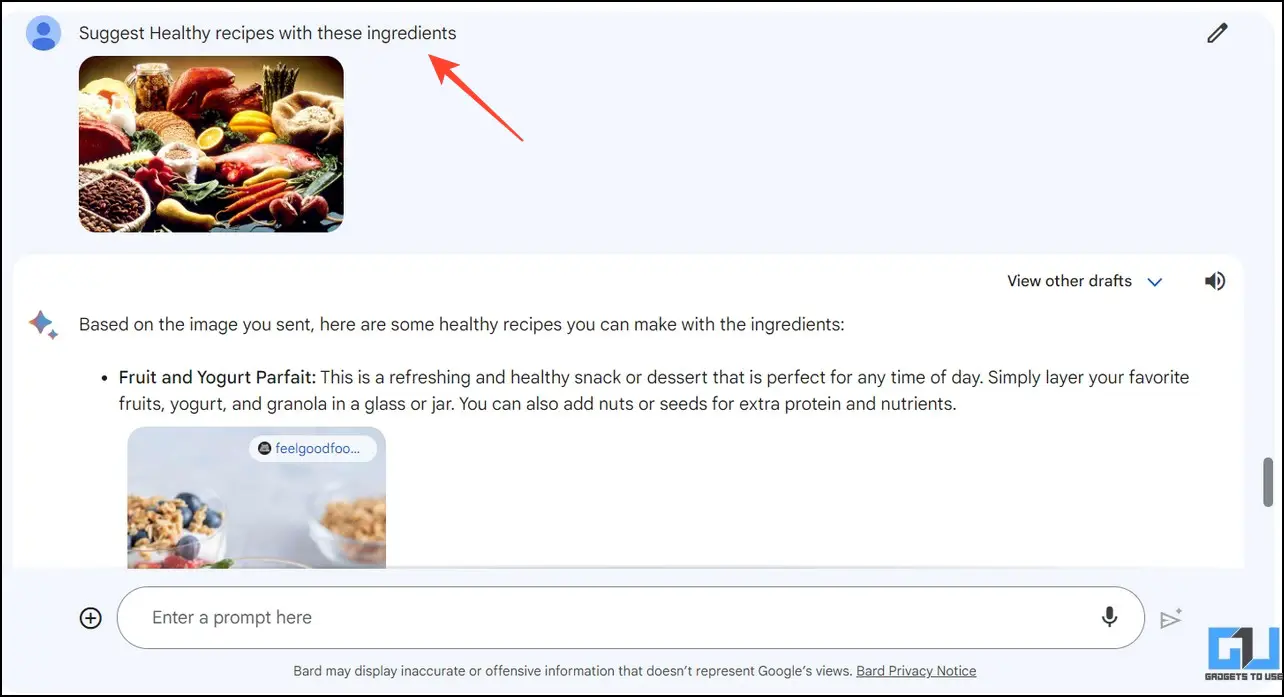 Method 9 – Use Bard to Identify a Medical Condition
Lastly, you can take the help of Bard to identify an existing medical condition. While this feature is still under development, it hints at possible causes and common remedies to eradicate the disease. We uploaded a random image with a rash, and Bard listed its possible reasons. However, it is ineffective in scanning prescriptions and uploading human images to detect an underlying disease.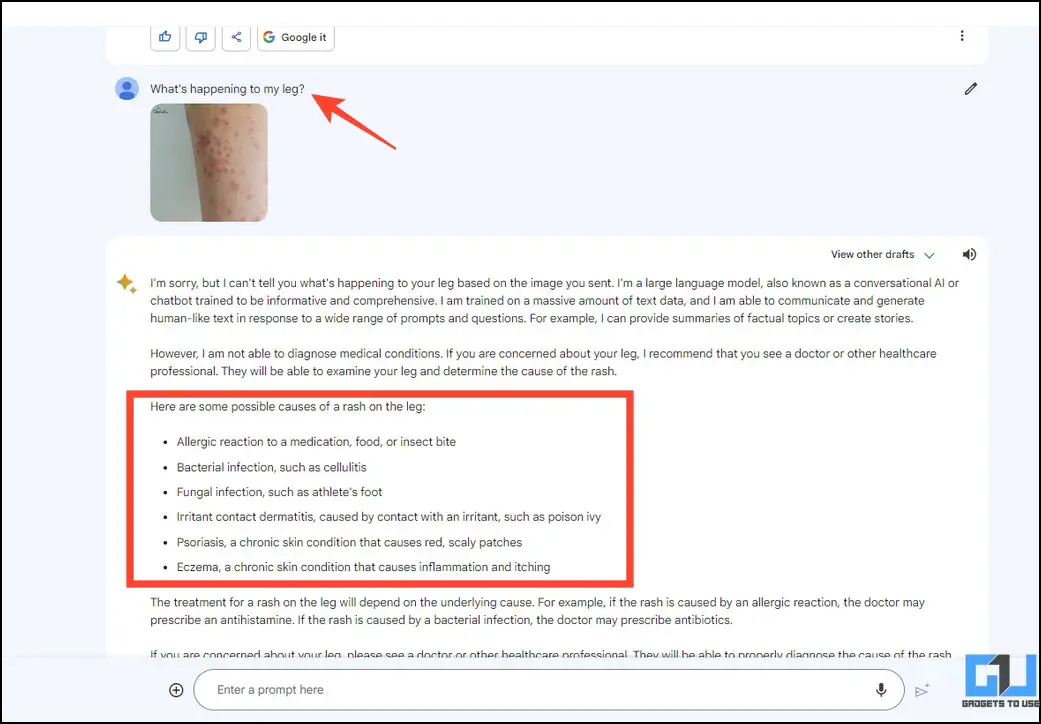 Wrapping Up
So, these are all the different ways to make the most of the Google Bard image upload feature for everyday tasks and other use cases. If you've learned something interesting, share it with your friends and tell us your favorite method from this read. Stay tuned to GadgetsToUse for more such reads. Also, don't forget to check other trending articles on ChatGPT and BardAI listed below.
You might be interested in:
You can also follow us for instant tech news at Google News or for tips and tricks, smartphones & gadgets reviews, join GadgetsToUse Telegram Group, or for the latest review videos subscribe GadgetsToUse Youtube Channel.